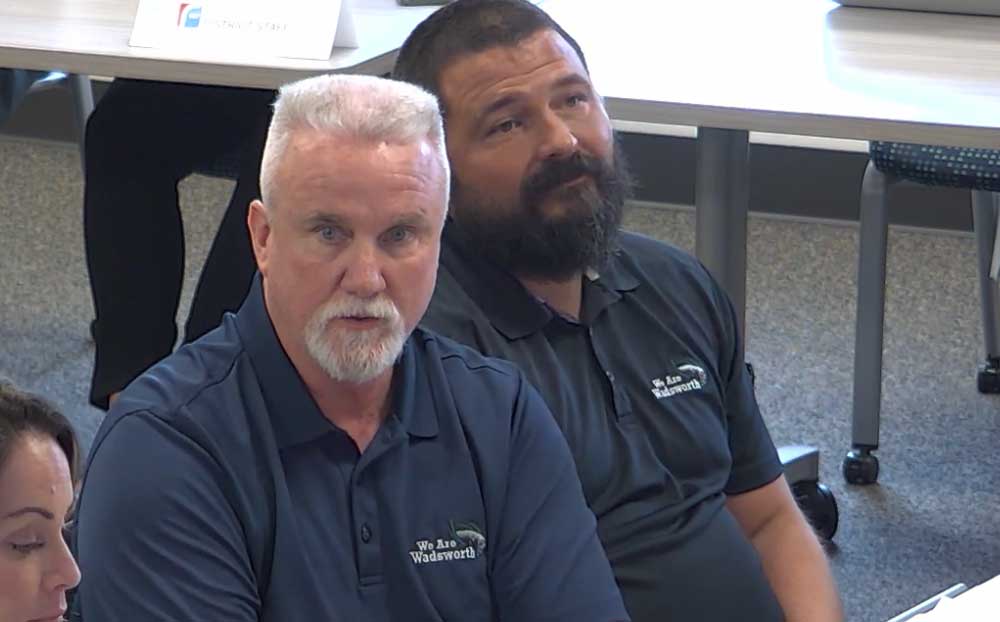 Wadsworth Elementary School Principal Paul Peacock has been placed on administrative leave with pay and barred from all district campuses or from contact with any employees pending the resolution of an independent investigation stemming from several employee complaints about Peacock, internal documents show and school officials say.
Administrative leave is standard operating procedure when an employee is under investigation, internally or from an outside agency, as, say, when the Department of Children an Families investigates an employee. It is neither disciplinary nor a judgment of wrong-doing, but a protective measure for both the person being suspended and those who may have filed complaints.




"When an employee is placed on administrative leave it's typically our standard protocol and it can be implemented at a variety of times," School Board attorney Kristy Gavin said. "We want to make sure we are protecting the employee and staff, and ensure that the investigation doesn't have an unintended outcome." Gavin spoke generally. She would not discuss the Peacock investigation, as it is an open case.
Peacock's leave would not have drawn much attention–employees, even administrators, are placed on leave from time to time–but for his recent history with the district. He was central to a controversy involving School Board member Sally Hunt, as Peacock and Hunt could be seen orchestrating the firing of Superintendent Cathy Mittelstadt through texts they exchanged in February. The school board did, in fact, vote not to renew Mittelstadt's contract a few weeks ago, with Hunt in the 3-2 majority.
Peacock also drew a lot of attention at the same time when he appealed to the school board an administrative decision not to award him a $7,500 supplement he claimed he was owned for his work as a negotiator on the district's collective bargaining team. But that was a rather black-and-white case: his term as a negotiator had ended, he was owed no money, and the board voted 5-0 to deny the appeal.
The spectacle may have served to distract from other issues as the district office was receiving complaints, or to now make it seem that the investigation is a retaliatory move against Peacock.




But the complaints predate the pay matter, and have nothing to do with Peacock's appeal, or his former dealings with Hunt. Rather, allegations go to the workplace environment at Wadsworth.
One of the complaints was reported in these pages previously, describing Peacock angrily and humiliatingly rebuffing a teacher who had complained for weeks about the non-functioning AC in her classroom, where her students were in great discomfort. The investigation closed, finding Peacock had not acted inappropriately.
Another allegation involving Peacock, never before reported until today, plays a prominent role in a federal lawsuit the district is currently fighting. The lawsuit was filed by Jawanda Dove, a teacher at Indian Trails Middle School since 2006, where Peacock had been principal for many of those years. Peacock, Dove states in an affidavit to the court, "willfully, knowingly, and intentionally engaged in unlawful employment discrimination by denying me numerous consecutive promotions and leadership development opportunities because of my race and color." The district–which disputes Dove's claims of discrimination–has made settlement offers to Dove, who also blames others in the district for passing her over, including Jewel Johnson, the human resources director, who is Black.
Going against her own attorney's advice, Dove has refused to settle (and has lost her attorney over it).




Another issue is a matter of judgment and morale rather than allegations of inappropriate behavior: Peacock used $55,000 to 47,000, according to an official familiar with the matter, from the school's internal account, to build a rather luxurious kitchen in the administrative suite. The money is discretionary. There was no wrong-doing. But such dollars are usually awarded to support broader, student-centered services, the PTO, needs in the nurse's office, in teachers' classrooms. The project may not have helped Peacock's image, already somewhat crumpled by his own feelings of having been demoted from a district position back to a principal assignment at the beginning of 2021. (The district argued that it needed a proven leader in a school that had had too much turnover in that position.)
The district had to hire an independent investigator, David Delaney, a lawyer with Weiss Serota Helfman Cole and Bierman, the Gainesville law firm, to investigate the several complaints about Peacock. It did so after Peacock himself filed a complaint against Bob Ouellette, the school district's internal investigator. Ouellette had been investigating Peacock. By filing a complaint against the investigator, Peacock prevented Ouellette from proceeding, as it would have been a conflict of interest.
Assistant Superintendent Lashakia Moore went to Wadsworth Elementary on Monday and hand-delivered the letter that placed Peacock on leave. The Observer first reported Peacock's leave on Tuesday.
There is no interim principal in place. Moore will be coordinating the school's leadership in Peacock's absence with Chris Tincher, the school's assistant principal.




Delaney's investigation is ongoing. Delaney has been trying to interview Peacock since mid-April, without success, with contacts both to Peacock and to Michael Chiumento III, the Palm Coast attorney who represents Peacock.
There does not appear to be any malice with regards to the delay, as opposed to the lawyers' own hectic schedules, time off and that sort of thing. Still, the weeks have dragged on, shortening tempers somewhat.
"I have been hired by the Flagler County School District to conduct an investigation into complaints regarding Paul Peacock," Delaney wrote Chiumento on April 20. There may be a half dozen employee complaints. Delaney asked Chiumento to "arrange a time for an interview with Mr. Peacock."
"Obviously, we will make ourselves available in the near future," Chiumento wrote back the next day, immediately suggesting that the investigation was retaliatory by making reference to recent events. "In an effort to be of more help and transparent, can you provide me with any [and] all documents concerning this matter. It is strange, that Mr. Peacock has not had any conversations or written correspondence from the District about his performance."




But the district does not hand over complaints to the person against whom the complaints have been filed–not at the outset of an investigation. The complainants' identities are protected, as they are from public-record revelations, until the investigation is completed. Delaney told Chiumento that he would be "taking the same approach." He proposed three different dates from may 1 to the 3rd for a 90-minute block of time, at most.
Chiumento demurred, saying the documents must be provided first unless protected by a public-record exemption–which they are: "Agency investigations are exempt from public records disclosure during the pendency of the investigation," the law states. It applies equally to police investigations or civil agencies' investigations. Delaney provided the cited exemption, with yet another date for a meeting.
On April 25, Chiumento wrote Gavin, the school board attorney, saying that "some attorney contacted [Peacock] to have a two hour meeting on an investigation. He has not been made aware of anything nor has he been talked to by Administration. As you may recall, the written request to meet with you all earlier this month originally stated 'insubordination' but that was later withdrawn by Mrs. [Lashakia] Moore. Now this. Anything you can share with me."
District officials have repeatedly been asked in interviews whether the fact that Peacock was seen orchestrating the superintendent's firing amounted to insubordination, and if so, why there had not been consequences. Officials, including Gavin and board members, referring to the superintendent, have said that process takes precedence (Mittelstadt is a stickler for process).




But the insubordination matter has not been "withdrawn," as Chiumento claimed. "I cannot comment on Chiumento's statement as it's still under investigation," Gavin said, a clear indication that the matter is still being handled. But it is not part of the outside investigation. It is an additional, internal matter.
On May 3, Chiumento's assistant provided dates and times for a phone interview between Delaney, Chiumento and Peacock–either on May 22 or on May 30.
That did not sit well with Delaney, who wrote the assistant back the same day (May 3): "Please let Mr. Chiumento know that the district insists that this investigation must not be delayed any further. My office has been trying to interview Mr. Peacock since mid-April. He has the option to decline to sit for an interview, but if he is going to participate, we need to get it scheduled. As a final accommodation, I am available May 17 or 18 anytime during the day. I do not agree to a phone interview. I think this would be better accomplished in person or by zoom." (Citing that email, Peacock later wrote school board members and the superintendent that Delaney was reflecting "harassment and retaliation ordered by the Flagler County School District."
The response to Delaney from Chiumento's assistant repeated the same dates she'd provided before. There would be no change. Delaney said he was insisting on may 17 or 18. "Or I'll just assume that Mr. Peacock is waiving the interview," he wrote.
"Neither Mr. Chiumento nor Mr. Peacock want to waive the interview," Chiumento's assistant assured Delaney, adding a May 19 date. "As always, my client would love the opportunity to be interviewed now knowing that there was a Complaint (sic.) filed against him," Chiumento wrote Delaney on Monday, the day his client was placed on administrative leave.




Delaney, Chiumento learned from Gavin, was out of the office this week. "Please communicate with Mr. Delaney's office on this matter as it needs to be concluded by May 19, 2023," she wrote.
Peacock meanwhile in his communications with the district and board members said he wanted to see "the written complaint with the signature of the person making the complaint." Presumably the complaints were filed by current employees whose contracts are up for renewal as the year winds down, as they are every year. The district would want to protect those employees' renewal status from retaliation, should they be among the complainants.
That, too, is part of the reason Peacock was placed on leave, as perhaps is this line from his email to school officials: "I am mentally
and emotionally exhausted as well as suffering from loss of sleep and experiencing other negative physical repercussions." District officials would not likely want a principal to remain in that position, absent some relief, once they have been made aware of such "repercussions."
But at least one Wadsworth employee on medical leave has attributed the cause to the stress of work in that environment.