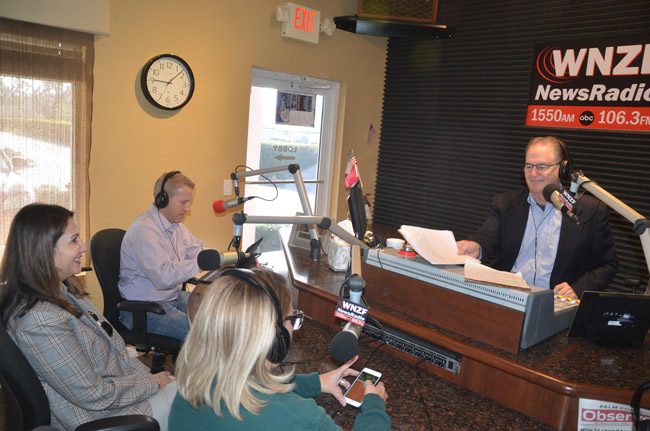 Palm Coast City Manager Jim Landon's administration is retreating from backing a controversial half-hour radio infomercial hosted by Mayor Milissa Holland and proposing instead to produce an occasional, in-house podcast hosted by city staff. The administration is also proposing spending $8,000 on radio advertising, but as straight commercials promoting city events or public service announcements.
A majority of council members interviewed today were guardedly approving of the proposal, which goes before council members at a meeting this evening, along with the option of voting for (or against) the original concept of a Holland-hosted "Discover Palm Coast" show.
The "alternative proposal," as it was dubbed in a memo, was drafted by Beau Falgout, the city's economic development director, and Cindi Lane, its marketing director, in a memo to Landon. It seeks to put as bright a face as possible on what had previously been a mishandling of the Holland radio-show proposal by Landon, who had withheld the idea from the council for a month after first developing it with Holland and David Ayres, the general manager at Flagler Broadcasting.
Ayers had proposed to Holland that she be the host of a weekly half-hour talk show on Saturday mornings, paid for by the city, in which Holland could discuss city and other issues, among other things. Holland has hosted a radio show before. The 40-week run, initially scheduled to start last Saturday, was to cost the city $10,000. Ayers and Holland briefly mentioned the upcoming show on the air during a Holland appearance on Feb. 24. FlaglerLive then detailed the show proposal later that day—and the fact that Landon had withheld the proposal from council members, to their displeasure.
Landon took responsibility for the misstep, apologizing to the council last week during an hour-long discussion of the show, which further indicated division and discomfort over the original format of the show. Landon assured the council that the show would be "scripted," as opposed to the more free-wheeling, issues-oriented show Holland and Ayers had conceptualized, causing some council members to bristle at the possibility of a show geared more toward city "propaganda" than a more substantive format. And one council member, Steve Nobile, objected to the mayor having a platform for herself on the air regardless, considering it an "undue" advantage. Holland said she would not see the show as exclusively hers to host.
In the end Landon said he'd submit the idea to the council for a vote. Nobile asked for options, and council member Bob Cuff said he wanted the idea more clearly fleshed out—"what the format would be, what kind of internal review would have to be done for each program," in Cuff's words. Landon repeated that it would not be a "forum to debate issues that are coming before city council, this is to inform city community as to things that are going out in the community and things the city council has already made decisions on."
Holland and council member Nick Klufas had been the strongest supporters of the show as originally conceived, but even Klufas, as he put it in an interview today, was "fearful that it would turn into a Palm Coast infomercial," a position Cuff echoed, and Nobile echoed more strongly, describing such an approach as "propaganda."
Council member Heidi Shipley had suggested that the show could be done on a less-than weekly basis, and more on an as-needed basis, though she preferred that the city would continue to take advantage of free appearances on the local radio station's Free For All Friday show to do just that, when necessary.
That, in essence, is the heart of the alternative proposal, which suggests that council members continue to make such guest appearances, at no cost to the city, while also making themselves available for the city's podcast. "Our initial concept is that the Discover Palm Coast Pod Cast [sic.] would be a staff hosted and driven program that would focus on the subjects and topics previously mentioned in connection with City radio show," the administration's memo states. "The Pod Cast would feature guests from time to time, including City Council members, similar to the introductions conducted at Citizen Academy nights." It would not be weekly, or necessarily dependent on a set schedule. The memo notes that "implementation would be low cost and relatively easy."
Cuff said he'd received a similar proposal from Brad West, a well-connected social media maven and founder of the well-trafficked Flagler County Politics Facebook page in Palm Coast. "I need to look at it a little more carefully," Cuff said of the city's alternative, "but it was something that looked like it might give us a bigger bang for the buck and accomplish the same sort of thing."
The podcast would then be disseminated through the city's Facebook page, its website and, presumably, through other users.
But the city would not draw back from advertising on WNZF and its sister radio stations in the Flagler Broadcasting network. It foresees spending $8,000 on such advertising as part of its lineup of "traditional media channels." The city would evaluate the effectiveness of the advertising campaign at the $4,000 mark and decide whether to go further.
Klufas was under the impression that there would be various options presented tonight, or that the radio show could have its trial run and be subsequently reevaluated. But he was leery of a scripted approach. "It seems like the direction is going to be much more scripted than I had understood or anticipated," he said. On the other hand, he sees the podcast approach as "a great idea," especially if it provides hard facts as to usage (or downloads) to ensure that the approach is worth the time.
Nobile endorsed the podcast approach as well, noting that there'd been discussions of expanding the city's message through alternative means for a while anyway—just not the radio format that came to light last week. "I had proposed last year that we get more involved in video series," Nobile said, "and we drive people to our Facebook and YouTube pages to do this. That's the kind of stuff they're talking about but not really in depth, so I'm really confused about this whole thing." But he was not opposed to the podcast: "I'm good with that, because that's what we should be doing," he said.
He was not opposed to the city's radio advertising, leaving it to the administration to decide, as long as there are measurable ways to see the effectiveness of the approach.
Holland could not be reached today. She's been at her daughter's hospital bedside for over a week.