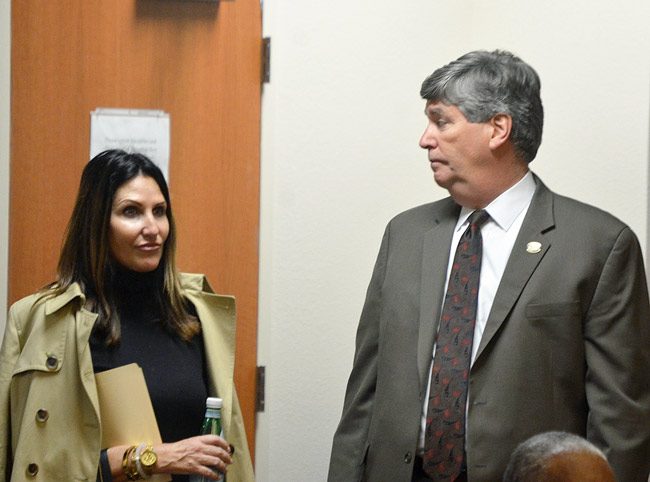 It's a wonder Palm Coast City Manager Jim Landon didn't just come out and blame local media for disseminating fake news when earlier this week he talked about his screw-up of the proposed city radio infomercial hosted by Mayor Milissa Holland. But he might as well have. The words he used, "misinformation," "twisted" and reporting "something that wasn't" were just as offensive for being flatly false. I asked him to back-up his statements with documentation of "misinformation." Of course he didn't reply, making his statements baseless and dishonest, the more so since he was presenting the issue in open forum to the city council, from his perch as manager.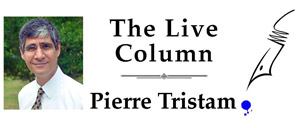 He couldn't bring himself to refer to FlaglerLive directly, which to his dismay had broken the story of the show he'd kept from the city council for a month. He's made a point of deriding the website for years, as city council members have told me enough times. It's a shame to see him embracing the same explicit tactics against media we're seeing too much of these days, but not surprising. What is disappointing is that his city council let him get away with it.
It is either irony or duplicity that Landon for all his bluster against media did take responsibility, at least to some extent, for failing the council on the radio issue. But every time he did he qualified his apology with one of those squirms that blame others for turning the story into a "negative," as if his secrecy had absolutely nothing to do with it, or claims that he and his marketing department were doing what they've always done, as if launching a weekly radio show featuring the mayor and costing taxpayers $10,000 for 10 months were just as routine as handing out rubber duckies branded with the city's logo. His lapses in judgment cost him nothing but turn his council members into his cleanup crew. Odd way to repay his bosses for a recent raise.
It didn't stop there. On Tuesday the city council will vote on whether to go ahead with the half-hour infomercial. The way Landon is describing it now, it'd be ridiculous if the council approves. When Holland first spoke to me about it, she described it as the interesting sort of show she would be very well suited to do: informational about the city, its inner workings, its various departments and the human interest stories behind them, but also discussions of current issues with serious guests involved in policy across governments locally or in Tallahassee.
That's Holland's strength. Alone among local elected officials, she combines years of private and public policy experience at state and local levels, she's bright, she's tough, and she's not scripted. Give her room to be Holland on her terms, and she'd do a valuable show. It'd be great radio. And contrary to the lawyerly constraints the city is inventing by misrepresenting the Sunshine law, nothing stops Holland from expressing her opinions on any subject–on the radio, in columns or in any forum. The only constraint is on two-way conversations with members of her council on issues before the council.
---
If Holland is to do a serious show rather than an infomercial, it should be on her unscripted terms.
---
The problem when she and I spoke, as I saw it, was not the concept, but the inexplicable dissimulation of it—why neither she nor Landon had brought up the idea to the council at any one of its recently innumerable meetings, since it was first considered. That problem was finally worked out last Tuesday in a workshop. But Landon's massaging turned the concept into a terrible idea.
He assured the council that the show would be scripted and would essentially be an extension of the endless publicity and PR puff his $400,000 marketing department already churns out all over the place. If Holland doesn't want to be seen as the administration's puppet, she should never follow that script. (Reading on the radio this morning from a script straight out of the same marketing department, WNZF General Manager David Ayres claimed hilariously that I'm attempting to "censor" the city's "right to communicate to its people" and to tell the council "how to vote." Then he told the council just how to vote if it wanted big ratings. At least he didn't ask me to let their people go.)
If Milissa Holland turns into just another talking head to promote city events, then it'd be worse than propaganda. It'd be "prolefeed," to use Orwell's word, "meaning the rubbish entertainment and spurious news" pushed on the masses. It's the sort of fake news Landon may be more comfortable with. But it'd be an insult to the mayor, an insult to the city council, and most of all an insult to whatever audience would bother listening to such tripe. Under those patronizing terms, Holland, for her own self-respect (and ours) should be the first one to vote against it come Tuesday.


Pierre Tristam is FlaglerLive's editor. Reach him by email here or follow him @PierreTristam. A version of this piece aired on WNZF.