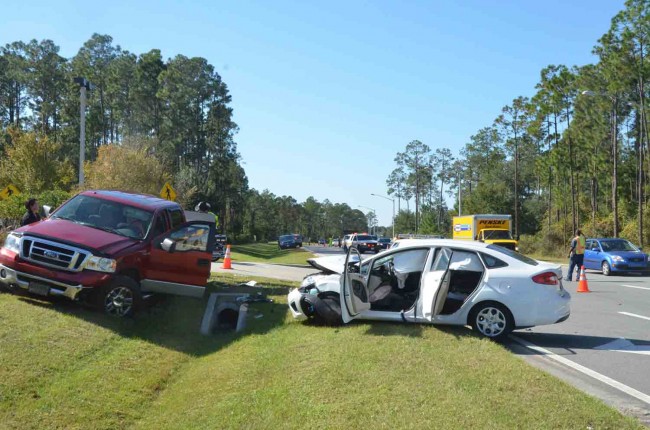 Last Updated: 2:52 p.m.
Ellsworth Rosenberger, a 69-year-old resident of Bunnell, died Wednesday following a two-vehicle wreck at 440 Palm Coast Parkway Northwest, just past Wendy's and before Roma Court in the eastbound lanes of the Parkway. The two lanes were reduced to one immediately after the wreck, which took place at 12:30 p.m.
The death is not believed to be a result of the accident, however. Authorities believe Rosenberger had a heart attack, or an equally critical medical condition. His car, a white 2012 Ford Fiesta 4-door, drifted and may have rolled over before coming to a stop perpendicular with the parkway, against the south shoulder, facing the small, mostly unoccupied office block next to Wendy's.
Another vehicle was also involved, but not directly: a dark-red Ford F-150 that the Fiesta either struck on its left-front side or forced off the road. The F-150 was resting well into the south shoulder. The F-150 was stopped in the driveway at the entrance of the business block, preparing to make its way onto the Parkway, when the Fiesta struck it, Dan Schlosser, an FHP investigator at the scene, said. The Fiesta had been traveling on the inside lane of the two-lane Parkway. Based on later findings, FHP said the Fiesta rolled over after colliding with the F-150.
"According to the driver of the pick-up," Schlosser said, referring to Ronda A. Garner, 52, of Palm Coast, "It looked like the driver of the white car may have suffered some kind of medical issue. She said that he was slumped over towards the passenger side when he was coming at her."
Flagler County Fire Rescue paramedics immediately applied CPR to Rosenberger when they go on scene, as he was not breathing. Fire Flight, the county's helicopter, was put on stand-by, then cancelled as Rosenberger was transported by ground. He was pronounced dead at Florida Hospital Flagler at 1:04 p.m.
Four hardbound library books had scattered a little in the back seat of the car, including Dale Brown's Storming Heaven.
The Florida Highway Patrol investigating the wreck. The Palm Coast Fire Department, the sheriff's office and the Palm Coast Fire Police responded, with the fire police controlling traffic through one lane on the parkway.
Traffic was slow but moving. The second lane isn't expected to reopen until closer to 2 p.m., as wreckers had not yet arrived on scene. The identity of the victim will be released when available.
Palm Coast Parkway reopened to normal traffic at 2:48 p.m.