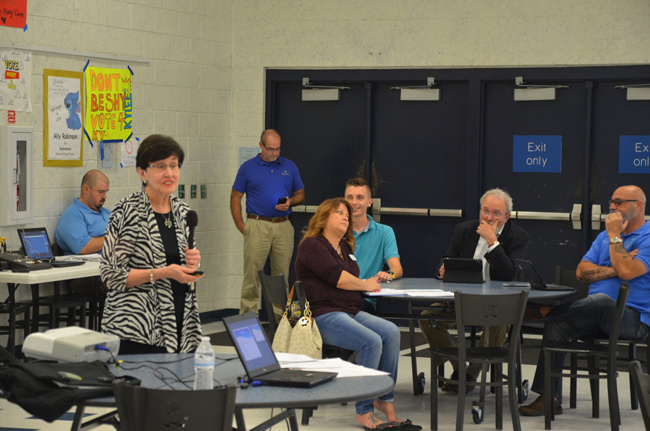 Toward the end of last Wednesday's barely attended "workshop" on reviewing the Palm Coast city charter (the city's equivalent of a constitution), a man stood up and called the whole thing a sham. It was an understatement. What the Palm Coast City Council is proudly billing as a charter review, with four workshops encouraging "citizen participation," is a spectator sport to pointlessness. It's a charade, a choreographed insult to our intelligence.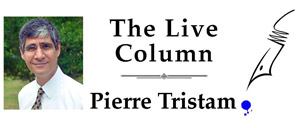 If you think the headline above this piece is distasteful–and it is–it is not nearly as offensive as Palm Coast government pretending to be doing one thing while doing the opposite: there's no attempt here to democratically review the charter, honestly consider changes and reflect residents' sovereignty in the process. The whole thing is a lawyered up subterfuge to prevent changes to the charter while giving the appearance of public engagement through cheap theater and one expensive "facilitator." These four workshops in four different venues are nothing more than Palm Coast government playing with itself in its little mobile Potemkin village and inflicting the lurid exercise on the peasantry. Remarkable that Graham Swamp is not among the stops. But the peasants aren't biting this time.
Based on the first episode at Matanzas High School last week, the public–what public turned up, anyway–is being used as a prop but catching on quickly. Even city council members sat there, not really knowing what to do with itself, its facilitator saying they're there as mere "observers," though in fairness that tends to be the council's default setting: it is usually either spectator or puppet at the end of City Manager Jim Landon's strings, whatever the setting. We'd be fools to think the charter review process should be any different.
Start with this controlling irony: the council is violating its own charter by appointing itself the review committee. That's not what the charter calls for. Not by any interpretation, at least if we agree on the meaning of fifth-grade English. The charter spells out in relatively simple language how to conduct a review: "A five-member Charter Review Committee shall be appointed. Each district council member shall appoint one member from his or her district, and the Mayor shall appoint one member at large. The Palm Coast City Council shall fund this committee." And so on. (The italics are not in the original). In other words, the council's role is to appoint, fund and shut up.
You'd think the words don't leave much room for interpretation. But Landon's attorney thinks otherwise. The attorney is Bill Reischmann. He's theoretically the council's attorney but has always been more shadow to Landon's shadow, an ode to submission to whatever the manager asks for, and this charter review is mostly a Landon Muppet show (minus the humor). So Reischmann, brushing up on his Newspeak, interprets the words of the charter to mean precisely what they don't say: that the council will be the charter review body first and last. Committee? Where on earth are you getting that idea?
On Wednesday, Reischmann, chaperoning the facilitator and crowding the mic almost as much as she did, was challenged on that score. His answer was essentially: sue me. I'm not exaggerating. He said the current process goes until it's legally challenged, knowing very well that no one anywhere between the L Section and Seminole Woods is about to spend a dime challenging this little despotism.
Then there's the process itself. Marylin Crotty was hired from the University of Central Florida to be the facilitator. She's done this sort of things dozens of times, so she does them with her eyes closed by now, if a bit too much like a substitute teacher patronizing strangers for a few hours. But to call her a "facilitator" is one of the many deceptions of this charade. A facilitator stands at the front of the room actually facilitating, listening to people throwing out ideas, questioning, debating, arguing, brain-storming, and putting it all down to analyze later.
Crotty did none of that. She lectured, she went over five sections of the charter with painful redundancy, as if to burn the clock and earn her pay. To make believe the public is involved, she took comments at the beginning and the end, at a maximum of three minutes a pop, though that's no different than the public comment segments at the beginning and the end of council meetings. She was more mercenary than facilitator.
Why put on the pretense of these moronic "workshops" is beyond me, other than of course to give the impression that the council is going around town soliciting public input so it can Facebook the farce and pat itself on the back later about how much it went out of its way to be so inclusive and transparent. I wouldn't be surprised if the administration came up with one of those self-gratifying awards to itself and blared the honor in a "news" release as it does every other week whenever it gets a merit badge from one of those associations it pays handsomely to belong to. Ergo, the onanism analogy yet again.
There's to be three more of these spectacles in coming weeks, starting with this evening's edition at Indian Trails Middle School. But the public isn't fooled. Hardly anyone is showing up. They know the end game was decided before it began.
This council isn't interested in reviewing anything but in placating the two council members who've been badgering the others to get a charter review going for a few years. Maybe it's true that there's not much substance behind the desire for a charter review, no real ideas clamoring for change, though that's the narrative the council would have you believe because it's the one it's been parroting in its echo chamber for years. But that's where an independent review committee should have come in. Who's to know what ideas are out there if an honest process freed of the council's tentacles isn't given room to breathe?
A majority of the council also fears a change in the council-manager form of government into something more meddlesome, perhaps giving council members authority to get into the day-to-day business of government. It's not a good idea. At least one council member, Steven Nobile, is unwisely pushing for it. Not that he'd have the votes–even on a council-appointed committee–to get it through to the ballot. But he's doing so because he's tired of fording the moat and scaling the castle walls Landon's erected around his kingdom, where employees are his Chosen Ones and everyone else is–well, peasantry to be scorned or nobles to be placated. There are less autocratic, more respectful ways of running local government, though that ship sailed off Palm Coast's Potemkin coast a long time ago.
Curiously, it's Palm Coast's runt of a sister, Bunnell, that could teach it a thing or two. None of Bunnell's city commissioners thought there was much to change in that city's charter a few years ago, but the city went through a review the right way, appointing an independent body and letting it do its work without interference from the city manager, the city attorney or other nannies, until the committee was ready to submit a set of proposed amendments. The council prepared them for the ballot, and voters had the final word (as will be the case when the Palm Coast council ratifies whatever cooked up proposals it will for the 2018 ballot, to make its breadcrumbs look like it's offering up "change.") Bunnell could teach Palm Coast a thing or two about following the right process, starting with following its own law.
But the council, fearful of change, jealous of its own presumptions, prefers to break the law and make up its own rules, and in so doing kill whatever chance there might be of an honest review. Put simply, Palm Coast is stuck in 1999 and wants to stay that way. It shows, and not just with this charter review.

Pierre Tristam is FlaglerLive's editor. Reach him by email here or follow him @PierreTristam. A version of this piece aired on WNZF.