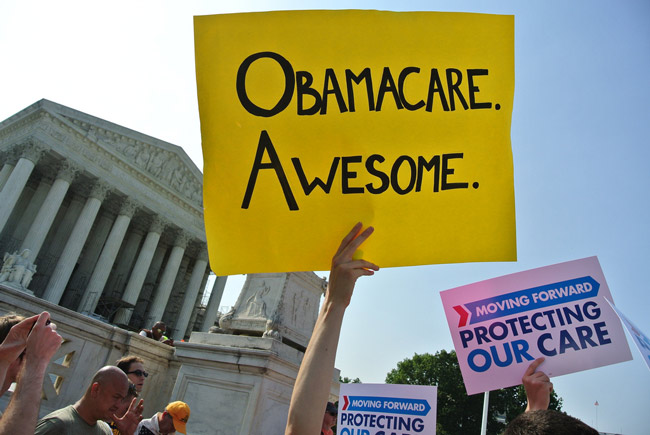 A landmark lawsuit couldn't stop the Affordable Care Act. Neither could Mitt Romney.
And now, after more than two years of fighting the federal health overhaul, Florida Republican leaders say they need to prepare to carry out the law.
During the past week, Gov. Rick Scott, incoming Senate President Don Gaetz and incoming House Speaker Will Weatherford have said they expect state officials and lawmakers to grapple in the coming months with the law dubbed "Obamacare." It remains unclear what — if anything — state leaders will do, but they face major issues such as the operation of a health-insurance exchange and the potential expansion of Medicaid.
"I'm looking for creative solutions," Gaetz, a Niceville Republican, told The News Service of Florida last week. "I'm less interested in re-fighting the campaign of 2012 about whether Obamacare is good or bad. I think it's bad. But it's the law of the United States. And today I swear on a Bible – my family Bible – to preserve, protect and defend the Constitution of the United States and its laws. And the federal health care law is a law. We have to abide by it. Let's find ways – creative ways, creative solutions – to abide by the law that will keep costs down for Floridians and open access for Floridians and try to keep the intrusiveness of any level of government to a minimum in the lives of families and individuals and small businesses."
Scott, whose opposition to the federal health law helped serve as a springboard for his political career, drew headlines this week when he told the Associated Press that he wants to negotiate with the federal government.
"The election is over, and President Obama won," the AP quoted Scott as saying. "I'm responsible for the families of Florida. … If I can get to yes, I want to get to yes."
The statements are a major departure from the earlier positions of Republican leaders, who hoped that a Florida-led lawsuit would cause the federal law to be declared unconstitutional and then banked on GOP presidential candidate Mitt Romney dismantling Obamacare. The U.S. Supreme Court this summer largely upheld the law, and President Obama beat Romney last week — all but guaranteeing the law will go forward.
Democrats and other supporters of the law long criticized the state's Republican leaders for refusing to carry out the law. State Rep. Mark Pafford, a West Palm Beach Democrat who has been heavily involved in health-care issues, expressed optimism Wednesday because Scott and Republican leaders have started talking about implementing the law.
"I think it's far from where they were," he said.
Pafford said he thinks Scott might see negotiations on the Affordable Care Act as a way to also help get federal approval for separate state proposals to shift almost all Medicaid beneficiaries into managed-care plans. Florida sent the managed-care proposals to the federal Centers for Medicare & Medicaid Services in August 2011 but has still not received a sign-off.
The Democrat also said he thinks Scott might see being more flexible on the federal health law as a way to increase popularity among voters as a re-election campaign looms in 2014. Pafford compared it to Scott's outspoken positions recently on education issues.
"It's just like education — I think the governor has become a better politician," Pafford said.
Weatherford, a Wesley Chapel Republican, said this week that the House will thoroughly look at the federal law during the 2013 legislative session. But he also cautioned that "there are hundreds of unanswered questions that are out there" about carrying out the law.
"We will have a policy and a direction in the Florida House, but we don't have enough answers to those questions to tell you what that policy is today," said Weatherford, who along with Gaetz, will formally begin presiding over the Legislature next week.
Republican leaders also will likely continue to face calls from conservative groups to delay or refuse to implement parts of the law. For instance, the James Madison Institute released a report last month that said, in part, the state should not establish an insurance exchange and should not expand Medicaid.
"We understand the motives of state leadership in their efforts to want to cooperate, but some issues need staunch opposition and ACA compliance is one of them," Thomas Perrin, the James Madison Institute's director of public affairs, said in a statement Wednesday. "As we, and others in Washington have said, the ACA was designed to fail in an effort to move toward a single-payer system, taking our country in a direction that is costly and will produce unintended consequences."
Parts of the federal law have already taken effect, but major changes will happen in 2014 as the federal government seeks to dramatically increase the number of people with health insurance. Among those changes are the start of insurance exchanges, which are designed to provide online marketplaces for Americans to shop for health insurance.
The law allows states to operate the exchanges or enter into partnerships with the federal government. In states that choose not to participate, the federal government will run the exchanges.
States face a Friday deadline for notifying the U.S. Department of Health and Human Services about their exchange plans, and Weatherford said this week that Florida likely will rely on the federal government to run the exchange at first. But he and Gaetz have left open the possibility that Florida's position could change in the future.
Gaetz told the News Service last week that he would like to explore a partnership with the federal government. Weatherford said during a news conference this week his priority is to maximize competition and maximize choices for consumers, whether that is through a state-run exchange, a partnership or a federal-run exchange.
Lawmakers in 2013 also could consider part of the law aimed at expanding eligibility for Medicaid. The Supreme Court found that states could not be forced to expand the program, which has left the decision up to Florida.
Republican leaders have long complained about the cost of Florida's Medicaid program, and Scott earlier this year rejected the idea of an expansion. Under the law, the federal government would pay all of the costs of expanded eligibility during the first few years and eventually would pay 90 percent of the costs.
–Jim Saunders, News Service of Florida