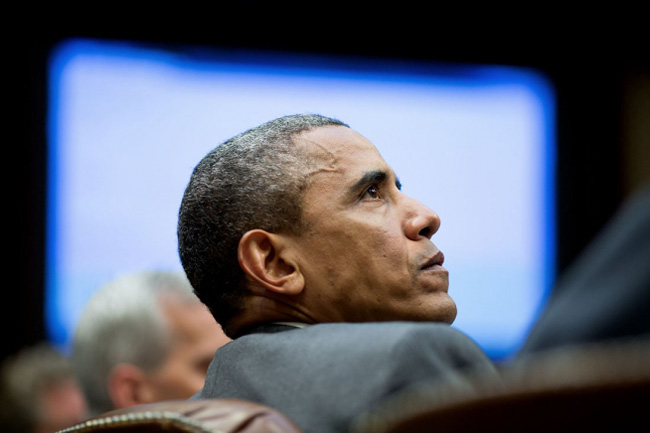 You've heard by now of Texas Sen. Ted Cruz's latest impersonation of his more hysterical half. The Islamic State in Iraq and Syria (ISIS), he told an interviewer last Sunday, is "right now crucifying Christians in Iraq, literally nailing Christians to trees." It's a lie of course. It's also an old plagiarism of bogus atrocities meant to whip up the home front into a frenzy for war. It dates back to the early days of World War I, when the British press, to hurry up enlistments, was inventing claims of German soldiers crucifying Belgians. Variations on the theme applied to the Vietcong. By 1991 the first George Bush was inventing claims of Iraqi soldiers throwing babies out of incubators in Kuwait. Not enough crucifixion-ready trees in Kuwait, evidently. At the time Bush was incubating congressional votes for the first gulf war and siring the second. By the time of the second Bush the inventions about Saddam Hussein were so outlandish that they could be reduced to shorthand: WMDs. Or the irreplaceable image of Colin Powell dangling his vial of fiction at a UN Security Council meeting.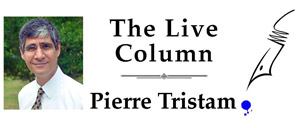 Not to worry: our freely feckless media believed them every time, and in the case of such house organs as the New York Times and the reliably hawkish Washington Post, did their best to lend the lies the legitimacy of their mastheads. War has since become the reflex of this unimaginative republic, where enthusiasm for war is matched only by massive ignorance of its realities. That's the cynical luxury of outsourcing wars to foreign lands, at the hands of a professional military no different than a segregated if worshipped minority. (If you doubt that for a moment, remember how the injured are treated, and maltreated, once the military is done with them.)
It's not enough to be fighting a losing war in Afghanistan and another against "terror" in Somalia, Yemen, Pakistan and wherever else the Pentagon and the White House wish to play centurion to the world. It's not enough to have invaded Iraq on false pretenses, destabilized the entire region and granted Iran's totalitarian mullahs a new lease on repression while abetting Iraq's authoritarian Shiites against its Sunnis, to the point of sending too many Sunnis into the seemingly defensive arms of the madmen of ISIS.
We must now rejoin the madness. Rejoin it, and expand it. Because bombing Iraq alone won't do. We must now expand the bombing to Syria, our 21st century Cambodia. "This counterterrorism campaign," Obama's Nixonian half said tonight, "will be waged through a steady, relentless effort to take out ISIL wherever they exist using our air power and our support for partner forces on the ground."
Give this to Obama, that closeted Cesar who's pretended to be ending wars while raining Hellfire missiles from every available drone from one end of the Middle East to another. He's got audacity enough to skip the Kissinger-Nixon method and carry out his illegal bombings in the open. All he has to do is say that his lawyers approve. That's the position he's taking regarding bombing Syria. (It's how Iran's mullahs and al-Qaeda's nut jobs justify their mad acts, too: they concoct bogus Koranic edicts the way the White House concocts legal cover. It reminds me of Solzhenitsyn's line in The Gulag Archipelago: "Whatever the law is, crime can be found.") That wouldn't make the United States any less of an international outlaw.
There may have been legal cover to restart the bombing of northern Iraq: the Iraqi government requested it. The United States obliged. There is no such request from Syria, and Iraq's claim that the expanding the bombing campaign is necessary to protect its border is as ridiculous as if George W. Bush had claimed, at the height of the war in 2007, that bombing Iran was necessary to protect Iraq's border against insurgent support from there. Even Bush wasn't that far gone, and that's saying a lot. (Bush reasserted the same caution later in his presidency when he stood down Israel's prime minister and refused approval to bomb Iran's nuclear installations.) It now appears that the man who won the presidency as an anti-war hero is turning the tables on himself. Imagine what we'll do when the House of Saud finally shreds.
---
Expanding the war to Syria is a grave error whose unintended consequences will add to 13 years' worth of American setbacks in the Middle East.
---
In the case of ISIS, Obama has that mass of public hysteria on his side. The Ted Cruzing of the home crowd has worked well. Good timing for Obama, too, who is desperate for a show of force to muscle up his approval ratings, which have been approaching the Bush zone of late. So tonight he's going full Cheney on us.  he's rehashing those old phrases of the war on terror and applying them to ISIS, the new allegedly existential threat to the United States. There's as much evidence of that as there was of WMDs in Iraq, but never mind. He wants his war. So does the American public. It'll be another long war. But to borrow from John McCain's favorite words, it must be fought. It must be expanded into Syria, one of those rare Middle East countries that haven't yet benefited from American ordnance.
The new WMD-like claim is that ISIS is a threat to the United States. It isn't and never will be: terrorists can't threaten nations. They can at most rattle them, and even then, not much, unless nations take their bait (as we did in 2001). ISIS is not even a durable regional threat. It can't, like the Taliban, grow poppies in the desert and sell heroin to finance its miserable caliphate. It's not about to find clients for whatever oil it gets its hands on. It profits far more from interest-bearing publicity. There's a reason the last viable caliphate operated in pre-Crusader Arabia–just as there's a reason Westerners have had a hell of a time trying to manage Arabs since the crusades. They're not for the West to manage.
Bombing Syria will help another tyrant: Bashar el Assad. He's no less bloodthirsty, and by actuarial tables far more so, than ISIS. He's the reason Syria is in civil war. Propping him up would be the unintended consequence of bombing his enemies, just as propping up Iran was the unintended consequence of invading Iraq. On the other hand, this latest twist in the Obama doctrine, such as it has been, may amount to a lot more bluster than strategy, the expansion of an already vast set of remote-control wars from drones that Obama appears comfortable waging to no end. It projects American power at minimal cost in American lives (but immense cost in civilian and alleged insurgent lives). It never ends, of course. But that's beside the point. Or is the point, perpetual war being the last refuge of second-rate empires. The Chinese must be drunk with anticipation.
Needless to say, ISIS is as abhorrent as any fanatical and regressive "organization" that claims to be fighting for the betterment of its lot while wading in blood. It's not necessary to invent claims about ISIS like crucifixions of Christians (as if banal executions of Shiites, ISIS's real enemy, would be any less objectionable). What we know they do is bad enough. They're al-Qaeda's new release. But al-Qaeda wasn't worth three wars. It wasn't worth one. That team of a few Navy SEALs taking out bin Laden in Abbottabad made that heroically clear. The 9/11 attack turned out to be a one-off that needn't have been avenged so much as answered in proportion. Bush preferred vengeance and then some. The resulting wreckage burrowed all the way into our own financial stability. We're still paying those bills. American credibility in the Middle East hasn't fared better. It's in ruins.
ISIS, whose nihilism carries the seed of its own destruction, is an Arab problem, and more specifically a sectarian problem bred of a Sunni-Shiite divide that the West can bridge no more than Arabs could have bridged the bloody Protestant-Catholic divide of post-Reformation Europe. It took a few centuries, but Protestants and Catholics found a way. Islam's brawlers will, too. But it's their fight, not the West's. We have enough problems of our own that they needn't be an export. This latest 9/11 anniversary, with 8,273 American servicemen killed in Iraq and Afghanistan since then, and more lost than gained, should be reminder enough that there's no room for American maneuvering there. There's chaos and more of what that region has been since B-52s first dropped bombs on Afghanistan 13 years ago: a quagmire. As Ottomans, French, British and Soviets found out beforehand, no strategy but withdrawal can overcome it, and no amount of Vegas-guided Hellfire will redeem it.

Pierre Tristam is FlaglerLive's editor. Reach him by email here.