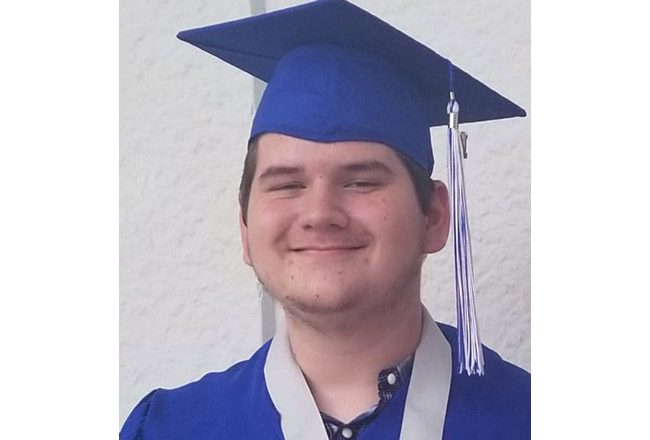 A Gofundme account has been set up for Nicholas Urban's funeral services. Any left-over funds will be donated in his memory to the Matanzas High School and Indian Trails Middle School band programs. A celebration of Nicholas's life is scheduled for Saturday, Sept. 22, at 10 a.m., at Palm Coast United Methodist Church, 5200 Belle Terre Parkway. "I ask that in his honor wear colors and not black," his mother said. "In lieu of flowers we ask that donations be made to his GoFundMe page."

When Sue Urban was pregnant with her second son, she and her husband at the time, Jason Urban, knew all along that his name would be D'Artagnan, after the fourth musketeer in Alexandre Dumas' famous novel that Sue loved so much: D'Artagnan is the young upstart who wins over the other three musketeers with his brilliance and skills, and who elicits their tenderness and protection. He breathes adventure and wit into the pair of epic novels Dumas devoted to the musketeers.
There was a little hitch though. "His grandparents couldn't understand the thought process why we wanted to name him that," Sue Urban said, "so we named him Nicholas, and made his middle name D'Artagnan."
Last December, Nicholas D'Artagnan Urban, dexterous musician, singer, aspiring Marine, graduated Matanzas High School, and in May walked with his class.
"He was so proud that he graduated and that he was able to walk at graduation and represent his friend Michelle," his mother said, referring to Michelle Taylor, who had been killed by a car a year earlier as she walked with a friend along Lakeview Boulevard. She was 16.
"They were very close friends," Sue Urban said. "They've dealt with a lot of loss in the last two years, year and a half at Matanzas, there's been several of his classmates that have passed away."
Tuesday afternoon (Sept. 11), Nicholas D'Artagna Urban, 18, took his own life. He died of a self-inflicted gunshot.
Nicholas had not showed up for work at Subway in the Hammock that day. According to a Flagler County Sheriff's report, his boss, Mallorie Curry–who had worked with Nicholas's mother in the past–messaged Nicholas's step-sister Haley Smith to ask about his whereabouts, and the two eventually went to Nicholas's house at 3 Cherokee Avenue, where he lived with his father, Jason Urban, 40. Curry found Nicholas in his bedroom.
Nicholas earlier had texted Smith an apology and the passcodes to all his online accounts.
The sheriff's office established a crime scene, as is routine in such cases, with detectives and crime scene investigators processing the scene, and the medical examiner removing the body to St. Augustine for an autopsy.
On Wednesday, Sue Urban posted the following on her Facebook page: "Yesterday my son Nicholas Urban died from a self inflicted gun shot wound. He felt his pain was [too] much to carry or share. Please if you need help reach out to your Family, Friends, Teachers, School Resource Officers, Police, Firefighters, EMS, or call the National Suicide Hotline 1-800-273-8256. I am available day or night 24/7/365 call, text, PM, come to my home. I will get you help. Please I beg of you!!!
❤ In Loving Memory of Nicholas D'Artagnan Urban 1/22/00 – 9/11/18 ❤"
The school district yet again mobilized its team of counselors and psychologists to be available to students, staffers and faculty at Matanzas on Wednesday and the rest of the week, district spokesman Jason Wheeler said. No public announcement was made throughout the school in this case since Nicholas had graduated the previous school year, but he had friends there still, and of course was well known among faculty.
Nicholas's death is the eight violent death affecting the Matanzas High School community since the death of 9th grader Dalton Coxwell in 2013: six enrolled or recently graduated students have taken their own life since then. The last, before Nicholas, was Timothy Daniels, who was 17 when he used a gun on himself in July 2017. Two Matanzas students have been killed in traffic-related incidents: Taylor and Kelvin Smith, 16, killed on New Year's Eve, 2016, as he biked on Old King's Road.
---
"I will make sure that I become an advocate for my son and make sure that there's awareness in this county because too many of our children have been lost and too many perfect souls are gone."
---
"My son was very special, he had a huge heart and his light was so bright, all he wanted to do was make other people happy," Sue Urban said this morning, struggling through tears. "Nicholas was the kid that whenever he walked into a room, he made it light up. Even if he didn't speak his smile would light up the room and he would do anything in the world to make you happy. He would tell you jokes, he would tell you anything to make you laugh, he would send you a message or something to make you happy. He loved music, every type of music. I don't think there was anything he wouldn't like. We'd go on road trips and not know what we'd hear because Nick was in charge of the music," his eclectic tastes playing cadence to the miles.
Then why?
"We are finding out that he was being bullied," his mother says. "He felt that the only way out was to take his own life, and I urge anyone that know anything about it to contact the sheriff's office."
There is not much clarity about the bullying at the moment: Nicholas had not had conversations about it with his mother, who is slowly discovering word of it through text messages and the like. "His comments were that it's been happening for years, other messages say that people he doesn't know are trying to destroy his life so there's a lot of unanswered questions," she said.
On July 27, Nicholas had posted on his Facebook page: "I never thought so many things could go wrong in such a short time…" His mother had replied: "It's okay buddy we will get through all of this. We are strong as hell. I love you forever and ever with all of my being."
He wanted to become a computer engineer, go into the Marine corps as a K9 officer and play in the Marine band: he played several saxophones, the clarinet, the piano. He'd been in the Matanzas chorus and its band. And he knew inspiration when he saw it: some months ago he posted a montage of clips of Robin Williams speaking of poetry in "Dead Poets Society," of death in "Patch Adams," of love's vulnerability in "Good Will Hunting," and of Williams, in "Jack," about the boy who ages at four times the normal rate, telling a class of graduates in his premature old age: "Hey, look at me, please don't worry so much. 'Cause in the end none of us have very long on this Earth. Life is fleeting."
But Nicholas had contended with the dire health difficulties of both his parents: his father struggled through a grave illness, his mother battled cancer, and just months ago had to have quadruple bypass surgery, and is still having complications. Nicholas and his older brother Zachary raised funds for her and wrote of the ordeal: "My mom went through all of this [and] still took care of us the best she could," they wrote on a GoFundMe page. "Too proud to ask for help. I have carried her to the bathroom and back to bed. I have lied next to her in bed and rubbed her back as I watched pain completely consume her. I have watched her breathing and reached out to touch her to make sure she was still alive while she slept."
"I don't know what he was thinking," Nicholas's mother says now of her son's own internal struggles, "I don't know if it was too much to share with other people, or if he felt it was a burden. Both his father and I have gone through a lot of illnesses recently, and he had a lot of pressure from that."
There is tragic irony, too: Sue Urban is a paramedic. She's seen her share of catastrophic circumstances, she's tended to family members shocked by the inconceivable, as she now finds herself to be. "I've dealt with it with many other families, it's very different when it's your own," she says.
Yet even now, in the rawness of grief, she is urging those in despair to reach out first. "I just want people to know that there's help available to them," she says. "I will make sure that I become an advocate for my son and make sure that there's awareness in this county because too many of our children have been lost and too many perfect souls are gone."
School Board member Colleen Conklin for several years has been leading the effort to do just that, personally and through Flagler Cares, the coalition of local organization that launched its own Flagler Lifeline website this year to address the suicide crisis: Flagler's suicide rate in 2017 ranked at the top among the state's 67 counties. Earlier this year Conklin and Flagler Care's Carrie Baird toured local governments to introduce Flagler Lifeline and broaden the discussion around suicide and mental health.
Conklin heard about Nicholas's death within hours Wednesday. "As a mother as soon as I heard I immediately felt the pit in my stomach and just couldn't comprehend what those who love him are left with, and how they would be struggling," Conklin said, "then followed of course by what kind of pain he must have been in to make such a permanent decision to what we know is a temporary problem."
She was grateful the district was quick to mobilize, and spoke of Flagler Care's ongoing efforts, which tie into Sue Urban's plea. "The entire group, everybody is working really hard to try to raise awareness, remove the stigma so people feel comfortable asking for help," Conklin said. "There's treatment. Getting the message out there that if your heart and your mind are hurting, ask for help, there's help out there, and you'll get through this. Everyone at some point in time deals with depression, and when it gets overwhelming there is help out there. But there's still stigma."
That stigma translates into a fear or concern in having those open conversations, "which I totally understand, because it's a very, very private conversation," Conklin says. "The message is, private or not, it's a conversation that has to happen."

The following resources are available for individuals in crisis:
In Daytona Beach: Stewart-Marchman Act Corporation Crisis Center
1220 Willis Avenue
Daytona Beach, FL 32114
Administrative Phone: (904) 947 – 4270
Crisis Line: (800) 539 – 4228
Available 24 hours.
National Suicide Prevention Lifeline, 800/273-8255 (TALK).
If you are concerned for someone else, read about warning signs here. For additional resources, see the Speaking of Suicide website.