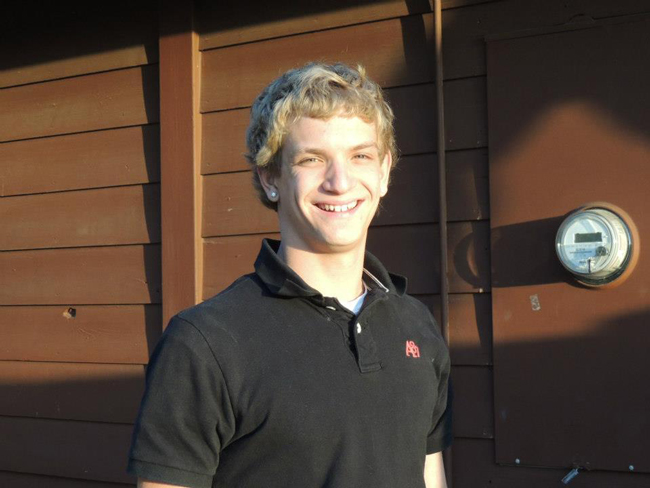 Last Updated: 3:42 p.m.
Moments after 8 a.m. today, Matanzas High School Principal Chris Pryor announced to the student body that one of its own, Freshman Dalton Coxwell, 15, had taken his own life the night before.
"We met with some of the students we knew were close to him, and then we made a general announcement," Pryor said. The school also issued an automated call to Matanzas families informing them about the loss and advising about the availability of grief counselors.
Pryor again spoke to the school after 1 p.m. to announce a service in the school's Pirate Theater at 6:30 p.m. Friday, to be followed by a tribute to Dalton in the courtyard. Dalton's family members reportedly visited the school today.
Coxwell hung himself from a tree in his yard Wednesday, according to a police report. His father found him.
A deputy was dispatched to the student's Forsythe Lane home in Palm Coast to find Dalton's father, Phillip, performing CPR on his son. The deputy took over CPR until Dalton was placed in a Flagler County Fire Rescue ambulance and taken to Florida Hospital Flagler. Dalton was pronounced dead at 5 p.m. Police found only a cell phone at the foot of the tree.
It is the first instance of a student suicide in Matanzas's history. The school opened in 2006. "We had a student die of cancer, but this is completely different," Pryor said.
Before the school day began the district had dispatched Acting Superintendent Jacob Oliva and other administrators, including Diane Dyer and Katrina Townsend, director of student services, to the school, along with additional counselors and school psychologists.
Oliva spent the morning at the school before, on a day of grief, having to go to the funeral of a colleague, Bruce Preece, the district's transportation director. Oliva started with breakfast duty at the school. "Obviously there were some students that were upset," he said. They went to speak with counselors. But for the most part the day went on, and "learning was still going on in the classrooms."
Dalton's Facebook page was filling up rapidly with messages of grief and sympathy from fellow students and others, drawing the picture of a well-liked student whose sense of humor stood out and who'd made lasting impressions on those who knew him, even those who knew him briefly or a long time ago. Coxwell was born on July 27, 1998, and had attended Indian Trails Middle school before Matanzas. He had also played football briefly at Matanzas.
Pryor said the school's dean's office had not received reports of issues that indicated Dalton had been the victim of bullying, but that the school would be looking into any such possibility. Pryor added that while Matanzas's last school day before the Christmas and New Year's break is Friday, the school may arrange for student counseling during the break. That information will be provided when it becomes available.
Later in the afternoon Oliva specified that during the Christmas break, the school itself–as with other schools in the district–will remain open next Monday and Friday, and every day of the following week except on Jan. 1, so that any students or parents who wish to see a counselor are welcome to go to the school during regular school hours.
Colleen Conklin, the school board member who a few weeks ago held two town online town hall meetings to address issues surrounding the suicide of Rebecca Sedwick, the Lakeland middle school student who'd been bullied, posted the following note on her Facebook page:
"At this point I know you've heard about the student we lost last night. We have counselors at some of the schools this morning. I've been watching Facebook posts by some of our students and I would ask that we all monitor our kids social media. Facebook, twitter, instagram and above all else ask.fm. This was no one's fault! Emotions are running high and I would ask that if you have teens/tweens at home that may have been impacted that we spend some time talking to them about it. Words hurt, the sting left doesn't disappear once they are said. They may live with someone forever. We all need to be reminded of that. Kindness and love is needed. Please keep this student and his parents and family members in your thoughts and prayers."
Daviana Campbell, 14, a friend of Dalton's who'd known him several years before she left Palm Coast for Miami Beach in August–she provided the portraits below–was asked to describe her friendship with him. "Dalton," she replied, "was the most caring, funny guy I knew. Not only with me, but with everybody, he always found a way to make you laugh. If you knew him, your happiness was always his priority. I think that is what is so shocking, because if you look at all the pictures, you never see one without a smile on his face. He was compassionate, and respectful. He would help my mom and cut the lawn and my mom would thank him by cooking his favorite food or by treating him to a movie with us."
Dalton had actually helped Daviana's family load the moving truck in August.
She added: "We just have to make his death count. It means everybody whose life he touched need to change inside themselves. We need to be tuned into our friends, we need not to make enemies and truly find within ourselves our own goodness to share to honor him. Dalton was kindhearted and friendly and even when he wasn't it wasn't for long. Forgiveness was always within his spirit and he never was mad for long. Right now we all need to get through the next few days and then we can deal with what we need to do to keep others from feeling so low that they think death is the only answer<3 Everybody will miss him."