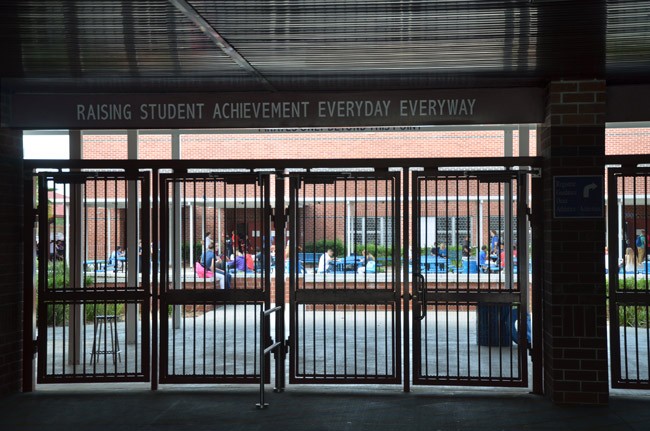 Charges are pending against a 14-year-old Matanzas High School student after he allegedly assaulted a 15-year-old boy who was making fun of him and his family. The 15 year old was sent to Florida Hospital Flagler for treatment of a head injury.
The fight began before school started Wednesday, and appears to have stemmed from online harassment on a social media website against the alleged assailant, by a group of six or seven friends who attend Matanzas. Using a chat application popular among younger people and prevalent on their smart phones, the chat, according to a Flagler County Sheriff's Office report, began over the weekend and entailed the group of friends making fun of the alleged assailant's uncle, who had recently died, and of the rest of his family.
The incident report states the chatting suggests that the boys involved made plans to fight at school, although the victim told police he had no plans to follow through on the claim.
There were several witnesses. According to their accounts to a deputy–accounts both victim and alleged aggressor corroborate–the 14-year-old boy as sitting at a table in the school courtyard when the 15 year old approached him and asked him if he was "talking shit." A brief argument ensued, then the 14-year-old boy allegedly tackled the 15 year old, causing the older boy to hit his head on the concrete and opening a small gash in back of his head.
"While on the ground witnesses stated that each party was throwing punches until the fight was broken up by administration," the incident report relates. The younger boy had a small cut to his left leg and a small scrape on his right arm. The older boy's cut was more severe and required stitches, so he was taken to Florida Hospital Flagler in a Flagler County Fire Rescue ambulance.
"Due to the physical aggressiveness" of the 14 year old "and the severity of the injury," the incident report states, charges were forwarded to the State Attorney's Office, which will determine whether they should be pursued. The boys provided screen shots of the electronic chats to authorities.
In mid-afternoon Thursday, the 15-year-old boy's mother, Sabrina Evans, said that while her son acknowledged that words were exchanged before the fight, he'd never made fun of the other boy's family or uncle–having himself lost an uncle in November. "The kid that attacked my son has got quite a reputation at the school," Evans said. "They had words, true, but he did not make statements about his family." And contrary to the account in the incident report, she said it was the alleged aggressor, not her son, who asked her son if he was "talking shit."
June 4 is the last day for all students in Flagler County schools.