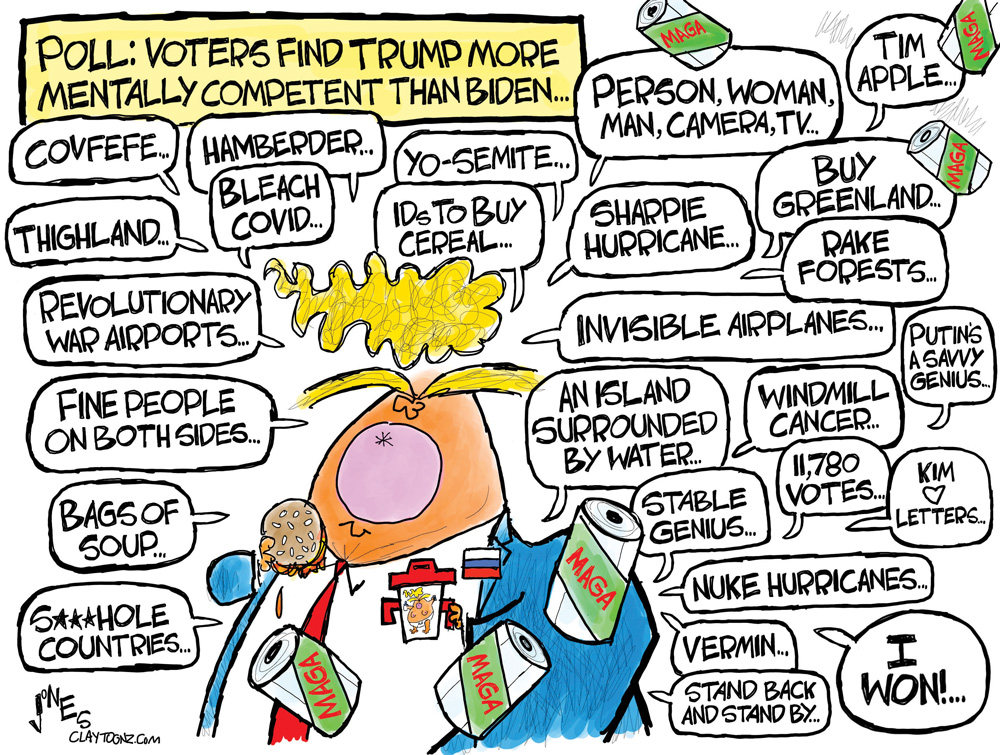 To include your event in the Briefing and Live Calendar, please fill out this form.
Weather: Mostly cloudy. Highs around 80. Southeast winds 5 to 10 mph. Tuesday Night: Mostly cloudy. A slight chance of showers and thunderstorms after midnight. Lows in the mid 60s. South winds 5 to 10 mph. Chance of rain 20 percent. See the daily weather briefing from the National Weather Service in Jacksonville here.




Today at a Glance:
Thanksgiving week: No school today. The Palm Coast City Council cancelled its meeting normally scheduled for today.
The Flagler Beach City Commission meets in special session at City Hall at 5 p.m. to approve a budget transfer and discuss New Year's Eve fireworks. See: "Flagler Beach Planning New Year's Fireworks and 'Surf Board Drop' in What Could Be Launch of New Tradition."
Random Acts of Insanity Standup Comedy, 8 p.m. at Cinematique Theater, 242 South Beach Street, Daytona Beach. General admission is $8.50. Every Tuesday and on the first Saturday of every month the Random Acts of Insanity Comedy Improv Troupe specializes in performing fast-paced improvised comedy.




In Coming Days:
Nov. 25: Tree-lighting ceremony: The City of Palm Coast is inviting residents and visitors to the 11th Annual Tree Lighting Ceremony at Central Park in Town Center, 975 Central Ave., Palm Coast from 6 to 9 p.m. Join Santa, the Palm Coast City Council, and the Rotary Club of Flagler County as they count down to the lighting of a beautiful tree and celebrate the arrival of the most wonderful time of the year! Details here.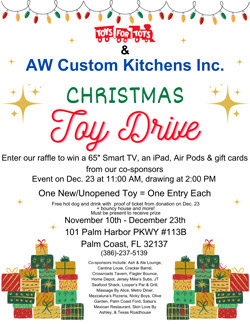 Staring Nov. 25: Rotary's Fantasy Lights Festival in Palm Coast's Town Center: Nightly from 6 to 9 p.m. at Palm Coast's Central Park, with 55 lighted displays you can enjoy with a leisurely stroll around the pond in the park. Admission to Fantasy Lights is free, but donations to support Rotary's service work are gladly accepted. Holiday music will pipe through the speaker system throughout the park, Santa's Village, which has several elf houses for the kids to explore, will be open, with Santa's Merry Train Ride nightly (weather permitting), and Santa will be there every Sunday night until Christmas, plus snow on weekends! On certain nights, live musical performances will be held on the stage.
Dec. 23: Culmination of toy drive for Toys for Tots at AW Custom Kitchens, European Village, starting at 11 a.m. A drawing for all eligible participants will take place at 2 p.m. Anyone who will have donated toys for the drive will have a chance to win various items, including a 65-inch 4K Smart TV, an Apple iPad, a pair of Apple Air Pods, and gift cards from the co-sponsors of the event. Fifty such cards have been donated. With proof of a voucher, donors also will receive a free hot dog, a free drink, a free popcorn, a free cotton candy, and a free snow cone. There will be a variety of fun things to do such as a bouncy house for children in thanks to the community for its generosity. See details here. 
Notably: It is Voltaire's birthday (1694). He was the original blogger. In the final third of his long life (he lived 83 and a half years), he wrote, in one of his 93,000 snide and well-deserved references to Rousseau: "Jean-Jacques writes just to write, and I write to make things happen." (The translation may not be as exact as it should be, the French word "agir" having to do with action, agency, advocacy: "Jean-Jacques n'ecrit que pour ecrire, et moi j'ecris pour agir.") I'm with Flaubert, who wrote in a letter: "I love the great Voltaire as much as I detest the great Rousseau" ("j'aime le grand Voltaire autant que je deteste le grand Rousseau.") Firing up that old feud never gets old. It should be an international holiday. It's certainly as close to a sacred day as we ever have at this site, though "sacred" is not the Voltairean term of choice.
—P.T.
Now this:
View this profile on Instagram

The Live Calendar is a compendium of local and regional political, civic and cultural events. You can input your own calendar events directly onto the site as you wish them to appear (pending approval of course). To include your event in the Live Calendar, please fill out this form.
For the full calendar, go here.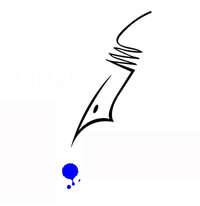 Goethe was seldom at a loss for an abstract and sweeping generalisation. Once, however, he was so overcome that he quite lost his breath: it was when he wanted to express what he thought of Voltaire. He only managed to gasp Out: "Profundity, genius, intuition, greatness, spontaneity, talent, merit, nobility, imagination, wit, understanding, feeling, sensibility, taste, good taste, rightness, propriety, tone, good tone, courtliness, variety, abundance, wealth, fecundity, warmth, magic, charm, grace, urbanity, facility, vivacity, fineness, brilli-ance, boldness, sparkle, mordancy, delicacy, ingenuity, style, versification, harmony, purity, correctness, elegance, perfection." Then, taking a deep breath, he added, to leave the reader in no doubt about his feelings, that Voltaire was the greatest writer of all time, the most astonishing creation of the author of nature. How well I understand Goethe's almost horrified awe! How often have I myself experienced this rush of superlatives to the head!
–From Theodore Besterman's Voltaire (1969).