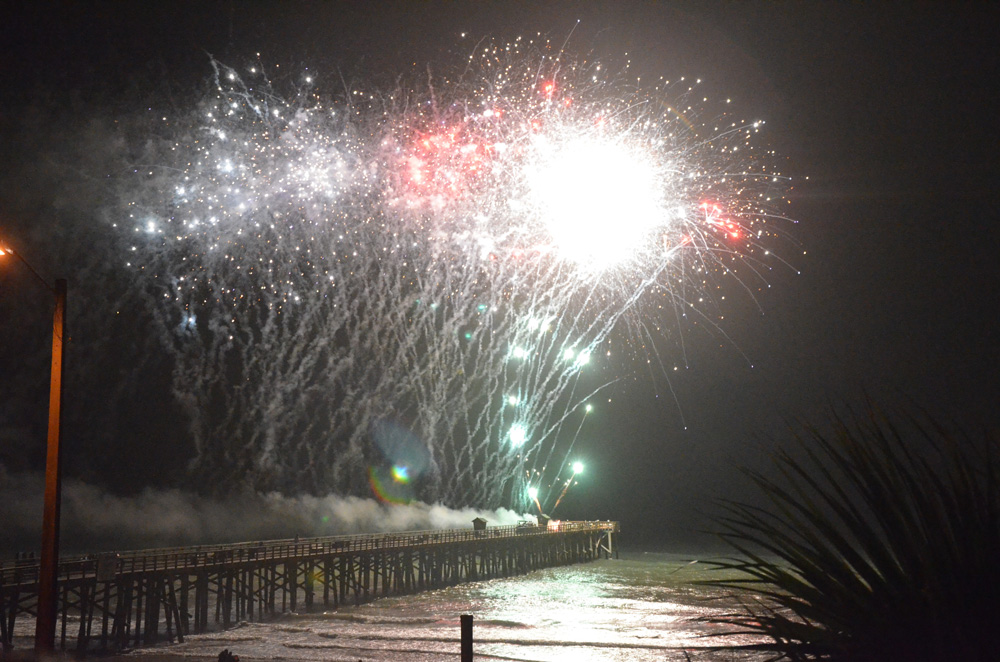 The Flagler Beach City Commission at a special meeting Tuesday will consider approving a $33,600 plan for a New Year's fireworks celebration triggered by the commemorative drop of a lighted surf board likely blazing with 2024.
The 12-minute fireworks show would be produced by My Three Sons, the company that produced last July 4's countywide show at Flagler Executive Airport, and would be launched at midnight from the stable portion of the pier–immediately after the surf board drop at Veterans Park. The drop would echo the famous ball drop in Times Square.




The idea originated with City Manager Dale Martin and City Commission Chairman Eric Cooley. Cooley had first suggested two years ago that Flagler Beach should have a New Year's fireworks celebration as a replacement for a July 4 show, and even won the commission's approval. The plan did not carry, however, after the commission appointed a July 4 committee that recommended against doing away with the city's Independence Day tradition, which would draw throngs back when the pier could host the 20–minute shows. But the city hasn't had a July 4 show since 2019, first because of Covid, then because of an internal snafu, then because storms led to the condemnation of the pier.
Martin didn't know about Cooley's proposal when he spoke with his own staff recently and asked: "What does this town doon New Year's Eve? And basically I got a blank stare from people: we don't do anything," Martin said. "Well, this is kind of a party town, so how come you don't o anything? I got a blank look."
In Fernandina Beach, where Martin was the city manager before he took the job in Flagler Beach at the end of last July, there'd been a traditional "shrimp drop" on New Year's Eve in a family-oriented event with a DJ, vendors and music. (The event pre-dated Martin's tenure.) The lighted shrimp would drop, Times Square-style, at 7 p.m.–or midnight, Greenwich Mean Time. So Martin thought: "Why not do the same here?" But of course not with a shrimp.




A shrimp would be "a terrible idea, we definitely don't want to do that," Cooley said. "So in kicking around ideas, I thought what are the pieces of our culture here? We're a huge surfing city." That led to the idea of a lighted, oversize surf board.
Initially Martin thought this could be pulled off at the end of 2024, not to mark the arrival of 2024. Cooley was more sanguine for making it happen now. "I'm like, dude, it's like wight weeks away," Martin recalled telling Cooley. "How do you make fireworks happen eight weeks away?" Cooley suggested that Martin look up My Three Sons, the vendor who produced the airport show. That worked.
"I figure with everything that's going on with the hotel construction, the impact on the businesses, now is as good a time as any," Cooley said, "and we also don't know what type of space limitations we're going to have next year."
But he stressed repeatedly that the New Year's Eve idea, while it could be a new tradition, should not be seen in connection with, or against, any future July 4 plans. "This decision is in kind of a bubble, this is a decision independent of any decision concerning the 4th of July," he said, with this year's event intended to be a gauge: how it's received by the public and the business community, how well it's attended. "This in no way shape or form is a decision meant to affect the 4th of July."




That will put Commissioner Jane Mealy at ease. She likes the idea of a New Year's Eve celebration, at least guardedly so: "If they can make it work, sure, I have no prob with it." Mealy does not like any suggestions that would displace Flagler Beach's July 4 fireworks. She's been attending the celebrations at the airport, where she's among the elected officials who read the Declaration of Independence in the run-up to the show. But "I didn't get as emotionally involved in it as I usually do, but that's just me," Mealy said.
Mealy and other commissioners had not seen anything in writing about the New Year's Eve plan (the city's special meeting notice was unusually bare of any back-up materials, a sharp change from previous practice or traditional transparency; the administration on Friday provided FlaglerLive with the background materials). But Martin had briefed the commissioners.
"I'm sure they will welcome that on New Year's Eve," Commissioner Scott Spradley, who had chaired th July 4 committee before his election, said today, referring to local businesses. "It's a great opportunity to bring business during the day, evening, the dinner crowd spills over into the New Year's Eve celebration." He, too, sees it as a "one-off situation," or a test event, and a way to bring the community together on the fringe of construction upheavals.
"I think it'll be overwhelmingly welcomed. We've got most of the money in the budget anyway," Commissioner Rick Belhumeur said. The city had $25,000 budgeted for fireworks. Tuesday's meeting is necessary to enable the supplemental $8,000 to be added. It couldn't have waited for the next commission meeting, which is after Thanksgiving, time being of the essence in this case. "I think it's a neat idea. people ever since I've been here have been asking, what are we doing for New Year's fireworks?"




That was why Cooley had initially pitched the idea two years ago–to help local businesses during a troth in the year's busy-ness. It's also why he would not want the New Year's event to be focused too much on Veterans Park, where the surf drop will take place. While he has no issue with a minor version of First Friday, possibly involving Vern Shank, the manager of those events, "we don't want to do too much because we want everybody to be going to our businesses," Cooley said. "We don't want Veterans Park to be the destination. We want to make our businesses the destination."
All those details are expected to be filled in at Tuesday's special meeting. As for Martin, the event is a chance for him to make a mark in the opposite direction from the dark skies of recent years at holiday time, whether over self-inflicted or other reasons. He'd have preferred the whole thing to be a surprise on Tuesday, but neither these city commissioners nor the public in the city are very big on surprises ahead of a vote before which they may like to weigh in, especially on a signature event that may help define the city's evolution.
Martin, at any rate, hopes the event will spur interest among businesses (who now will have time to plan and prepare for New Year's Eve with the event's potential in mind) and of course among residents, in or out of the city. "If they want to take advantage of this New Year's opportunity, wonderful," Martin said. "And yeah, if this develops into an annual tradition, then so be it, let's make it into a tradition, let's have fun with it."

Flagler Beach NYE Fireworks Proposal