To include your event in the Briefing and Live Calendar, please fill out this form.
Weather: Partly cloudy. Patchy fog in the morning. A chance of showers and thunderstorms in the afternoon. Highs around 90. West winds around 5 mph, becoming east in the afternoon. Chance of rain 50 percent. Sunday Night: Cloudy with a chance of showers and thunderstorms. Lows in the upper 60s. East winds 5 to 10 mph. Chance of rain 50 percent.




Today at a Glance:
Palm Coast Farmers' Market at European Village: The city's only farmers' market is open every Sunday from noon to 4 p.m. at European Village, 101 Palm Harbor Pkwy, Palm Coast. With fruit, veggies, other goodies and live music. For Vendor Information email [email protected]
Grace Community Food Pantry, 245 Education Way, Bunnell, drive-thru open today from 1 to 4 p.m. The food pantry is organized by Pastor Charles Silano and Grace Community Food Pantry, a Disaster Relief Agency in Flagler County. Feeding Northeast Florida helps local children and families, seniors and active and retired military members who struggle to put food on the table. Working with local grocery stores, manufacturers, and farms we rescue high-quality food that would normally be wasted and transform it into meals for those in need. The Flagler County School District provides space for much of the food pantry storage and operations. Call 386-586-2653 to help, volunteer or donate.
Al-Anon Family Groups: Help and hope for families and friends of alcoholics. Meetings are every Sunday at Silver Dollar II Club, Suite 707, 2729 E Moody Blvd., Bunnell, and on zoom. More local meetings available and online too. Call 904-315-0233 or see the list of Flagler, Volusia, Putnam and St. Johns County meetings here.




In Coming Days:
May 18: The Census Bureau releases Vintage 2022 population estimates for metropolitan and micropolitan statistical areas and local governmental units, including incorporated places, minor civil divisions and consolidated cities. It will also release housing unit estimates for the nation, states and counties.
May 20: The second annual Hang 8 Dog Surfing Competition in Flagler Beach is from 8 a.m. to 2 p.m., at the South 5th Street walkover off of State Road A1A just south of the Flagler Beach pier. Registration for dog surfing is $20, registration for the costume contest is $10. All proceeds go to charities. The awards ceremony is at 1 p.m. You can register your dog forthe Hang 8 Dog Surefing competition on May 20 at hang8dogsurfing.com. See: "Hang 8 Dog Surfing Contest Returns to Flagler Beach in All Its Ridiculous and Timely Exuberance."
Flagler Pride Weekend: All applications (Vendor, Sponsor, Volunteer, Speaker, Entertainment) for Flagler Pride Weekend are now open until midnight on May 20th, 2023. No late applications will be accepted or considered. Vendors, apply here. Flagler Pride weekend is scheduled for June 10-12, at Palm Coast's Central Park.
From Statista: Where 'Conversion Therapy' Is Still Legal: Conversion therapy has been banned in several countries around the world, including Canada, Brazil, Ecuador, Spain, Germany, France, Malta and New Zealand, according to data aggregated by the Global Equality Caucus and The International Lesbian Gay Bisexual Trans and Intersex Association (ILGA). Conversion therapy is the process of trying to stop someone from being gay or trying to stop someone who wants to change their gender identity. Methods include spoken therapy and prayer, or even more extreme tactics such as exorcism, physical violence, or food deprivation, as reported by the BBC. The British Psychological Society and Royal College of Psychiatrists in the UK declared that all kinds of conversion therapy are "unethical and potentially harmful". As our chart shows, in much of the world the practice of conversion therapy is still legal. In multiple other countries though, although no explicit legislative ban exists, limited bans or bans through indirect prohibition have been introduced. For example, several countries have introduced a ban on health practitioners to carry out conversion therapy. These include Albania, Switzerland and Taiwan (the latter banning health care professionals from carrying out conversion therapies on minors). In India, Tamil Nadu became the first Indian state to ban conversion therapy after a court order issued by a justice of the Madras High Court in 2021. Meanwhile, several countries, such as Australia, Mexico and the United States, have seen gains with implementing bans on a regional or more basis.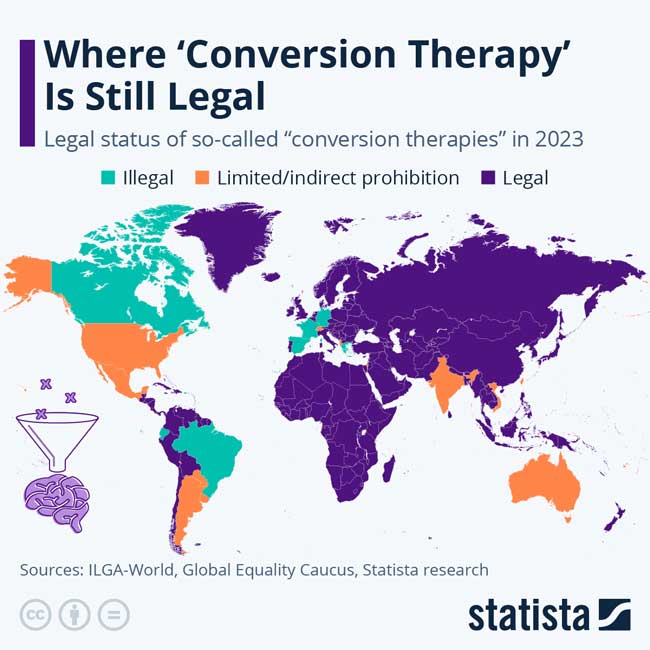 Now this:

The Live Calendar is a compendium of local and regional political, civic and cultural events. You can input your own calendar events directly onto the site as you wish them to appear (pending approval of course). To include your event in the Live Calendar, please fill out this form.
For the full calendar, go here.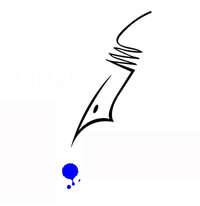 Those who oppose a strict application of the establishment clause often argue that religion shouldn't be "singled out" for hostile attention. But the special status of religion is the reason for the establishment clause (if religion was to be treated like everything else, there would be no establishment clause), and that special status, Jackson observed, is both positive and negative: "it was intended not only to keep the state's hand out of religion, but to keep religion's hands off the state," an intention that would be flouted if religion's hands were allowed to dip into the state's pocket.
–From "Is the Establishment Clause Unconstitutional," by Stanley Fish, The New York Times, March 11, 2007.