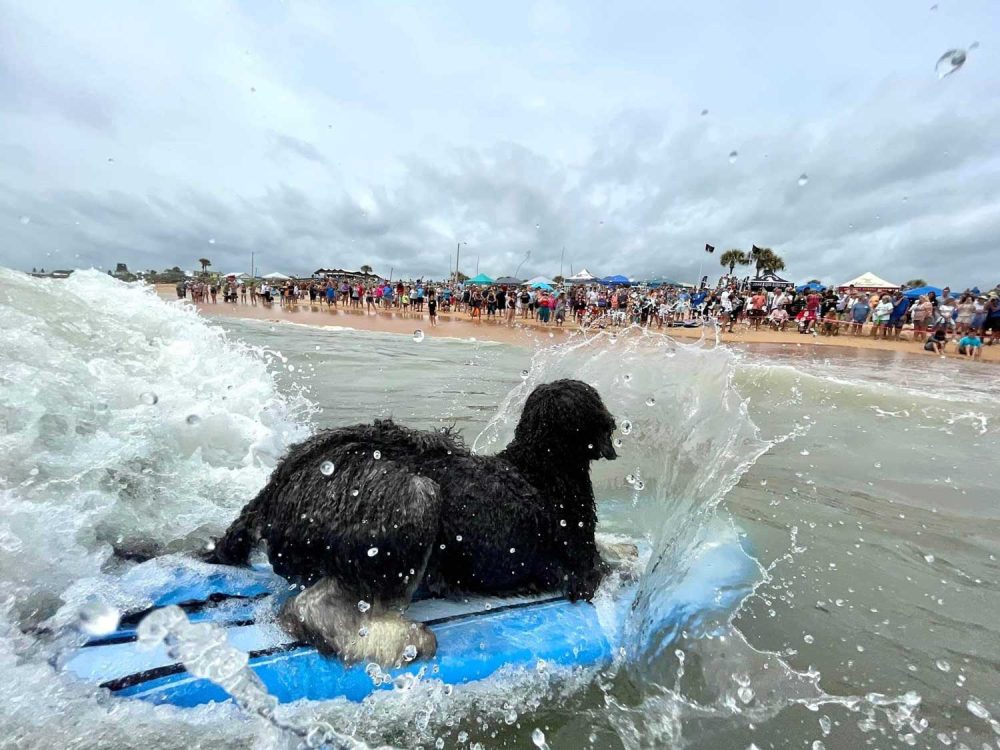 It's hilarious, it's ridiculous, it's exuberant and it's returning to Flagler Beach on May 20 as the second annual Hang 8 Dog Surfing Contest.
This time Hang 8's organizers are better prepared than they were last year, when they expected 50 people, maybe 100 at most, and got overrun with about 500. Hang 8 is a co-production of Flagler Beach Mayor Suzie Johnston and Commission Chairman Eric Cooley, companions and owners of four dogs between them. They put on the event as dog lovers and Flagler Beach citizens rather than as members of the commission, before which they had to make their case and secure a permit just like anyone else putting on an event.




But the commission embraced the event last year and did so again this year, seeing in it a surprisingly powerful driver of economic activity, buzz and sheer fun coinciding with a time when the city needs it most.
"It's an economic drive for the city, because," Johnston said, "now we know what it brings to the city in spectators, and also participants, because we're we bring in people from as far south as Miami. It also, with all of the construction and still trying to overcome the obstacles of a hurricane, it still shows Flagler Beach is still the fun place to be."
Hang 8 since its first edition last year has caught the attention of news outlets from Jacksonville to Orlando to Newsweek, which ran an item on March 28 (with a slight exaggeration: last year's event drew 30 dogs. Newsweek applied a multiplication-of-loaves spin and went with 50.) The New Barker, a Florida-based magazine that styles itself after The New Yorker, is also yelping the way of the contest, listing it among its Poochapaloozas and Classic Cluster Dog Shows and Mardi Barkus Parades.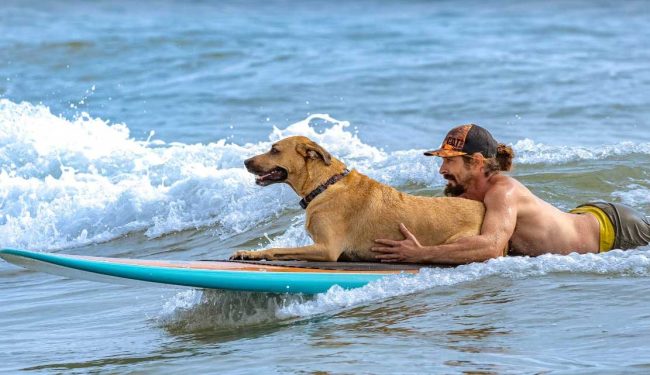 "We've been getting asked all year about it. Everybody asked, Are you doing another one? Are you doing another one? Because we weren't sure if we were even gonna do a second one," Cooley said. "It was so big last year that it was kind of a no-brainer. Just the amount of requests. And everybody likes it because, unlike some other events that can get kind of serious, like even surf contest, this is just fun. It's over the top. It's ridiculous. It's tongue in cheek. It's just one of those fun things that everybody likes."




There's no mystery about it. "People love dogs. And it's also something that's unique," Johnston said. Human surfing contests will draw their crowd, but those tend to be surfing enthusiasts, competitors, their families and friends. The dogs draw on a broader audience. People like to see strange, weird, fun things.
These days there's an added factor. Between Flagler Beach's now-seemingly endless combats with rising seas, storms (natural and man-made), a pier sitting there broken and condemned, plus that politically polarized environment that acidly rains divisiveness, a dog-surfing contest is a gift of almost woke-proof concord. Sure there are a few voices that protest, charging that the contest forces dogs to do something they don't want to do.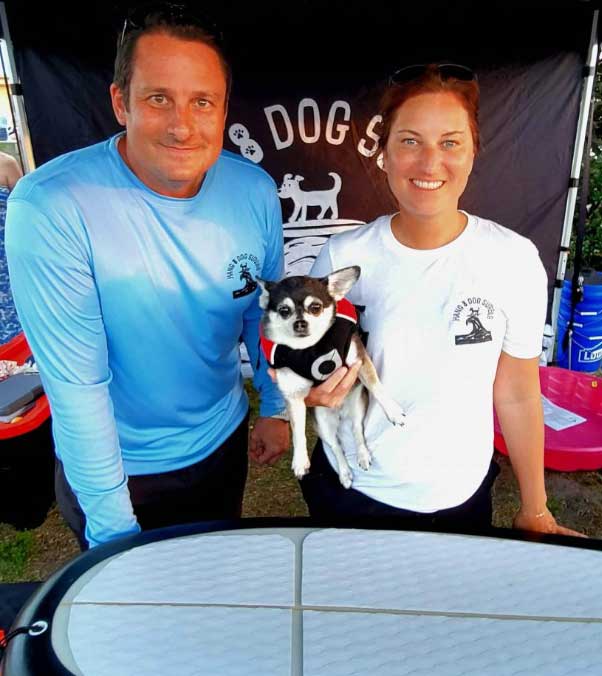 Cooley dismisses the claim. "They don't understand," he says of the animal advocates. "A dog will let you know immediately if it's something they're okay with or not okay with. Unless you don't know anything about how to read dogs and you're just oblivious, they will let you know. So our three dogs want no part of it.
"But Wednesday does," he says of the couple's fourth dog, a hellion of a Chihuahua named after Wednesday Addams, the fictional character of the Addams family. Wednesday was among the stars of the 2022 contest, her tiny bundle of black and white fur and windward confidence as she surfed capturing many a photographer's lens. "If you put the surfboard on the ground, she'll go right on the surfboard and sit on it, all on her own. That's her thing." The top two scoring criteria actually reflect that approach: is the dog safe, does the dog appear to be having fun. Then come the other criteria, like wave quality, special skills, whether the dogs are doing anything that makes them stand out as they surf.




Unlike surfing contests for humans, the smaller the waves, the better, especially for small dogs. No one wants to see dogs struggling or hurt. All small dogs are fitted with a life vest. The contest is timed with low tide.
Hang 8 set up is on Saturday, May 20, at 7 a.m. The event begins at 8 a.m. There won't be a parking issue: The beach doesn't full up until afternoon. By the time the beach gets crowded, Hang 8 is winding down. The award ceremony is at 1 p.m.
There'll be a small-dog category, large-dog category, human-dog tandem, and the costume contest, both for dogs and humans. Participants walk up and down a red carpet as music plays and spectators howl. Last year Cooley and Johnston dressed up as sharks. Johnston's mother, Suzanne Johnston, the tax collector and a walking museum of half a century of Flagler County esoterica, won, with her Dachshund, a dog costume and behavior contest in Flagler Beach in 1968 when she dressed up her dog as a chef. (The dog's name: Pierre.) She'd trained him to walk on two legs with a wooden tied to a front paw. With that pedigree, Suzanne Johnston will be this year's costume-contest judge. The dog-kissing booth and selfie backdrop, built by the county's tourism bureau, will return.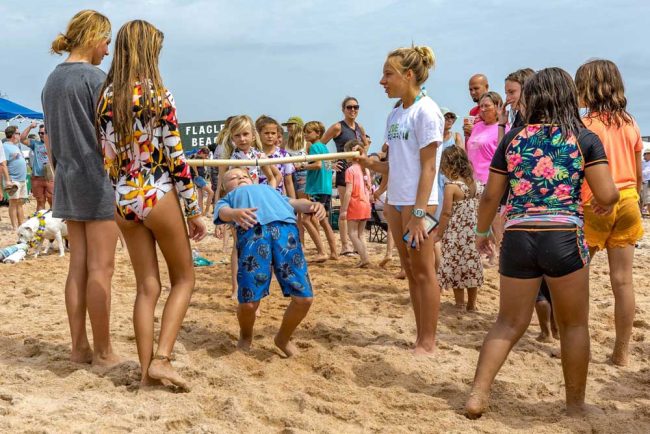 All participants get a participation trophy, with medallions for the dogs. "Everyone is a winner," Cooley says, along with the top contestants: first, second, third place and honorable mention for each category. There'll be a lot of dog-merchandise vendors, some 20 tents in all, but no food trucks. The organizers don't want to have trucks undercut local restaurants.




It'll also be better organized. "Last year was total chaos from an organizational point of view," Cooley said. "we expected maybe 50 people would show up," Johnston said. "Instead we got about 500 spectators more people than that," Cooley said, " the largest surf event Flagler Beach ever had, for attendance"–more people than for the annual Tommy Tant festival, says Sydney Adams, Johnston's teen-age daughter and herself a surfer.
Last year the Hang 8 sponsors were scarce. This year, there are too many sponsors to list. Johnston and Cooley learned a couple of things since last year. First, they'll have a lot more volunteers. Last year they had none at the beginning of the day, thinking they wouldn't need any. They picked up a few as the event got under way, by necessity, but they were still so overwhelmed that at one point a 12-year-old girl–photographer AJ Neste's daughter–was handling the sale of t-shirts.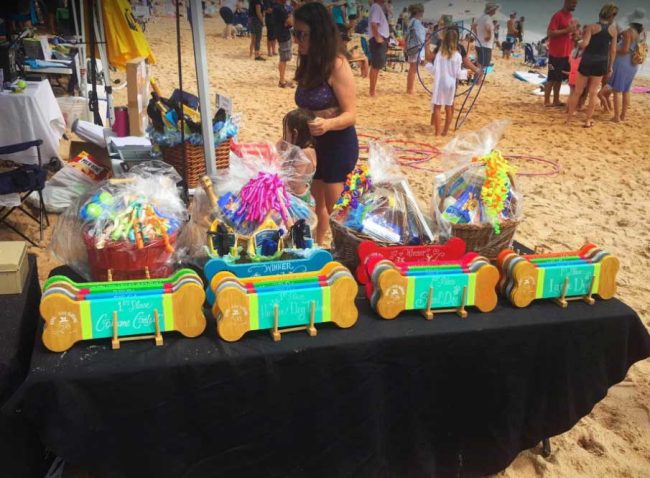 "A lot of people this year have stepped up and have asked to volunteers," Johnston said. "A lot of Sydney's friends want to be volunteers, the National Honor Society," whose members can use the event to meet their community service hours. They need help with a water-safety patrol, collecting poop that dog owners aren't careful about, help with registration, locating dogs before a heat, making sure dogs don't wander outside the dog zone. The event takes place at the 5th Streety South walkover, with the beach zone extending roughly half a block north and half a block south. It might push out a bit more this year. The boardwalk gets just as mobbed as the beach with spectators.
They also did not hire a police officer last time, thinking the crowd would be too small to warrant one. They'll be doing so this year, for somewhere around $80 an hour. They'll also have a video crew, provided by the tourism bureau. Last year they had 1,000 still pictures, but almost no video.




Otherwise, the core principle of Hang 8 is unchanged: get out there with your dog, surf, bark, cheer. "We're not changing much. We learned that our format works," Cooley said: DJ Vern, who DJ's the music last year, will do so again this year, and Travis AJ, a professional surf announcer known on both coasts for his cheesy dog puns and jokes, will be back. The vibe is very different from surf contests, where a level of intensity and insider dynamics keep those not too familiar with surfing on the periphery. Not with a dog-surfing contest, which can engage everyone.
Johnston and Cooley themselves pitch in their own money, personally and from their businesses, to underwrite the event's cash needs. The first year they bought everything they needed themselves. This year they're not using any sponsorship money to buy anything–other than from their own companies, and with a caveat: Cooley's 7-Eleven and Johnston's real estate business will not have their logos anywhere, so it doesn't look like they're being self-serving.
They're also helping the newbies. A lot of people are curious about having their dog surf, but they know nothing about surfing themselves, how safe it is, how to read waves. So there'll be a practice session at Good Times Dog Bar, one of the main sponsors (it'll be hosting the afterparty too), where Johnston and Cooley will also be available with equipment and advice.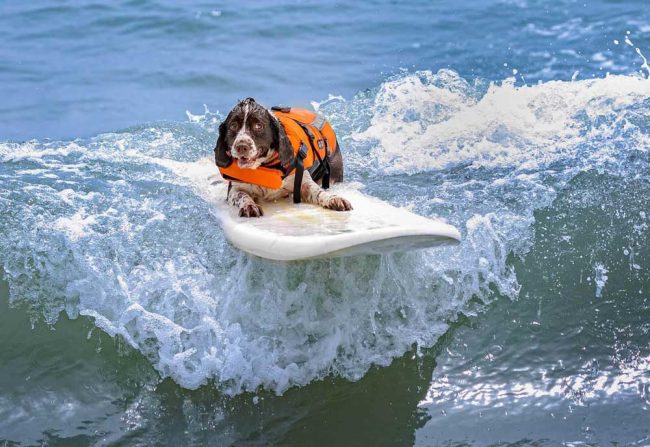 Last year County Commissioner Greg Hansen was the head referee. There'll be a different one this year, but that's a surprise. Last year the skies threatened much of the morning, but never opened up. There is no rain date this year. Usually at surfing contest, if the weather turns bad, the organizers try to wait it out. "You're going to get wet anyways," Cooley said. But if there's potential lightning all day, the event would be possibly pushed to the next day.
The contest raises money for the Flagler Humane Society, Smart Pet Rescue and K9s for Warriors. Last year the event raised about $7,000, split between the three organizations.
"The word was right in my mind when Eric talked about the 'culture of Flagler Beach,'" Flagler Beach City Commissioner Scott Spradley said in March, when Cooley appeared before the commission to seek the permit for the event. Spradley had been sworn in that evening. "That's the kind of thing that we we came here for–not necessarily dog surfing, but events events like this. Fun things like that. And I went last year. It was great. I do a lot of photography and some of my best photographs of the year were these dogs surfing last year. It was unbelievable. So it's a great event."

You can register your dog forthe Hang 8 Dog Surefing competition on May 20 at hang8dogsurfing.com. There's a $20 registration fee/donation for surfing, $10 for the costume contest.