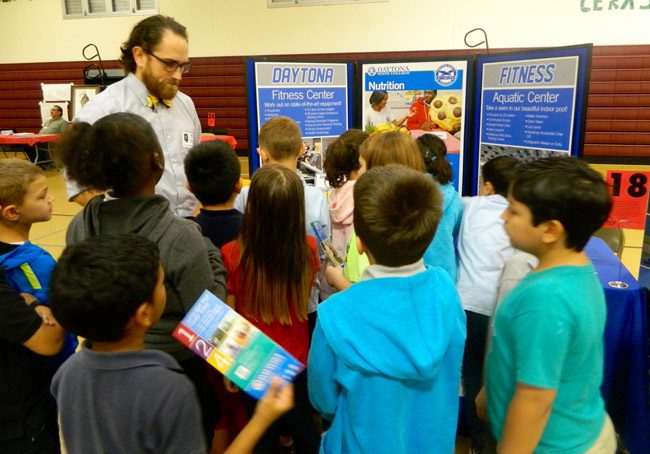 Today: Windy…cooler. Partly cloudy. A 20 percent chance of showers in the morning. Highs in the upper 60s. West winds 20 to 25 mph with gusts to 35 mph. Tonight: Colder. Partly cloudy in the evening then becoming clear. Lows in the mid 40s. West winds 10 to 15 mph. Details here.
Drought Index is at 398.
Today's tides: at the beaches, at the Intracoastal Waterway.
Today's document from the National Archives.
The OED's Word of the Day: pratique, n..
The Live Community Calendar
Today's jail bookings.
Today's Briefing: Quick Links

"Yes–and afterward?
Well–what? and what did this new question mean? Afterward: why, of course, there was the startled puzzled surrender to the incomprehensible exigencies of the young man to whom one had at most yielded a rosy cheek in return for an engagement ring; there was the large double-bed; the terror of seeing him shaving calmly the next morning, in his shirt-sleeves, through the dressing room door; the evasions, insinuations, resigned smiles and Bible texts of one's Mamma; the reminder of the phrase "to obey" in the glittering blur of the Marriage Service; a week or a month of flushed distress, confusion, embarrassed pleasure; then the growth of habit, the insiduous lulling of the matter-of course, the dreamless double slumbers in the big white bed, the early morning discussions and consultations through that dressing room door which had once seemed to open into a fiery pit scorching the brow of innocence."
–Edith Wharton, from "The Old Maid" in Old New York, in Edith Wharton : Novellas and Other Writings (Library of America)
.

Note: all government meetings noticed below are free and open to the public unless otherwise indicated. Many can be heard or seen live through each agency's website.
Doughnuts with Doughney: Similar to "Coffee with a Cop," Doughnuts with provides the public an opportunity to meet and speak openly with Flagler Beach Police Chief Matt Doughney about issues or concerns in Flagler Beach. The location of the meeting provides citizens easy access to both the 7-ELEVEN and Chief Doughney, in a relaxed, non-threatening atmosphere. From 8 a.m. to 10 a.m. at the Flagler Beach 7-ELEVEN convenience store, 408 South Oceanshore Boulevard.
Greg Hansen swearing-in: Flagler County Commissioner Greg Hansen, appointed to the commission to complete the term of the late Frank meeker, is sworn-in by County Judge Melissa Moore-Stens at 8:15 a.m. at board chambers at the Government Services Building, Bunnell.
See Also:
The Flagler County Commission meets in workshop, followed by a special meeting, at 9 a.m. at the Emergency Operations Center to discuss Project Bags, an economic development incentive package worth $500,000 for a prospective company looking to expand in Flagler County, and to discuss dune restoration issues, including grant funding from the state Department of Transportation. There have been unresolved tensions between county government and Flagler Beach over the dune-restoration issue, particularly over which of the two agencies should control the beach-renourishment project in Flagler Beach.
In Court: Jury selection is scheduled for two trials before Circuit Judge Dennis Craig in Courtroom 401 at the Flagler County Courthouse, starting at 9 a.m. The trial are those of Wesley Ann Brown, who faces 31 charges of embezzlement, securities fraud, grand theft, and selling securities by an unregistered agent. All but two of the charges are third-degree felonies, the remaining two are second-degree felonies, exposing Brown to 15 years in prison–or more, if convicted and sentenced to serve concurrent terms. The second trial is that of Kasim Antwan Howard, who faces five third-degree felony charges of aggravated assault with a deadly weapon and illegally carrying a concealed firearm.
The Bunnell City Commission meets at 7 p.m. at City Hall. The commission is expected to annex .40 acres at 2950 East Moody Blvd., land owned by Thea and David Mathen. The commission is also expected to adopt a moratorium on all medical-pot related businesses until the Legislature and the state Department of Health produce guidelines on legalization, though voters, by a 71 percent margin, approved legalization of medical marijuana in November. Flagler County and Palm Coast have already adopted such moratoriums.
Soccer: District semi-finals, varsity men's teams, 7 p.m. at Matanzas High School.

In Florida and in State Government:
Note: Some proceedings below can be followed live on the Florida Channel. Most legislative proceedings can be followed through the Senate or House websites.

Foster children's driver's licenses: The Senate Children, Families and Elder Affairs Committee will take up a bill (SB 60), filed by Sen. Aaron Bean, R-Fernandina Beach, that would make permanent a pilot program that helps foster children get driver's licenses and auto insurance. (4 p.m.)
Tampon tax exemption: The Senate Commerce and Tourism Committee is scheduled to consider a bill (SB 176), filed by Sen. Kathleen Passidomo, R-Naples, that would create a sales-tax exemption on the sale of feminine hygiene products — part of a broader move in states to end what has become known as the "tampon tax." (4 p.m.)
Juvenile charges: The Senate Criminal Justice Committee will take up two bills (SB 192 and SB 196), filed by Sen. Bobby Powell, D-West Palm Beach, and Sen. Anitere Flores, R-Miami, respectively, that would lead to changes in how the criminal-justice system deals with juveniles who commit crimes. For example, Flores' bill could lead to expanded use of diversion programs for juveniles who commit misdemeanor crimes. (4 p.m.)
Higher education revamp: The Senate Education Committee will take up two bills (SB 2 and SB 4), filed by Sen. Bill Galvano, R-Bradenton, that would lead to wide-ranging changes in the state's higher-education system, including an expansion of Bright Futures scholarships, block tuition for universities, stronger requirements for students to graduate on time and a program to attract high-quality faculty. (Monday, 4 p.m., 412 Knott Building, the Capitol.)
–Compiled by the News Service of Florida and FlaglerLive

In Coming Days in Palm Coast, Flagler and the Occasional Beyond:
♦ Jan. 25: Palm West Home Realty's Hammock Office at 5048 North Ocean Shore Boulevard is celebrating its five-year anniversary with an open house from 4 to 7 p.m., with door prizes.
♦ Jan. 26-27: Volunteers conduct the annual in-person census of the homeless population in Flagler County.
♦ Jan. 27: The Florida Ethics Commission considers a final action in the ethics case against former County Commissioner Barbara Revels, who has agreed to a settlement and a fine of $4,500 over several issues brought forth by complainant John Ruffalo. The ethics commission board, however, must approve the settlement. 8:30 a.m. Third Floor Courtroom, First District Court of Appeal, 2000 Drayton Drive, Tallahassee.
♦ Jan. 27-29: City Repertory Theatre's award winning, ground breaking musical, "Next to Normal," at 7:30 p.m. Saturday and Sunday, 2 p.m. Sunday, at CRT's intimate 50 seat theater at City Market Place, 160 Cypress Point Parkway, Suite B207 in Palm Coast. Julia Davidson Truilo headlines a star studded cast featuring Chelsea Jo Conard, Everett Clark, Max Wolf, Sara Humbert and Beau Wade. John Sbordone directs with Musical Direction by Ben Beck. "Next to Normal" is a rock musical that won the Tony for Best Score in 2009 and the Pulitzer Prize for Drama the following year. It creates something phenomenal out of an unconventional subject. Tickets are available by calling CRT's Box Office at 386/585-9415 or, even easier, by clicking here for immediate ticketing.
♦ Jan. 27: Man Up, with former NBA Player and current pastor Keith Tower, at Palm Coast Community Church, 1 Pine Lakes Pkwy North, Palm Coast, in partnership with Parkview Baptist Church, Epic Church, Lifecoast Church, First Baptist Church of Palm Coast, and Palm Coast Bible Church. 4:30 to 10 p.m.
♦ Jan. 30: Suicide Prevention Training: Take part in a free community outreach training program to learn three steps to help save a life, in a three-hour workshop at the Emergency Operatiosn Center, behind the Government Services Building in Bunnell, from 9 a.m. to noon. Contact Ashleigh Husbands, Regional Suicide Prevention Specialist, 301/928.7448 or by email, [email protected].
♦ Jan. 31: Vienna Boys' Choir at Peabody Auditorium in Daytona Beach, 7 p.m., one performance only. The Palm Coast Arts Foundation is organizing a bus trip, leaving from the Staples Parking Lot the evening of the concert, with some light food and drinks included on the bus ride, $80 for Arts Foundation members, $90 for others, call 386-225-4379.
♦ Feb. 1: The Flagler County School Board holds its first workshop in its search for a new superintendent, at 6 p.m., in Room 3B, third floor of the Government Services Building–where the meeting is neither broadcast on television nor available by audio, though the board claims it is seeking public participation.
♦ Feb. 6: Ground Breaking for the relocation and extension of Runway 11-29 at the Flagler County Airport, 1:30 p.m. at the airport.
♦ Feb. 6: The great violinist Itzhak Perlman opens the 2017 season of the Amelia Island Chamber Music Festival with a 7:30 p.m. performance at First Baptist Church, 1600 South 8th Street in Fernandina Beach. Tickets here.
♦ Feb. 8: Jonathan Canales, the man accused of shooting his girlfriend in the neck and leaving her to bleed in a bathtub for hours in their Mondex trailer in Nov. 2014, is scheduled for a pre-trial at 1:30 p.m. in Courtroom 401 at the Flagler County Courthouse. Canales had been judged incompetent to stand trial previously.
♦ March 7: Bunnell and Flagler Beach hold their municipal elections.
♦ March 22: The boy Scouts Council holds its Golden Eagle Dinner at 6 p.m. at Hammock Beach Resort, honoring Bob Cuff, now a Palm coast City council member.

My essay on Trump's Inaugural Address, and how his use of words is rendering language meaningless: https://t.co/vAD5aQuqzE

— Michiko Kakutani (@michikokakutani) January 21, 2017
"This is a good indication of the kind of resistance that we're going to see going forward." https://t.co/IxySzzMG8Y #WomensMarch

— The Intercept (@theintercept) January 23, 2017
After Success of Women's March, a Question Remains: What's Next? https://t.co/jrWZ6DOFsV

— NYT Politics (@nytpolitics) January 23, 2017
How racism and immigration gave us Trump, Brexit, and a whole new kind of politics: https://t.co/wBSkxrwcdR

— Vox (@voxdotcom) January 23, 2017

https://twitter.com/nytimesworld/status/823337474235760641
Journalists must stand together against President Trump's war on facts, writes @mmfa president @GoAngelo https://t.co/MNTtoOnMbJ pic.twitter.com/X21dAfjtA1

— New York Daily News (@NYDailyNews) January 23, 2017


Palm Coast Construction and Development Progress Reports
The following is an update of ongoing permitting, construction and development projects in Palm Coast, through Jan. 13 (the city administration's full week in review is here):
Click to access developments-jan-2017.pdf

Road and Interstate Construction:

Dick Cavett Interviews Janis Joplin, Gloria Swanson, Margot Kidder, Dave Meggyesy
Previous Codas: