Today: Mostly cloudy with chance of showers in the morning… Then partly cloudy with slight chance of showers and thunderstorms in the afternoon. Highs in the upper 80s. Northeast winds 10 to 15 mph. Chance of rain 30 percent. Tonight: Partly cloudy with a 20 percent chance of showers. Lows in the upper 70s. Northeast winds 10 to 15 mph. Details here.
Today's fire danger is moderate. Flagler County's Drought Index is at 463.
Today's tides: at the beaches, at the wayzgoose, n..
Today's document from the National Archives.
The OED's Word of the Day: rim ram ruff, phr. and n..
The Live Community Calendar
Today's jail bookings.
Today's Briefing: Quick Links

"Between then and now, though, something had gone terribly stale. The down-to-earth metaphors that had once been exact and fresh had turned to routine exercises in folksy cracker-barrel about paychecks, TAP Airlines and drugstore prescriptions. God had once been seen to smile on the reasonable ambitions of the settler. I want that mountain! It belongs to me! might have sounded like an admirable claim if it had come from the mouth of a young sodbuster in an open territory. Now it sounded merely petulant. I want that stereo system. I want that camper. I want that ranch-style bungalow. I want that government off my goddammed back. Saddest of all, the necessary pride in the new community, the sense of mutual solidarity in the face of a rough surrounding nature had been converted into crude small-town xenophobia. Phrases which had been coined to give meaning to a new and radical life were now voiced as irritable conservatism."
–Jonathan Raban, from "Old Glory: A Voyage Down the Mississippi" (1981).
Note: all government meetings noticed below are free and open to the public unless otherwise indicated. Many can be heard or seen live through each agency's website.
Ongoing Early Voting in Flagler County for a slew of local, state and federal offices leading up to the Aug. 30 primary. Early voting is mandated from Aug. 20 through Aug. 27, but county supervisors of election have the discretion to begin sooner. Flagler's is among 24 counties choosing to do so. Though it is a primary, numerous races appear on the ballot in which all registered voters are eligible to cast a ballot, regardless of party affiliation, including for Palm Coast City Council (if you're a Palm Coast resident), for judges, for school board and for Supervisor of Elections. Early voting hours are 10 a.m. to 6 p.m. every day through Saturday, August 27, at the following locations:
1. Flagler County Public Library
At the corner of Belle Terre and Palm Coast Parkway.
2500 Palm Coast Parkway N.W. Palm Coast
View this location on a map
2. Palm Coast Community Center
At the corner of Clubhouse Drive and Palm Coast Parkway.
305 Palm Coast Parkway NE Palm Coast
View this location on a map
3. Supervisor of Elections Office
Located in the Government Services Building.
1769 E. Moody Boulevard, Building 2, Suite 101 Bunnell
View this location on a map
All the information you need is at the Supervisor of Elections' website.
The Flagler Beach City Commission meets for its second budget workshop starting at 9 a.m. at City Hall in Flagler Beach. See the background story here.
The Flagler Youth Orchestra's quartet is in the first of two days of performances and recruiting for the full orchestra in Flagler County schools. Today's itinerary includes Old Kings Elementary at 9:15 a.m., Rymfire Elementary around noon and Bunnell Elementary at 2 p.m. The orchestra enrolls up to 400 students and is a free after-school program sponsored by the school district.
Flagler County Sheriff Homer Brooks Memorial dedication: The sheriff's office will add Homer's name to the memorial to fallen officers in a ceremony at 11 a.m. at the sheriff's office at 901 East Moody Blvd. in Bunnell. Brooks died in 1965 of a heart attack when he was on duty. Daytona Beach News-Journal reporter Tony Holt–a Flagler County resident–came across Brooks's history while researching a story, and inquired at the sheriff's office about Brooks's absence from the memorial.
Meeting of the Flagler school district's Strategic Plan Steering Committee, 5:30 to 7 p.m., Third Floor main conference or training room 3, Government Services Building, Bunnell. Open to the public. The public may also take the ongoing survey to help the steering committee.
Palm Coast's Beautification and Environmental Advisory Committee meets at City Hall in Town Center at 5:30 p.m.

Updated jail bookings and day and night shift incident summary reports are available here.

"A Very Good Save": Firefighters Beat Back Wildfire Within Inches of a House in Seminole Woods

Flap over fliers shakes up race for Flagler County sheriff

Flagler Beach Commission Considers Biggest Tax Hike Since Recession, and New Fire Costs

From Charlie Brown to Signs of Intelligent Life, City Rep Launches Next to Normal 6th Season

Florida Continues to Suppress Lethal-Injection Records in Face of Challenge by Death Row Inmates

State Ethics Commission Will Hear Flagler's Claim to Recoup Fees From Serial Complainers

Zaire Roberts, 17, Gets 7 Years in Prison in Shooting of Phillip Haire in Palm Coast Last Summer

In Florida and in State Government:
Note: Some proceedings below can be followed live on the Florida Channel.

Central Florida health care: The Central Florida Partnership will host a regional health-care summit. Among the expected participants are House Health & Human Services Chairman Jason Brodeur, R-Sanford, state Rep. Mike Miller, R-Winter Park, and state Sen. David Simmons, R-Altamonte Springs. (8 a.m., Hyatt Regency Orlando International Airport, 9300 Jeff Fuqua Blvd., Orlando.)
The Florida Supreme Court is expected to release opinions at 11 a.m.
Agriculture Commissioner Adam Putnam speaks at a Polk County Republican Party Lincoln Day Dinner. (6 p.m., The Club at Eaglebrooke, 1300 Eagle Ridge Blvd., Lakeland.)
–Compiled by the News Service of Florida and FlaglerLive

In Coming Days in Palm Coast, Flagler and the Occasional Beyond:
♦ Aug. 28: Families Faith Fun Festival at St.Thomas Episcopal Church from 1 to 5 p.m. with free food, family-oriented games, lots of prizes, and raffle drawings. All invited, whether members of the church or not. See the website at stthomaspalmcoast.com.
♦ Sept. 3: Plein air artist William Lurcott, a Flagler Beach resident, is featured at Ocean Art Gallery in Flagler Beach from 6 to 8 pm during the opening reception of his month-long show "A Landscape Perspective." The public is invited to this free event. During the reception, the artist will meet with guests and explain his artistic techniques. Light refreshments and live music will be available. The gallery is at 206 Moody Blvd., Flagler Beach.


♦ Sept. 7: The Flagler Youth Orchestra holds its open house for all new or prospective students who'd like to join the county's largest (and free) music program. The open house is at the Indian Trails Middle School cafeteria at 5:30 p.m. Any Flagler student, including homes chooled students, in grades 3-12, are eligible to enroll (must be 8 years old by Sept. 1, 2016.) Students may elect to play violin, viola, cello or doublebass. One-hour classes are held at Indian Trails Middle School Mondays and Wednesdays, from 3 to 6 p.m., with students enrolled in the hour block appropriate to their skill level and schedule. The first class for first-time students is Sept. 19. (Auditions for returning students start on Aug. 22, the first class for returning students is Aug. 31.)
♦ Sept. 8: Meeting of the Flagler school district's Strategic Plan Steering Committee, 5:30 to 7 p.m., Third Floor main conference or training room 3, Government Services Building, Bunnell. Open to the public. The public may also take the ongoing survey to help the steering committee.
♦ Sept. 10: African Art: Ancient Egypt to the Contemporary World, a pair of presentations by Bertrand Green, former chairman of African American studies at Lehman College, City University of New York. The first session is from 10 a.m. to noon, the second session from 2 to 4 p.m., at the Hilton Garden Inn, Palm Coast. $20 for PCAF members, $25 for general admission. Call 386/225-4394 or email [email protected] to reserve your seat.
♦ Sept. 17-18: Staged Reading of Neil Simon's "Chapter Two," at the Flagler Auditorium's Black Box Theatre, directed by Bruce Heighley, a volunteer production to benefit the auditorium's the Arts in Education Scholarship Fund and Temple Beth Shalom. Performance times are 7 p.m. on Sept. 17, 2 p.m. on Sept. 18. Tickets: $29 for adults, $18 for students. Call the Flagler Auditorium, 437-7547, for tickets, or go to flaglerauditorium.org.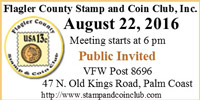 ♦ Sept. 26: The Flagler County Stamp and Coin Club meets at 6 p.m. at the VFW Post 8696, 47 N. Old Kings Road, Palm Coast. The public is welcome.
♦ Feb. 6: The great violinist Itzhak Perlman opens the 2017 season of the Amelia Island Chamber Music Festival with a 7:30 p.m. performance at First Baptist Church, 1600 South 8th Street in Fernandina Beach. Tickets here.

33,000 people are killed with guns annually. What would it take to bring that number down? https://t.co/QU8bp5rPL5

— FiveThirtyEight (@FiveThirtyEight) August 24, 2016
UT Austin students are protesting Texas' campus carry law. Here are the businesses helping them: https://t.co/3ZJAtAlp9C

— The Chronicle of Higher Education (@chronicle) August 24, 2016
Turkey Is Finally Bombing Syria, But It's Not Hitting Who the U.S. Wants by https://t.co/1zsj5RzTfN

— Foreign Policy (@ForeignPolicy) August 24, 2016
$1.56 billion has been spent on political television advertisements this cycle — and it's only August https://t.co/4jCUQHopkA

— POLITICO (@politico) August 24, 2016
Students in these states are the best prepared for college https://t.co/30mGGqTPxF pic.twitter.com/r1difrHf8i

— The Hill (@thehill) August 24, 2016
You know those people who pace while on the phone? Science says they have it right, after all https://t.co/lXngqJciN5

— Fast Company (@FastCompany) August 24, 2016

Fact-Checking the Knaves:


Palm Coast Construction and Development Progress Reports
The following is an update of ongoing permitting, construction and development projects in Palm Coast, through August 11 (the city administration's full week in review is here):
Click to access palm-coast-projects-august-11.pdf

Road and Interstate Construction:

Bach Partita BWV 831 in B minor, Céline Frisch, Harpsichord
Previous Codas: