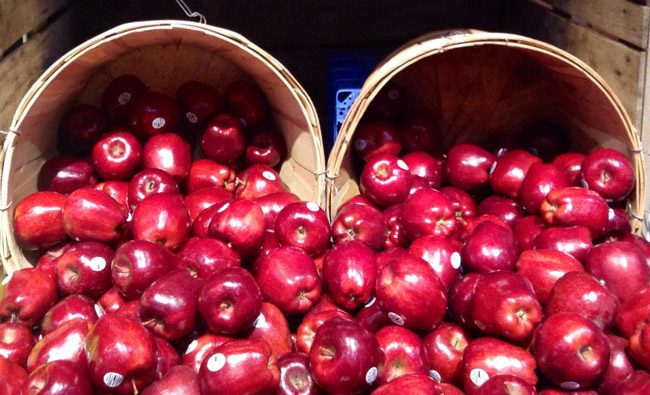 Today: Partly cloudy with slight chance of showers and thunderstorms in the morning…then mostly cloudy with chance of showers and thunderstorms in the afternoon. Highs in the lower 90s. South winds 5 to 10 mph. Chance of rain 50 percent. Heat index readings 103 to 107. Tonight: Mostly cloudy with chance of showers and thunderstorms in the evening…then partly cloudy with slight chance of showers and thunderstorms after midnight. Lows in the mid 70s. Southwest winds 5 to 10 mph. Chance of rain 30 percent. Details here.
Today's fire danger is moderate. Flagler County's Drought Index is at 527.
Today's tides: at the beaches, at the Intracoastal Waterway.
Today's document from the National Archives.
The OED's Word of the Day: best boy, n..
The Live Community Calendar
Today's jail bookings.
Today's Briefing: Quick Links

"Before the convention I had extended Hillary Clinton the feminist courtesy of not caring much about her historic presidential gender. Though at this point in the campaign I mostly care that she is not mentally ill. That and she isn't contributing to the climate crisis by spewing the sort of unconstitutional nonsense about Muslims that keeps the religion scholar Reza Aslan driving from one TV station after another to re-explain that about a fourth of the world's population might not be comprised entirely of murderers."
–Sarah Vowell, in a column in the New York Times, Aug. 1.
Note: all government meetings noticed below are free and open to the public unless otherwise indicated. Many can be heard or seen live through each agency's website.
The Palm Coast Code Enforcement Board meets at 10 a.m. at Palm Coast City Hall.
Teachers return to school today in all Flagler County schools. It's a professional development day for teachers. School resumes for all students next Wednesday.
Student laptop distribution at Indian Trails Middle School, for grades 7 and 8, 3 p.m.
City Council Candidates Forum: The Belle Terre Swim and Racquet Club Advisory Committee, created to preserve and support the Belle Terre club, is sponsoring the forum at the club, starting at 6:30 p.m., classroom B, 73 Patricia Lane, Palm Coast.
Republican Candidates in Congressional District 6 are expected to appear at a meeting of the Flagler County Republican Club. Expected to participate are incumbent U.S. Rep. Ron DeSantis, state Rep. Fred Costello and G.G. Galloway. (6 p.m., Palm Coast Community Center, 305 Palm Coast Parkway N.E.)

Updated jail bookings and day and night shift incident summary reports are available here.
5 Names Emerge as Maneuvering for Governor's Appointment for Meeker's Commission Seat Intensifies: The current likely crop of applicants is as follows: Realtor David Alfin, Ed Fuller, a close friend and campaign manager to Commissioner Nate McLaughlin, Howard Holley, the businessman who lost to Meeker as an independent in 2014, Palm Coast Mayor Jon Netts, who had previously hinted at some interest in a county commission seat and whose term on the council ends in November because of term limits, and Patrick Kelly, the former chairman of the Flagler County Chamber of Commerce and a business-community favorite.
DuBose Pulls Out of Palm Coast Council Race, Opening Way to Quicker McGuire Replacement: The decision has immediate implications for the swifter filling of the District 1 seat: the Aug. 30 primary could decide the winner should he clear the 50 percent threshold. The seat's current holder, Bill McGuire, is resigning on Aug. 15, two and a half months ahead of the end of his term. If the August primary produces a clear winner, the council can then choose to appoint the winner to McGuire's seat early, dispensing with going through the motions of seeking out a formal appointment.
FAA: Aviation light maker selling 'unapproved parts': The News-Journal reports that Aveo Engineering, the company that once promised to bring 300 jobs to Flagler County–a promise that never materialized–was cited by the FAA for advertising parts Aveo manufactures "as having been cleared by the federal agency when, in fact, they do not hold FAA approval." A company spokeswoman said "Technically, it has nothing to do with Aveo Florida."

In Florida and in State Government:
Note: Some proceedings below can be followed live on the Florida Channel.

Dozier school: The Dozier Task Force will hold an organizational meeting. Lawmakers created the task force to work on issues related to the Dozier School for Boys, a shuttered reform school that has been at the center of allegations about abuse and deaths of youths. (9 a.m. Central time, Marianna City Hall, 2898 Green St., Marianna.)
Immigration: State Sen. Rene Garcia, R-Hialeah, and former House members JC Planas and Juan Zapata are expected to be among the participants in an event to launch the "Reason for Reform" campaign, which seeks immigration reform. (11 a.m., Miami Dade College, Wolfson Campus, Building 6, 485 N.E. Second Ave., Miami.)
–Compiled by the News Service of Florida and FlaglerLive

In Coming Days in Palm Coast, Flagler and the Occasional Beyond:
♦ Aug. 4: What role does "Responsible Development" play in economic growth and development? A panel of experts representing the Flagler County Chapter of the Volusia County Association for Responsible Development (FCARD/VCARD) will share their insights during this breakfast meeting, 7:45 a.m. at the Hilton Garden Inn, 55 Town Center Blvd, Palm Coast, $20 in advance, $30 at the door. Contact Gretchen Smith to reserve a seat: [email protected].
♦ Aug. 5: Sen. Travis Hutson and Rep. Paul Renner present a ceremonial $535,892 check to the Flagler County School Board at 9 a.m., representing the restoration of state funding for the Flagler County Adults with Disabilities Program. At 1 Corporate Dr, Palm Coast. At 10:30 a.m., the legislative duo will present a ceremonial $300,000 check to the Flagler County Commission, funding for Malacompa drainage improvements, at Bing's Landing, 5862 N. Oceanshore Blvd. The public is invited to attend both events.
♦ Aug. 8: The News-Journal hosts an election forum featuring the candidates for Flagler County sheriff, at the Buddy Taylor Middle School cafeteria, 6 p.m.
♦ Aug. 10: School resumes for all students in the Flagler County School District, two weeks earlier than last year, but with a new calendar that enables students to complete their coursework ahead of high-stakes exams, that ends quarters more logically with holidays, and that restores a full week's holiday around Thanksgiving, Nov. 21-25. See details here.
♦ Aug. 11: Flagler Votes Hob Nob, the Flagler County Chamber of Commerce's pre-election event for voters to meet candidates, from 6 to 8 p.m., at the Flagler County Association of Realtors' building, 4101 E Moody Blvd in Bunnell. Participating candidates must pay $150 a table for their space, but it's otherwise free to attend. As part of their free admission, attendees will enjoy light snacks, great conversation and a ticket to vote in an electronic "straw poll," the results of which will be revealed at the end of the evening. Beer, wine and water will be available for nominal cash donations.
♦ Aug. 19: The latest pre-trial hearing in the case of Florida v. Kimberle Weeks, continued from July 22, is scheduled for 3 p.m. before Circuit Judge Margaret Hudson in Courtroom 402 at the Flagler County Courthouse. Weeks now faces nine third-degree felony counts, down from 12, stemming from allegations that she illegally recorded various individuals in her capacity as supervisor of elections and in her private life. Weeks resigned that post in January 2015.


♦ Sept. 7: The Flagler Youth Orchestra holds its open house for all new or prospective students who'd like to join the county's largest (and free) music program. The open house is at the Indian Trails Middle School cafeteria at 5:30 p.m. Any Flagler student, including homes chooled students, in grades 3-12, are eligible to enroll (must be 8 years old by Sept. 1, 2016.) Students may elect to play violin, viola, cello or doublebass. One-hour classes are held at Indian Trails Middle School Mondays and Wednesdays, from 3 to 6 p.m., with students enrolled in the hour block appropriate to their skill level and schedule. The first class for first-time students is Sept. 19. (Auditions for returning students start on Aug. 22, the first class for returning students is Aug. 31.)
♦ Sept. 10: African Art: Ancient Egypt to the Contemporary World, a pair of presentations by Bertrand Green, former chairman of African American studies at Lehman College, City University of New York. The first session is from 10 a.m. to noon, the second session from 2 to 4 p.m., at the Hilton Garden Inn, Palm Coast. $20 for PCAF members, $25 for general admission. Call 386/225-4394 or email [email protected] to reserve your seat.

James Baldwin was born on this day in 1924. This is what Baldwin taught America: https://t.co/oOnoP3U59K pic.twitter.com/Sew91MAtSz

— The New Republic (@newrepublic) August 2, 2016
'A house built by slaves': What's driving the fact-checking of Michelle Obama? https://t.co/nWXoyDNVHE pic.twitter.com/jSqM6U7SV4

— The Christian Science Monitor (@csmonitor) August 2, 2016
Judge strikes down voting restrictions in Wisconsin, calls them a 'wretched failure' https://t.co/8ssPxcAfkh pic.twitter.com/etsVBjOAaQ

— ThinkProgress (@thinkprogress) August 2, 2016
Immigration Agents Don't Follow The Law When It Comes To Asylum Seekers https://t.co/hfRocDSvYy pic.twitter.com/uIq0hDMpdc

— Southern Poverty Law Center (@splcenter) August 2, 2016
John Oliver explains exactly why Trump gets away with being a "sociopathic narcissist": https://t.co/zDYni2SZIO pic.twitter.com/RntfDaxkX9

— Slate (@Slate) August 2, 2016
Turns out we're not as promiscuous as we think we are. https://t.co/XGXTtnUhc5

— Playboy (@Playboy) August 2, 2016

Fact-Checking the Knaves:


Palm Coast Construction and Development Progress Reports
The following is an update of ongoing permitting, construction and development projects in Palm Coast, through July 15 (the city administration's full week in review is here):
Click to access week-in-review-july1.pdf

Road and Interstate Construction:

Agustin Barrios: La Catedral, III
Previous Codas: