Today: Partly cloudy with a 20 percent chance of showers and thunderstorms. Highs around 90. East winds 5 to 10 mph. Tonight: Partly cloudy. Lows in the upper 70s. Southeast winds 5 to 10 mph. Details here.
Today's fire danger is moderate. Flagler County's Drought Index is at 378.
Today's tides: at the beaches, at the Intracoastal Waterway.
Today's document from the National Archives.
The OED's Word of the Day: powldoody, n..
The Live Community Calendar
Today's jail bookings.
Today's Briefing: Quick Links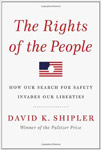 "Thanks to the Supreme Court's pro-police permissiveness, cops travel the streets in a legal haze of warrantless searches where small variables can easily be adjusted in the official narrative: furtive movements and suspicious answers, the smell of marijuana, evidence glimpsed through a car window, tips from nameless informants, implicit agreements to search, and myriad traffic violations where no impartial corroboration exists. Sometimes, it takes just a slight revision of a fact to put the police action on the constitutional side of the line. One technique, according to a veteran narcotics cop, is to stop someone, search him, and if anything is found, to justify the stop by reporting that he was carrying an open container of beer."
–David Shipler, "The Rights of the People" (2011).
Note: all government meetings noticed below are free and open to the public unless otherwise indicated. Many can be heard or seen live through each agency's website.
Flagler County Historical Site Bus Tour: Tours begin at Holden House Museum in Bunnell. You should arrive in the parking lot between 9:30 for check-in. There is a briefing at the History Annex (Behind Holden House) The tour will depart promptly at 10:00 in an air conditioned Flagler Transport bus. Tours will depart promptly at 10 a.m., include a lunch stop at the historic Bull Creek Fish Camp restaurant (lunch not included in tour price) and normally return to Holden House approximately 2:30 p.m. $20.00 per person. Planned comfort stops are scheduled.
The Palm Coast City Council meets at 9 a.m. at City Hall in Town Center. It will hear a presentation on the traveling Vietnam, War Memorial, which would be on display at the Flagler County Airport for Veterans Day on Nov. 11. The council is expected to discuss and possibly approve a raise for City Manager Jim Landon.
The Value Adjustment Board meets at 10 a.m. in board chambers at the Government Services Building.
The Flagler County Centennial Committee meets at 1:30 p.m. in the 3rd Floor Financial Services Conference Room at the Government Services Building.
Food Truck Tuesday in Palm Coast's Town Center , 5 to 8 p.m., featuring the London Fish and Chippy, Barnwood Barbecue, Kona Ice of Flagler County, Big Kahuna Kettle Corn, entertainment by DJ Vern, a superhero magic show and more. Benefits go to the summer camp scholarship program.

Updated jail bookings and day and night shift incident summary reports are available here.
n Jury Selection for Anna Pehota Trial, Pronounced Sympathies for the Killer: Again and again today, prospective jurors who'd heard about the case were struck from the list as they professed sympathy for her, as they suggested that the killing may have been justified, that it may have been "a mercy killing," that if it had been a case of abuse, "she was the victim," as one prospective juror put it

Woman With History of Fabrication Claims Home Invasion-Armed Robbery in W-Section: Brittany Cartier is a 21-year-old caretaker for the homeowner at 19 Watermill Place in Palm Coast. Late Sunday evening, she told police she was robbed at gunpoint by two men, who entered the house, stole $5,000 in cash and other items, and fled. Almost three years ago to the day–July 19, 2013–Cartier was arrested and charged with falsely reporting a crime. Some of that false crime's circumstances mirror those reported last night.
Pyrrhic Vanishing: Democrats Unite, But What Happened To Medicare For All?: After a raucous debate lasting nearly a year, the Democrats are united on health care. But that unity does not include a call for a single-payer "Medicare for all" health system.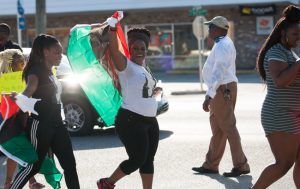 In Bunnell, 100 Black Marchers Chant for "All Lives," For Unity, But Also For Looking Inward: There was no question about the message, adorning numerous colorful signs—"Black Lives Matter," "All Lives Matter," "Please Don't Shoot Me," "No One Is Above the Law Stop Police Violence" and several signs calling for justice for Corey Tanner, the young black man, allegedly a fugitive, gunned down by U.S. Marshals in Espanola two years ago even though he was unarmed. Participants amplified the message with chants to unity and harmony across all colors, and for responsibility within the black community.

In Florida and in State Government:
Note: Some proceedings below can be followed live on the Florida Channel.

No events of note.
–Compiled by the News Service of Florida and FlaglerLive

In Coming Days in Palm Coast, Flagler and the Occasional Beyond:
♦ July 20: The Flagler League of Cities, a gathering of the county's mayors, meets at noon at Flagler Beach City Hall.
♦ July 22: The latest pre-trial hearing in the case of Florida v. Kimberle Weeks is scheduled for 2:30 p.m. before Circuit Judge Margaret Hudson in Courtroom 401 at the Flagler County Courthouse. Weeks now faces nine third-degree felony counts, down from 12, stemming from allegations that she illegally recorded various individuals in her capacity as supervisor of elections and in her private life. Weeks resigned that post in January 2015.
♦ July 23: The annual Back to School Jam, where families can get $5 backpacks, find their bus routes and location, help with access to the district's computerized records-keeping system, meet with innumerable coordinators and directors of after-school activities and programs and a lot more, is scheduled for 10 a.m. to 1 p.m. at Flagler Palm Coast High School, in the gym.
♦ July 23: Midnight fishing on the Flagler Beach pier, from midnight Saturday to 6 a.m. $6 per person. Register at the pier.
♦ July 25: The Plantation Bay Utility Customers Community meets at 6 p.m. at Club de Bonmont, 300 Plantation Bay Drive, Ormond Beach.
♦ July 27: Heritage Crossroads: Miles of History meet at 3 p.m. in the Government Services Building, 1769 East Moody Boulevard, Building 2, Bunnell, in the 3rd Floor Conference Room. Sisco Deen of the Flagler County Historical Society will speak. The public is invited. For information call 386/439-5003.
♦ July 28: Flagler County School Board's District Strategic Plan Steering Committee meets at 5:30 p.m. in the third-floor main conference room of the Government Services Building in Bunnell.
♦ July 30: Solar Plunge to benefit the Flagler Beach National Flight Academy Scholarship. Registration will be $10 per person and includes a t-shirt and goody bag. Late registration will be from 7:30- 8:30 a.m. in Veterans Park followed by The Plunge at 8:45 a.m. After the Plunge enjoy music in the park and light refreshments.
♦ Aug. 10: School resumes for all students in the Flagler County School District, two weeks earlier than last year, but with a new calendar that enables students to complete their coursework ahead of high-stakes exams, that ends quarters more logically with holidays, and that restores a full week's holiday around Thanksgiving, Nov. 21-25. See details here.
♦ Aug. 11: Flagler Votes Hob Nob, the Flagler County Chamber of Commerce's pre-election event for voters to meet candidates, from 6 to 8 p.m., at the Flagler County Association of Realtors' building, 4101 E Moody Blvd in Bunnell. Participating candidates must pay $150 a table for their space, but it's otherwise free to attend. As part of their free admission, attendees will enjoy light snacks, great conversation and a ticket to vote in an electronic "straw poll," the results of which will be revealed at the end of the evening. Beer, wine and water will be available for nominal cash donations.


♦ Sept. 7: The Flagler Youth Orchestra holds its open house for all new or prospective students who'd like to join the county's largest (and free) music program. The open house is at the Indian Trails Middle School cafeteria at 5:30 p.m. Any Flagler student, including homes chooled students, in grades 3-12, are eligible to enroll (must be 8 years old by Sept. 1, 2016.) Students may elect to play violin, viola, cello or doublebass. One-hour classes are held at Indian Trails Middle School Mondays and Wednesdays, from 3 to 6 p.m., with students enrolled in the hour block appropriate to their skill level and schedule. The first class for first-time students is Sept. 19. (Auditions for returning students start on Aug. 22, the first class for returning students is Aug. 31.)
♦ Sept. 10: African Art: Ancient Egypt to the Contemporary World, a pair of presentations by Bertrand Green, former chairman of African American studies at Lehman College, City University of New York. The first session is from 10 a.m. to noon, the second session from 2 to 4 p.m., at the Hilton Garden Inn, Palm Coast. $20 for PCAF members, $25 for general admission. Call 386/225-4394 or email [email protected] to reserve your seat.

Gunman Who Killed 3 Police Officers in Baton Rouge Member of Moorish Sovereign Citizen Group https://t.co/yvZpMq3TRV pic.twitter.com/JfdzXREYk2

— Southern Poverty Law Center (@splcenter) July 18, 2016
The flow of foreign fighters going to join ISIS may have dropped by 90% over the last year. https://t.co/wpE1QnA4w5 pic.twitter.com/UHrZ96xWUb

— Cato Institute (@CatoInstitute) July 18, 2016
On the streets of Jerusalem, Palestinian children lead Jews in impromptu Arabic lessons. https://t.co/xzNmr9IXO5 pic.twitter.com/gEKulnakdj

— J Street (@jstreetdotorg) July 18, 2016
Heading into conventions, the polls look like 2012: a Clinton lead, but a bigger educ. gap https://t.co/1H1SACU314 pic.twitter.com/BR6n1T7ytP

— Nate Cohn (@Nate_Cohn) July 18, 2016
One problem with meritocracy is that we just don't see the large role that chance events play in people's lives. https://t.co/cWMq7RQfPS

— Harvard Business Review (@HarvardBiz) July 18, 2016
Recently the Times warned that the GOP might *become* "a party of white identity politics". Ahem: pic.twitter.com/ror3dUrh7Y

— Paul Krugman (@paulkrugman) July 18, 2016

Fact-Checking the Knaves:


Palm Coast Construction and Development Progress Reports
The following is an update of ongoing permitting, construction and development projects in Palm Coast, through July 15 (the city administration's full week in review is here):
Click to access week-in-review-july1.pdf

Road and Interstate Construction:

Festival Next Generation 2015: Mozart: Sinfonia Concertante
Previous Codas: