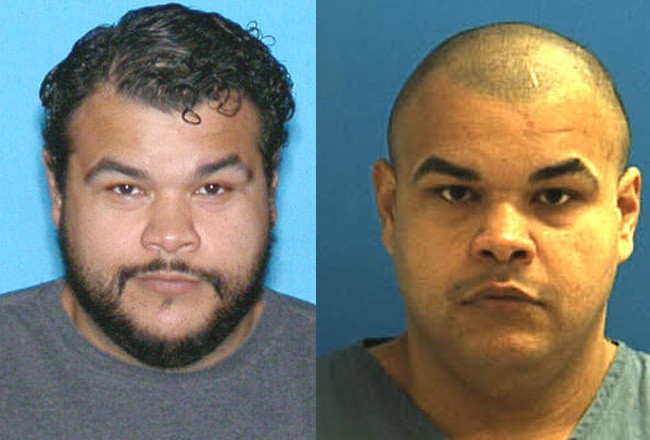 Today: Mostly cloudy, high in the mid-80s, low in mid-70s. Details here.
Today's fire danger is low. Flagler County's Drought Index is at 206.
Today's document from the National Archives.
The OED's Word of the Day: pickle-herring, n..
The Live Community Calendar
Today's jail bookings.
Today's Briefing: Quick Links

Note: all government meetings noticed below are free and open to the public unless otherwise indicated. Many can be heard or seen live through each agency's website.
Arts In Education Week continues in Flagler County. Click here for details.

The Tourist Development Council meets at 10 a.m., the first meeting of the council since the unraveling of the Spartan race proposal at Princess Race that the council had recommended a $25,000 subsidy for. The council will hear grant applications totaling $15,000 from the Flagler Auditorium and several $10,000 grant applications from sports organizations, while the Palm Coast Arts Foundation is in line for just $1,500. The agenda and background materials are here.
Flagler County's Technical Review Committee meets in the First Floor Conference Room of the Government Services Building at 9 a.m. to review three applications, including two preliminary plats at Hunter's Ridge at the southern end of the county. The agenda is here.
The Flagler County Contract Review Board is scheduled to meet at 5 p.m. in board chambers at the Government Services Building. No agenda was posted.

The Palm Coast Planning Board meets at 5:30 p.m. at city offices, City Marketplace, in the council conference room. The board hears a variance request from the 15-foot minimum street setback requirement, from a corner-lot applicant at 2 Fielding Lane.
City staff is recommending that the variance be denied. The staff report is available here.
The Buddy Taylor Middle School Advisory Council meets at 5:30 p.m. in the school library.
The joint meeting between the Flagler County Commission and the Bunnell City Commission, scheduled for today, was rescheduled to Sept. 23. The meeting is to discuss the county's complete acquisition of the jointly owned Plantation Bay utility.
What happens to your Facebook page when you die? The Estate Planning Council of the Fun Coast hosts a seminar entitled "Estate Planning for Digital Assets and Social Media" from 8 a.m. to 10 a.m. at the Hilton Garden Inn in Palm Coast. Cost: $20. Reservations required. Email [email protected] or call 386/586-4214.
Flagler Restaurant Week continues: From fine dining to beach burgers, twenty participating restaurants will feature special and discounted menu items from September 11 to 18. During this time, diners can explore some of the county's newest restaurants, revisit their old favorites, and try somewhere new in the quest to become the ultimate #FlaglerFoodie. Restaurant Week is, after all, a reminder that Flagler County is a community and destination that offers diverse dining experiences, beautiful scenery and plenty of reason to celebrate all things gastronomic.
Thursday: Humidor 10 Year Anniversary: We're celebrating 10 years of doing business in Palm Coast on Thursday, October 1st with a big party, 6pm to 9pm, and you should join us. Featuring live music, light eats, storewide sale, raffle items and tons of people to meet and chat with!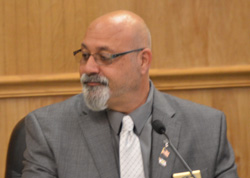 Palm Coast Council Rebuffs Steven Nobile's Latest Call for Charter Review Process: Nobile explicitly put it to his colleagues. He wanted a council workshop to decide how to approach the charter matter. He finally did get the support for a workshop, but Mayor Jon Netts foretold the outcome: "It was discussed. At any time, at any city council workshop, at any city council meeting, any member of the council can propose the creation of a charter study commission. It would take three votes in order for that to happen. You have not so far had three people willing to go down that road. But at any time the three council members want a charter review commission, they can create it."
County Approves Indefinite Halt to Road Impact Fees, May End Them in East Flagler: The transportation impact fee was due to kick back in by mid-October. On Tuesday, however, the Flagler County Commission suspended the transportation impact fee indefinitely, or pending a new study. And According to County Administrator Craig Coffey, with Palm Coast dominating the east side of Flagler, "it may not be practical for us to ever implement the impact fee again on the eastern side of Flagler County when we actually study it. Right now, to say never, I would not rule that out now where we sit today until I've studied it."
Ismael A. Rios is sentenced to 15 years for raping 14-year-old: Jurors took just 15 minutes to convict Rios, a previously convicted sex offender, of raping his ex-fiance's daughter by forcing her to perform oral sex on him. "After 10 months of silence, the victim broke down and told her mother and sister what had happened to her. One day, while Rios was painting her parents' Palm Coast house," the News-Journal's Tony Holt reports, "he lured her into a bedroom and sexually abused her. On that day, no one else was home. Days later, while the girl's parents were home, he abused her again in a different bedroom, according to court testimony." Circuit Judge J. David Walsh issued the sentence. Rios had previously been sentenced of molesting a victim between 12 and 15, and served three years in prison until April 2012. See the story of Rios's arrest here. (News-Journal story paywall-protected.)
"Security" Gains Ridiculed as Bunnell Agrees To 1-Way Traffic in Front of Sheriff's New HQ: No portion of any street around the new administration building—or what used to be the old Memorial hospital—will be closed. But Canakaris Street from Dr. Carter Boulevard to South Chapel Street will run one way, from east to west.
Palm Coast Felon Reports to Probation Office With a Loaded Gun. In a Stolen Car.: 38-year-old Christopher John Smith, a resident of 904 Central Avenue in Palm Coast, was retuirned to jail on a probation violation. He claimed not to know who owned the car.
The Observer sums-up the 9/11 memorial biker run under Sunday's pouring rains.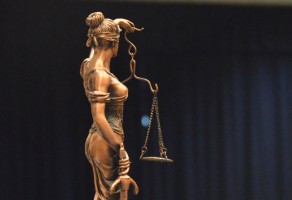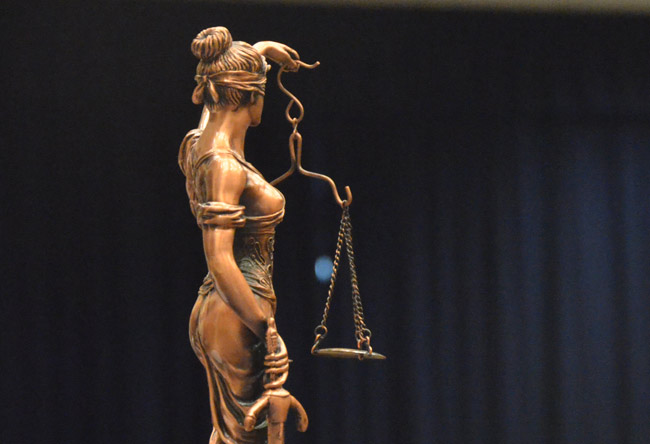 Circuit Judge Michael Orfinger is in a jury trial involving the Ocean Hammock Property Owners Association, in Courtroom 301. Judge Dennis Craig returns to the Flagler Courthouse to hear a trial in the case of Elisha Warren, who's accused of shoplifting. That trial is scheduled for a 9 a.m. start in Courtroom 404. County Judge Melissa Moore-Stens is in various hearings.
A foreclosure sale is scheduled for 11 a.m. in the civil department lobby.

Note: Most proceedings below can be followed live on the Florida Channel.


Guns on Campus: The Senate Criminal Justice Committee and the House Criminal Justice Subcommittee will consider controversial bills (SB 68 and HB 4001) that would allow people with concealed-weapons licenses to carry guns on college and university campuses. The bills are sponsored by Senate Criminal Justice Chairman Greg Evers, R-Baker, and Rep. Greg Steube, R-Sarasota. (Senate committee at 9 a.m., House subcommittee at 10:30 a.m.)
Economic Incentives at Issue: The Senate Commerce and Tourism Committee will hear a presentation from Bill Johnson, president and CEO of Enterprise Florida, about economic-incentive programs. See the background story here. (9 a.m.)
Budget requests: The House Education Appropriations Subcommittee, the House Transportation & Economic Development Appropriations Subcommittee and the House Justice Appropriations Subcommittee will consider budget requests from state agencies. (Education Appropriations, 10:30 a.m., Transportation & Economic Development Appropriations, 10:30 a.m., Justice Appropriations, 4 p.m.)
The House Republican Conference will hold a ceremony to designate Rep. Richard Corcoran, R-Land O' Lakes, as the next House speaker. Corcoran will succeed Speaker Steve Crisafulli, R-Merritt Island, after the 2016 elections. (2 p.m.)
The House Insurance & Banking Subcommittee will discuss efforts to move policies out of the state-backed Citizens Property Insurance Corp. and into the private insurance market — a concept known as "depopulation." (4 p.m.)
OTHER LEGISLATIVE MEETINGS:
— House Veteran & Military Affairs Subcommittee (Wednesday, 10:30 a.m., 12 House Office Building, the Capitol.)
— Senate Health Policy Committee (Wednesday, 11 a.m., 412 Knott Building, the Capitol.)
— House Economic Development & Tourism Subcommittee (Wednesday, 4 p.m., 12 House Office Building, the Capitol.)
— House Health Innovation Subcommittee (Wednesday, 4 p.m., 306 House Office Building, the Capitol.)
— House Higher Education &Workforce Subcommittee (Wednesday, 4 p.m., Reed Hall, House Office Building, the Capitol.)
The Florida Commission on Offender Review will consider numerous parole cases involving crimes committed in the 1970s and 1980s. (9 a.m.)
–Compiled by the News Service of Florida and FlaglerLive

In Coming Days in Palm Coast and Flagler:
Click on the links for more details:
Sept. 18: County Judge Melissa Moore-Stens on the 8th Amendment and Flagler's Pre-Trail Release Program: Mark the 228th anniversary of the birthday of the U.S. Constitution with the Flagler County Friends of the Library at 1:30 p.m. as the Friends sponsor "A Look at the 8th Amendment," presented by Judge Melissa Moore Stens. The program will be in the meeting room of the Library, 2500 Palm Coast Pkwy NW. The topic for discussion will be the pre-trial release program, funded by the County Commissioners in 2014.

Elbert Tucker (© FlaglerLive)

Sept. 18: Bunnell City Commissioner Elbert Tucker is the keynote speaker at the 23rd Drug Court Graduation at 3 p.m. at the Flagler County Courthouse, before Circuit Judge J. David Walsh, in Courtroom 101.
Sept. 19: Volusia and Flagler Parent Magazines Host 6th Annual Ultimate Baby Shower and Toddler's Expo from 10 a.m. to 5 p.m. at Mainland High School in Daytona Beach.
Sept. 21: Flagler Beach Police Captain Matthew Doughney and 7-Eleven host "Doughnuts with Doughney": The Flagler Beach Police Department and the city's 7-Eleven have partnered to host "Doughnuts with Doughney" on Monday, September 21, from 8 a.m. to 10 a.m. at 408 South Oceanshore Boulevard.
Sept. 22: Flagler County NAACP Meeting: Cassandra Stephenson of Chi Delta Omega Chapter of Alpha Kappa Alpha Sorority, Inc. addressing voter registration; Renny Roker, actor/producer/promoter, will unveil his book, "Positivity, Your Key to Success," speaking truth to power for today's youth; and Student and Community Engagement Director Lynette Shott will bring plans from the Flagler school district for the year 2015-16. A question and answer session will follow each presentation. (6 p.m., African American Cultural Society, 4422  U.S. 1 North, Palm Coast.)
Sept. 28: Bunnell's State of the Art Water Treatment Facility Grand Opening and Ribbon Cutting at 100 Utility Drive (directly across the street from the Flagler County Government Services Building), from 4 to 6 p.m.
Oct. 6: The Flagler County School Board holds a town hall meeting at the Government Services Building.
Flagler County is now accepting applications for the Fall 2015 Citizens Academy. Classes will be held on Thursday evenings from 5 to 8 p.m. beginning September 10 for nine weeks. For more information, click this link or go to flaglercounty.org/academy.

Police, Fire and Emergency Notes: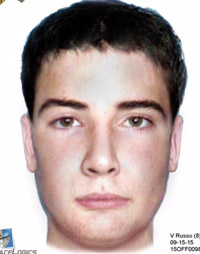 Suspicious Person Sought for Accosting Schoolgirl: Detectives with the St. Johns County Sheriff's Office Special Victims' Unit are seeking a male subject who approached a school age female in a vehicle when she got off the bus today. The incident occurred in the Treasure Beach area, north of Crescent Beach. The 11-year old female stated that a male subject drove up and greeted her. When the girl looked at the driver he was exposing himself and the girl ran home. The subject was described as a white male, early to mid 20's, short dark hair (brown or black) and no facial hair, driving an older model silver 4 door passenger car. The vehicle had a large scratch on passenger side door as well. Anyone with any information concerning the identity of this individual (composite drawing attached) is asked to contact Detective Jennifer Burres at the St. Johns County Sheriff's Office at (904) 209- 1532. You can also remain anonymous and possibly be eligible for a cash reward by calling CrimeStoppers of N.E. Florida at 1-(888) 277- TIPS (8477).


Water District launches educational programs for new school year: With the new school year getting under way, the St. Johns River Water Management District is offering several educational programs and online resources to assist educators in sharing information about water conservation, water quality protection and other water resource topics to all grade levels. The District's "Challenge" programs give students, teachers and schools the opportunity for hands-on action in their communities. The Challenges engage participants in water conservation, Indian River Lagoon protection and springs protection projects of their choosing. If an entire school participates, the school is eligible for the District's Environmental Education Achievement Award, which includes recognition by the District's Governing Board. The District's STEM (science, technology, engineering and math) program includes an online resource center for students and teachers, and an essay competition for high school juniors and seniors. Winners of the competition will get to spend a day with District scientists and be recognized by the Governing Board.
Another program for elementary schools is The Great Water OdysseySM. The online program is a fun, interactive way to learn about water resources, through reading, science, math and social studies. More than 30,000 students and 900 teachers took part in these programs last year. To participate in this year's programs visit floridaswater.com/education or contact Toni Lang, water resource education coordinator, at [email protected] or (386) 329-4345.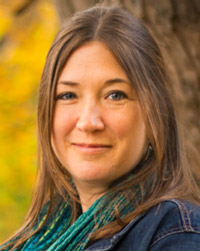 PACE Center for Girls Appoints Lisa Davitt as Social Services Manager: The PACE Center for Girls Volusia-Flagler is pleased to announce the hire of Lisa Davitt as the new Social Services Manager. Davitt will be working to manage the social service staff and provide administrative control of day-to-day crises within the Volusia-Flagler center. "I wanted to work for an organization that is looking to empower young people to be successful," Davitt said. "The PACE Center for Girls is an organization that values providing a better future for young women and I was drawn by their beliefs." Davitt brings to PACE a total of five years of experience working in the social services field. Before coming to PACE, Davitt worked as a School Social Worker for the Indianapolis Public Schools School District; where she provided clinical and case management social work services to children and parents throughout the school district. "Lisa brings an amazing balance of academic and social service expertise which aligns perfectly with our PACE program," Executive Director Lori Richards said. Davitt lives in Edgewater with her husband Luke and her daughter Alena.

For 14th year, City of Palm Coast honored for Excellence in Financial Reporting: The City of Palm Coast has been awarded the Certificate of Achievement for Excellence in Financial Reporting by the Government Finance Officers Association of the United States and Canada (GFOA) for its comprehensive annual financial report. The Certificate of Achievement is the highest form of recognition in the area of governmental accounting and financial reporting, and its attainment represents a significant accomplishment by a government and its management. The City's Finance Department, led by Finance Director Christopher Quinn, received the award. This is the 14th consecutive year Palm Coast received the award for its comprehensive annual financial report (audited financial statements). The GFOA is a nonprofit professional association serving approximately 17,500 government finance professionals with offices in Chicago, Ill., and Washington, D.C.

Clinton Down, Trump Steady: "Republicans increasingly think that Donald J. Trump has the best chance of winning the 2016 presidential election as their nominee as confidence fades in traditional politicians like Jeb Bush and Scott Walker, according to the latest New York Times/CBS News Poll. Although Republicans have reservations about Mr. Trump and voters often end up embracing candidates who lagged in early polls, the billionaire businessman appears to be gaining acceptance as a possible nominee. The poll found that 39 percent of Republican primary and caucus voters viewed Mr. Trump as their best shot at winning the presidency, compared with 26 percent in a CBS survey in August. Only 15 percent said they would not back him as the party's standard-bearer. […] Among Democrats, uneasiness with Hillary Rodham Clinton is growing and creating a possible opening for Vice President Joseph R. Biden Jr., as he considers making a late entry to seek the party's nomination. Mrs. Clinton has lost the support of a majority of male Democratic voters and has also had a 7-point drop in support from Democratic women. Her lead over Senator Bernie Sanders of Vermont has shrunk from 41 percentage points to 20 points. Nearly six in 10 Democrats said they want to see Mr. Biden join the race, although it is not unusual for voters to seek additional choices early on. The presidential race at this moment — a personality-driven free-for-all among 16 insiders and outsiders on the Republican side, an endless political therapy session about angst over Mrs. Clinton on the Democratic side — is so unsettled that national polls can be unreliable predictors this far out from voting for party nominees, which begins in February. At this stage eight years ago, Rudolph W. Giuliani and Fred D. Thompson led the Republican field, and Mrs. Clinton held an 18-point lead over then-Senator Barack Obama in a Times/CBS News poll." From The Times.

Palm Coast Construction and Development Progress Reports:
The following is an update of ongoing construction and development projects in Palm Coast, through Sept. 11: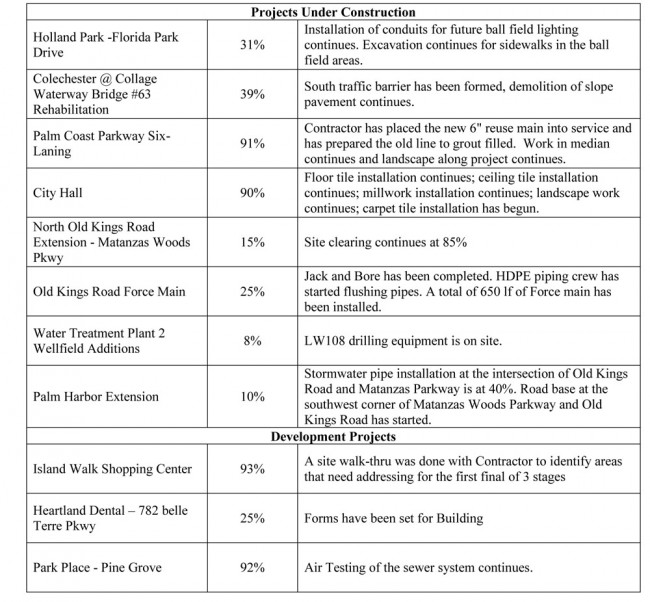 Palm Coast Residential and Commercial Permits Issued Last Week (Click on the chart for larger view):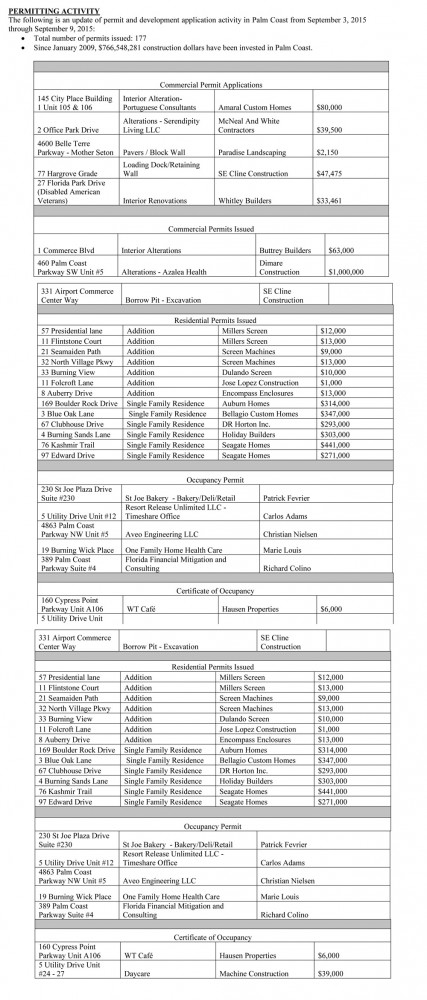 Road and Interstate Construction: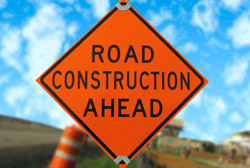 Palm Coast:
Flagler County Road 302 is Closed to all but local traffic as repaving began on June 7 and the roadway will be closed to all but local traffic. Others will be required to detour around County Road 302 using State Road 100. The roadway will be closed for 90 days, or until early September.
Palm Coast's Colechester Lane bridge to be closed July 7 through Sept. 4:  A detour will be established taking travelers over the Colorado Drive bridge instead. Signs will be posted directing motorists to the Colorado Drive bridge. The City of Palm Coast strives for safe construction zones. The City asks for the cooperation and patience of residents as this important bridge improvement project is completed. For more information, contact Palm Coast Customer Service at 386-986-2360.
Volusia: I-4 Widening from SR 44 to east of I-95, Monday and Friday, 7:00 a.m. – 5:00 p.m., Eastbound/Westbound shoulder closing. Sunday through Thursday, Eastbound and Westbound lane closures as needed from 8 p.m. to 6 a.m. Thursday, 9:00 p.m. – 5:30 a.m. EB road closure between Canal St./SR 44 and I-95 with detour at US 92 exit ramp.Motorists should be aware of traffic shifts near Canal St./SR 44.
County Road 304 Project Map and Description

Comment of the Day (From the Comment Section):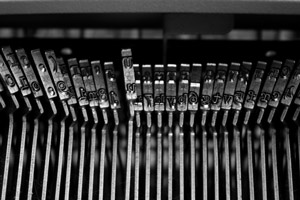 Tulip, in "County Approves Indefinite Halt to Road Impact Fees, May End Them in East Flagler": Yep, the commissioners will do anything to help out the builders and developers and to heck with the resident taxpayer. I bet the price of the new homes and buildings they build won't drop when the impact fee goes away. The county says it needs more money and makes cuts to this and that, then goes and makes bad purchases, and now wants to give the builders a break by eliminating the impact fee which will definitely adversely affect the taxpayers monetarily down the road. Coffey is being allowed to make way to many decisions and deals and the commissioners just follow along like sheep. No one seriously disputes him and stands their ground. As long as they can keep their big campaign donors happy is all that seems to matters." Reply to Tulip here.

The Other Bach: Carl Philip Emanuel, with Victor Goldberg playing a Fatasia in F Sharp Minor: