Today's weather: cloudy, high of 77, low of 69, high humidity. Details here.
Today's fire danger is Low. Flagler County's Drought Index is at 299
The weather in Da Nang, Vietnam: Sunny, high of 93, low of 81. Details.
The OED's Word of the Day: blackguard, n. and adj..
The Live Community Calendar
Today's jail bookings.
Today's Briefing: Quick Links

Note: all government meetings noticed below are free and open to the public unless otherwise indicated.
This is Teacher and Staff Appreciation Week in Flagler County schools.

The Flagler County School Board holds a workshop and a regular meeting at 5 and 6 p.m. The 5 p.m. workshop will focus on one of the board's least favorite subjects: employee health insurance. It's due to be renewed. Premiums are going up, but somewhat modestly. The administration is recommending that the board increase its contribution to premiums by 5 percent. See the tally sheet here. The board will also discuss the establishment of a sports leadership academy at Indian Trails Middle School. The regular meeting at 6 p.m. will spotlight Crime Stopper poster contest winners, the school district's United Way campaign, and the The BioLit class at i3 Tech Academy's Public Service Announcement for the "Healthy Schools" campaign promoting the Flu Vaccine. Stuydent Serices Director Katrina Townsend chose the winning campaign from six submissions, to possibly be used for the 2015-2016 school year in promoting the Flu Vaccine. There is also a winning visual poster created by i3 Tech Academy's Drawing I class that contains the QR code to the PSA. See the winning video below. The board meets in board chambers at the Government Services Building in Bunnell. The workshop and regular meeting are both webcast live here.
Parent Night
at Buddy Taylor Middle School, starting at 4 p.m.
Belle Terre Elementary's PTO meets at 5 p.m. in the Belle Terre library.
The Flagler Palm Coast High School ROTC holds its award ceremony at 5:30 p.m. at the Flagler Auditorium.
Flagler Beach's Planning and Architectural Review Boardhttp://www.cityofflaglerbeach.com/index.aspx?NID=144
meets at 5:30 p.m. in commission chambers at City Hall in Flagler Beach. No agenda has been posted.

The Palm Coast City Council meets for a business session at the Palm Coast Community Center at 6:30 p.m. The council is expected to change the land-use designation of a 276-acre parcel off the southeast corner of Flagler County Airport–begging your pardon, Flagler Executive Airport–from a Flagler County designation of low-density residential, agriculture and industrial to residential and industrial, with a note on future land use map to limit development on the properties to 3 units per acre and 200,000 sq. ft. of industrial use. The property is known as Grand Landings. The city's staff report on the change is available here. The meeting's full agenda is available here. The meeting is webcast live on Palm Coast TV here.
The Flagler County Chamber of Commerce holds another business boot camp in the chamber conference room starting at 6 p.m.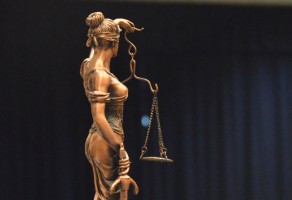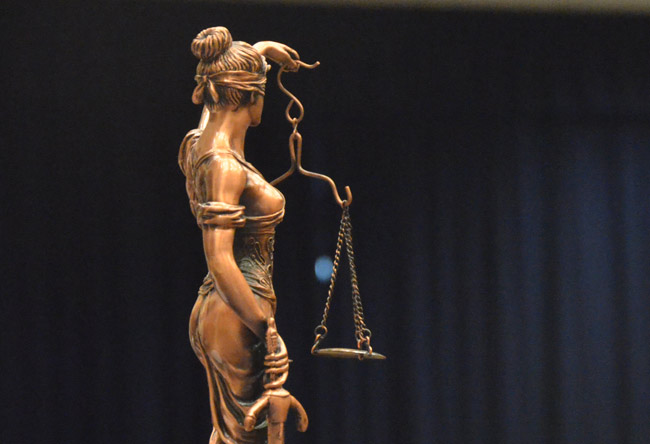 Judge J. David Walsh holds sentencing hearings for Akeem Hughes, found guilty of grand theft, and Drew Richter, guilty of unemployment compensation fraud, at 9 a.m. and is in pre-trial hearings the rest of the morning and part of the afternoon, when he will also hear probation violation hearings and hold felony arraignments. Among the cases he'll hear in pre-trial motions this afternoon: Sean Monti, accused of battery, false imprisonment and battery on a police officer. Monti was the subject of a high-profile arrest following his apparent eluding oif cops who tried to serve a warrant in mid-March, with a SWAT team present. See the story here. (Courtroom 401.) Also on Walsh's pre-trial docket: the case of Giuseppe Verdone, charged with kidnapping, battery, carjacking and and interfering with the custody of a minor: Verdone had tried to drive to Virginia with a 15-year-old girl after carjacking a Chinese restaurant delivery driver in Palm Coast. See the story here. The case of Carl Westgate, the 19-year-old Palm Coast resident accused of raping an 11-year-old girl he met on Facebook, is also scheduled for a pre-trial today.
The Florida Supreme Court will hear arguments in four cases, including an appeal by Death Row inmate Richard Franklin, who was convicted in the 2012 murder of Columbia Correctional Institution officer Ruben Thomas. Franklin was an inmate at the North Florida prison at the time of the murder. (9 a.m. On the Florida Channel.)

Note: Most proceedings below can be followed live on the Florida Channel.

Gov. Rick Scott and the Florida Cabinet will take up a series of issues, including looking at performance measures for the Office of Insurance Regulation, the Office of Financial Regulation and the Department of Revenue. (9 a.m.)
The Florida Public Service Commission will take up a plan that involves Gulf Power Co. buying electricity generated at a wind farm in Oklahoma. The Pensacola-based utility, at least in part, is seeking approval to be able to pass along costs to customers. (9:30 a.m.)
The Florida Transportation Commission will hold a workshop that is expected to include discussion of issues such as a bicycle and pedestrian safety initiative. (1 p.m.)
–Compiled by the News Service of Florida

The PEN Literary Gala is tonight at 6:30 p.m. From PEN: "The PEN Literary Gala is a uniquely moving and exhilarating black-tie event featuring distinguished American and international writers. It provides crucial funding for PEN's work to secure the liberty of imprisoned writers worldwide, defend freedom of expression, and promote international cultural exchange. The PEN/Barbara Goldsmith Freedom to Write Award is granted to an imprisoned writer of conscience in particularly dire circumstances, the PEN/Toni and James C. Goodale Freedom of Expression Courage Award is presented to a hero of freedom of expression online, and the PEN/Allen Foundation Literary Service Award honors a critically acclaimed writer whose work illuminates the human condition in original and powerful ways. This year's recipient will be Tom Stoppard. The Publisher Honoree will be Penguin Random House CEO Markus Dohle."

In Off Year For Hedge Funds, Top Three Managers Earn Over $1 Billion Each: "Even in a poor-earnings year for the industry, the top three hedge fund managers each took home more than $1 billion last year. According to a recent hedge fund industry survey, Citadel's Ken Griffin was the highest paid hedge fund manager in 2014 with a total compensation of around $1.3 billion. Renaissance Technologies founder and manager James Simons ended up in second place with $1.2 billion, and Ray Dalio of Bridgewater Associates was the third highest paid in 2014 with $1.1 billion in total compensation. […] Keep in mind that the hedge fund industry had a bad year in 2014. The top 25 managers only took home $11.6 billion in total according to Institutional Investors' Alpha's 14th annual hedge fund manager pay rankings, barely half of the more than $21 billion they pocketed in in 2013. The IIA survey noted: "All in all, last year turned out to be the worst one for this elite group of investors since the financial markets melted down in 2008." Of interest, 2013's highest paid hedge fund manager was David Tepper of Appaloosa Management, who made a mind-boggling $3.5 billion mainly due to a big move up in airline stocks. Now disgraced Steven (Stevie) A. Cohen of SAC was in second place with $2.4 billion that year, and John Paulson ($2.3 billion) was third. Highlighting how fast fortunes change, none of the three were on the top 10 this year." From Valuewalk.
Alan Grayson's Girlfriend Wants His House Seat: "Grayson's girlfriend Dena Minning, a self-described "biotechnology entrepreneur" who claims an MD and a Ph.D in biochemistry, has reached out to at least one Democratic-leaning group and clearly expressed her interest in running for the post, according to a message shown to POLITICO on the condition it not publish the contents or name the organization. Two sources close to Grayson and a third Democratic source with knowledge of the situation confirmed that Minning has expressed interest in running for Grayson's House seat, Florida's Ninth Congressional District. […] But on Twitter, Minning has actively talked up Grayson's potential Senate bid and criticized Murphy. "Grayson & Murphy are tied. That will change once voters know Murphy's stance on [Social Security]/Medicare," Minning tweeted on April 6. When another user said a conservative Democrat would be better than a Republican winning the seat, Minning replied, "But if he votes WITH the #GOP, what's the difference? Instead, how about a true #Democrat for FL Senate?"" From Politico.
Is it possible to make a good film about writing? "The better, more enjoyable films about writers tend to externalise the writerly angst in a heightened, almost baroque fashion. John Torturro's Barton Fink struggles to write on his first job in Hollywood and winds up being framed for a murder. Two of the more accomplished Stephen King adaptations Misery and The Shining play on the anxiety of literary fame and writer's block respectively. In Rob Reiner's Misery, bestselling novelist Paul Sheldon (James Caan) falls into the clutches of Annie Wilkes, a deranged fan, played by Kathy Bates. Sheldon is promptly, ahem, "persuaded" as to the folly of killing off his bestselling character Misery Chastain and by immobilising him with some heavy-handed tactics, Annie sees to it that he has no distractions from his writing. […] One of the main problems with films about writers is that the films are too often very inarticulate when talking about books. This is clear from some of the worse films of the sort, such as biopics of Sylvia Plath (Sylvia – 2003) where Ted Hughes, played by Daniel Craig actually tells the young Plath (Gwyneth Paltrow) to 'write what you know', and Iris Murdoch (Iris – 2001) where Murdoch's lectures are rendered rather gauche by Richard Eyre's terribly middle-brow direction. Jane Campion has made two of the better literary biopics in An Angel at My Table (1990), in which Kerry Fox plays the troubled New Zealand writer Janet Frame and Bright Star (2009) which dramatises the relationship between John Keats and Fanny Brawne. The first succeeds because it is based directly on the first volume of Frame's memoirs, the second because it doesn't concern itself overly with writing, focussing instead on the tale of doomed love." From the New Statesman.

Road and Interstate Construction: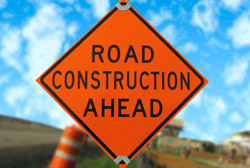 Palm Coast: Palm Coast Parkway between Cypress Point Parkway and Florida Park Drive. IMPACTS: Lane shifts and closures will occur and this may cause traffic congestion on this already busy roadway. Most construction work will occur between 9 p.m. and 7 a.m. though weather and unforeseen issues may adjust the schedules. This project will be complete by December 2015."
Matanzas Parkway Bridge at I-95 Matanazas Parkway at the I-95 bridge will close on June 5 at 7 p.m. for the I-95 interchange project and will remain closed until Aug. 9. Detour will be via Old Kings Road. Details here.
Flagler County: County Road 305 is now detour-free. 
Volusia: I-4 Widening from SR 44 to east of I-95, Monday and Friday, 7:00 a.m. – 5:00 p.m., Eastbound/Westbound shoulder closing. Sunday through Thursday, Eastbound and Westbound lane closures as needed from 8 p.m. to 6 a.m. Motorists should be aware of traffic shifts near Canal St./SR 44.
County Road 304 Project Map and Description

Public invited to enjoy Lake Apopka Wildlife Drive: Bird lovers and other nature enthusiasts have a new way to enjoy the wildlife of the Lake Apopka North Shore with the opening of the Lake Apopka Wildlife Drive by the St. Johns River Water Management District. Spanning 11 miles, the drive begins at Lust Road and ends on Jones Road in Orange County. A portion of the drive intersects with the Lake Apopka Loop Trail where hikers, bikers and other users will share the road. The drive is open during daylight hours on Fridays, Saturdays, Sundays and federal holidays, and it will be closed other days due to ongoing restoration work. The gates will be opened approximately one hour prior to sunrise and will be closed an hour before sunset. In the coming months, automatic gates will be installed that follow a similar schedule. "The water management district has made improvements to the existing trails and levee system on our portion of the North Shore property as part of our land management plan," said Steve Miller, Land Management Bureau Chief for the District. "The Wildlife Drive offers people the opportunity to see some of the 362 species of birds that have been identified on the property as well as alligators, bobcats, otters and other wildlife. It's a unique opportunity." To assist users, the District has installed directional signs on the drive and an informational kiosk. The roadway has been hard topped with widened portions available for "pull over" areas. Other improvements at the North Shore made by the District and its partners include: Building of a small foot bridge to connect two sections of levee, capping of the levees with lime rock to add stability, opening of two phases of the Lake Apopka Loop Trail. Vehicles on the Wildlife Drive are limited to 25 feet in length and vehicles pulling trailers are not allowed. A Wildlife Drive map and birding list are available on the District's website.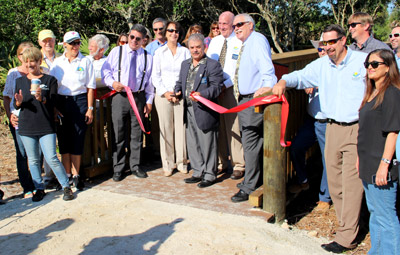 Mala Compra trail, boardwalk ready for use: There are few places that offer a good view of what Florida looked like when it was discovered by the Spanish 450 years ago, but Flagler County has one of them. With the completion of a new trail at Mala Compra Park – as well as two boardwalks over the interdune salt marshes and dune walkovers to the beach – visitors will get a glimpse of the coastal hammock that in other areas of the state has largely been carved up for residential development. "We are thrilled to officially open this oceanfront trail," Flagler County Commissioner Frank Meeker said Friday morning during a ribbon-cutting ceremony at the park. "This will allow people to walk through one of the few remaining intact coastal hammocks on the east coast of Florida." A new mile long trail off of Flagler County's 19-mile A1A trails system connects Bings Landing Park on the west side of State Road A1A to Mala Compra Park, providing a nice excursion to the beach. It intersects with the Old Coast Guard Road that was used during World War II to keep an eye on the coastline. Donna Richard-Drevniok spoke on behalf of Friends of A1A Scenic and Historic Coastal Byway at the ribbon-cutting. "This is wonderful. We've been waiting for this since like 2002," she said of the connection to the Old Coast Guard Road. Overall, the project came in about 18 percent under budget. A portion of the work was completed in house, like the construction of the 21-car shell parking lot that cost $216,000, saving Flagler County $49,000 from the engineer estimates. The boardwalks were constructed by Underwater Engineering Services and cost $518,000 and another $3,660 under budget. "This is another great addition to our trail system that benefits residents and visitors alike," said Anne Wilson, chairwoman of the Scenic A1A Committee. "Trails like this add to the overall charm of what makes Flagler County a great place to live, work and play." Mala Compra Park is a rare publicly owned greenway that encompasses land from the ocean west to the Intracoastal Waterway. This was accomplished by negotiations with developers, county funds and state preservation funds. Money was set aside for the project construction by the original developer of the Hammock Dunes, Admiral Corporation nearly 30 years ago.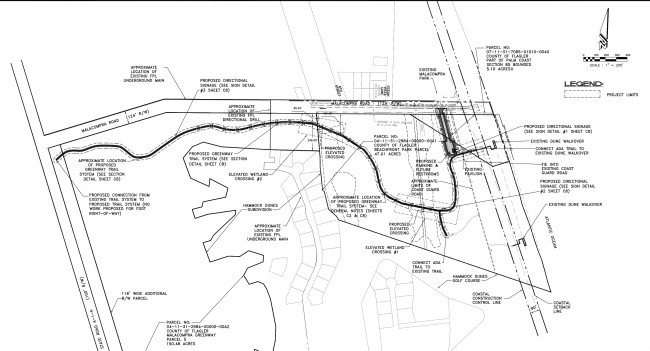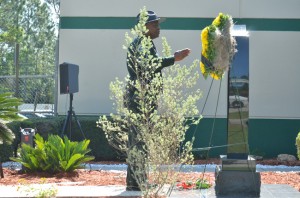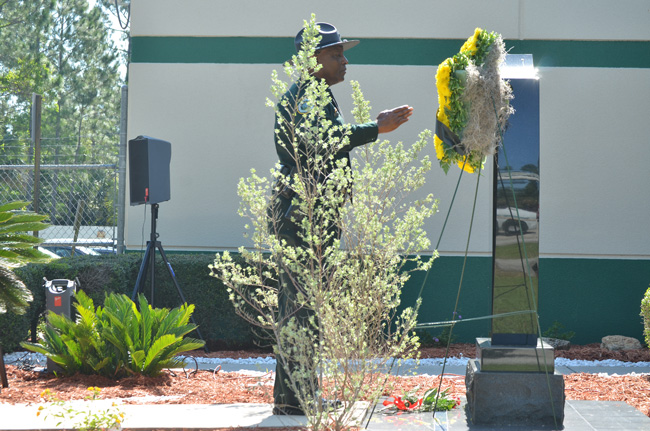 The annual Flagler County Peace Officer's Memorial Ceremony will be held Thursday, May 7 at 11:30 a.m. at the Kim C. Hammond Justice Center located at 1769 East Moody Boulevard, Bunnell. Members of the Sheriff's Office along with representatives of federal, state and local law enforcement and emergency responders as well as local government officials are expected to be in attendance. The ceremony is held one week prior to "National Police Week" events in Washington D.C. to give deputies from the Sheriff's Office the opportunity to attend national ceremonies. Law enforcement officers will gather to remember Flagler County Sheriff Perry Hall who was killed in the line-of-duty on August 21, 1927, Deputy George "Son" Durrance who was killed in the line-of-duty on August 25, 1927, Deputy Charles "Chuck" Sease who was killed in the line-of-duty on July 5, 2003 and Sergeant Francesco "Frankie" Celico who died on September 9, 2011. "Every year we take time to remember and honor the law enforcement officers who have made the ultimate sacrifice. The ceremony is open to the public and I encourage the public to attend," said Sheriff Jim Manfre. For additional information on National Police Week, please visit here. Additional information regarding law enforcement officers that have been killed in the line-of-duty can be found by visiting the Officer Down Memorial page.
Friday, Saturday and Sunday: "Committed," At City Repertory Theatre: Don't miss the Florida debut of "Committed," a musical Featuring 13 original songs penned by Flagler Palm Coast High School graduate Andrew David Sotomayor. Written by Tricia Brouk, "Committed" brings audiences inside the psych ward to find out what happens when life begins to fray at the edges, and how people hold themselves together. "Committed" is a dark and beautiful book musical about eight people working through the pain of their mental illnesses. Pain is pain. We all know it, we all feel it, we all relate to it. Sometimes it's difficult to talk about. "Committed" is a theatrical experience that brings awareness to mental illness and with compassion and humor, try to get past the suffering. The hope is to use art and entertainment to de-stigmatize mental illness and get people talking about it.An unforgettable show that you won't want to miss. Tickets are $25. Call the box office at 386/585-9415 or click here for immediate ticketing. Show times: April 30, May 1, 2, 8, 9 at 7:30 p.m., matinees May 3, 10 at 2 p.m.
Stewart-Marchman-Act Behavioral Healthcare will run a free Mental Health First Aid (MHFA) certification course for Flagler County residents on Friday, May 15, from 8 a.m. to 5:30 p.m. at the Flagler County Government Services Building. The course will be instructed by Sini Summerlin, MHFA instructor, who will teach a five-step action plan to offer initial help to people with signs and symptoms of a mental illness, or who are in crisis, and learn to connect them with the appropriate professional, peer, social or self help care. "You are more likely to come in contact with a person who is experiencing a mental illness than a person suffering from a heart attack," stated Summerlin. "This is an essential course to take for anyone that works with young adults," added Summerlin. Anyone that resides or works in Flagler County can take the 8-hour Youth Mental Health First Aid course, but it is ideally designed for adults who work with young people, ages 12-18 — teachers, coaches, leaders of faith communities, social workers, and other caring citizens Seating is limited and registration is required. The Flagler County Government Services Building is located at 1769 E. Moody Blvd. in Bunnell and the class will be held in Building 2, 3rd Floor, Room 3. To register, follow this link.
For more information or to participate in a Mental Health First Aid training in Flagler County, visit www.mentalhealthfirstaid-florida.com or email Sini Summerlin, MHFA contact at [email protected].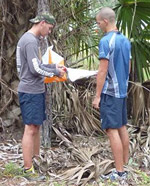 The Florida Agricultural Museum will be co-hosting an orienteering event on Saturday, May 16, from 9 a.m. to 3 p.m. at the museum facility, 7900 Old Kings Road North in Palm Coast. The event is being produced by the Florida Orienteering Club. There is a $2 per person registration fee. In addition there is a map fee of $4 for club members and $6 for non-members. Orienteering is the sport of navigating a series of designated locations on an outdoor course with a map and compass. The event is suitable for all ages. No experience is necessary and instructors will be on site for assistance. Closed toe shoes, sunscreen, insect repellent and water are recommended for all participants. The museum recently opened a permanent orienteering course at its facility. It is available when the museum is open to the public. There is $5 charge per user. The event will take place rain or shine. For more information, please visit floridaagmuseum.org or floridaorienteering.org or by contacting (386) 446-7630 or [email protected].


Blood donations are urgently needed. Patients in our local hospitals are in need of blood transfusions, and the need for blood does not take a holiday. That's why OneBlood is asking people to donate immediately.
Big Red Bus schedule in Flagler-Palm Coast:
Tuesday May 5th 8:30AM – 1:30PM Atlantic Fitness/Chick fil-A 3 Boulder rock drive, Palm Coast
Friday May 8th 8:00AM – 2:15PM Matanzas High School, 3535 Old Kings Road, Palm Coast
Wednesday May 13th 11:30AM -4:30PM Department of Health Flagler, 301 Dr. Carter BLvd, Bunnell
Thursday May 14th 9:00AM – 2:00PM Florida Hospital Flagler, 60 Memorial Med Parkway, Palm Coast
Friday May 15th 1:00PM – 6:00PM Epic Theatre, 1185 Central Ave, Palm Coast
Saturday May 16th 9:00AM – 2:00PM Bunnell Festival, 200 East Moody Blvd, Bunnell
Monday May 18th 11:00AM – 4:00PM City of Palm Coast, 160 Cypress Point Parkway, Palm Coast
Wednesday May 20th 12:00PM – 5:00PM US Post Office, 2 Pine Cone Drive, Palm Coast
Friday May 22nd 1:00PM – 6:00PM Epic Theatre, 1185 Central Ave, Palm Coast
Sunday May 24th McDonalds Restaurant, 5190 East Highway 100, Palm Coast
Monday May 25th Bealls Outlet, 9 Old Kings road, Palm Coast
Friday May 29th Zaxby's, 180 Cypress Edge Drive, Palm Coast
Saturday May 30th Walmart Supercenter, 174 Cypress Point Parkway, Palm Coast
Sunday May 31st Lowe's, 315 Cypress Edge Drive, Palm Coast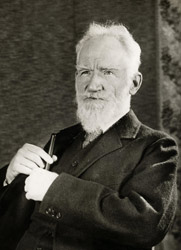 H.L. Mencken on George Bernard Shaw: "A good half of the humor of the late Mark Twain consisted of admitting frankly the possession of vices and weaknesses that all of us have and few of us care to acknowledge. Practically all of the sagacity of George Bernard Shaw consists of bellowing vociferously what every one knows. I think I am as well acquainted with his works, both hortatory and dramatic, as the next man. I wrote the first book ever devoted to a discussion of them, and I read them pretty steadily, even to-day, and with endless enjoyment. Yet, so far as I know, I have never found an original idea in them– never a single statement of fact or opinion that was not anteriorly familiar, and almost commonplace. Put the thesis of any of his plays into a plain proposition, and I doubt that you could find a literate man in Christendom who had not heard it before, or who would seriously dispute it. The roots of each one of them are in platitude; the roots of every effective stage-play are in platitude; that a dramatist is inevitably a platitudinarian is itself a platitude double damned. […] Nevertheless, this preface makes bouncing reading– and therein lies the secret of the continued vogue of Shaw. He has a large and extremely uncommon capacity for provocative utterance; he knows how to get a touch of bellicosity into the most banal of doctrines; he is forever on tiptoe, forever challenging, forever sforzando . His matter may be from the public store, even from the public junk-shop, but his manner is always all his own. The tune is old, but the words are new."–From Prejudices: First Series (Knopf, 1919). The full electronic text is available here. The Shaw essay in particular is in full here.