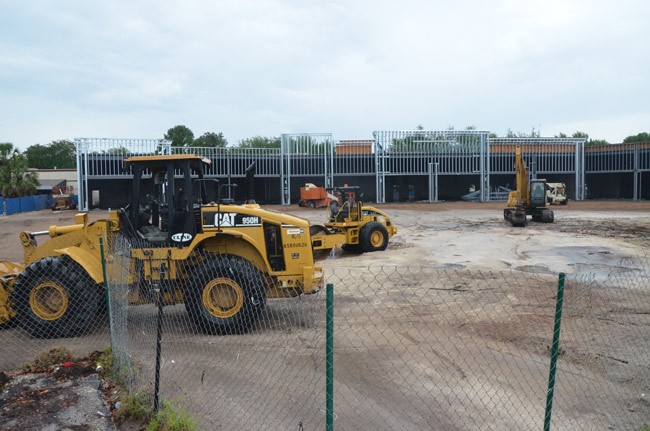 Today's weather: sunny, high of 86, low of 68. Details here.
Today's fire danger is Moderate. Flagler County's Drought Index is at 287
The weather in Glasgow, Montana: High of 80, low of 41. Details.
The OED's Word of the Day: subrident, adj..
The Live Community Calendar
Today's jail bookings.
Today's Briefing: Quick Links

Note: all meetings noticed below are free and open to the public unless otherwise indicated.
Flagler County Schools' VPK and Kindergarden Roundup: Registration for VPK or kindergarten will take place at all Flagler County elementary schools on Tonight, April 14, from 4 to 6-30 p.m. Download your enrollment form here. For m ore information, see the flier here.
The Palm Coast City Council meets for a workshop at 9 a.m. Topping the agenda, and in response to recurring requests from Council member Bill McGuire, KemperSports, the contractor running the city's troubled golf and tennis centers, will make a presentation on the financial viability of the two operations. The centers have been in the red from the day of their inception. The council will also discuss "a comprehensive approach to the existing swale program." The agenda is here.
Property Appraiser and Tax Collector present: Flagler County Tax Collector Suzanne Johnston and Property Appraiser Jay Gardner give a presentation on the functions of their respective offices at the Palm Coast Community Center Tuesday evening at 6 p.m.
The Flagler County Planning and Development Board meets at 6 p.m. in the board chambers of the Government Services Building. Two items on the agenda, including an amendment to the Bulow Preserve planned unit development. The agenda is here.
The Flagler County Affordable Housing Advisory Committee cancelled its meeting scheduled for 8:30 a.m. today. in the third floor conference room of the Government Services Building.
The Flagler County Chamber of Commerce holds the second session of its business bootcamp tonight from 6 to 8 p.m. at the Flagler County Chamber of Commerce conference room.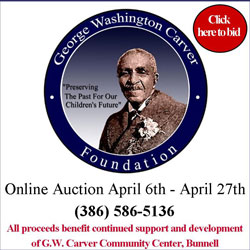 Online Auction for George Washington Carver Foundation: The annual auction, raising money for the Carver Center in Bunnell, is on through April 27. Make your bids here. The auction is the primary fundraising event for the Carver Center. In the past, money raised has been used for big-ticket items like ceiling insulation, furniture for the library, a scoreboard, bleachers, as well as money for scholarships and summer camp. "At this point, we are gearing up to assist the county with an addition to the center," said Flagler County Commissioner Barbara Revels. "Flagler County is applying for a community development block grant to build additional classrooms and meeting space. If that happens, we'd like to be ready to help with what we can to furnish it." Revels is a member of the George Washington Foundation and was part of a team instrumental in bringing the center up to sustainable level, saving the center from an uncertain fate. The Carver Center is a recreational facility that also offers tutoring, after school study, internet access and also serves the community with GED classes, employment counseling and other services.

Henry Brock, a Bunnell man arrested in January after a confrontation with police that involved the use of a Taser on Brock, and Brock allegedly attempting "suicide by cop," will go before Circuit Judge J. David Walsh for a possible plea disposition of the case at 9:30 a.m. in Courtroom 401. At 10 a.m., Walsh will hear a motion to withdraw a plea in the case of Tavarez Calloway, accused of statutory rape.

Note: Most proceedings below can be followed live on the Florida Channel.

Red-Light Cameras: The House Economic Affairs Committee will consider a much-watered down proposal (HB 7071), filed by Rep. Bryan Avila, R-Hialeah, that would make changes in the state's red-light camera laws. In part, it would require that local governments use red-light camera revenues to help pay for public safety. An earlier version of the bill would have prohibited the issuance of tickets for right turns on red, but that provision was dropped. (9:30 a.m.)
Prison Reform: The House Judiciary Committee will consider a bill (HB 7131), filed by Rep. Carlos Trujillo, R-Miami, and Rep. Randolph Bracy, D-Orlando, that would seek to increase oversight of the state's troubled prison system. (9 a.m.)
Stand-alone liquor stores: The House Regulatory Affairs Committee will take up a bill (HB 107), filed by Rep. Greg Steube, R-Sarasota, that deals with a number of alcoholic-beverage issues, including a law that requires liquor stores to be stand-alone facilities. The bill would allow liquor stores to be connected by inside entrances to other businesses, such as grocery stores. (1 p.m.)
–Compiled by the News Service of Florida

Today is Pan-American Day, which, according to Florida law, "shall be suitably observed in the public schools of the state as a day honoring the republics of Latin America, and which day shall otherwise be suitably observed by such public exercises in the State Capitol and elsewhere as the Governor may designate."
Today is the anniversary of the assassination of Abraham, Lincoln, in 1865.
"Deadliest Catch" returns, Discovery Channel, 9 p.m.

152 Innocents, Marked for Death: From a Times editorial: "However much Americans may disagree about the morality of capital punishment, no one wants to see an innocent person executed. And yet, far too often, people end up on death row after being convicted of horrific crimes they did not commit. The lucky ones are exonerated while they are still alive — a macabre club that has grown to include 152 members since 1973. The rest remain locked up for life in closet-size cells. Some die there of natural causes; in at least two documented cases, inmates who were almost certainly innocent were put to death. How many more innocent people have met the same fate, or are awaiting it? That may never be known. But over the past 42 years, someone on death row has been exonerated, on average, every three months. According to one study, at least 4 percent of all death-row inmates in the United States have been wrongfully convicted. That is far more than often enough to conclude that the death penalty — besides being cruel, immoral, and ineffective at reducing crime — is so riddled with error that no civilized nation should tolerate its use." The full editorial.
The Dumbest Job: How is it possible that the inane institution of the anchorman has endured for more than 60 years? Frabk Rich in new York Magazine: "The interchangeable blandness of the two Nightly News anchors and the continuity of their viewership confirm the reality that lurked just beneath the moral outrage, torrential social-media ridicule, and Comcast executive-suite chaos of the Williams implosion: For all the histrionics, this incident of media blood sport was much ado about not so much. The network-news anchor as an omnipotent national authority figure is such a hollow anachronism in 21st-century America that almost nothing was at stake. NBC's train wreck played out as corporate and celebrity farce rather than as a human or cultural tragedy because it doesn't actually matter who puts on the bespoke suit and reads the news from behind a desk. Yet the institution of the network anchor persists even as such perennial eulogies are written for it, even as the broadcast networks give way to the individualized narrow­casting of social networks. As Andrew Heyward, the former president of CBS News, describes the atavistic absurdity of the franchise, the very concept that an anchor could "organize the world in a coherent way," putting the world "literally" in a box for half an hour, is now a non sequitur. But like the cockroach, the anchorman has outlasted countless changes in the ecosystem around him. And he has done so despite being a ridiculous, if ingenious, American invention since his birth." The full Rich.

Road and Interstate Construction: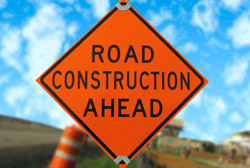 Flagler County: County Road 305 between CR 2006 and Tangerine. IMPACTS: Closure in force 3/17/2015 for the 2nd box culvert replacement. Detours detour via CR 110 to CR 95 to CR 2006. Truck Detour via Bunnell (SR 100 – SR 11)
Palm Coast: Palm Coast Parkway between Cypress Point Parkway and Florida Park Drive. IMPACTS: Lane shifts and closures will occur and this may cause traffic congestion on this already busy roadway. Most construction work will occur between 9 p.m. and 7 a.m. though weather and unforeseen issues may adjust the schedules. This project will be complete by December 2015.
Volusia: I-4 Widening from SR 44 to east of I-95, Monday and Friday, 7:00 a.m. – 5:00 p.m., Eastbound/Westbound shoulder closing. Monday through Friday, Eastbound and Westbound lane closures from 8 p.m. to 6 a.m. Motorists should be aware of traffic shifts near Canal St./SR 44.


Flagler Day in Tallahassee: The Flagler County Chamber is hosting a day trip to Tallahassee and invites members to sign up for the Second Annual "Flagler Day," Wednesday, April 22. The chamber is working with the Florida Chamber to create a productive schedule for the one-day visit. Participants will meet at the Chamber at 6:45 a.m. Wednesday morning, board a luxury motor coach and depart by 7 a.m. for Tallahassee. Once there, the plan is to meet with legislators from both the House and Senate, enjoy a group lunch, tour the Capitol, and then board the bus for the return trip to Palm Coast. (The goal is to return to the Chamber by 8 p.m.) The purpose of this nonpartisan visit is to remind legislators that Flagler County is, in fact, open for business. The cost to attend will be $45 per person. Please contact Gretchen Smith at 437-0106 to RSVP before April 17th.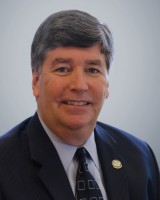 Lunch 'n Lecture With Palm Coast City Manager Jim Landon, April 15: Landon will update the public on the new City Hall, Holland Park renovations, road projects, what the City is seeing in private development and more. Landon's talk is titled, "Making Our Future Together," and will focus on Palm Coast's future in terms of the economy, growth, projects and progress. The Lunch n' Lecture will be 11 a.m. to 12:30 p.m. at the Palm Coast Community Center, 305 Palm Coast Parkway NE. The Lunch n' Lecture is free, but pre-registration is required by 11 a.m. April 13 (while space is available). Landon has been Palm Coast's City Manager for eight years. In 2013, he received the Florida City/County Management Association's Award for Career Excellence. Sign up online here or call the Community Center at 386-986-2323 for more information on registering. [Update: This event is sold-out.]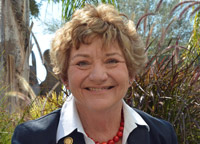 Traffic Ticket Collections Free Amnesty on Friday, April 17: Operation Green Light is a one-day amnesty giving drivers the chance to pay overdue fines, without having to pay the 40 percent collection feel. Hours at the Flagler County Courthouse will be extended for the occasion, stretching between 8 a.m. and 5 p.m. Clerk of Court Gail Wadsworth says her office has tabulated 7,793 cases that have gone to a collection agency. Of those, 4,507 are civil traffic cases. The total amount in collections for Flagler County is—to be precise–$1,872,973.91. Most people with such cases are driving on suspended driver's licenses. You may get your driver's license restored if you pay the overdue fine. (April 17)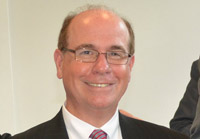 April 23: Sheriff Jim Manfre will be the guest speaker for the Flagler County Chamber upcoming Eggs & Issues breakfast at 8 a.m. at the Grand Haven Golf Club, 500 Riverfront Drive in Palm Coast. The chamber hosts Eggs & Issues breakfasts five times a year to bring local and business-related issues and topics to light. Guest speakers include elected officials, thought leaders and high profile executives/business professionals. Cost to attend is $15 with advance payment for members or $20 at the door. Future members pay $20 with advance reservations or $25 the day of the event. Seating is limited; reservations are requested by Friday, April 17 at 5 PM.
Flagler County Job Fair on April 24: A limited number of spaces are still open for businesses interested in reserving a free booth at the second annual Flagler County Job Fair. The event will take place on Friday, April 24, from 12 p.m. to 6 p.m. at the Palm Coast Campus of Daytona State College, 3000 Palm Coast Pkwy SE, Building 3. Last year nearly 400 jobseekers attended the inaugural fair, which was hosted by the Flagler County Department of Economic Opportunity and CareerSource Flagler Volusia. This year Daytona State College and the Flagler County Chamber of Commerce joined the effort to positively impact Flagler County's economic vitality. Among the businesses that have already registered are CoastalCloud, Edwards Jones Financial Service, Beutlich Pharmaceuticals and Target. A complete list of attending companies is available here. Businesses wishing to secure a place at the fair and job seekers interested in registering for preparation workshops should visit the job fair website. For additional information about the fair, please contact Casey Scott at 386-313-4098 or by email here.
Matanzas Inlet Beach Clean-up: In celebration of Earth Day, Fort Matanzas National Monument is hosting a beach clean-up on Saturday, April 25, from 9am to 12pm. Join us in removing not only man-made trash but invasive plant life. The event will begin with a safety briefing and an introduction to the park at the ocean-side parking lot on the east side of A1A, just north of the Inlet bridge. Trash bags, gloves, and water will be provided. Please bring sunscreen, appropriate beach wear (including a hat), and your own reusable water bottle. If you would like to participate, please call 904-829-6506 ext. 233 or email [email protected] by April 23.
Volunteers needed for invasive plant removal at Betty Steflik Memorial Preserve, April 29: Bring a friend, bring a kid, bring gloves and a water bottle to Betty Steflik Memorial Preserve on April 29 to help rid it of invasive species like the Brazilian pepper trees along the entrance road. The entrance road will be closed from dawn to 1 p.m. as Land Management and Parks and Recreation staff, with the help of volunteers, remove the plants. Normal park access will be available after 1 p.m. "We appreciate the help," said Mike Lagasse, land manager. "Non-native plants are displacing the native plants." Flagler County has a dedicated group of volunteers who have worked at other preserves, like the River to Sea Preserve, protect the native ecosystem. Laura Ostapko is one of those volunteers and a member of "The Pepper Pickers," a group that started at Gamble Rogers and has recently expanded its scope of work. "We have a sign that says, 'Restoring paradise one tree at a time,' because that's what we are doing," Ostapko said. "It's very rewarding when you see what you have done." Betty Steflik Memorial Preserve is situated on 217 acres along the eastern side of the Intracoastal Waterway south of State Road 100. Those interested in volunteering are asked to contact Lagasse at 386-313-4064 or at [email protected].
Arbor Day 5K Root Run/Walk and Free Fun Run May 2 in Palm Coast's Town Center: Register now for the Arbor Day 5K Root Run/Walk, which starts at 8 a.m. May 2, followed by the Free Fun Run at 9 a.m. The run/walks will start and finish on Lake Avenue in Central Park at Town Center, 975 Central Ave. in Palm Coast. Awards will be given out at Central Park Main Stage after the race. This race will close out the 2014-2015 season in the Palm Coast Running Series. Register for the 5K Root Run/Walk at www.palmcoastgov.com/ArborDay. (Pre-registration is not required for the children's Fun Run.) Participants of the 5K Root Run/Walk are guaranteed a race T-shirt and goody bag if they register by April 24. Entry fees and pre-registration deadlines are as follows:
· $25 Online registration closes at 5 p.m. April 30 at www.palmcoastgov.com/ArborDay.
· $25 Mail-in registration closes April 24 (Mail-in registration is available through April 24. Mail registration form available online with check or money order made out to City of Palm Coast to: City of Palm Coast, c/o Arbor Day Race Pre-registration, Attn: Carol Mini, 160 Cypress Point Parkway Suite B106, Palm Coast, FL 32164.)
· $25 In-person registration closes May 1. Register in-person 8 a.m.-5 p.m. weekdays at the Palm Coast Community Center, 305 Palm Coast Parkway, NE. Checks, money orders, cash and credit cards accepted.
· $30 Race day entry fee – cash or checks only – at Central Park (along Lake Avenue).
· Veterans with military ID receive free entry
Packet Pick Up will be held at the Community Center from 8 a.m. to 6 p.m. May 1, or at 7 a.m. on race day at Central Park (on Lake Avenue). Prizes will be awarded to the overall male and female runners, as well as the top three men and women in 15 age groups. The race will be chip-timed. Children participating in the Fun Run will receive a ribbon. A ceremony honoring the overall winners for the Palm Coast Running Series will immediately follow the 5K Root Run awards. After the races, enjoy the free Arbor Day celebration from 9 a.m. to 2 p.m. at Central Park. Bring canned food or pet food items and exchange them for a three-gallon native hardwood tree (while supplies last). Feed a Mouth, Get a Tree, Grow a Community is the theme. The event will also feature a butterfly tent, zoo exhibits, green vendors, a fire prevention activity, entertainment and kite flying/building. The popular Native Butterfly release is set for 11 a.m. Complete details are available here. For more information, contact City of Palm Coast Urban Forester Carol Mini at 386-986-3722.


Blood donations are urgently needed. Patients in our local hospitals are in need of blood transfusions, and the need for blood does not take a holiday. That's why OneBlood is asking people to donate immediately.
Big Red Bus schedule in Flagler-Palm Coast:
Thursday April 16th 10:30AM -2:00PM Kangaroo Express, 890 Palm Coast Parkway SW, Palm Coast
Friday April 17th 1:00PM – 6:00PM Epic Theatre, 1185 Central Ave, Palm Coast
Saturday April 18th 8:00AM – 1:00PM St Elizabeth Ann Seton Catholic Church Heath Fair
Monday April 20th & Tuesday April 21st 9:00AM -2:00PM Daytona State College- Flagler/Palm Coast Campus, 3000 Palm Coast Parkway, Palm Coast
Saturday April 25th 1:00PM – 6:00PM Epic Theatre, 1185 Central Ave, Palm Coast
Monday April 27th 11:30AM – 4:00PM Flagler County Public Library, 2500 Palm Coast Parkway
Tuesday April 28th 11:00AM – 3:00PM Knights of Columbus Council 7845, 51 Old Kings Road North, Palm Coast
Wednesday April 29th 1:00PM – 5:30PM CVS Pharmacy, 1 Old Kings Road South, Palm Coast