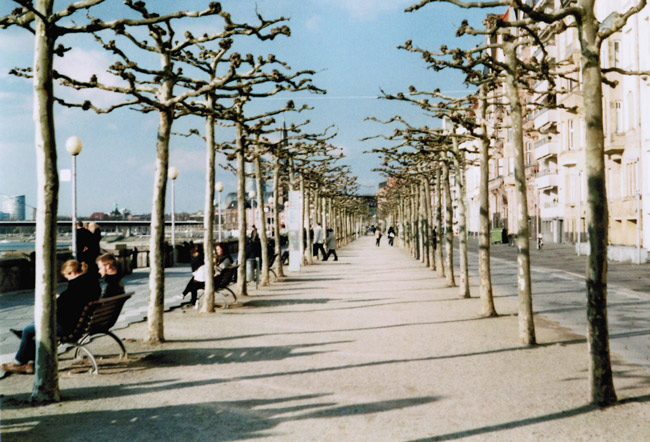 Today's Live Wire: Quick Links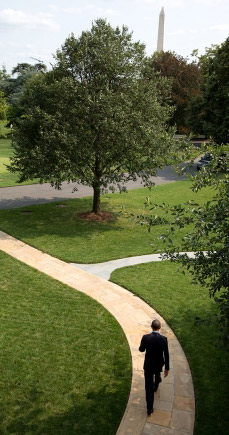 From the Washington Post: "President Obama is not being impeached. But for several years, Republicans have been indulging and even encouraging that fantasy on the part of the far-right edges of their party's base. Conservative backbenchers have told their constituents that the House has the votes to impeach the president. High-profile figures such as former Alaska governor Sarah Palin have called for it. The new House majority whip, Steve Scalise (R-La.), in an interview on "Fox News Sunday," declined to rule it out. And now Democrats are raising millions off the idea that the GOP is serious about doing it. "I would not discount that possibility," presidential adviser Dan Pfeiffer said Friday. [… Newt Gingrich] lost his position as speaker in part because of the Republicans' 1998 drive to impeach Bill Clinton, a move that was considered a major reason the party lost seats in a midterm election in which they had expected to make gains. […] All this impeachment bluster also may be laying down the terms of engagement for another battle, should Obama soon — as many expect — take executive action to protect millions of illegal immigrants from the threat of deportation. Republicans are saying that such a move would far exceed the president's constitutional authority. But whether they will go so far as to begin impeachment proceedings remains to be seen. […] The House is expected to vote Wednesday on Boehner's plan to file a lawsuit against Obama for not implementing the Affordable Care Act as written. The move is freighted with irony, given how many times the House has voted to repeal the law. […] Many legal experts question whether the courts would even take the suit. Republican strategists acknowledge privately that filing it would be merely symbolic and designed as a safety valve, to release some steam among the most strident in their party's base." The full story.
Click On: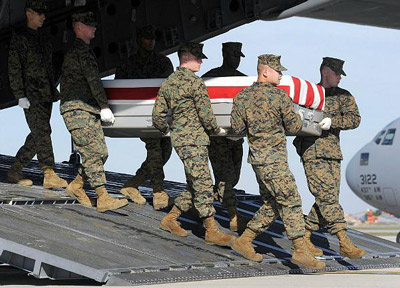 Maureen Dowd in The Times: "Are we winners who have been through a rough patch? Or losers who have soured our sturdy and spiritual DNA with too much food, too much greed, too much narcissism, too many lies, too many spies, too many fat-cat bonuses, too many cat videos on the evening news, too many Buzzfeed listicles like "33 Photos Of Corgi Butts," and too much mindless and malevolent online chatter? Are we still the biggest and baddest? Or are we forever smaller, stingier, dumber, less ambitious and more cynical? Have we lost control of our not-so-manifest destiny? […] We're a little bit scared of our own shadow. And, sadly, we see ourselves as a people who can never understand one another. […] A nation of immigrants watched over by the Statue of Liberty — with a government unable to pass immigration reform despite majority support — sees protesters take to the streets to keep Hispanic children trying to cross the border from being housed in their communities. […] Young people are more optimistic than their rueful elders, especially those in the technology world. They are the anti-Cheneys, competitive but not triumphalist. They think of themselves as global citizens, not interested in exalting America above all other countries. […] Nathaniel Philbrick, the author of "Bunker Hill: A City, a Siege, a Revolution," which depicts the Patriots, warts and all, warns against gilding the past. […:] 'The more we can realize that we're all making it up as we go along and somehow muddling through making ugly mistakes, the better. We're not destined for greatness. We have to earn that greatness. What George Washington did right was to realize how much of what he thought was right was wrong.'" The full column.
See Also: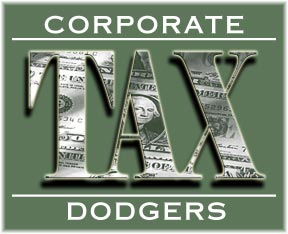 Gretchen Morgenson in The Times: "Here's a question for investors in any big United States corporation with foreign operations: Do you know what the company's tax bill would be if it had to bring its overseas earnings home? The answer, alas, is that they probably don't. That's because most companies with large foreign earnings don't disclose a potential tax liability associated with those earnings, even though inquiring shareholders want to know. Given the pile of foreign earnings amassed by large multinational companies in recent years, this has become a yawning disclosure gap. Under the tax laws, companies with operations overseas pay no taxes on earnings generated there as long as the money stays there. When it is repatriated, though, taxes come due. […] Last year, the nation's top 1,000 companies reported $2.1 trillion in such earnings, a figure that has almost doubled since 2008, according to a report by Audit Analytics, a research firm in Sutton, Mass. Those foreign earnings also represented a growing percentage of the companies' total assets, the report said: 8.7 percent last year, up from 5.8 percent in 2008. […] General Electric sits atop this nondisclosure list, with $110 billion of offshore earnings in 2013, according to its financial statements, or 17 percent of its total assets. Other big companies that don't disclose tax liability figures are Pfizer, with $69 billion in offshore earnings; Merck, with $57.1 billion; and IBM, with $52.3 billion. […] Microsoft, for example, with $76.4 billion in foreign earnings, said that if it had brought those earnings home in 2013, they would have generated a tax bill of $24.4 billion. That represents a 32 percent tax rate. Apple also tells investors what it would owe if it were to bring offshore profits home. It has amassed $54.4 billion in these earnings, according to its filings, and though it has no plans to repatriate the money, it said such a move would cost it $18.4 billion. That reflects a 33.8 percent rate. […] Maybe these companies don't want to disclose the liabilities associated with offshore earnings because they would highlight how little they are paying overseas and possibly attract unwanted scrutiny — or tax increases — from governments in these jurisdictions. […] But if the 2008 crisis taught us anything, it's that large and healthy companies' financial conditions can deteriorate quickly. As the amount of offshore earnings multiplies, it's troubling that so few companies tally the potential tax liabilities. A result is a larger disclosure problem for investors with each passing year." The full analysis.
See Also: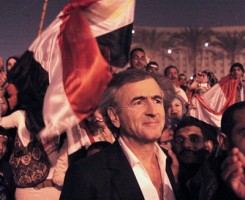 Bernard-Henri Levy in the Wall Street Journal: "About the crowds on Friday in Paris chanting "Palestine will overcome" and "Israel, assassin": Where were they a few days earlier when news broke that over the previous weekend Syria's civil war had produced 720 more dead, adding to the 150,000 others who have not had the honor of demonstrations in France? Why did the protesters not pour into the streets when, a few days before that, the well-informed Syrian Network for Human Rights revealed that so far this year Damascus's army, which was supposed to have destroyed its supply of chemical weapons, carried out at least 17 gas attacks around Kafrzyta, Talmanas, Atshan and elsewhere? Will these people, "outraged" for a day, claim that they did not know, that they saw no images of the others who died, and that today only images have the power to stir them to action? That is not going to work. Because they had seen what was happening in Syria. As reporters later discovered, those same grisly images, or older versions of them, were appropriated, doctored and retweeted by organizers of the anti-Israel demonstrations under the dishonest hashtag GazaUnderAttack. […] The truth is that these protesters—most of them young members of the self-proclaimed "Gaza generation," for whom the latest in chic is to sport a kaffiyeh made in Palestine—assume it is normal for Arabs to kill other Arabs. They are also unperturbed upon learning, from the very mouth of the Hamas leadership (Journal of Palestine Studies, Vol. 41, No. 4), that in 2012 alone the construction of the infamous Gaza tunnels cost the lives of 160 Palestinian children who were turned into little slaves and buried in the rubble. […] The double standard is odious. And it has become increasingly evident across Europe in the past month. Bluntly anti-Semitic slogans have marred most European demonstrations "in support of the people of Gaza." Residents of Frankfurt and Dortmund were horrified in mid-July to see neo-Nazi groups join hands with left-wing Islamists in a grim chant: "Hamas, Hamas, Jews to the gas." The center of London was blocked on July 19 by thousands who gathered in front of the Israeli embassy in Kensington to shout their hatred for Jews." The full column. (Translated from the French; French version here.)
Click On: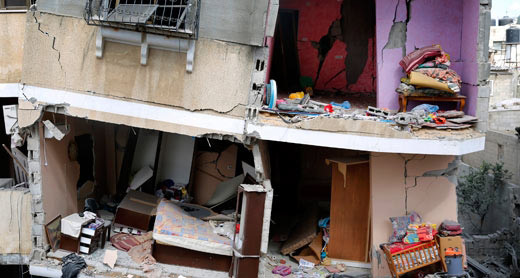 From the LATimes: "After initially approving a 24-hour "humanitarian window" requested by the United Nations, Israel declared shortly after 10 a.m. Sunday that it was resuming its offensive, citing "incessant rocket fire" from Gaza by Islamist fighters. Hamas spokesman Sami abu Zuhri said the militia would not accept a truce that allowed Israeli troops to remain in Gaza and also demanded that tens of thousands of Palestinians displaced by 20 days of fighting be allowed to return home. Then, in the afternoon, Hamas announced that militant factions had endorsed a 24-hour pause beginning at 2 p.m. out of consideration for the plight of Palestinians and the start of the Eid al-Fitr holiday. The three-day holiday beginning Monday marks the end of the Muslim holy month of Ramadan. Although fighting appeared to subside, by nightfall the two sides were firing on each other again amid mutual recrimination. […] Hamas' military wing said in a statement that it resumed fire after Israel "failed to abide by the humanitarian truce and after the indiscriminate shelling of civilian homes." […] The fighting has resulted in the deaths of more than 1,000 Palestinians, most of them civilians, with at least 15 reported [July 28]. Israel has lost 43 soldiers, representing the country's largest death toll in a military operation in nearly a decade. Three civilians have also died on the Israeli side, including a foreign worker. [….] Palestinian despair boiled over Sunday in the southern Gaza town of Khan Yunis, where the International Committee of the Red Cross said dozens of angry residents broke into the office and set it on fire. They were apparently angry that the organization could not assist them, said Ran Goldstein, a spokesman for the ICRC in Israel.[…] Israelis have been alarmed by the revelation that Hamas has built a sophisticated network of underground passages and bunkers in Gaza, some extending to Israel and meant for use in terrorist attacks."
See Also:

A Professor Rebuked For Expressing Sympathy for Gaza Victims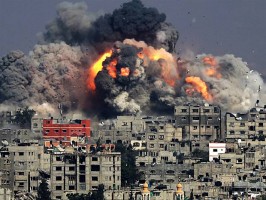 From Haaretz: "Bar Ilan University students, faculty and administrators are up in arms over a law professor's email to his students that opened with an expression of sympathy for all victims of the Israel-Gaza war, implicitly reminding them that the overwhelming majority of those victims are Gazans. Prof. Hanoch Sheinman's email was sent to reassure his second-year law students that because the security situation had disrupted many students' routines, there would be an additional date scheduled for his course's final exam. Sheinman opened the email, however, by saying that he hoped the message "finds you in a safe place, and that you, your families and those dear to you are not among the hundreds of people that were killed, the thousands wounded, or the tens of thousands whose homes were destroyed or were forced to leave their homes during, or as a direct result of, the violent confrontation in the Gaza Strip and its environs." […] Sheinman's reference to the victims of the fighting with no reference to their national affiliation led many students to complain to the dean of the law faculty, Prof. Shahar Lifshitz, who issued an urgent message to the students yesterday. "I was shocked to learn of the email sent to you by Professor Sheinman," Lifshitz wrote. "It was a hurtful letter, and since this morning we have been justifiably flooded with messages from students and family members, many of whom are involved during these very days in the battles in the south." […] Bar-Ilan University responded by saying, "In his letter to his students, Prof. Sheinman made inappropriate use of the platform given to him as a lecturer to convey messages reflecting his political positions, in a way that offended the students and their families." Sheinman's response could not be obtained."
See Also:

Finally, The New York Times Endorses Pot Legalization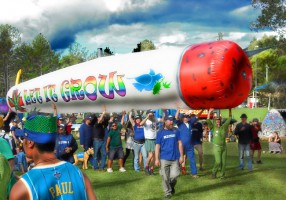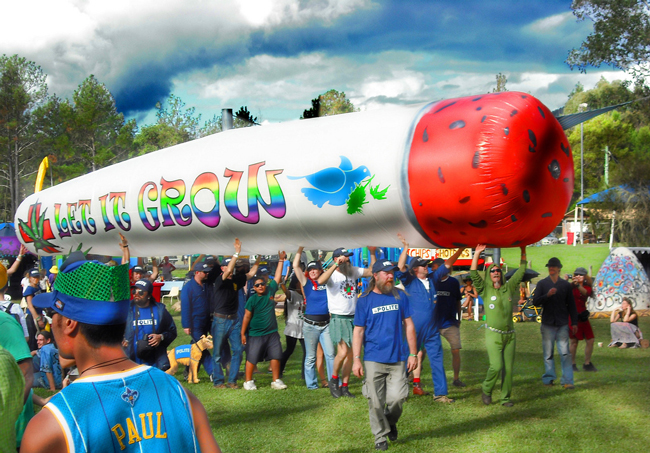 On July 27, in the first of six editorials on the subject, The New York Times finally endorsed the legalization of marijuana, framing it as an end to a different kind of prohibition: "The federal government should repeal the ban on marijuana. We reached that conclusion after a great deal of discussion among the members of The Times's Editorial Board, inspired by a rapidly growing movement among the states to reform marijuana laws. There are no perfect answers to people's legitimate concerns about marijuana use. But neither are there such answers about tobacco or alcohol, and we believe that on every level — health effects, the impact on society and law-and-order issues — the balance falls squarely on the side of national legalization. That will put decisions on whether to allow recreational or medicinal production and use where it belongs — at the state level. […] The social costs of the marijuana laws are vast. There were 658,000 arrests for marijuana possession in 2012, according to F.B.I. figures, compared with 256,000 for cocaine, heroin and their derivatives. Even worse, the result is racist, falling disproportionately on young black men, ruining their lives and creating new generations of career criminals. There is honest debate among scientists about the health effects of marijuana, but we believe that the evidence is overwhelming that addiction and dependence are relatively minor problems, especially compared with alcohol and tobacco. Moderate use of marijuana does not appear to pose a risk for otherwise healthy adults. Claims that marijuana is a gateway to more dangerous drugs are as fanciful as the "Reefer Madness" images of murder, rape and suicide. […] We recognize that this Congress is as unlikely to take action on marijuana as it has been on other big issues. But it is long past time to repeal this version of Prohibition." The full editorial.
See Also:

America's Dangerous, and Expensive, Nuclear Stockpile
From Truthdig: "Utter indifference to the fact that the United States has in its (extremely haphazard) control enough warheads to destroy humanity is the reason we'll spend $355 billion over the next decade to maintain our nukes. And if you're thinking, "Oh well, at least they're in good hands," the "Last Week Tonight" host will make you think again by providing recent examples of the inept hands watching over these missiles. By the way, we've almost accidentally caused an apocalypse at least a couple of times. As John Oliver points out, it's not Iran or North Korea we have to worry about; it's America." Watch:
See Also: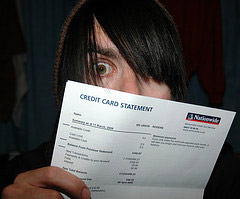 From the Tampa Bay Times: "More than 35 percent of Americans have debts and unpaid bills that have been reported to collection agencies, and that number is even higher across much of the South, in Florida and in the Tampa Bay metro area, according to a study released Tuesday by the Urban Institute. […] Statewide, Florida had 41 percent with delinquent debt, with some of the highest delinquencies appearing in metropolitan Lakeland (47.3 percent), Jacksonville (45 percent), Orlando (44.8 percent) and Tampa Bay (41.6 percent). These consumers fall behind on credit cards or hospital bills. Their mortgages, auto loans or student debt pile up. Even past-due gym membership fees or cellphone contracts can end up with a collection agency, potentially hurting credit scores and job prospects. […] The "Delinquent Debt in America" study indicates that the share of Americans in collections has remained relatively constant, even as the country as a whole has whittled down the size of its credit card debt since the official end of the Great Recession in the middle of 2009. The study found that 35.1 percent of people nationwide with credit records had been reported to collections for debt that averaged $5,178, based on September 2013 records." The full story.
See Also:

Poem: Siegfried Sassoon's "The Hero"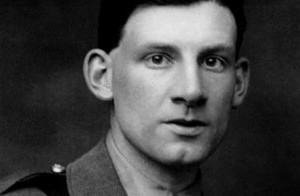 From the BBC: "Siegfried Sassoon was born on 8 September 1886 in Kent. His father was part of a Jewish merchant family, originally from Iran and India, and his mother part of the artistic Thorneycroft family. Sassoon studied at Cambridge University but left without a degree. He then lived the life of a country gentleman, hunting and playing cricket while also publishing small volumes of poetry. In May 1915, Sassoon was commissioned into the Royal Welsh Fusiliers and went to France. He impressed many with his bravery in the front line and was given the nickname 'Mad Jack' for his near-suicidal exploits. He was decorated twice. His brother Hamo was killed in November 1915 at Gallipoli. In the summer of 1916, Sassoon was sent to England to recover from fever. He went back to the front, but was wounded in April 1917 and returned home. Meetings with several prominent pacifists, including Bertrand Russell, had reinforced his growing disillusionment with the war and in June 1917 he wrote a letter that was published in the Times in which he said that the war was being deliberately and unnecessarily prolonged by the government. As a decorated war hero and published poet, this caused public outrage. It was only his friend and fellow poet, Robert Graves, who prevented him from being court-martialled by convincing the authorities that Sassoon had shell-shock. He was sent to Craiglockhart War Hospital in Edinburgh for treatment. Here he met, and greatly influenced, Wilfred Owen. Both men returned to the front where Owen was killed in 1918. Sassoon was posted to Palestine and then returned to France, where he was again wounded, spending the remainder of the war in England. Many of his war poems were published in 'The Old Huntsman' (1917) and 'Counter-Attack' (1918)."
The Hero
'Jack fell as he'd have wished,' the mother said,
And folded up the letter that she'd read.
'The Colonel writes so nicely.' Something broke
In the tired voice that quavered to a choke.
She half looked up. 'We mothers are so proud
Of our dead soldiers.' Then her face was bowed.
Quietly the Brother Officer went out.
He'd told the poor old dear some gallant lies
That she would nourish all her days, no doubt
For while he coughed and mumbled, her weak eyes
Had shone with gentle triumph, brimmed with joy,
Because he'd been so brave, her glorious boy.
He thought how 'Jack', cold-footed, useless swine,
Had panicked down the trench that night the mine
Went up at Wicked Corner; how he'd tried
To get sent home, and how, at last, he died,
Blown to small bits. And no one seemed to care
Except that lonely woman with white hair.
See Also:

Sarah Palin Goes Oprah on America
"This is all part of Sarah's continuing mission to protect our freedoms at any cost, specifically $9.95 a month," Stephen Colbert tells us. "Sure, that's more than Netflix, but it's just as good as 'House of Cards' with even more threatening monologues into camera." Watch:
See Also:

What Your Stomach Does to a Burger
From Huffington Post: "Hydrochloric acid is a strong compound that has many industrial uses, from removing rust from steel to processing leather. It's also found in your stomach. In fact, a stomach-churning episode from The University of Nottingham's Periodic Table of Videos YouTube series reveals what happens when you dump a still-warm McDonald's cheeseburger in a vat of hydrochloric acid." Watch:
See Also: