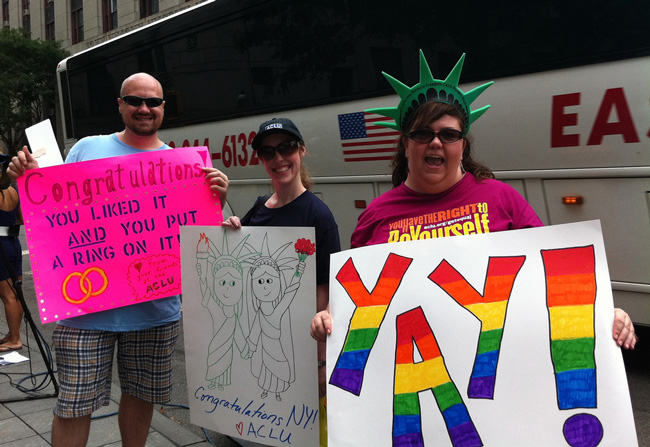 A federal appeals court Wednesday rejected Attorney General Pam Bondi's request to at least temporarily extend Florida's ban on gay marriage — possibly setting the stage for same-sex marriages to start in January.
U.S. District Judge Robert Hinkle in August ruled that the 2008 voter-approved ban was unconstitutional but placed a stay on his decision to allow time for appeals. That stay is scheduled to expire Jan. 5.
Bondi last month asked the 11th U.S. Circuit Court of Appeals to keep the stay in place until appeals of Hinkle's ruling are finished. But a three-judge panel of the court issued a short decision Wednesday turning down Bondi's request and saying that the stay entered by Hinkle "expires at the end of the day on January 5, 2015."
The American Civil Liberties Union of Florida, which has represented a group of plaintiffs challenging the ban, said Wednesday afternoon same-sex marriages will be able to start Jan. 6 if no other attempts at extending the stay are successful. Also on Jan. 6, same-sex marriages from other states would be recognized in Florida, the ACLU said.
"Today, in denying the state's request to further delay the ruling, the 11th Circuit Court of Appeals rejected the state's argument that allowing same-sex couples to marry and have their marriages recognized will cause harm to the state and refused to make these families wait any longer," ACLU attorney Daniel Tilley said in a prepared statement. "The court effectively ruled that the state does not have a likelihood of succeeding in its appeal."
A series of federal appeals-court decisions have struck down similar gay-marriage bans in other states, and the U.S. Supreme Court in October declined to take up the issue.
"Liberty, tolerance, and respect are not zero-sum concepts," Hinkle wrote in his Aug. 21 ruling. "Those who enter opposite-sex marriages are harmed not at all when others, including these plaintiffs, are given the liberty to choose their own life partners and are shown the respect that comes with formal marriage."
Since June 2013, when the Supreme Court struck down the so-called Defense of Marriage Act, the Freedom to Marry website has documented 56 federal and state court rulings in favor of same-sex marriage–36 in federal court, fifteen in state court, and five by federal appellate courts. One federal appellate court, the 6th Circuit, has ruled against equality.
Gay marriage today is legal in 35 states and would have been legal in 45 states absent court stays that are delaying implementation of legalization from lower courts.
Florida Family Policy Council President John Stemberger, an opponent of marriage equality, issued a statement opposing the 11th Circuit's ruling, but also made an odd comparison between that ruling and the Supreme Court's Dred Scott decision in 1857, which denied blacks the right to citizenship.
"The court today is wrong," Stemberger said. " The court was also wrong years ago in Dred Scott when it ruled that Blacks were not persons. The courts will never have the final word on an institution as fundamental to the human experience as marriage. You simply cannot build a civilization without natural marriage."
The Dred Scott decision was a restriction of rights. The move toward marriage equality is an expansion of rights. By opposing it, Stemberger was more closely aligning the Florida Family Policy Council with the Dred Scott decision than denouncing it.
In asking the appeals court for an extension of the stay, Bondi pointed to a decision in November by the 6th U.S. Circuit Court of Appeals that upheld bans in Michigan, Ohio, Kentucky and Tennessee. That decision made it more likely that the U.S. Supreme Court would take up the case.
"This court should extend the stay because, on balance, it is in the public's best interest to wait for an appellate decision before implementing an order of this significance," Bondi argued in a document.
–FlaglerLive and News Service of Florida