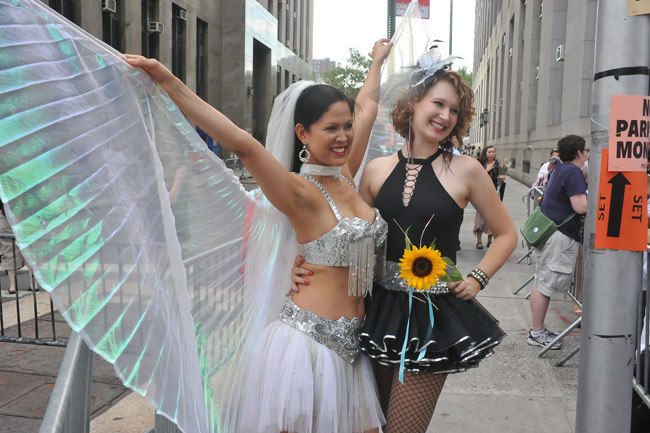 In an interview with Oui, the late porn mag, in April 1975, the soon-to-be-late Gore Vidal was asked: "Why do you despise the heterosexual dictatorship?" Because it is a dictatorship, Vidal replied: "To hear two American men congratulating each other on being heterosexual is one of the most chilling experiences—and unique to the United States. You don't hear two Italians sitting around complimenting each other because they actually like to go to bed with women. The American is hysterical about his manhood." Why is that, Oui asked. "A lot of it," Vidal replied, "is bullshit from the old frontier, where the only way you could judge a man was if he could knock somebody down—and of course the heterosexual male's obsession with cock is far beyond that of any fag."
It's fun to see that what was once the domain of porn magazine interviews does on occasion descend to the somewhat lower form of journalism known as the Sunday chat show, as it did on Sunday when the Vidalesquely eponymous Dick Gregory played Oui to Joe Biden, the nation's occasional vice president who, on Sunday, bared his pair on national television and sent the Obama White House scrambling. Biden, you see, had declared himself "absolutely comfortable" with gay marriage.
Obama is not absolutely comfortable with gay marriage. Obama, supreme hypocrite that he can be on some issues, still thinks Plessy v. Ferguson has validity when it comes to gays: they can have their civil unions, but they can't marry. The bigotry rests on two untenable assumptions, if the Constitution is of any concern: gays are second class citizens; and government may define marriage from a religious, as opposed to civil, perspective (the entire crock about marriage being "between a man and a woman" takes its legitimacy from religious writings, not law). It's almost a given that Obama will, or would, in a second term, make a turn for gay marriage, but one of the reasons his second term looks unlikely is precisely because of the kind of spineless stunts he's been pulling on ay marriage: he's a president of calculated half-measures, not a president of altar-worthy convictions.
---
Editor's Blog
---
---
The administration immediately described Biden's comments as off-the-cuff, though they didn't at all appear to be off the cuff in the Gregory interview: Gregory set up the subject carefully, narrowed it precisely, and asked Biden directly–as directly as he'd asked him about his certain place on the Obama-Biden ticket for 2012 moments earlier, as certainly as Gregory had asked him to describe what would be wrong with a Mitt Romney economy before that. The administration didn't scramble to unscramble Biden's comments when he said the rich need another tax cut "like they need another hole in their head."
Here' by the way, is the word for word transcript of Gregory's Oui act with Biden:
DAVID GREGORY: You raise social policy. I'm curious. You know, the president has said that his views on gay marriage, on same-sex marriage have evolved. But he's opposed to it. You're opposed to it. Have your views– evolved?

BIDEN: Look– I just think– that– the good news is that as more and more Americans become to understand what this is all about is a simple proposition. Who do you love? Who do you love? And will you be loyal to the person you love? And that's what people are finding out is what– what all marriages, at their root, are about. Whe– whether they're– marriages of lesbians or gay men or heterosexuals.

DAVID GREGORY: Is that what you believe now? Are you–

VICE PRESIDENT BIDEN: That's what I believe. I– I– look, I am vice president of the United States of America. The president sets the policy. I am absolutely comfortable with the fact that men marrying men, women marrying women, and heterosexual men and women marrying another are entitled to the same exact rights, all the civil rights, all the civil liberties. And quite frankly, I don't see much of a distinction– beyond that.

DAVID GREGORY: In a second term, will this administration come out behind same-sex marriage, the institution of marriage?

VICE PRESIDENT BIDEN: Well, I– I– I can't speak to that. I– I– I– I don't know the answer to that. But I can tell you–

DAVID GREGORY: It sounds like you'd like to see it happen. If that's what the president would get–

VICE PRESIDENT BIDEN: Well, the president continues to fight, whether it's Don't Ask, Don't Tell or whether it is making sure, across the board, that you cannot discriminate. Look– look the the executive orders he's put in place. Any hospital that gets federal funding, which is almost all of them, they can't deny a partner from being able to have access to their– their– their partner who's ill or making the call on whether or not they– you know– it's just– this is evolving. And by the way, my measure, David, and I take a look at when things really begin to change, is when the social culture changes. I think Will and Grace probably did more to educate the American public than almost anything anybody's ever done so far. And I think– people fear that which is different. Now they're beginning to understand. They're beginning to understand that this as a base–I– I was with– speaking to a group of gay leaders in– in Los Angeles– la– two, two weeks ago. And one gentleman looked at me in the question period and said, "Let me ask you, how do you feel about us?" And I had just walked into the back door of this gay couple and they're with their two adopted children. And I turned to the man who owned the house. I said, "What did I do when I walked in?" He said, "You walked right to my children. They were seven and five, giving you flowers." And I said, "I wish every American could see the look of love those kids had in their eyes for you guys. And they wouldn't have any doubt about what this is about."

DAVID GREGORY: Let me ask you on another topic about the politics– of national security.
I'm reminded of a different exchange, in December 1952, at the United States Supreme Court, when Paul Wilson, the Kansas assistant attorney general, appeared before the court to defend school segregation in his state. He told the court that separate but equal was the law of the land, unless 21 states and the District of Columbia "have been wrong for 75 years." That's the very same argument Islamists and their Christian equivalent brandish today in the face of gay-rights arguments: could the Bible have been wrong for two millenniums, or the Koran wrong for a millennium and a half? The natural-law answer, as opposed to the scriptural cop-out, being a resounding yes, echoed in the Supreme Court's own answer as it re-interpreted the 14th Amendment in 1952, in a squirm out of the bleak box it had built for itself and the nation under Plessy v. Ferguson. Here's that exchange:
JUSTICE BURTON: Don't you recognize it as possible that within 75 years the social and economic conditions and the personal relations of the nation ,ay have changed so that what may have been a valid interpretation of them 75 years ago would not be a valid interpretation of them constitutionally today?

WILSON: We recognize that as a possibility. We do not believe that [the] record discloses any such change.

JUSTICE BURTON: But that might be a difference between saying that these courts of appeal and state supreme courts have been wrong for 75 years?

WILSON: Yes, sir. We concede that this court can overrule the […] Plessy doctrine, but nevertheless until [it is] overruled [it is] the best guide we have.
At that point Felix Frankfurter, one of the squirliest justices in the court's history, tried to sound like Solomon and ended up sounding like an Obama in training wheels, slicing hair in four instead of owning up to 75 years of idiocy and moving on (as the Warren decision finally did a year later): "As I understood my brother Burton's question or as I got the implication of his question, it was not that the court would have to overrule those (separate but equal) cases; the court would simply have to recognize that laws are kinetic, and some new tings have happened, not deeming those decisions wrong, but bringing into play new situations toward a new decision."
And you thought Bill Clinton, that beefy heterosexual, was being imaginative with his definition of is.
The parallels with the early 1950s were all over that Meet the Press interview on Sunday. Moments before going into the gay marriage business, Gregory had also asked Biden: "What's more important to this administration? Standing up for freedom in China or maintaining a very delicate relationship with this emerging power?" Biden's answer: "Standing up for freedom." That had been FDR's answer to fascism in the 1940s and Truman's and Eisenhower's answer to communism in the 1950s, even as blacks were being terrorized, lynched, murdered, and reminded at every turn that they were second class citizens. Let's stand up for freedom for 1.3 billion Chinese today, just as long as 30 million gay Americans are still asked to bend over and take legalized discrimination up their Vidalias.
–Pierre Tristam

Visit msnbc.com for breaking news, world news, and news about the economy