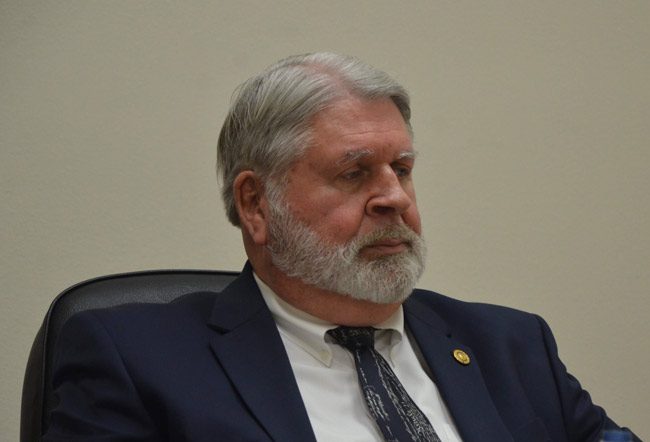 Dear Jerry,
You've impressed in your short time as Flagler County's interim administrator with your calm, your thoughtfulness and your intellect. But in what amounts to the few hours you've been here, your last 24 were not your finest. And your attempt to blame the media for the portrayal of the county's catastrophically pinheaded decision to boot out the homeless from their encampment behind the public library in Palm Coast and exile some of them to that rustic little internment camp called Russell Landing at the other end of the county is disappointing–and worrisome.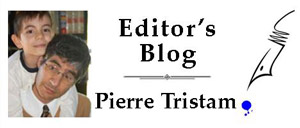 You'd first decided on the exile option, then reversed yourself and opted to just shift the homeless' encampment near the library during the clean-up, but keep them there. To explain your reversal, you told me in an interview late yesterday afternoon that the media at first "picked up the posting and interjected themselves in the middle of our planning process and we didn't have an opportunity to feel out all the options before we could figure out what we were going to do." I suppose you're referring to the Observer's Brian McMillan, who broke the story Tuesday by writing about the county's plan, and to subsequent reporting by FlaglerLive.
I'm concerned about your use of the word "interjected" in relation to the media, given the context. My colleague's story was focused on interviews with homeless individuals at the camp, and framed by the 15-odd order-to-vacate signs your human services manager posted at the library, in the camp and around it. He did what good reporters do: he reported on what would (and was) a serious, in some ways shocking, development regarding an ongoing issue he's written about in the past. He did not sniff out the story by intruding on one of your staff meetings. He did not, from all appearances, stake out your offices to eavesdrop on not-yet-ready-for-prime-time information. He did not go after troves of emails where you may have been having discussions that weren't yet ripe for a conclusive decision on the matter.
He reported on what was already affecting human beings, on what you had decided with such finality that your staff printed up red-lettered notices, posted them on the grounds, set up bus routes for the homeless, organized some trips to Volusia and some voucher uses for others, who would be staying in motels, and sent maintenance crews to hurriedly make that camp at the end of the world seem like a livable option. The following day, you had your staff issue a press release that explicitly related those same details and that went to all local and regional media, and was posted on your website. FlaglerLive–at least when we recovered from the stun-gun effect of that release, since we hadn't seen Brian's story until then–followed up with a pair of stories on Wednesday.
Where, anywhere in that sequence, do you see the media "interjecting" itself in your process? We followed-up on your printed notices and news release and went by your statements, as when we first interviewed about the issue Tuesday evening, when you said of the plan to bus the homeless to Russell Landing: "It's going to be heavily monitored, small numbers and very temporary"?
Now you say there was nothing final about any of this, that it was all required by legal steps that didn't necessarily mesh with the end product. You told the Observer and FlaglerLive that "we never finished our plans," that somehow or other the orders to vacate and your news release were "interpreted as the final plan." And this afternoon you disagreed that you placed any blame on the media: "I admit that we could have done a better job in telling the media that this wasn't solid information and we won't make that mistake again." I suppose we should now question every release that comes out of your shop, perhaps every report, every recommendation, and add an asterisk that says: "Not a final plan."
There's no question that someone screwed up this homeless issue. There's no question that based on our interviews, you took responsibility for making the final decision of exiling the homeless to Russell Landing, though it may well have been one of your directors' recommendations. You wanted to commend your staff for the way it handled the whole thing, and to protect them from the fallout. You could have done both by stopping at your initial explanation: that it was more humane and legal to keep the homeless at the library, and leave it at that.
We weren't looking to embarrass you by pointing out the small rebellion that was brewing over your previous decision, or the incredibly clumsy, Coffey-scented way it was handled, with zero notice or preparation for the neighbors in Bunnell government, let alone to neighbors in west Flagler (putting aside those west-Flaglerites' repugnant reaction to the homeless themselves, as if they were about to be flooded by a band subhuman creatures from Marineland's old lagoons: that's another story of pitchfork provincialism you'll get used to in Flagler, though St. Johns doesn't exactly have a more stellar reputation in that regard, so you should not have been surprised by the reaction.)
Finally, there's this, as I learned this morning from Palm Coast Interim Manager Beau Falgout–even more worrisomely than your blame. It turns out that not only were you not under order to clear the homeless, as your staff made it seem, blaming Palm Coast, which had only sent a courtesy email to county government about the mess. But it was one of your staffers who initially called the city asking the city to take some formal action that would give the county cover to proceed with the clean-up.
"They called and I don't know if they asked to be cited or [ask for] a kind of like a compliance review, it was a little strange," Falgout told me. "I took it as they were just looking for what the situation was and how they met city code. But yeah, I believe one of their staff members called Barbara Grossman and asked them to look at whether they were in compliance with the property." (Grossman is Palm Coast's code enforcement manager.)
The city had been getting complaints but had not yet acted on them, and did so only after receiving the call from the county. That puts an entirely different twist on the sequence of events–a cynical if not mendacious move on the county's part, now that we know who started this whole thing. Or am I interjecting again? ("I wasn't there when the conversations between the county and the city were going on, I was only told that the county was working with the city on the issue," and that you were given a letter from the city and the fire chief, you told me this afternoon in that regard. "If somebody on staff purposefully deceived me and I determine that that happened, that will be addressed.")
At least the county moved from blunder to resolution swiftly, and the city appears poised to help. And since you've been reading Aurelius lately, his advice may seem familiar: "When circumstances have compelled you to be a little disturbed, return to yourself quickly, and do not continue out of tune longer than the compulsion lasts."
Regards,
Pierre

Pierre Tristam is FlaglerLive's editor. Reach him by email here.