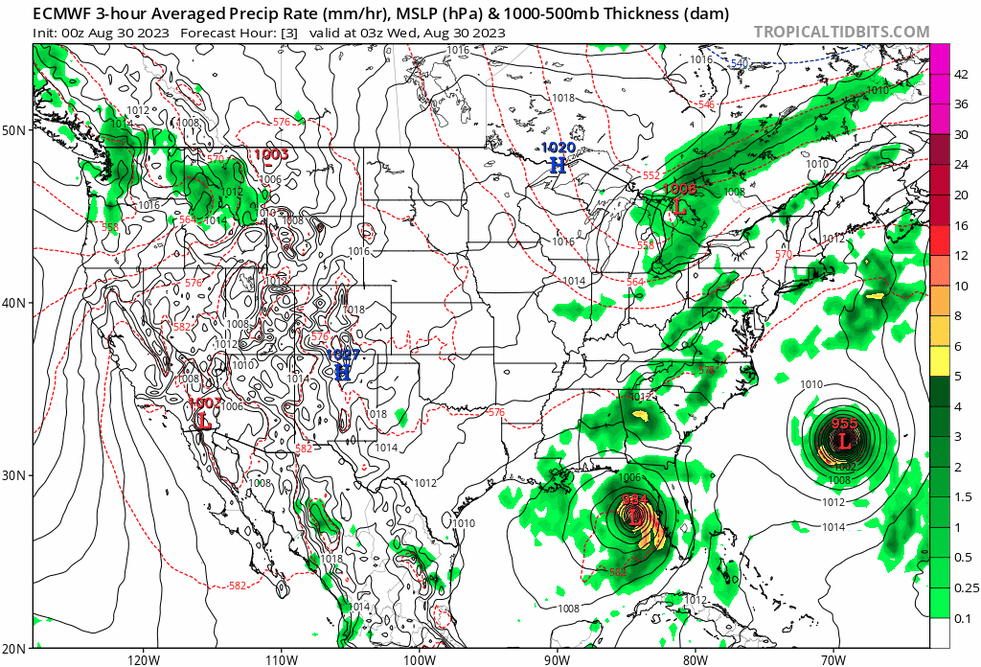 Last Updated: 9:49 a.m.
Wednesday morning update–Hurricane Idalia has become an "extremely dangerous" Category 4 storm, with winds of 130 miles per hour, as it nears landfall in Florida's Big Bend this morning.
Effects in Flagler County will be limited to what the county's emergency management director described as a "rainy day," with wind gusts. Evacuation orders were rescinded this morning.




Idalia made landfall as a Cat-3 hurricane, "which is not uncommon," Flagler County Emergency Management Director Jonathan Lord said this morning. "Ian went up to a 5 last year and made landfall as a 4."
Hurricane Idalia made landfall about 7:45 a.m. near Taylor County's Keaton Beach, still as an "extremely dangerous" Category 3 storm.
"This thing's powerful," Gov. Ron DeSantis said during a 6:30 a.m. news conference at the state Emergency Operations Center. "If you're inside, just hunker down until it gets past you. You don't want to be messing around with these winds."




The hurricane center said maximum sustained winds were 125 mph, which is 5 mph below the threshold for a Category 4 storm, according to the News Service of Florida. Idalia is expected to move through areas of North Florida and into South Georgia.
"Destructive life-threatening winds will occur where the core of Idalia moves onshore in the Big Bend region of Florida, with hurricane conditions expected elsewhere in portions of the hurricane warning area along the Florida Gulf Coast," the National Hurricane cCenter said in a 5 a.m. advisory. "Strong winds will also spread inland across portions of northern Florida and southern Georgia near the track of the center of Idalia where hurricane warnings are in effect. Residents in these areas should be prepared for long-duration power outages."
The advisory warned of "catastrophic effects" from storm surge up to 12 to 16 feet between the border of Wakulla and Jefferson counties and Yankeetown in Levy County.
As of 9:50 Wednesday morning, 265,000 customers had lost power in the Big Bend area. One customer was reported without power in Flagler County.
The track of the storm had moved west and north by roughly 50 miles over the course of Tuesday, lessening, but not eliminating, tropical storm force impacts on Flagler County. But the National Weather Service in Jacksonville now reports tropical storm conditions "possible," as opposed to certain, with rain of up to an inch.
"We're still under a tropical storm warning," Lord said. "What that really truly means for us is 20-25 miles per hour winds, gusts up to 50," throughout the county. The higher wind gusts would be at the coast, because the ocean means a lack of friction for wind. Those effects will be felt anywhere between 8 a.m. and 5 p.m., Lord said.




Lord drove around parts of the county this morning to get a sense of the scene. "It looks like a rainy day. You can tell the wind picked up a couple of times," he said, with some tree debris here and there, but "nothing of significance to report out there." While the forecast still calls for 1 to 3 inches of rain, the larger amounts would be localized to thunderstorms.
The public shelter at Rymfire Elementary, which opened yesterday at 5 p.m., drew two dozen clients, Lord said. The county had issued a mandatory evacuation order for people living in recreational vehicles, mobile homes and manufactured homes, including those in Flagler Beach.
Lord said he was likely to rescind that order later this morning–and did so around 9:30. The Emergency Operations Center activated up to a Level 2, which is partial activation, a reflection of the lessened anxiety over the storm on this side of the state.
Officials still have an eye on the tides, with some concern about a little flooding. High tide on the shore was happening around 8 a.m., with high tide on the Intracoastal at midday. "Our normal places that flood will probably show some flooding" from a limited storm surge, Lord said.
Flooding aside, the more severe wind impacts would be on the west side of the county, where a tropical storm warning remains in effect for Bunnell, Espanola and Andalusia, as well as coastal Flagler County. A tornado watch is in effect for Flagler County until 3 p.m.
For much of the county's east side conditions are likelier to resemble an extended day of summer storms, with some deterioration over the next hours. The heat index may hit 103 in parts of the county.
The map below from the National Hurricane Center shows the latest track of Hurricane Idalia and the probability that winds will reach 50 knots (57 mph). Palm Coast is just outside the edge of the cone of sustained winds, with the green area signifying a 30 percent chance or less of receiving sustained winds of that magnitude in the next days: