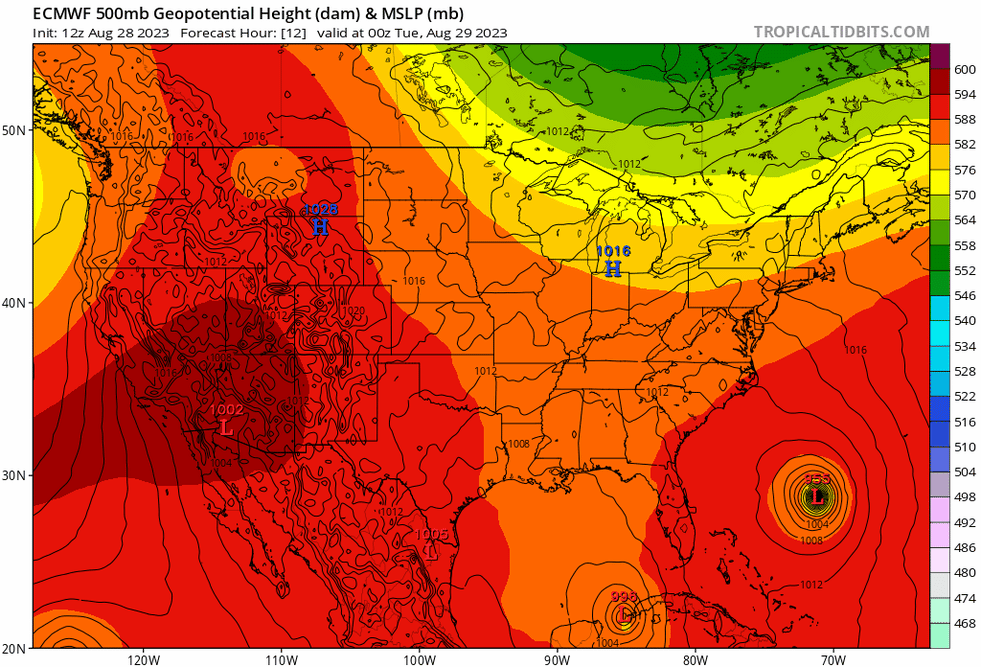 Last Updated: 8:40 p.m.
Monday evening update, 8:40 p.m.: Flagler County schools will be closed at least on Wednesday, the district announced this evening. "Additional days may be needed depending on the aftermath of the storm," the district said in a 6:15 p.m. statement. "All outdoor after-school activities planned for Tuesday, August 29th, have been canceled. However, indoor activities, including extended-day programs, will still take place."
District schools–namely, Rymfire Elementary and Bunnell Elementary–are primary shelter sites stood up by the Department of Health and Flagler County Emergency Management for residents who may need to leave their homes during the emergency.




Barring a significant shift away from the region in changes in the storm's path, Rymfire Elementary will open late Tuesday afternoon as a combined special-needs and general population shelter. The special needs part of the shelter will tend to individuals who need medical attention or who are dependent on electricity for medically assisted equipment.
"We are prepared to open up Rymfire as a combination general population and special needs shelter tomorrow," Flagler Health Department Administrator Bob Snyder said this evening. "We're going to have access to the facility at 4:30 p.m. That would be our team at the Health Department, our medical staff, the general services staff of the county to help move over the cots and the matrasses and the oxygen tanks and the medical supplies we have stationed at the Health Department, so they provide excellent support."
The shelter will be run in 12-hour shifts (A and B shifts) of clinical and non-clinical support staff. The school district's staff will provide meals at no cost to those taking shelter there. But as always, Health Department and Emergency Management officials say going to the shelter should be a last resort. Rather, people who prefer not to shelter in place in their own homes should seek shelter with friends, family or hotels if they can do so. Sheltering at schools is not exactly comfortable or private, but safe and reliable.




But when a county issues an evacuation order, as Flagler County may, regarding people living in RVs and mobile homes on the west side of the county, it is required to provide an alternative shelter.
Special needs people will be in the gymnasium of the elementary school. One large classroom is reserved for for oxygen-dependent people. The general population people will be in two classrooms adjacent to the gym. The Health Department will welcome clients almost simultaneously as it sets up, after 4:30 p.m.
"We certainly hope this is a short term deployment," Snyder said, noting that in an evening briefing Monday, Jonathan Lord, the county's emergency management director, said that the school could potentially be cleared by Wednesday evening.
As of 8 p.m. Monday, Idalia was still a shade under hurricane force, churning at 70 mph some 20 miles southwest of the far western tip of Cuba and moving north-northeast at 13 mph. "Rapid strengthening is predicted during the next day or so," the National Hurricane Center said Monday evening. "Idalia could become a hurricane at any time, and is forecast to become a major hurricane by late Tuesday or Tuesday night. Tropical-storm-force winds extend outward up to 150 miles (240 km) from the center."
The width of the storm is especially notable: even though for now the eye of what will be Hurricane Idalia will move well to the northwest of Flagler County, tropical storm force winds will extend well into the county, assuming the current path is maintained. "Tropical storm conditions are possible along the southeast U.S. coast within the southern portions of the watch area by early Wednesday," the National Hurricane Center said this evening.
At this point, a small shift north in the hurricane's path could mean that Flagler County would see only summer-storm-like conditions, with some gusts and rain but only brief periods of tropical storm conditions. Conversely, if the storm shifts south even a little, the reverse would be true for Flagler. The county currently sits on that borderline between bluer and darker skies. The momentum, however, has been in Flagler County's favor: the very small movement in Idalia's path has been away from Flagler, not toward it, which, for now, bodes well for this region.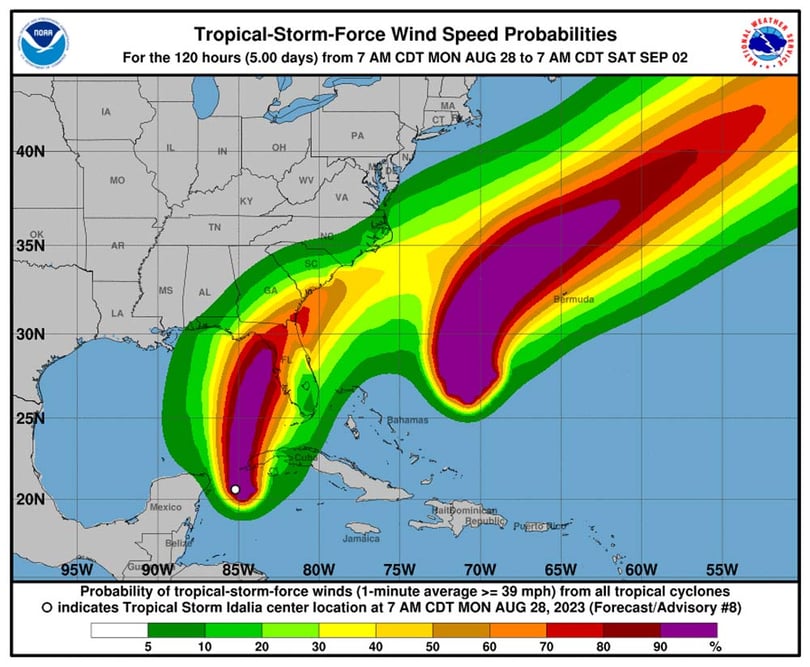 ​​Hurricane Idalia: Tropical Storm Impact in Flagler Wednesday; School and Other Closures and Postponements Announced
Monday afternoon update, 3 p.m.—With Idalia approaching the state from the west, the National Weather Service late this morning issued a tropical storm watch has been issued for western Flagler County, from Bunnell westward, including Espanola and Andalusia, the small community along State Road 100. That means tropical storm force winds are possible in that region within 48 hours.




The forecast for now is for winds of 15 to 25 miles per hour in that area of Flagler County, with gusts of up to 40 mph, as Idalia–expected to become a hurricane today in the Gulf of Mexico–transits across Florida, from the Big bend area to the northeast and on to the Carolinas. The situation is "somewhat favorable for tornadoes," the Weather Service cautions. See the full advisory here.
A localized storm surge advisory has also been issued, with storm surge possible of 1 to 3 feet, mainly along immediate shorelines and flood-prone areas. The storm surge is due mainly to the lunar cycle. That includes portions of west Flagler County such as Dead Lake. The National Weather Service is expecting only moderate beach erosion on the eastern side of Florida. But the rain forecast, initially for up to 1.5 inches, is now for up to 3 inches in the Flagler area.
Local governments have begun issuing cancellations, postponements and service suspensions. Most notably, Flagler Schools Superintendent LaShakia Moore has postponed the town hall-like community meeting she was to host Tuesday evening at the Carver Center in Bunnell, as part of the ongoing discussion she is having with the community in the aftermath of the scandal over the segregated assembly at Bunnell Elementary.




That town hall was to gather officials, including members of the NAACP's local branch, parents and others. A district spokesperson said the aim is to have as many community members participate as possible. But the district, and people's attention, is being diverted by the storm. A new date has not been scheduled. (See: "School Officials Forcefully Denounce 'Segregation' Assembly But Steps Ahead Are Vague Beyond 'Conversations'.")
Cancellations, Suspensions, Postponements:
Schools on Tuesday and Wednesday: Outdoor afternoon activities cancelledon Tuesday, all public schools and activities cancelled on Wednesday.
Bunnell is suspending garbage and recycling collection on Wednesday for residential and business addresses. But the city anticipates resuming normal service on Thursday.
Flagler Cares' Flagler County Village, the social services community at Palm Coast's City Market Place, will close its physical offices there on Wednesday, but the Flagler Cares team will still be available to assist clients by calling 386/319-9483 or emailing [email protected].
Beach driving in St. Johns County is suspended beginning Tuesday at noon, and for the duration of the storm. (There is no beach driving allowed in Flagler County or Flagler Beach, at any time.)
The St. Johns County Pier will close on Tuesday at 5 p.m. for the duration of the storm. Barricades will be in place. (The Flagler Beach pier has been closed since Hurricane Ian. It has been condemned and is slated for demolition and reconstruction.)
Castillo de San Marcos and Fort Matanzas National Monuments in St. Augustine will be Closed starting Tuesday.
Sunrail service is suspended beginning Tuesday and will likely remain suspended Wednesday, possibly Thursday.




The storm track in early afternoon Monday had not changed significantly from the pre-dawn forecast, with Idalia 5 miles per hour short of hurricane status, as it has reached the 70 mph threshold. (It is expected to be a hurricane by late afternoon.) It is expected to strike the Florida land mass at 7 a.m. Wednesday and rapidly transit across the state, grazing Flagler County. But even a small shift south at this point could significantly change the consequences for Flagler, as the brunt of the storm–expected to be a tropical storm by the time it reaches northeast Florida–would strike more of the county.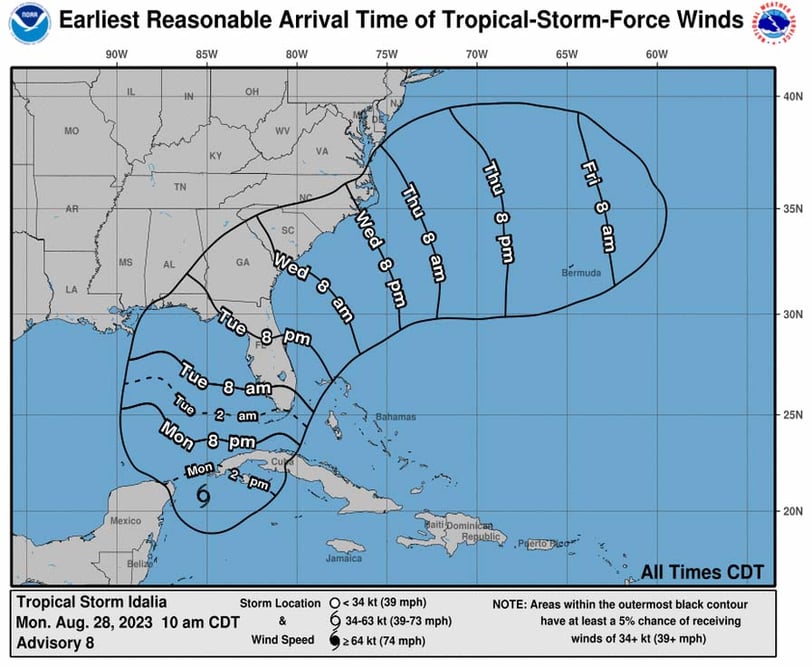 "We urge all of our residents to complete preparations, on Monday, as if a Category 1 Hurricane is approaching our area, even though our impacts will likely be more Tropical Storm like," Flagler County Emergency Management Director Jonathan Lord said.
In mid-afternoon, Palm Coast Mayor David Alfin signed a proclamation declaring a local state of emergency for the City of Palm Coast–a procedural step that doesn't affect residents so much as it makes it easier for the city to obtain resources on an emergency basis, and bill them in such a way that if and when state and federal emergencies are declared, the city can get reimbursed. It also allows for state and federal resources to quickly flow to the area. County government is expected to do likewise, as all local governments have in previous tropical storm and hurricane emergencies.
Sandbags: Sandbagging stations are provided by local governments and the Sheriff's Office, depending on the location, at:
The Indian Trails Sports Complex, 5455 Belle Terre Pkwy, Palm Coast, Monday, August 28 – until 3:30 p.m., Tuesday, August 29 – 7:00 a.m. – 3:30 p.m.
Hidden Trails Community Center, 6108 Mahogany Boulevard, Bunnell (Daytona North), from 3p.m. to 7 p.m. Monday, August 28, and again on Tuesday from 10 a.m. to 7 p.m.
Bay Drive Park, 30 Bay Drive, Palm Coast (The Hammock), from 3p.m. to 7 p.m. Monday, August 28, and again on Tuesday, August 29, from 10 a.m. to 7 p.m.
Again, this support will be available from 3 p.m. to 7 p.m. today and tomorrow from 10 a.m. to 7 p.m.
Here's Hurricane Idalia's latest position and storm track as of 2 p.m. Monday, with this morning's overview below the map: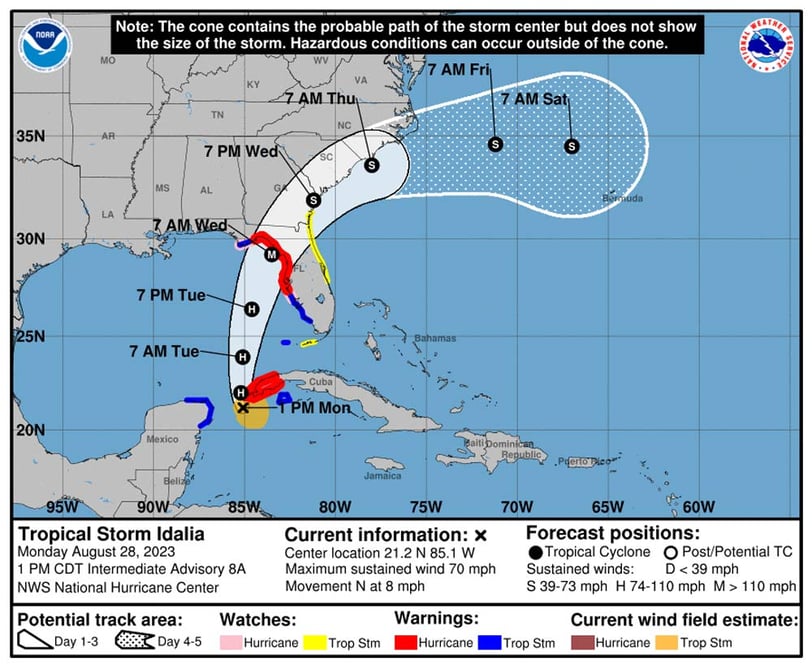 Developing as Major Hurricane, Idalia's Path Would Bring Tropical Storm Force Winds to Flagler By Tuesday Night
Monday Morning, 8 a.m.—Flagler County won't be spared at least some of the effects of Tropical Storm Idalia, soon to be Hurricane Idalia as the storm's path arcs somewhat rapidly from Florida's Big Bend toward northeast Florida and southwest Georgia between Wednesday and Thursday.
"We're probably going to see a tropical storm here, tropical storm force winds, sustained, that's very likely," Flagler County Emergency Management Director Jonathan Lord said early this morning. "So we're going to ask our community to be prepared for those types of impacts. If we can picture what we saw with Ian and Nicole, but probably less water, maybe a little bit more wind on the west side."




Both hurricanes Ian and Nicole developed in 2022 and affected the region as tropical storms, Nicole developing late last season, in November, and making landfall in the Big bend area on Nov. 9.
The storm, now forecast to make landfall as a major hurricane somewhere in rural Taylor or Dixie counties, would bring tropical storm force winds and some rain to Flagler County by late Tuesday and Wednesday, according to the National Hurricane Center. Lord does not expect evacuations, but cautions that people in RVs and mobile homes in the western part of the county should be prepared to evacuate, with impacts starting Tuesday night and continuing through Wednesday.
"At this point in time there's not a storm surge forecast for us, so we shouldn't see the same kind of water impacts that we saw" with previous, recent tropical storms. That will help with limiting damage to the shore's vulnerable–and in long stretches, non-existent–dune structure. It will also limit any fears of flooding from the Intracoastal in Flagler Beach. "But today will be very telling with the forecast as it locks in. We've been saying it all weekend on social media, which is be prepared."
Luckily for county and state residents, another suspension of the state sales tax on storm supplies went into effect on Saturday, and will be in place until Sept. 8.




Before dawn Monday, Idalia was churning with 65 miles per hour winds, just short of hurricane force, and was expected to become a Category 1 hurricane within hours. It had been moving lethargically through the Caribbean, but it is now picking up some speed and making a beeline for Florida's Big Bend, shaving the far western end of Cuba tonight and into tomorrow morning. It will then accelerate north-northeast, according to the Hurricane Center's consensus forecast.
As always, very small deviations in the storm's track would mean very large shifts in the path, the further out the path from the deviation. That's why the cone of probability is as broad as it is, and why it currently includes portions of Flagler County. A very small shift south could result in Idalia's cone including all of Flagler, just as a very small shift north would spare the entire county, possibly even of tropical storm force winds.
"We are within the cone but I don't want to see people focus on that cone," Lord said. "That cone is the eye only, we will see impacts regardless of the cone." Lord expects rain to total about 2 inches, "a significant amount of rain but not a dangerous amount of rain." It would fall on grounds that have room for absorption, as it's been dry for a stretch.




The two leading hurricane-forecasting models differ a little over its path. The American model shows Idalia crossing Florida at Big bend in a more northerly arc, with its center staying to the east end of the Panhandle. The European model, which has had a more accurate history over the years, shows the storm's center passing just northwest Jacksonville. Either way, both models for now show Idalia bringing tropical storm force winds to Flagler, especially its western and northern ends.
Here's an animated version of the storm's path according to the European model, courtesy of Tropical Tidbits: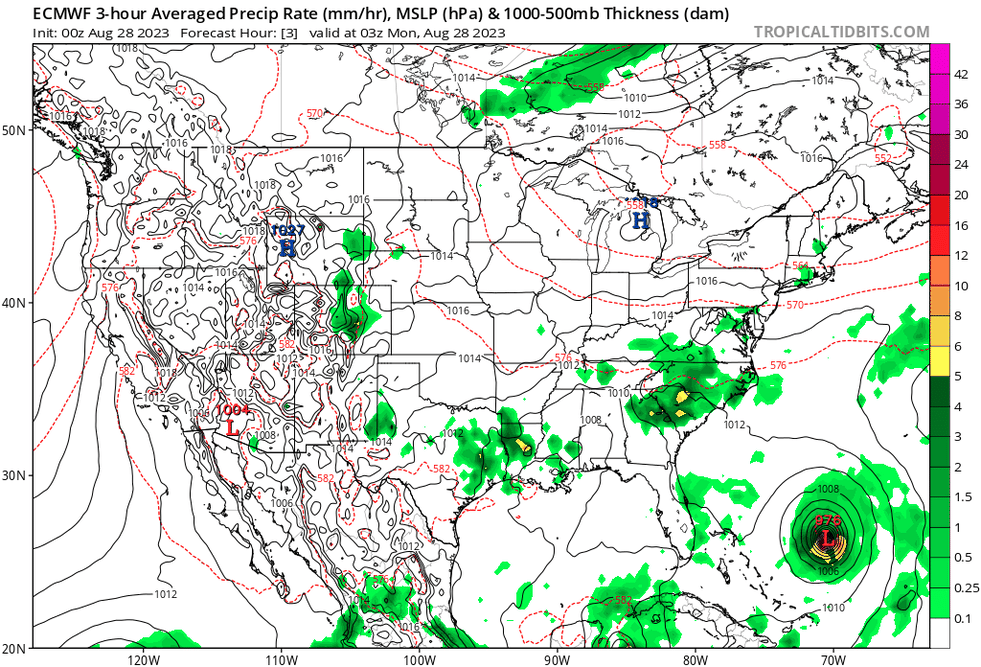 On Sunday, Idalia had been forecast to make landfall as a Category 2 hurricane, but Gov. Ron DeSantis cautioned that with "very, very warm" Gulf of Mexico waters, the storm could intensify. It appears to be doing just that. "Idalia is now forecast to become a major hurricane before it reaches the Gulf coast of Florida," the National Hurricane Center reports.




A Major hurricane is Category 3, 4 or 5. A Category 3 hurricane packs sustained winds of between 111 and 129 miles per hour. "The risk continues to increase for life-threatening storm surge and dangerous hurricane-force winds along portions of the west coast of Florida and the Florida Panhandle beginning as early as late Tuesday. Storm surge and hurricane watches are in effect for portions of the west coast of Florida and the coast of the Florida Panhandle."
DeSantis said the state has mobilized 1,100 members of the Florida National Guard, and truck weight limits have been lifted by the Florida Department of Transportation to help speed recovery, according to the News Service of Florida. The center predicted that Idalia will bring 3 to 6 inches of rain to parts of Florida's west coast and the Panhandle, with some isolated areas topping 10 inches, causing scattered flash flooding and urban flooding. As of Sunday, Flagler County was not among the 33 counties DeSantis included in his declaration of a state of emergency.
"We are in the very edge, I fully expect us to be included today," Lord said, reflecting conversations he's had with state management officials.
[This is a developing story. It'll be updated as necessary.]

nws-jax-briefing