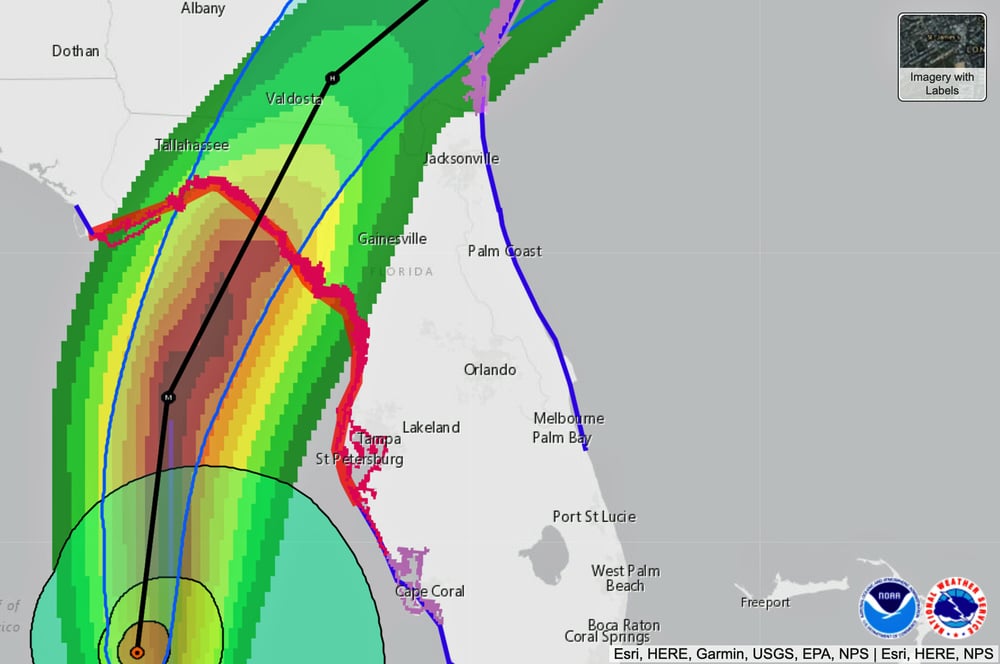 Last Updated: 8:15 p.m.
Tuesday night update, 8:15 p.m.–Hurricane Idalia's track shifted west again by some 20 to 25 miles, further away from Flagler County, in the National Hurricane Center's Tuesday evening report.




Combined with this morning's northwesterly shift of about the same size, the track now places Hurricane Idalia's eye well into north-central into Georgia by the time it reaches the parallels closest to Flagler County, though the outer bands of the storm's 160-mile-wide churns are still expected to bring some tropical storm conditions to Flagler County, especially its western and northern parts.
The strongest winds are expected to reach the county by dawn Wednesday or a little after sunrise. Those weather bands are already striking parts of Central Florida with sudden, extremely heavy downpours and violent thunderstorms, as was the case elate this afternoon between Daytona Beach and DeLand and further west along the I-4 corridor.
But fears that the storm would take a turn east toward Flagler County have dimmed. Whereas Idalia 36 hours ago looked as if it would pass over Jacksonville, its eye is now bound for Valdosta, Ga., before it continues to swing north.




Flagler County Emergency Management Director Jonathan Lord is not breathing a sigh of relief yet, preferring to wait for Wednesday morning's report. Inland Flagler County is still expected to see wind gusts of up to 50 mph, according to the National Weather Service in Jacksonville. But the weather service now predicts "Below tropical storm force wind" with peak winds of 20-30 mph with gusts to 50 mph.
In Palm Coast, some tropical storm conditions are expected, but the weather service is not specifying wind speeds for Wednesday during the day. Palm Coast is expected to get "between a tenth and quarter of an inch" of rain, "except higher amounts possible in thunderstorms," the Weather Service predicts. Wednesday night, gusts may reach 34 mph in the city.
All the evacuation orders, closures, cancellations and postponements announced for Wednesday remain in effect, as do official cautions about the next 24 hours. See below.
The storm tonight had strengthened to 105 mph, moving north at 16 mph, and was expected to reach Category 3 strength overnight or by morning as it makes landfall in Florida's Big Bend.
See today's earlier reports below the tweet.

Residents in Mobile Homes and RVs Ordered Evacuated Across Flagler Ahead of Hurricane Idalia as County Locks Down
Monday afternoon update, 3:15 p.m.—Flagler County residents in recreational vehicles, mobile homes, manufactured homes and trailers are being ordered to evacuate as of 5 p.m. today in anticipation of Hurricane Idalia, which is expected to bring tropical storm force winds and rain to parts of Flagler County. The order applies countywide, including Flagler Beach, where mobile home parks typically flood in parts during severe storms.




The county and Flagler schools will open Rymfire Elementary at 1425 Rymfire Dr, Palm Coast, as a shelter for both general population residents and special need residents. But the shelter is giving priority to those residents being ordered to evacuate. The evacuation order is mandatory, but it is not going to be enforced: residents may still choose to shelter in place even in those types of homes. But emergency personnel may not be able to reach those homes if winds kick up past the 40 miles per hour range, Sheriff Rick Staly cautioned.
The county issued a countywide Code Red alert, by phone, email and text, to disseminate the order.
Emergency Management Director Jonathan Lord and Staly issued the evacuation order in a brief press conference this afternoon at the Emergency Operations Center. Those evacuating are still urged to go to the homes of friends and family, or hotels and motels if they can afford them, and leave the shelter as the last resort.
"If you don't need to be out, especially tomorrow, you don't need to be driving around," Staly said, citing dangerous driving conditions. Some businesses are closing, he said, leaving people "safer at home." He said the 911 system should be called only in emergencies for fire-rescue and police matters–not such issues as electricity, cable or internet outages.




"We have had tropical storm effects in Flagler County in the past, and they can be very devastating," Staly said, likely recalling Hurricanes Matthew and Irma in 2016 and 2017 or even Ian last year. "Trees down, flooding in some areas. So while we may not be getting a direct hit from this hurricane, you still need to prepare and still need to use common sense."
Still, caution more than fear or anxiety framed the officials' remarks today, a reflection of the different nature of Hurricane Idalia: it will wreak havoc on the west coast and as it arcs north and east, but much of Flagler County may be spared the more severe damage that's been associated with tropical storm impacts, such as widespread power cuts and roof damage.
Schools will be closed on Wednesday, but Superintendent LaShakia Moore, who was at the EOC press conference, said this afternoon the plan is to reopen by Thursday. She said it will not be necessary to use up one of the school calendar's days off for students to make up the hurricane day, as the district has a couple of days built into the calendar for emergencies.
See today's previous updates below the picture.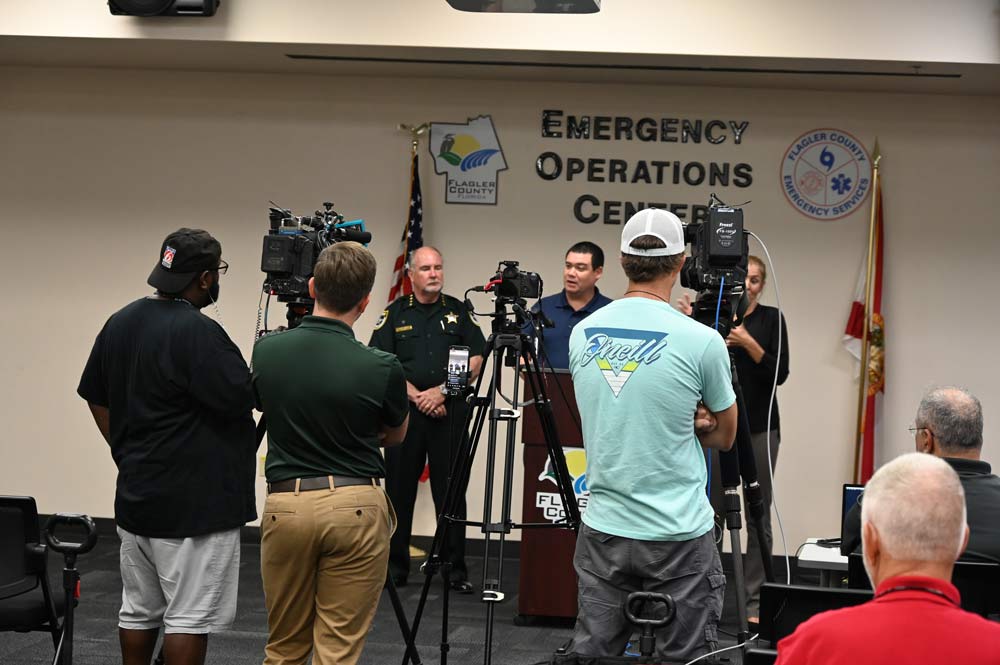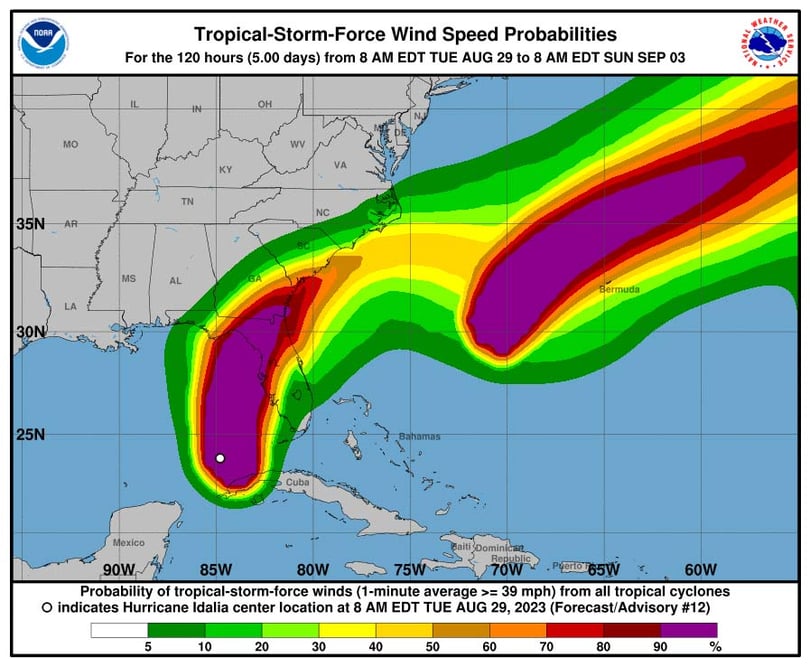 Hurricane Idalia's Path Nudges Slightly North, Reducing Flagler Impacts, Tropical Storm Warning for Parts of County
Tuesday, 12:20 p.m. update–Hurricane Idalia is rapidly approaching Category 2 strength on its way to landfall as a major hurricane Wednesday near to Apalachee Bay Wednesday morning, where "catastrophic impacts" from storm surge of up to 15 feet are expected, along with "life-threatening winds," according to the National Hurricane Center's midday update.





But Hurricane Idalia's effects on the Sunshine State will be a tale of three Floridas: the counties from Big Bend to Northeast Florida will be devastated by hurricane-force winds and torrential rains. The counties on either side of that path, including Flagler County, will experience mild to severe tropical storm-force winds and substantial rain, some power cuts and communications disruptions. The rest of the state will be unscathed but for residents (and not a few tourists caught in the swirl) seeking shelter.
Though only inland and coastal Flagler are under tropical storm warning, Flagler County, Palm Coast and other cities, school, government, court and public health officials are all treating Hurricane Idalia's impact in the county as a tropical storm, since the path of the storm could change at any moment: a small change now in a more southerly path could have significant consequences. Even without such a change, the width of the storm, now grown to 160 miles from the eye, means that Flagler will see impacts. (Notably for people working or with family in St. Johns, the entirety of St. Johns County is under Tropical Storm Warning.)
Hurricane-force winds are extending 15 miles from the center. At any rate, the National Weather Service in Jacksonville leaves no doubt as to Wednesday's forecast: "Tropical storm conditions expected." So is locally heavy rainfall, south winds 20 to 30 mph with gusts up to 50 mph.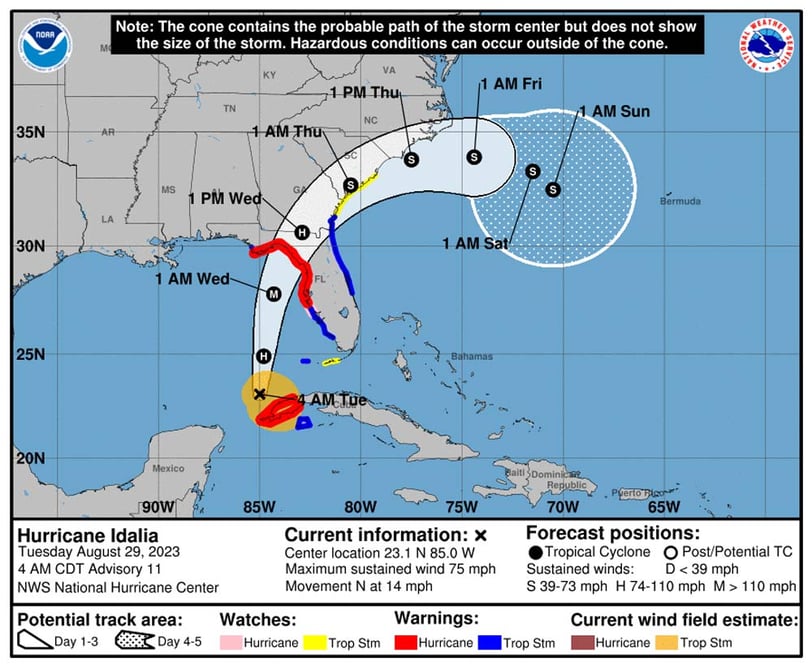 All public government services except emergency responses and law enforcement will be shut down Wednesday, including courts, government offices, schools, garbage and recycling collection in all jurisdictions, but Flagler County's and Palm Coast's Emergency Operations Centers have been activated and will remain on full alert through the emergency. Exceptions: Flagler Beach government offices will be open, as will the Flagler County Sheriff's Office. (See the updated list of cancellations here.)




While paramedics will respond to medical emergencies, all such responses will stop if winds exceed 35 mph, as emergency vehicles could then be endangered, and bridge access across the Intracoastal Waterway will be restricted. At the moment, neither possibilities appear likely, at least not for more than a brief period of time, if then.
Flagler County's Emergency Management Director Jonathan Lord has scheduled a 2 p.m. news conference at the county's EOC in Bunnell. It will be live-streamed on the county's Facebook and other local government social media pages. By then a final decision will be announced as to whether the county will open the shelter at Rymfire Elementary for both general and special needs populations. Although both County Commission Chairman Greg Hansen and Health Department Administrator Bob Snyder yesterday said the shelter will open, Lord this morning, after the storm's slight shift north overnight, said the decision was not yet final.
At 11 this morning, Idalia was 275 miles south-southwest of Tampa, moving north at 14 mph, with sustained winds of 85 mph.Idalia is expected to accelerate as it approaches the Gulf coast, which will help in at least one sense: a more rapidly moving storm has less time to obliterate what's in its path. Idalia is expected to turn northeast then east-northeast late Wednesday and Thursday, sending the storm toward the Carolina coasts. The National Hurricane Center is less confident about the storm's path there: it may go out to see. It may yet shear the barrier islands.
This morning's update is below, yesterday's reporting is here.

Tuesday, 7:45 a.m.Idalia developed into a hurricane overnight and began accelerating toward Florida's Big Ben coast, where it is expected to make landfall at midday Wednesday as a Category 3 storm. Its path, according to the National Hurricane Center, has nudged north-northwest, enough to remove Flagler County from the cone of probability for now–at least as far as the hurricane's eye is concerned–but not from the likelihood of tropical storm force impacts due to the width of the storm: it extends 150 miles from the eye.




Western Flagler, including Bunnell, Espanola and Andalusia, are in a tropical storm warning, as is coastal Flagler County. The National Weather Service warns of a potential 1 to 3 foot storm surge along low lying, coastal and lakeside areas starting this evening. Flagler County is expected to receive between 1 and 3 inches of rain with higher amounts possible in localized areas. The situation remains "favorable for tornadoes," according to the Weather Service.
But overall, Flagler County is in better shape this morning than it seemed on Monday. "So far so good for us," Jonathan Lord, Flagler County's Emergency Management director, said early this morning. "We still have to prepare as if we are" getting tropical storm force impacts, however, because that threat has not been removed, he said.
Flagler County Health Department Administrator Bob Snyder said Monday evening plans were afoot to open Rymfire Elementary as a combined shelter for the general population and special needs. But Lord said the decision on whether to open the shelter has not been made. "It will be made later this afternoon, I'd like to get a couple more weather briefings before we lock that in," he said. Flagler County schools are open today, but outdoor, afternoon activities have been cancelled. Indoor activities may go on.




Flagler schools will be closed on Wednesday, and very likely re-open on Thursday. Other organizations and some government offices have announced closures for Wednesday. In Palm Coast, yard debris and recycling collection services have been canceled for Wednesday. Garbage collection services will resume according to the regular schedule on Thursday.
With strong winds ahead, "there is bound to be some downed trees, because of that there's a chance it'll impact electrical infrastructure for a period of time," Lord said. The county will remain in a tropical storm watch for the next 24-36 hours, he said. "I don't foresee us going to a hurricane watch or warning."
Here's what the storm's path looks like over the next few days, according to the European forecasting model, courtesy of Tropical Tidbits: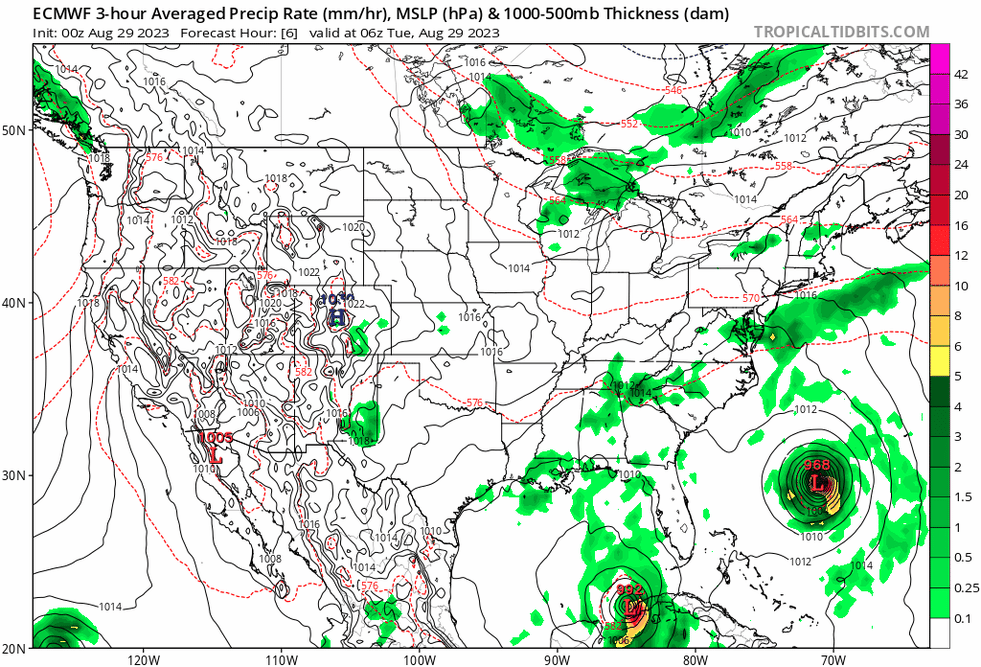 The storm's path could yet change wither way. It has been affected by a weather front to the north and by Hurricane Franklin, a major, Category 4 hurricane hurricane packing 140 miles per hour winds southwest of Bermuda. Franklin is not threatening the coast of the United States. It is acting as a nuclear-force fan against Idalia, keeping Idalia from swinging over most of Florida's east coast.
Flagler County may be thankful for Hurricane Franklin. Taylor, Dixie and Levy counties–where Hurricane Idalia will make landfall–may not be as thankful, except for their relatively small, rural populations. All three counties have a combined population of 84,000–less than Flagler County's 120,000–which presumably will limit risk to lives and property damage, and speed up repairs. The storm's current path remains to the east of Tallahassee, cutting inland through more rural, sparsely populated counties. The hurricane's intensity will not diminish to a tropical storm until it crosses into southeast Georgia.




"Local impacts from Idalia will begin this evening, as spiral rain bands begin to overspread our region from southwest to northeast," the National Weather Service in Jacksonville cautions. That applies to Flagler County. "Heavy rainfall will then continue Wednesday evening. Tornadoes will be possible across the area on Tuesday night and Wednesday, with higher chances expected for locations along and east of the U.S. Highway 301 corridor. Sustained tropical storm force winds will begin to be felt across north central Florida and the Suwannee Valley during the predawn hours on Wednesday, with conditions deteriorating quickly after sunrise, when hurricane force wind gusts will be possible. Sustained hurricane force winds are expected near the core of Idalia
in the Suwannee Valley through the early the mid afternoon hours, with hurricane force gusts possible elsewhere along the Interstate 75 corridor. Sustained tropical storm force winds will be possible elsewhere in our area on Wednesday."
Lord said county and city residents should have completed most of their storm preparation by today, making sure all yard items are cleaned up or secured. The state's sales tax holiday for disaster items is still in effect.
Cancellations, Suspensions, Postponements:
Schools on Tuesday and Wednesday: Outdoor afternoon activities cancelled on Tuesday, all public schools and activities cancelled on Wednesday.
At the courthouse: all court proceedings will end at 3 p.m. Tuesday. The courthouse will be closed Wednesday, with all hearings to be rescheduled.
Palm Coast garbage and recycling collection has been suspended for Wednesday.
Palm Coast government offices will be closed Wednesday.
All Palm Coast parks and recreation facilities are closed and activities cancelled for Wednesday.
Bunnell is suspending garbage and recycling collection on Wednesday for residential and business addresses. But the city anticipates resuming normal service on Thursday.
Flagler Cares' Flagler County Village, the social services community at Palm Coast's City Market Place, will close its physical offices there on Wednesday, but the Flagler Cares team will still be available to assist clients by calling 386/319-9483 or emailing [email protected].
The University of North Florida has cancelled all classes effective Tuesday and Wednesday.
Daytona State College has cancelled all classes and campus activities. All academic assignments, including all classes with online components, are suspended for Wednesday. The Drop/Add classes deadline has been extended to Thursday. The Residence Hall on the Daytona Beach Campus will remain open for student residents, however students who can safely travel home are encouraged to do so.
The University of Central Florida cancelled classes for Wednesday.
St. Johns County schools are closed today and Wednesday.
Beach driving in St. Johns County is suspended beginning Tuesday at noon, and for the duration of the storm. (There is no beach driving allowed in Flagler County or Flagler Beach, at any time.)
The St. Johns County Pier will close on Tuesday at 5 p.m. for the duration of the storm. Barricades will be in place. (The Flagler Beach pier has been closed since Hurricane Ian. It has been condemned and is slated for demolition and reconstruction.)
Castillo de San Marcos and Fort Matanzas National Monuments in St. Augustine will be Closed starting Tuesday.
All St.Johns River Water Management District offices and properties are closed Wednesday.
Sunrail service is suspended beginning Tuesday and will likely remain suspended Wednesday, possibly Thursday.
Customer Service for Palm Coast and Flagler County:
In Palm Coast: Starting Tuesday at 7 a.m., the City of Palm Coast Customer Service line will be available 24 hours a day until the storm subsides. It's important to note that their assistance is limited to city-related matters. For medical emergencies, please call 9-1-1. You can reach Customer Service at 386-986-2360; alternatively, residents can submit a case through Palm Coast Connect.
In the event of a power outage, if your residence uses a PEP tank system for wastewater, conserve water as much as possible. Water usage during these times could risk waste backing up into homes. Learn more about PEP tanks during a storm here.
In Flagler County:
Flagler County Emergency Management opened its Call Center on Tuesday, and will answer calls 24 hours. The Call Center number is 386-313-4200, the regular line to the Emergency Operations Center.
It is important to note that evacuations may be required today, Tuesday afternoon, for those in mobile homes and RVs.
Effective at 5 p.m. Tuesday, an evacuation order is in place for residents and visitors in mobile homes, RVs and other unsafe structures countywide because of Hurricane Idalia. The Rymfire Elementary School shelter, which includes the general population and those with special needs, and pets is located at 1425 Rymfire Drive, Palm Coast. Residents countywide who have special medical needs that require electricity are also welcome in the special needs shelter.
Residents utilizing shelters are not to arrive before 5 p.m. and to bring their own bedding. Single/twin size inflatable mattresses are preferred due to the space limitations.
All residents should bring:
Five-day supply of all medications
Medical supplies and equipment
Sleeping bags, pillows, and blankets
Extra chargers and batteries for electronics
Headphones for music devices
Snacks and "comfort foods" – meals will be served
Important documents including identification, medical history, and insurance
No weapons allowed
No illegal narcotics allowed
No alcohol allowed
Residents with pets:
Animals must be crated
Animals must have current vaccination records and supplies, including medications
"Pets" are dogs, cats, birds, rabbits, rodents, and turtles
Four (4) pet maximum
No snakes, reptiles, or farm animals and livestock
No drop offs
Residents with special medical needs:
Special medical needs residents are those who require daily assistance with medical conditions that prevent or hinder their ability to care for themselves, as well as those who require electricity or oxygen
A family member or caregiver should stay at the shelter with the individual
Special needs shelters provide only limited medical care

nws-jax-briefing (1)