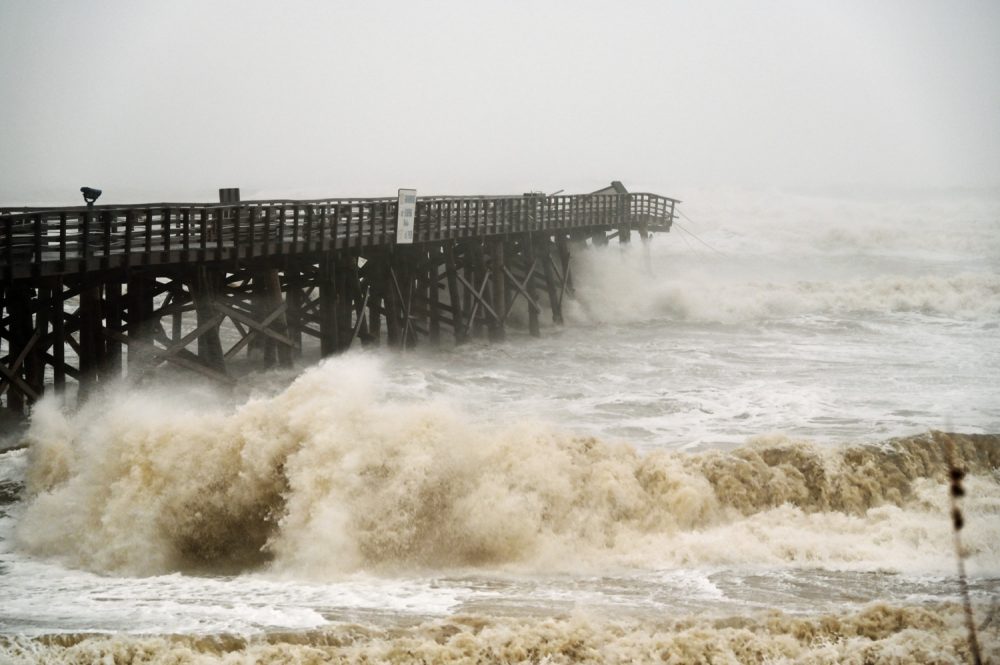 Last Updated: 8:30 p.m.
Previous days' Ian coverage: Sunday | Monday | Tuesday | Wednesday
Flagler residents, text your pictures and reports of damage, including location, to 386/503-3808.
Thursday, 8:30 p.m.—As of 8 p.m. Thursday, nearly 70 percent of Flagler County residents were without power–46,130 customers  out of 66,910, or 20,000 more than this morning. Ian was again Hurricane Ian as it churned at 75 miles per hour parallel with the Flagler County coast.
The storm continued to pound Flagler Beach and the rest of Flagler's 18 miles of shoreline with high waves, wind and rain. It had ripped the end portion of the Flagler Beach pier earlier in the day, leaving other portions of the structure visibly damaged–and drawing some sight-seers  despite the rain and the Flagler Beach city manager's entreaties to keep hunkering down.
A law enforcement roadblock was filtering traffic into Flagler Beach after 7 p.m. Rain had largely let up further inland, and was expected to diminish and stop after midnight. But a nighttime curfew starting at 8 p.m. remained in effect tonight, through 7 a.m. Friday, across Flagler.
Flooding remained a concern, especially in low-lying areas on both sides of the Intracoastal. Flagler Avenue had flooded Thursday afternoon, and in parts there was no definition between the Intracoastal and the avenue, as in the image below: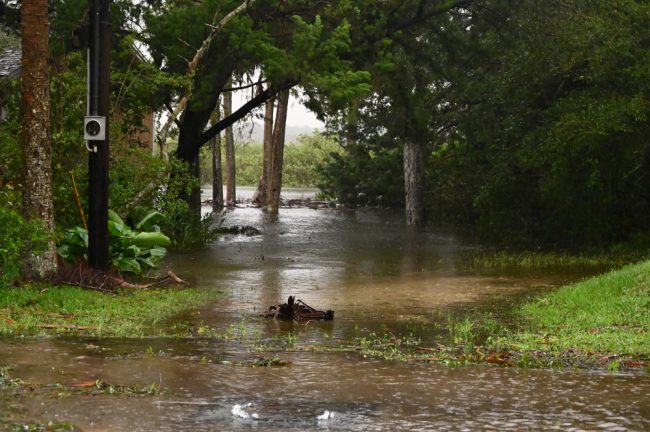 Nevertheless, as of this evening, the only water intrusion reported to Palm Coast officials was to a garage in the LL Section.
Ian is a hurricane again, but the strongest winds will remain well offshore, the National Weather Service in Jacksonville said in its 8:30 p.m. briefing. "Our coastline and offshore waters will continue to experience tropical storm force winds with possible gusts to hurricane force tonight, lingering into Friday morning. The biggest impact remains coastal flooding along the Atlantic coastline, ICWW, and St. Johns River basin at our upcoming high tide cycles tonight and tomorrow. Wave action along the Atlantic coastline could worsen the impacts from this coastal flooding."
Flagler officials were cautioning: "While the winds will be subsiding overnight, we will still have periods of heavy rain," Jonathan Lord, the county's emergency management director, said this evening. "This will come with coastal, Intracoastal, Crescent Lake and Dead Lake area flooding for a few more tide cycles that may impact homes."
According to county officials, there is intermittent heavy flooding in the following areas; the list is incomplete:
Marineland at the county border due to a dune breach
Moody Boat Launch in Flagler Beach
Surfside Estates in Beverly Beach
MalaCompra Canal
Bings Landing
Sea Trail near Sea Breeze in Palm Coast
State Road 100 from the Flagler Government Center to the Post Office in Bunnell
Pellicer Creek is in major flood stage – more than 4 feet above normal
Haw Creek is in major flood stage – more than 6.5 feet above normal
There is significant dunes erosion at the following locations:
Jungle Hut Road beach access
16th Road Old Salt Park
MalaCompra Road beach access
State Road A1A at 21st Street South
State Road A1A at 26th Street South
The beach access ramp at State Road 100 and State Road A1A
Dune over-wash at Washington Oaks State Gardens
Dune over-wash on State Road A1A from South 16th to South 10th in Flagler Beach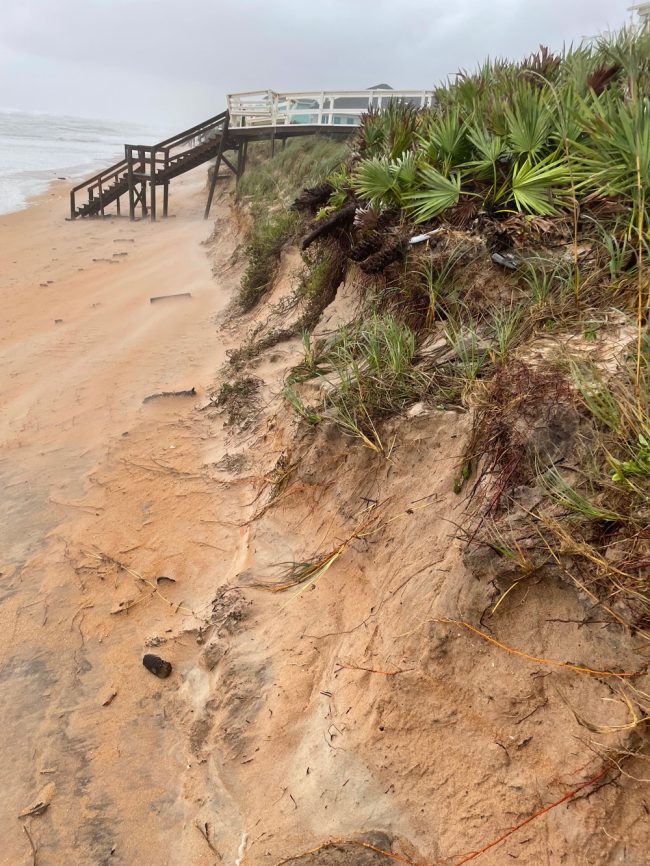 "Flagler County Public Works crews are mobilized throughout the County to clear roads for emergency access. Crews will only be pushing trees and debris off the roadway to clear traffic routes," Lord said. "A more thorough assessment will occur on Friday to assess the amount of vegetative debris."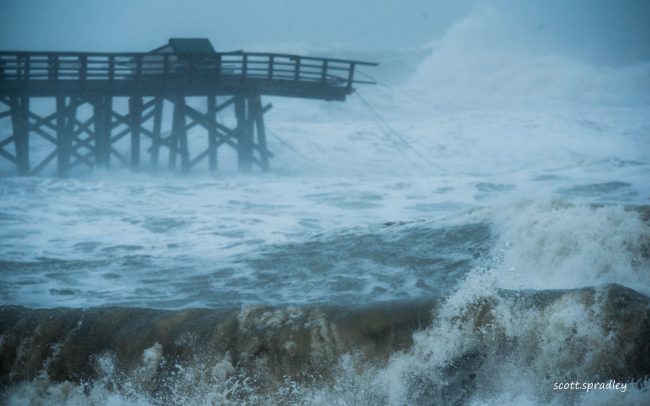 Thursday, 3:05 p.m.–The severity of tropical Storm Ian continues this afternoon, demolishing parts of the Flagler Beach pier, inundating larger areas of Palm Coast and Flagler Beach, and downing trees and power lines as 57 percent of residents are without power.
A flash flood warning for the county has been extended to 9 p.m., with areas already affected in northeastern Flagler County.
"As heartbreaking as it is to many, the destruction to the end section of the Flagler Beach Pier was inevitable on many levels," Scott Spradley, a barrier island resident who is weathering the storm on the island, and took the picture above, wrote this afternoon after capturing the image. The pier was slated for demolition in a few months, to be replaced by a concrete pier. But this was not the kind of end planned for it. The pier had already been sheared off by Hurricane Matthew in 2016, and was a shadow of its former self.
Flagler Avenue in Flagler Beach was again a 1-foot deep river just after 4 this afternoon, as it had been in the aftermath of Hurricane Irma five years ago, when water from the Intracoastal Waterway flooded homes, streets and the avenue: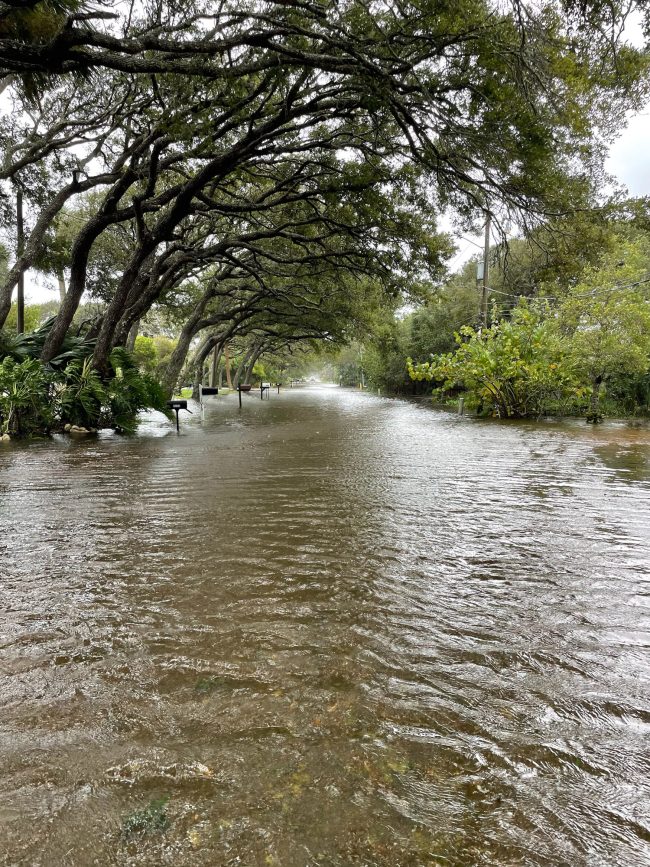 A similar scene was captured in Palm Coast's B-Section, on Burroughs Drive: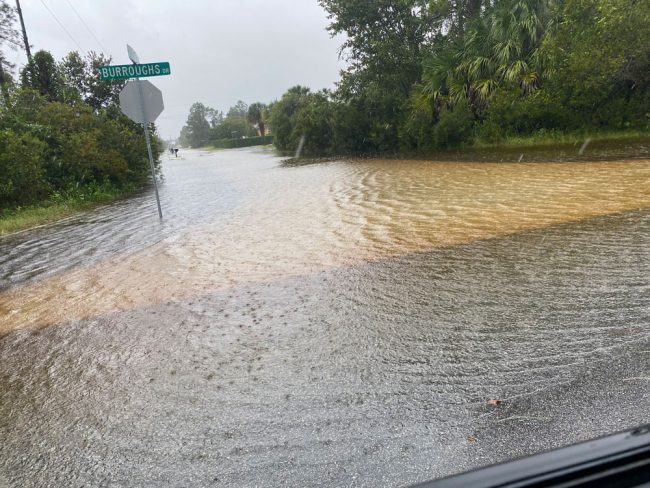 Continued onshore flow, combined with elevated tides, trapped water in. the Intracoastal Waterway, and rounds of heavy rainfall are causing flooding issues in St. Johns and Flagler counties as Tropical Storm Ian moves up the Atlantic coast. The storm is expected to reform into a hurricane over the next few hours.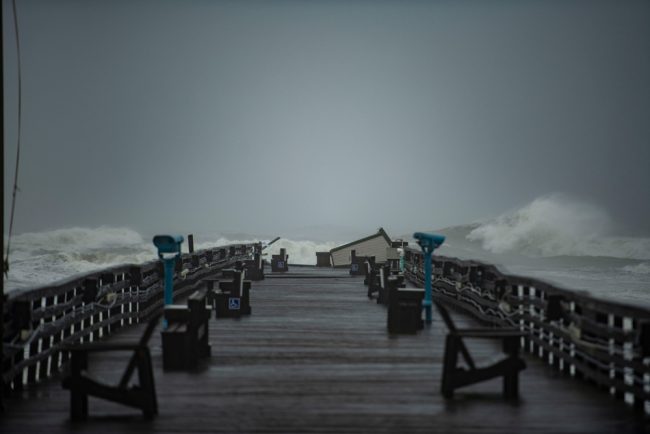 The National Weather Service in Jacksonville cautions that more rainfall and onshore winds are on the way this afternoon and evening in Palm Coast and surrounding regions, and water levels along the Atlantic Coast, the Intracoastal, and the St. Johns River will continue to rise through Friday., even though those waters are already well higher than normal.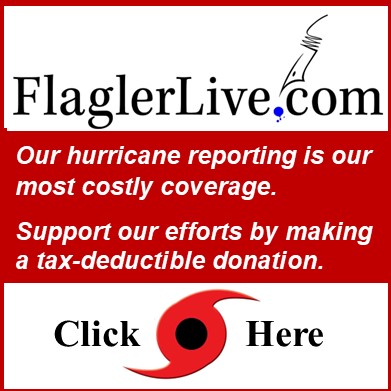 Hurricane conditions are possible over Atlantic waters parallel to Flagler Beach, with strong tropical storm force winds and gusts to hurricane force along the coastline. These winds can down trees, especially where the ground is wet from the rainfall, which can lead to power outages. Palm Coast officials have been getting increasing reports of downed trees and power lines as the day has progressed. Several trees, some of them stately oaks, have toppled in Town Center only in the last two hours.
38,350 customers out of 66,910 Flagler County customers–57 percent of the county–were without power as of 3 p.m., even after the restoration of power to 9,370 customers.
Flagler County officials around midday extended evacuation orders to include Palm Coast's Woodlands. As conditions worsened, they have extended evacuation orders yet again. Those orders now include: residents of Bulow Mobile Home Park, Flagler Beach Polo Club West, Bulow Woods, Seaside Landings, Flagler Beach Polo Club, as well as the previously evacuated areas off of Lambert Avenue and Palm Drive – also known as Hurricane Evacuation Zone  B – to leave immediately due to expectations of significant flooding.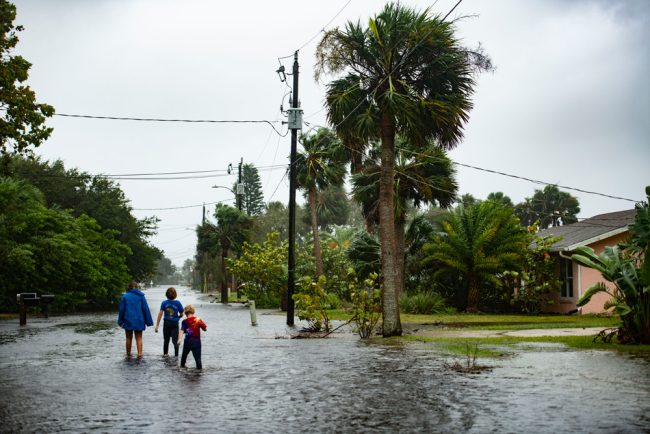 "We urge residents in these areas to leave immediately due to updated expectations of significant flooding and the potential to impact your homes," said Emergency Management Director Jonathan Lord. "Additionally, as the flooding progresses it is possible that emergency vehicles will no longer have access to your neighborhood."
Residents are urged to go to friends or family or to a shelter at Rymfire Elementary, 1425 Rymfire Drive, Palm Coast. Residents utilizing shelters are encouraged to bring their own bedding. Single/twin size inflatable mattresses are preferred due to the space limitations.




Residents in Bunnell and Palm Coast are also being urged to severely restrict water usage to emergencies only, so overwhelmed sewer systems can catch up. "We have no storage for wastewater," said Bunnell City Manager Alvin Jackson. Palm Coast has many areas on an electricity dependent pep tank system. When the power fails, the pep tank system cannot operate, and can backup. Flooding exacerbates the problem. 
 "It is critically important for everyone to limit their water usage right now," said Emergency Management Director Jonathan Lord. "We understand it is inconvenient but it's for the good of the whole county."
"We definitely have localized flooding in numerous sections in Palm Coast," Brittany Kershaw, the city's chief spokesperson, said. But the stormwater system has been holding up.
Ken Bryan, who chairs the Flagler Beach City Commission, lives in a relatively new home on Palm Drive, about 6 to 7 feet above sea level. Palm Drive is among the areas ordered evacuated. At close to 4 p.m. today, he said the water was rising both in the marsh behind his house and on the Intracoastal. "It's not as bad as it was doing in Matthews, but it's pretty bad," he said. The wind had felled five trees on his own property alone, including two live oaks. But "the city is doing ok other than the pier,"  he said. "I've heard something about some parts of A1A may be compromised, but I can't confirm yet." There are no reports of injuries. "People have been looking out for each other."
Looking at Florida as a whole, President Biden to day said that while officials are still assessing the damage, there were indications of "what may be substantial loss of life" in the state.

Thursday, 12:35 p.m.–Tropical Storm Ian exited Florida late this morning, only to immediately begin picking up speed again and reform as a soon-to-be hurricane as it moves up parallel to the Flagler coast, the National Hurricane Center predicted at 11 a.m., lashing it with tropical storm-force winds and crashing its shore with damaging waves.A flash flood warning has been issued for the majority of Palm Coast and parts of Bunnell until 3:15 this afternoon.



The storm had left Florida near Titusville with winds of 65 miles per hour. By 11, when it was in the Atlantic, 25 miles northeast of Cape Canaveral, it was again at 70 miles an hour, 4 miles an hour short of hurricane status. The storm's rain and wind bands were battering Flagler County and more especially the barrier island, where waves are crashing over A1A and causing portions of A1A northbound to close because of small boulders in the road. The highway itself was painted red in large swaths because of sand washing over from the beach.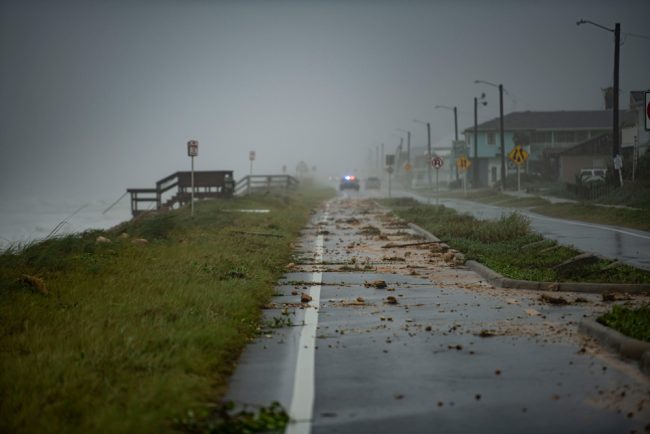 Flagler Beach's avenues west of A1A are quickly becoming a tangle of downed and dangerous power lines. The ocean tide was peaking at noon. The Intracoastal tide is to peak a few hours later. Residents who stayed on the evacuated island are bracing for likely flooding. "The water level behind my house (South 23rd Street area) continues to rise and has nearly breached the seawall. Likewise, the roads in the area are beginning to flood," wrote Scott Spradley, the Flagler Beach attorney who has been contributing regular reports from the island since the beginning of the storm. (See Spradley's Beachside Blog here.)
Conditions on the mainland are comparatively better, if not by much. A drive from the mainland to the beachside is like a drive into another world of hazards, flooded streets and sharply gustier winds. Conversely, the drive back to the mainland resembles something more akin to a severe afternoon storm that doesn't stop. Consequently, the rain has been the issue.
At 11 a.m., county officials expanded evacuation orders to Palm Coast's Woodlands, the older neighborhood south and east of Old Kings Road and Palm Coast Parkway, east of I-95.




"We urge residents within the Woodlands neighborhood to leave the area due to updated expectations of significant flooding of your neighborhood streets, with the potential to impact your home," said Emergency Management Director Jonathan Lord. "Additionally, as the flooding progresses it is possible that emergency vehicles will no longer have access to your neighborhood."
Residents are encouraged to stay with friends or relatives outside of the Woodlands or go to the public shelter at Rymfire Elementary School (1425 Rymfire Drive, Palm Coast) that just opened to the general population as the city of Bunnell's water utilities are taxed. Residents are asked to leave as soon as possible as peak flooding will occur overnight. The earlier shelter for the general population, at Bunnell Elementary, had some 85 guests this morning.
The Woodlands are the scene of some of the more dramatic tree falls yet: a large tree crashed into a home on Blare Castle Drive, puncturing the roof. These images are from the Palm Coast Fire Department: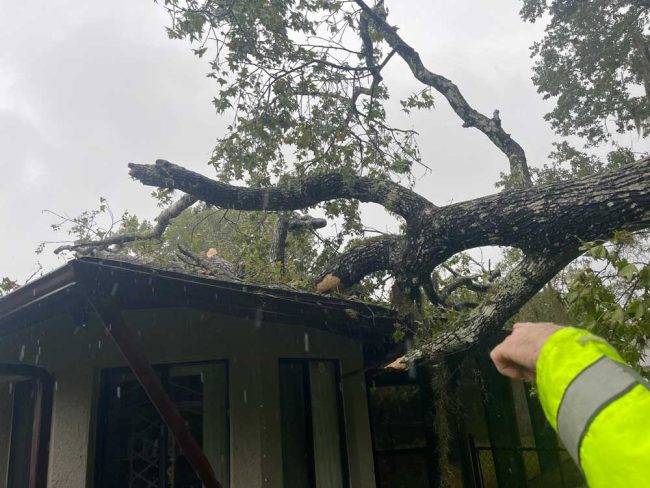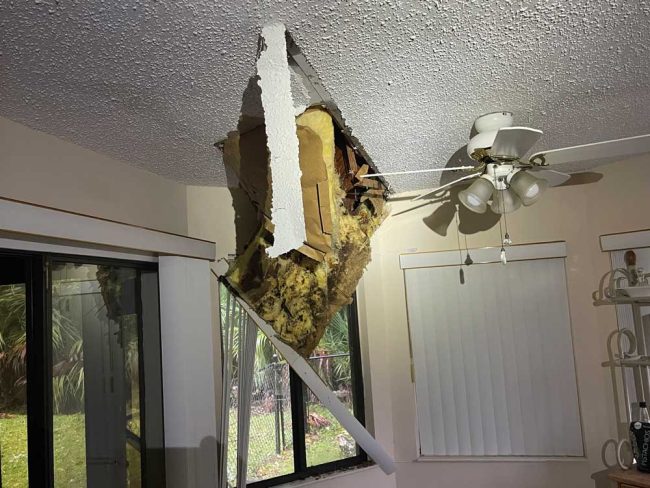 At midday today a drive through Town center, State Road 100 and some residential neighborhoods revealed passable streets with considerable pooling in parts, a lot of small debris carpeting roadways, especially next to undeveloped lots, but nothing like the web of downed lines on the island or entirely waterlogged streets. Swales, though overflowing, are doing their job, even as the canal levels are very high.
There were symbolic sights of resilience, like "Burro With a Bird," the 10-foot high bronze sculpture by artist Copper Tritscheller, which stood calmly against the storm's whipping rains and winds at midday today in Palm Coast's Central Park. A few dozen yards away at City Hall, where the parking lot looks almost as full as if it were a regular work day, a large contingent of city employees were hunkered down in City Hall's chambers, operating the city's emergency operations center.
[This is a developing update. More soon.]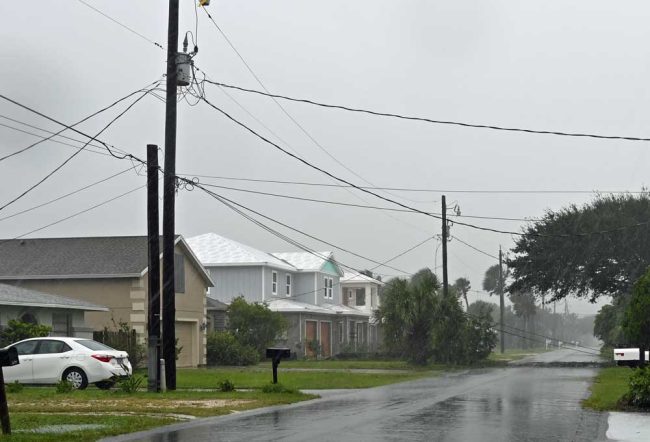 Thursday, 10:26 a.m.–Locally, there are increasing reports of downed trees, downed power lines and worrisome signs of a tidal event ahead, along the Intracoastal Waterway: "The river has almost reached the road and low tide is at 10," former Flagler Beach City Commissioner Rick Belhumeur, who remained on the barrier island and is keeping an eye on several properties he owns there, said this morning. "Gonna be ugly at high tide."
As of 10 a.m., a third of Flagler County's customers were without power–26,370 households and businesses, according to Florida Power and Light.
The Palm Coast Fire Department was out at sites of downed trees: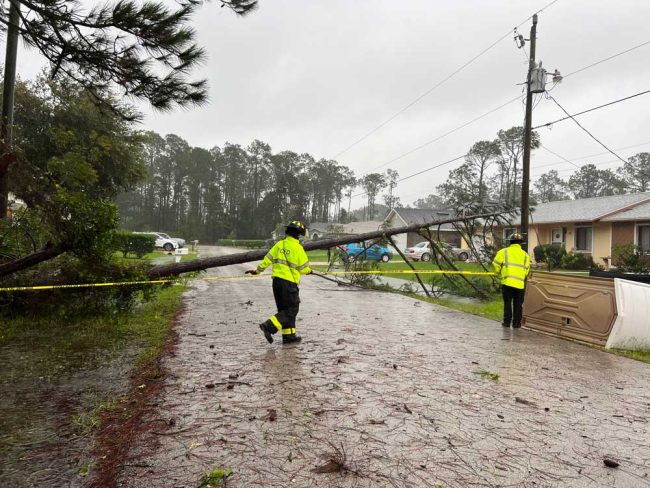 'We've Never Seen a Flood Event Like This': Tropical Storm Ian Creates 'Massive Impacts'
Thursday, 9 a.m.–Daylight was sharpening a reckoning with the devastating impacts of Hurricane Ian, now Tropical Storm Ian, from Southwest Florida across Central Florida and into Volusia and Flagler counties as the storm was readying to leave the Florida Peninsula at Titusville.
"The impacts of this storm are historic and the damage that was done has been historic and this is just off initial assessments," Gov. Ron DeSantis said at a 9 a.m. press conference from the state's Emergency Operations Center. "There's going to be a lot more assessing that goes on in the days ahead. but I think we've never seen a flood event like this. We've never seen storm surge of this magnitude and it hit an area where there's a lot of people in a lot of those low lying areas and it's going to end up doing extensive damage to a lot of people's homes. So there's gonna be a lot of work to do."
The governor said there are two unconfirmed storm-related fatalities so far as he continued to describe devastating effects of the ongoing storm.
"Those were massive impacts," the governor added, "you're looking at a storm that's changed the character of a significant part of our state and this is going to require not just emergency response now, in the days or weeks ahead. I mean this is going to require years of effort, to be able to rebuild and to come back."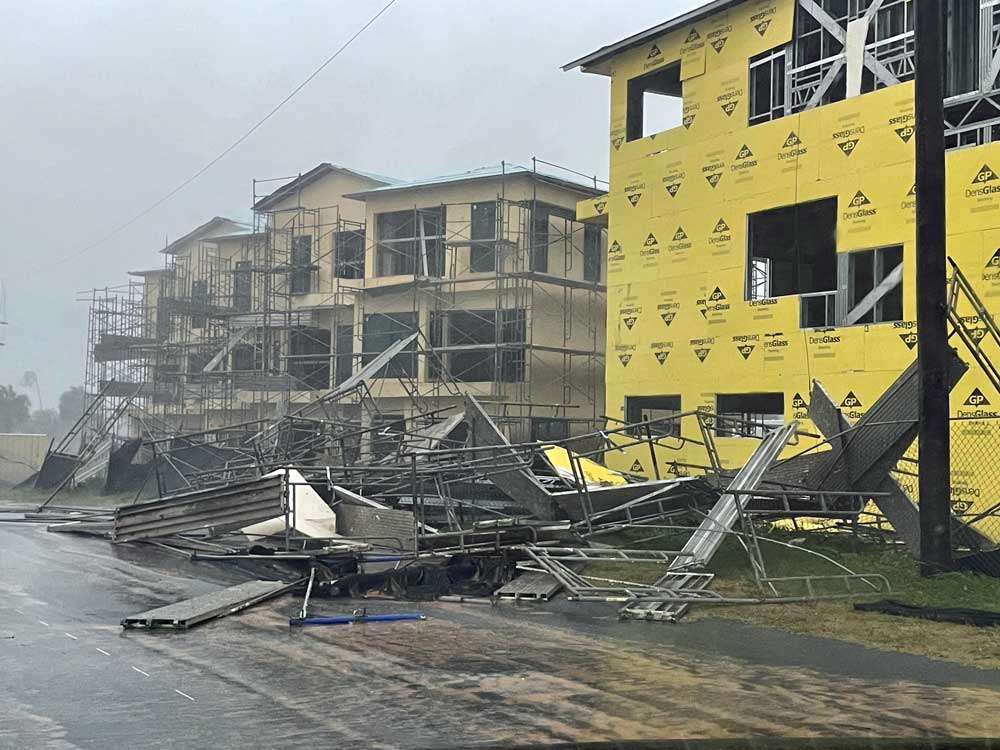 10,400 Customers Without Power in Flagler as Tropical Storm Ian Drenches Toward Atlantic at Titusville
Thursday, 7:25 a.m.—If there is some good news about Hurricane Ian Thursday morning, it is that it has degraded into a tropical storm with maximum sustained winds of 65 miles per hour, and it has carved a more southerly, far less populated path across the Florida Peninsula than feared.




But a hurricane watch remains in effect for Flagler. And Ian's flooding rains–as much as a foot in some places so far–its damage to southwest Florida, its storm surges and beach erosion are still of historic dimensions, and Ian has yet to exit the Peninsula. Early this morning Ian was  moving at a slow, 8 miles per hour pace toward Titusville and the Atlantic, where it will continue to swing north and away from Flagler County's shore today. The shore is still expected to take a battering, as it has overnight. Ian is expected to parallel Flagler's shore around 2 a.m. Friday morning.
"The weather service has not changed the expectation of impacts" on Flagler County, Jonathan Lord, the county's emergency management director, said early this morning. "We're now focused on that water. We've been seeing winds all night. We've had some periods of time, where the coastline has received some periods of sustained tropical force winds. But that was really when bands are passing through." The Emergency Operations Center's Marineland recorded gusts of as high as 80 miles per hour overnight.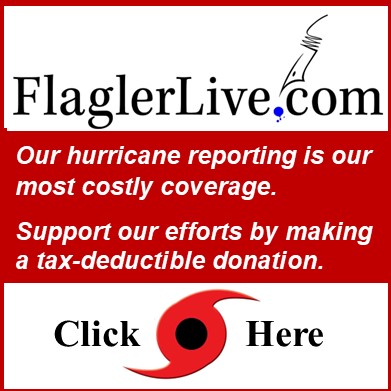 The most preliminary reports from Bob Pickering, the weather specialist at Flagler's Emergency Operations Center, placed rain totals so far in the 5 to 6 inches range, but he was working toward more solid numbers soon. (A weather spotter in the R Section had reported over 8 inches.)
But there has been only a single report of a home flooding so far, Lord said, in the entire county. There are reports of some downed power lines, but the roads are "passable," though he expects that to change as the day progresses, with more standing water accumulating. "We've  only just started getting that heavier rain," he said.
On the shore, 5 to 6 foot tides are expected at noon today on the shore, Lord said. "That will be our worst time," he said. The shore was already taking a beating this morning, as in this video of the Flagler Beach pier (sent in by Rick Belhumeur):
More silver linings: while customers are losing power, power is being restored at a remarkable speed in some areas, thanks to the presence of 41,000 linemen across the state. That's double the number Florida Power and Light had in place ahead of Hurricane Irma in 2017, when power restoration was very slow.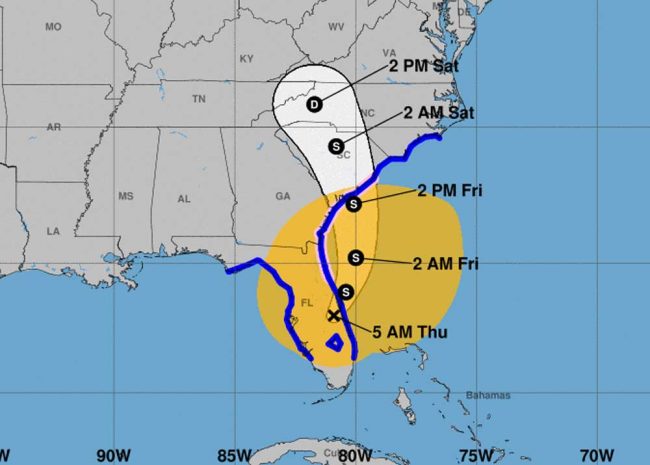 There were 10,430 customers without power in Flagler County as of this morning, with 880 who lost power already having their power restored, out of 66,910 total customers. This morning Lambert Avenue and Palm Drive in Flagler Beach lost power, Flagler Beach Commission Chairman Ken Bryan reported.
In Volusia County, 48,260 customers have lost power, with 14,350 customers already having their power restored, out of a total 190,020 customers. In St. Johns, just 6,450 customers have no power, though 10,010 had lost it and seen their power already restored, out of a total of 107,290 customers. All those customers are served by Florida Power and Light.
Statewide, just over 2 million customers were without power this morning.
"The Charlotte and Lee reconnects are really going to likely have to be rebuilding that infrastructure," Gov. Ron DeSantis said in a press conference just before 9 a.m. "So there are linemen, there are crews that are on their way down right now. But that's going to be more than just connecting a power line back to a pole. The other counties likely are not going to require the extent of the structure rebuild, but of course that's going to be assessed as the day goes on. But we do have a huge amount of resources that are in route and are going to work to get people's power on, as quickly as possible."
DeSantis called the storm a "500-year event" that will be setting all sorts of records.
Lord said the traditional thinking about tropical storms does not apply with Ian. "At this point in time what the weather service has recommended to us is: don't look at it as just the traditional hurricane tools. This is a system that's trying to morph into an extra-tropical system. So therefore a lot of those assumptions that, oh, you're on this side or on that side: They do not apply to that storm for us. For the east coast of Florida it does not apply, because this is a morphing system that they're saying is trying to morph into extra tropical. So we're focusing very much on our local weather forecast versus the National Hurricane Center to truly give us what were our expectations are here in the county."
The "more eastward shift in the track will limit most of the hazards to north central Florida, coastal northeast Florida and coastal southeast Georgia," that local forecast–the National Weather Center in Jacksonville–reports early this morning. The center projects the following:




Coastal impacts: beach erosion, high rips, high seas/surf, heavy rainfall

Moderate storm surge along the coasts, ICWW, and St. Johns river.

Extensive and potentially extreme flash flooding possible for Flagler and St. Johns counties. Storm total rainfall in flood watch 8-15 inches, locally 18 "possible.

Localized flash flooding possible for areas east of HWY 301

Hurricane force wind gust potential today along the immediate coast.

A few tornadoes mainly for Flagler county.

Tropical storm force wind potential continues into Friday and low end Hurricane force wind gust potential on today (mainly near the immediate coast).
Policing activity did not see any issues of significant concern overnight.
Flagler County officials were cautioning this morning that the Flagler Beach bridge could be closed at times, as winds reach or exceed 45 miles per hour. It is highly likely that emergency services will temporarily cease service, particularly on the barrier island, as conditions warrant. Expect this to occur intermittently throughout the day.
 "We have to close the bridges and suspend services for safety reasons once wind speeds reach 45 mph, and we have begun to approach that threshold multiple times this morning," said Emergency Management Director Jonathan Lord. "It is important for residents to know we may not have the ability to send our first responders across the bridge, or into severe storm conditions, should individuals require assistance."
 Once the winds diminish, services will resume, and public works teams and utility crews will have the opportunity to assess conditions, handle downed electric lines, and removed debris and other hazards from the roadways.
At 8 Thursday morning Tropical Storm Ian was just 10 miles west of Cape Canaveral, with sustained winds of 65 miles per hour, moving northeast at 8 miles per hour.
Thursday morning, 28 helicopters were performing rescue missions on the west coast, DeSantis said. "More health care facilities are being evacuated. As of 6 a.m. there were just over 2 million customers without power, with Lee and charlotte "basically off the grid at this point," the governor said. Some 100 engineers are in the region to do bridge inspections. The Sanibel island bridge has been damaged.
DeSantis spoke with President Biden this morning. Nine states have received a federal disaster designation. DeSantis expects the list to expand.
Here's the latest briefing from the National Weather Center in Jacksonville:
nws-jax-briefing (3)