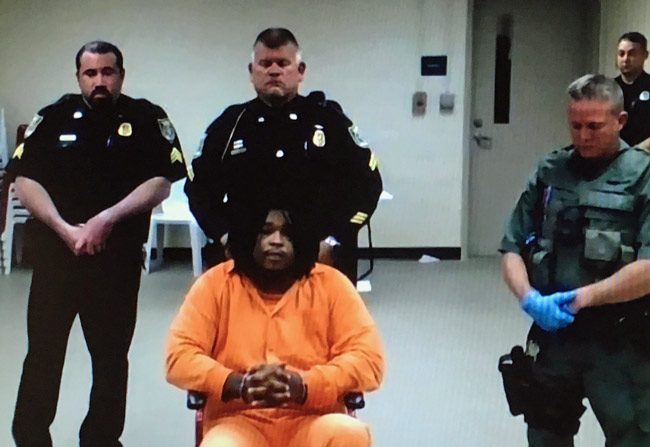 In his first appearance before a judge this morning, Phillip Haire, the Palm Coast resident accused of shooting at a sheriff's deputy and at his own parents on Monday, said he was not the shooter: he told the judge he was safer staying in jail without bond because someone is out there trying to kill him and shoot up his house.
Haire asked the judge in a brief and somewhat testy first-appearance hearing at 8:30 this morning whether he'd get to plead guilty or not guilty. County Judge Melissa Moore Stens told him that would happen at his arraignment, which has yet to be scheduled.
At this hearing, Moore-Stens set Haire's bond at $200,000 on four of the seven charges he faces, and at no bond on three of the charges, including attempted second degree murder, armed carjacking, and armed burglary. That means Haire may not bond out absent a subsequent bond hearing.
He said he has an attorney–"met him last night, I really forgot his name," he said.
But moments after Moore-Stens read the charges and ordered Haire not to have contact with Sgt. Phil Reynolds, the sheriff's deputy who was at 11 London Drive–Haire's parents' home–when Haire allegedly drove by twice and fired a gun at Reynolds and others, Haire interrupted the judge to say: "I talked to my dad, I don't know what you'all got going on." Moore-Stens had included Phillip Haire Sr. among the people with whom Haire is to have no contact.
Haire continued: "I don't want no bond, because I'm safer right here, because somebody was shooting at my house and a police officer, so I really don't care about that, you know. Keep the bond where it's at. No. That's fine, OK?"
"OK," the judge said, starting to say something before Haire interrupted her again, and spoke at length, rapidly and loudly.
"I want to know what the probable cause is on me," Haire said, holding up his handcuffed hands in front of him as he sat in a chair on wheels that one of the four deputies visible in the room had pushed before the camera. Three deputies stood immediately behind Haire. "You said that there has to be probable causes on the charges on me, right? So what is it? Like, is there a picture of me, can you'all say something–right now I feel like my family is still in danger because the people who are shooting at a police officer are still [garbled] on the street." He repeated being safer in jail. "So you ain't got to worry about a bond, if you all think I'm a danger to society, I want to stay here until you all find these other people, I don't really too much care, because I'm safer in here anyways, OK? So, that's not, all right, that's cool with no bond, I'm OK with that. Why can't I talk with my dad? I talked to him after the shooting when, when, when, on the, when it was, a deputy was shot at. I called my mom make sure everything was OK, then the next day I figured I'd been [garbled] and I turned myself in. I was not running from nobody, I don't know what you all got going on, I want to be able to talk to my dad and my mom regardless, because I don't know what's going on, but my attorney said he'll talk to them for me, so if that's the way I got to go then that's fine."
Moore-Stens then told him if he'd let her speak she'd explain: "I have got probable cause based on the 707 arrest affidavit and the video that I watched in the middle of the night when I signed the arrest warrant myself, OK? That's Number one. Number two, your parents are listed as victims in the case, and you interrupted me when I was listing the victims out loud, so I will start over again."
Sheriff's officials had said that Reynolds had not turned on his body camera at any point during the incident on London Drive, though one official said video was in fact available, but from the house. It was likely that video footage Moore-Stens was referring to.
When the judge was done reading the orders on Haire, he spoke again: "Do I get to say what I am nor no?"
"I left the bond at none on three of the counts, so you're staying in jail for now Mr. Haire," the judge said.
"Do I get to say I'm guilty or not guilty or not?"
"We're not to that point yet, guilty or not guilty is at arraignment," the judge said.
He was wheeled out.
Though Haire is claiming he was not involved, his mother, Jeneen, and his father, Phillip Sr., both identified him to police as the man at the wheel of the car that drove by and shot at them and the sergeant at the scene, according to Haire's arrest affidavit. "Jeneed locked eyes with Phillip Jr.," the arrest affidavit states. "Phillip Jr. pointed a gun out the driver's window and began firing the weapon toward them." Phillip Sr. himself retrieved a gun and fired at his son as he drove away in a white Pontiac, a car that belonged to Daniel Hull, a friend of Phillip Jr.'s.
According to family members, who called 911 and the sheriff's non-emergency line several times before the shooting Monday, and were twice visited by two separate deputies (Reynolds's was the second visit) before the shooting, Phillip had been calling family members and his mother several times that day and making statements worrisome enough that his mother, in an interview with FlaglerLive, said she had some of her family members leave the house because she was worried her son would do something to harm them.
Reynolds was following up on a deputy's earlier visit to the house to investigate the calls when, according to Sheriff Rick Staly, Haire, at the wheel of a Pontiac, drove by the house, fired several shots, did a U-turn, drove by again, fired again, then sped off. He crashed his car on U.S. 1, and according to that incident report when a Palm Coast resident had to stop because the Pontiac blocked both lanes of the road, Haire came over to him, firearm drawn, and demanded the keys and the car, then sped off in that one.
Aside from the victim in that carjacking–Samuel Nutter of Palm Coast–three other witnesses saw the incident, two of whom positively identified Haire as the man with a gun, when they were shown photographs. The third saw Haire but did not see him carry a firearm.
He turned himself in at the Putnam County jail some 30 hours later, apparently heeding his mother's pleas.
Haire was himself shot in the stomach two years ago in a confrontation with Zaire Roberts, who was sentenced to seven years in prison last August. Haire was in the courtroom at that sentencing, but only to tell the judge that he felt Roberts was innocent and should not get 25 years. "I know we both was young, so I don't feel he should do 25," he told the judge before suggesting that the roles could have easily been reversed: "I feel like it could have been on each side of it."
Haire since that shooting has had several run-ins with the law, and the house on London Drive, the sheriff said, has been the cause of more than 40 police calls, with several sheriff's deputies having trying experiences with Haire.
Fifteen months ago, Haire was one of three men arrested for an alleged shooting spree on Belle Terre Parkway in Palm Coast's B-Section. Derek Hall Jr., now 24, another of the men arrested that day, was re-arrested Tuesday as part of the investigation into the Haire shooting. All charges in the Belle Terre incident were dropped. Days after the charges were dropped, Haire was re-arrested, that time on a pot charge. The pot possession charge was dropped, but he was found guilty ona dru-paraphernalia charge, a first-degree misdemeanor, and served six weeks in jail.
Around the same time he was also arrested on a domestic assault and criminal mischief pair of charges in a case that becomes more relevant now: he had allegedly threatened to kill his sister, her child and the father of her child, and slashed the tires on his sister's car over a broken X-box controller. He was found guilty of criminal mischief.
The same sister was among those who called police Monday to report Haire's actions.
This March, Haire was charged with trespassing during a football game at Matanzas High School–his former school, where he played football–and battery. That case is still open. It stems from an allegation that Haire struck a 19-year-old woman.
[This is a developing story. More soon.]

The Phillip Haire Arrest Affidavit (2017)