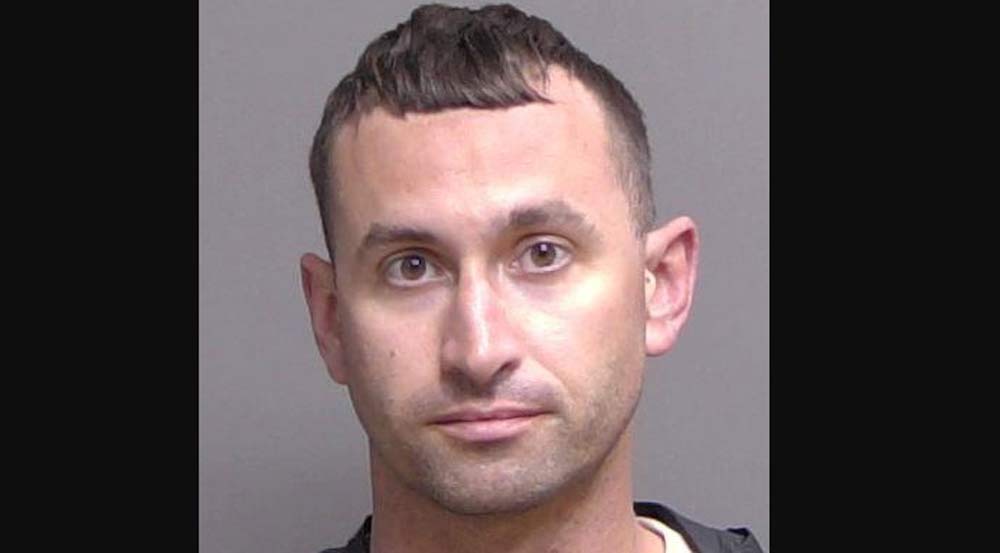 Gared Wayne Canales, a 34-year-old former resident of Palm Coast who had been sought on a nationwide warrant since April, was located in Massachusetts, returned to Flagler County and booked at the Flagler County jail on a child abuse charge stemming from accusations that he goaded his daughter into taking her own life as he insulted and demeaned her on her 13th birthday.
The girl cut herself and attempted suicide shortly afterward, and was hospitalized.




The alleged incident took place on April 7. Canales had texted the girl's mother in early afternoon, when the girl was still away with her friends. The girl had had been struggling about her feelings toward her father according to a statement by her mother to law enforcement. She called him around 3 p.m. that day. Two of her friends were with her in her bedroom. According to what the girl and one of her friends told Flagler County Sheriff's deputies, Canales called her vile names and said: "You're not worth it. I choose my girlfriend over you anyway, and go kill yourself."
The next night the girl cut her own wrist, what was described as "a minor cut" in an incident report, causing some bleeding. She did so again with a piece of glass the following night, and with a baseball bat, smashed a portrait of herself and Canales. The morning of April 10, she took seven pills of Benadryl, and while she was in the car with her mother, on their way to pick up her step-father from work, she took another seven pills, according to the incident report.
She told her mother she had done so. (The mother's written statement differs in this regard: the mother had reported having a ad feeling about what was happening to her daughter and had picked her up from school, when she learned of the pills.) Her mother changed directions and took her daughter to Halifax hospital in Daytona Beach, where the girl's stomach was pumped.




Detectives reviewed text messages on the girl's phone with her father, a felony child abuse charge was filed on April 14, and a warrant was issued for his arrest. The State Attorney's Office filed the charge on May 11. On May 25, the warrant was amended to reflect that it was nationwide. Canales's address at the time was believed to be in Lake Charles, La. A notice to appear sent there was returned undelivered. He was located in Massachusetts.
Since he violated probation on a charge in Putnam County, he is being held without bond at the Flagler County jail. The bond on the child abuse charge is $10,000. There is a discrepancy in that regard: his first appearance form lists the charge as aggravated child abuse, a first degree felony under Florida law. But the State Attorney's charging information lists the charge as child abuse, a third-degree felony.
Adolescent suicide, especially among girls, has been on the rise for over a decade, starting in 2011, according to the Centers for Disease Control.




Canales's record in Volusia County include a plea following a charge of violating an injunction the girl's mother had filed, subsequent to Canales driving to the mother's residence and texting her against court order. He was placed on a year's probation. The Canales name was in the news for several years between 2014 and 2021 when Gared Canales's cousin, Jonathan Canales, was charged with the attempted murder of his then-girlfriend and mother of three children in the Mondex in 2014. Jonathan Canales is serving life in prison. His attempt to lower the sentence in 2021 failed.


Abuse Hotline: Report Abuse Online
The Florida Abuse Hotline accepts reports 24 hours a day and 7 days a week of known or suspected child abuse, neglect, or abandonment and reports of known or suspected abuse, neglect, or exploitation of a vulnerable adult. Please use the links below to report a child or adult abuse.
If you suspect or know of a child or vulnerable adult in immediate danger, call 911.
TEL: 1-800-962-2873
TTY: 711 or 1-800-955-8771
FAX: 1-800-914-0004
Any person who knows, or has reasonable cause to suspect, that a child is abused, abandoned, or neglected by a parent, legal custodian, caregiver, or other person responsible for the child's welfare is a mandatory reporter. § 39.201(1)(a), Florida Statutes.
To report an allegation in Spanish or Creole, please call 1-800-962-2873, for TTY use 711 or 1-800-955-8771.  This toll free number is available 24 hours a day, 7 days a week with counselors waiting to assist you.