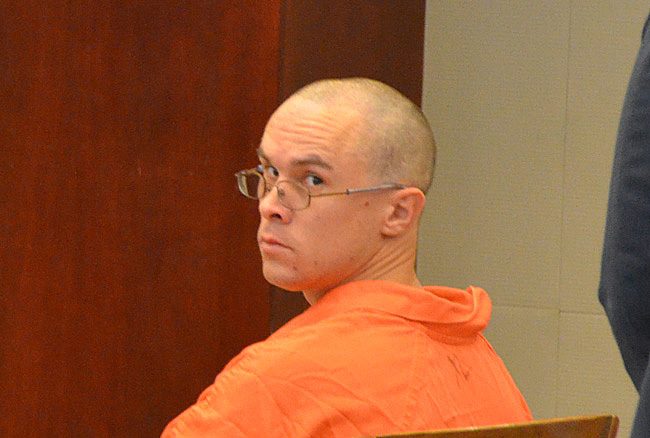 When a Flagler County jury in mid-October found Jonathan Canales guilty of attempted first degree murder of his ex-girlfriend, the judge's and the lawyers' assumption was that he faced a mandatory life sentence. The judge had no discretion. Sentencing would be a formality.
But as today's sentencing hearing began, the defense and the prosecution told the judge that they'd erred: the life term was not mandatory. There was a minimum mandatory floor of 25 years on two charges. But the judge had discretion to sentence Canales to 25 years to life on the attempted murder charge, and to just 25 years on the aggravated battery with a firearm charge.
For a moment it was like a jolt of hope for Canales and his family: his mother and father were in the audience a few feet behind him. Their statements to the court might not be in vain after all.
But they were in vain. The judge was not moved. Or perhaps he was more moved by the presence of Canales's victim, Tiffany Norman, the mother of Canales's young son, the mother of three boys, who sat next to her mother, recovered from the .22 gunshot wound in the neck that, the prosecution argued, Canales had fired after a history of bullying, threatening and controlling her. He fired that shot the night of Nov. 15, 2014, in the couple's Mondex trailer, after Norman had put her three children to bed and was having dinner, after Canales had lurked behind her, telling her he could shoot her and nobody would know.
Circuit Judge Terence Perkins sentenced Jonathan Canales to life in prison, no parole. He also sentenced him to 25 years on the aggravated battery with a firearm charge, a sentence in effect rendered moot by the life term. Canales turns 32 just before the new year. Perkins gave no preamble to his decision, as many other judges do, as he spoke the sentences one after the other, no differently than if her were sentencing a young man to a few months in jail for a minor drug charge. Canales, in his orange jail garb, his hands and feet shackled, stared ahead. His mother gasped. Norman cried.
Local law enforcement officials have occasionally grumbled about Perkins's light touch in drug sentences, finding him too permissive. They wouldn't be complaining regarding the Canales sentence.
Moments before the sentence Canales had addressed the court.
"This person in the video that you guys have portrayed on this trial, it's not my character," he told the judge, referring to an agonizing, hours-long video of his interrogation with a Flagler County Sheriff's detective the night of the shooting. Canales came off as his own worst enemy in the video, a man unhinged, paranoid, angry, meanly resentful of Norman and barely showing even a hint of sympathy for her or much thought for his or her children, but displaying relentless self-pity. "This is not my average every day situation, there's a lot here that I really couldn't go into because I don't believe it and I don't expect you to, because there's a lot of weird things that happened in my life."
Canales said he'll "always feel bad about the situation I'm in now, and I feel a lot of remorse for what happened to Tiffany, but I'm not going to say I'm guilty, because I don't believe that I am."
He's maintained his innocence throughout. He'd twice claimed in that terrible interrogation that had he wanted to shoot and kill Norman, he'd have used a bigger-caliber gun, and he'd have finished the job. It was statements like that that probably sealed his fate with a jury that did not in the end buy his claim that Norman was attempting suicide, that she shot herself, in an odd part of the neck, below the ear, as he was whipping the gun away from her.
This afternoon, he told the judge he was trying to become a helicopter medic–an ironic choice, considering another lurid part of the night of the shooting, when his arrest report detailed how he'd denied and delayed medical care for Norman, leaving her bleeding in a bathtub as he, according to the prosecution, rushed about the house, cleaning evidence of the shooting. "And now I'm probably not going to be able to do that because I'm going to prison." He begged the judge: "Don't take the good people out of this world, take the bad."
Assistant State Attorney Melissa Clark, who tried the case, asked for life. Gary Wood, Canales's attorney, asked for 25 years with almost two years' credit for time served.
"At the end of the day, what he did here was incredibly violent, incredibly serious," Clark said, contrasting her argument with Wood's description of Canales as a veteran who served in Iraq, was wounded, and was placed on full disability for Post Traumatic Stress Disorder. His war service and the injuries he sustained, including mental injuries–he was held in a psychiatric hospital for nearly two years and considered incompetent to stand trial during that time–had no effect on the sentence, though it would have been in the judge's discretion to consider his mental capacities in a way he could not have during the trial.
The judge heard from both families' representatives.
"I am basically asking for Mr. Canales to be sentenced to life. He has no regard for human life, he did not care what happened to my daughter," or to the children in the house, Norman's mother said, addressing the court. "He basically thinks he's above the law, he's god, and he's nothing, he's wasted space." She described her daughter as smiling again only since Canales was back in jail. But "she still has nightmares."
Norman herself testified briefly, though only to address the more than $3,300 in restitution she said she was owed for her medical bills. Perkins ordered Canales to pay the restitution.
Canales's parents and a friend of theirs spoke on his behalf: it's when the sincerity and heartfelt grief of a family's love, innocent and admirable by definition, clashes irreconcilably with the consequences of an irredeemably violent act.
The friend described Canales as helpful with her and her family "without asking for anything in return," as someone who "cares about other people" and donates to charities. She spoke of his service in wartime, "which leaves mental scars."
When the judge asked Sue Canales if she was his mother, she replied from the witness box as few parents have in similar circumstances: "Absolutely, yes." The statement, a sentence of her own, was as unconditional as the love she then described. She called her son "an inspiration," and went on, her voice breaking: "His goodness always shines through. He has never given up on life" no matter what the difficulties, she said, noting how he was recognized for his marksmanship when he was in the military. "He is a good father, companion, friend and confident," and has a "very much needed sense of humor." She spoke of her unconditional affection. "John is and always will be a gift from god, my special faith-filled savior is you, my only son, and I am proud to say I am your mother." She thanked the judge and got up to leave even before the lawyers had a chance to tell the judge they were done. But they were.
Ed Canales, his father, started at the very beginning: December 31, 1986, when "my son came into our lives." He then spoke of sitting through the trial and hearing various claims he did not believe, until Wood, the defense attorney, had to stop him and tell him that the trial had been litigated. "We're here for a sentencing," Wood said.
Ed Canales continued, repeating what he had told a reporter before the hearing in the hall: "Jonathan has never, ever ever been a liar." He repeated his son's claim to innocence, saying his son had told one consistent story throughout. (In fact, the problem with the interrogation video was Canales's bewildering series of changing stories.) he said. "He is my one and only, I love him to death." That would not change.
After Canales, stone-faced, his head now shaved for the first time since the night of the shooting in the Mondex in 2014, was finger-printed, he was led outside the courtroom by the side door reserved for inmates, back to the county jail before he is processed out to the prison system. "I love you," his father told him, twice.