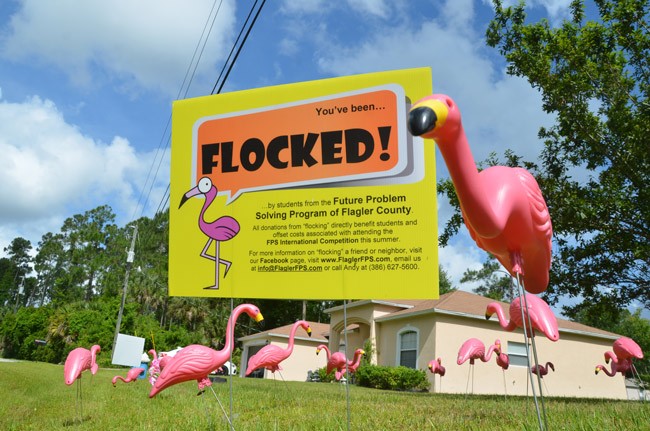 It's gratifying once in a while not to have to write about the end of the world.  What prompted our better fortune this week was what we discovered on our lawn when my wife and I woke up on Tuesday. A flock of pink flamingoes hand implanted itself on our grass.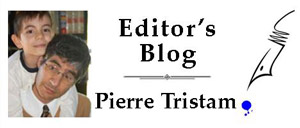 Anally retentive gaudiness is part of the Palm Coast charm. It's what we get for having a code enforcement regime that usually treats our front yards like the DMZ between North and South Korea. So the sudden appearance of these sendups of gaudiness was especially welcome. It was more so knowing where they'd come from.
They're a fundraiser for the Future Problem Solving Program of Flagler County, which has been one of the school district's greatest successes in the last few years. Students involved in problem solver competitions have made a habit of scooping up trophies by the backhoe. Problem solver programs are in most schools. Students in teams or individually think up innovative projects that pragmatically take on  everyday problems and apply realistic solutions to them. They make you realize to what extent adults have no clue. Exhibit A: our state legislature and governor, to whom problem-solving is beyond comprehension.
A problem-solving team from Buddy Taylor Middle School came up with means to counter the stress of standardized testing, that routine and largely pointless torture that turns our schools into Guantanamo prison look-alikes for a dozen days a year. A team from Matanzas High School—this one is my favorite—actually took on all sorts of cruelties like disabilities, gender stereotypes, racism, body image and other ways of demeaning people and taught classes to fifth graders on the dignity of equality and kindness.
Those two projects by the way  were grand champions in state competition, and their creators were among those invited to the Future Problem Solvers' annual international competition, this time at Iowa State University in Ames, from June 10 to the 14th. That's where the pink flamingos, the flocks and the fund-raising come in.
No fewer than 44 people are going from four Flagler County schools, 30 of them students. There'll also be nine chaperones and five teachers. The total cost is $48,000, as outlined in four separate documents to the school board. The board picks up the cost of state competition, but isn't paying for any of the international travel.
Flagler Palm Coast High School's and Rymfire's internal accounts will help defray some of the cost. FPC's account has $20,000, accumulated through fundraisers (I'd earlier mistakenly referred to that as money the school had budgeted at the beginning of the year, with district tax-dollars: that's not the case), and Rymfire has $1,000 in its internal account. Chaperones are supposed to pay their own way. That still leaves a good chunk of money to cover. So there's been fund-raisers all over the place, by individual teams, and also for the county's efforts as a whole.
The credit for the countywide effort goes to School Board member Andy Dance, who, together with his 16-year-old daughter Kayla, go around at night secretly flocking houses. They've  flocked some 30 houses so far. Every time they do, the flocked homeowners get to choose how many other houses to flock and how much to contribute for the privilege.  There's been flockings to coincide with someone's birthday or a couple's anniversary. Naturally, between Cheryl, me and FlaglerLive, we targeted a half dozen homes strategically chosen for their own giving potential.
It's an added bonus that we get to be part of an implicit John Waters revival: the pink flamingo as a lawn decoration is the invention in Massachusetts in the late Eisenhower years of a sculptor with the perfect name of Don Featherstone. He was working for a plastics company that thought up the pink horrors. But the flamingoes earned their flamboyance with Waters's 1972 film named after them, that divine celebration of perversion and transgender poetry meant as if expressly for dainty-fussy towns like Palm Coast. Most of the fortunate flockees probably don't make the connection between the sudden flamboyance on their lawns and John Waters's deviance cantata, which makes the whole production even mo special. That's just, after all, what Matanzas High School's winning Future Problem Solvers project is all about: fostering respect for the oddball.
Dance says he's had nothing but a positive response from it all, even though it's been very laborious (and so far the code enforcement brigades have not murdered a single bird nor dragged a single flocked homeowner before the code enforcement tribunal). Dance has been able to raise a little over $2,000, with fund-raising ending at the end of the month. It doesn't sound like much compared to his goal, but every dollar matters. He's hoping to reduce the pressure on each school's fund-raising bottom line.
So help him out. Get busy flocking by ordering a flock here, or fill out the order form below. Thank you Andy, and best of luck to all of you problem solvers.

Pierre Tristam is FlaglerLive's editor. Reach him by email here or follow him on Twitter @PierreTristam.
Flocking a Friend: Order Your Flocking for the Flagler Future Problem Solvers