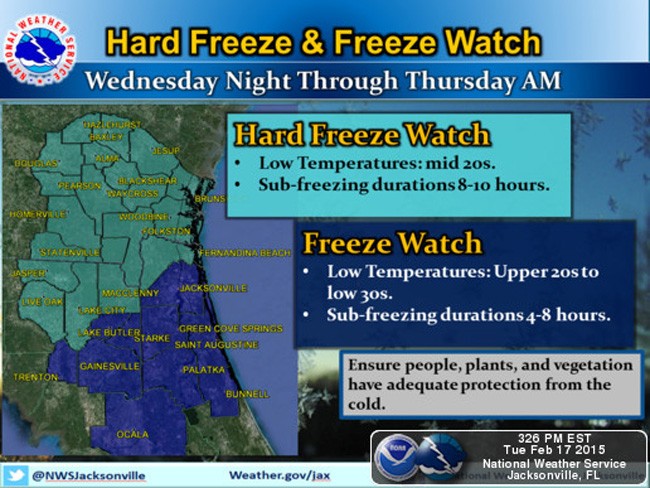 The weather system dumping steady rain on Flagler County through Tuesday night will give way to an unseasonably cold front Wednesday. The front will remain in place until Friday, bringing overnight lows below freezing and daytime highs of only 50 Thursday and Friday. Warmer weather will return Thursday.
The National Weather Service in Jacksonville on Tuesday issued a freeze watch in effect for Flagler and surrounding counties from 3 to 9 a.m. Thursday morning (Feb. 19). Temperatures in the county are expected to range from the upper 20s to the low 30s. Precautions must be taken with pets and certain vegetation. A freeze watch means that sub-freezing temperatures are possible for at least two hours. The watch is in effect for St. Johns, Putnam and Duval counties, among other counties in northeast Florida.
Freezing or near-freezing temperatures are expected again Thursday night into Friday. The weather service expects that a wind chill advisory may be necessary as winds of 10 to 20 mph overnight will bring the feel-like temperature down into the teens and lower 20s. But skies will be clear at night and sunny during the day.
On the coast, a small-craft advisory was issued through 6 p.m. Thursday, with the coastal region affected starting at Flagler Beach and going north to the Georgia border. Seas offshore are expected to build to 6 to 9 feet by Wednesday night, with winds from the west at 20 to 25 knots, increasing to 25 to 30 knots Wednesday night, with occasional gusts to gale force. Closer to shore, seas are expected to build to 3 to 5 feet, with winds from the west at 20 to 25 mph.
In early January, Central Florida experienced record-matching highs, with Orlando and Melbourne seeing temperatures reach 84, and Miami tying a record with 83. The average daytime high for mid-February in Flagler-Palm Coast is 70, with average lows around 49 (the record high on Feb. 17 was 87, set in 1932, the record low was 27, set in 2007). The next 48 hours' low temperatures may approach those records.
By Sunday, the region should see more seasonable temperatures, with highs in the 70s and lows in the low 50s.
Weather emergencies in Flagler County may be reported to Flagler County Emergency Management at 386/313-4911.