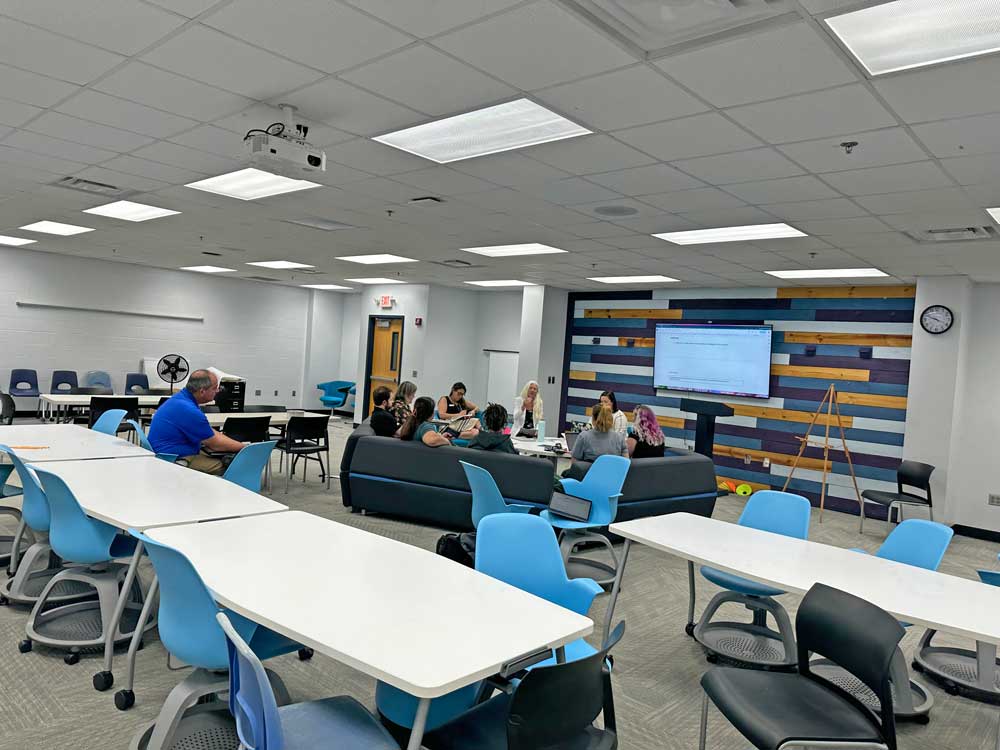 Flagler County's three book-banners are getting their way the easier way: the books they're challenging are now getting removed without committee review, even though such a process is set out in district policy.
Twice in the last three weeks, Flagler Palm Coast High School abruptly cancelled scheduled challenge-review committee meetings at the last minute, even though faculty and community members making up those committees had been assigned the books to read.




Elana K. Arnold's Damsel was originally scheduled to be reviewed by committee on April 20. FPC Media Specialist Sarah Reckenwald first said on April 15 that the meeting was being postponed to give committee members more time to read the book, as some committee members were dealing with two book assignments simultaneously. On April 24, Reckenwald told committee members that "After reviewing the book and additional reviews that were not available at the time of purchase, we made the decision to weed Damsel." (FlaglerLive's own reviewer had, in fact, recommended removal, but not by pre-empting the committee process.)
The decision not to hold the review was reached several days earlier. FPC Principal Bobby Bossardet had written Terri McDonald, one of only three people who have challenged all of the county's book bans this year, and had filed the one against Damsel, that "After reviewing this book and the circulation data, Damsel will not be retained as a resource in Flagler schools."
The circulation data was requested. It was not provided.




Bossardet ended his email to McDonald the way those emails are always ended: "Thank you for honoring our process and we look forward to our continued collaboration." ut the process was not followed. It was pre-empted.
It happened again this week. The FPC committee was scheduled to meet this afternoon to take up Elana K. Arnold's What Girls Are Made Of, a 2017 novel that was a finalist for the National Book Award and has received–and continues to receive–critical praise. On Wednesday, Reckenwald said the committee meeting was cancelled. There was no explanation.
"Weeding is a practice that our Certified Media Specialists do throughout the year," Lashakia Moore, the assistant superintendent who oversees all curriculum divisions and the schools' libraries, said in an email. "If a book does not meet our media collection development, our specialists may weed the book prior to a committee reviewing the material." The email included a copy of the Bossardet email that went to McDonald, who had also been the named challenger on this title, repeating the same wording that had been applied to Damsel, with the other title substituted.
The district process doesn't address "weeding," the common practice among librarians of periodically going through a collection and removing titles that are out of date, damaged, or no longer getting much circulation. It's under that rubric that three of the last four books under challenge have been removed. We're not banning them, school officials say. We're "weeding" them.




When books are "weeded," no one knows what those may be: state law as late as last week has sharpened the tools of book-banners, making it easier to challenge books and now requiring that any title under challenge immediately be removed from school shelves within five days of a challenge being filed, until it is judged by review panels. The law requires that school districts provide transparency about the book-challenge and book-banning process. It does not require transparency about the weeding process: neither districts nor schools are required to post on their websites what books are being weeded, the way they are when books are under challenge.
The Flagler County School District, and more particularly Flagler Palm Coast High School, has increasingly been taking advantage of that loophole: eight of the 22 titles challenged since the beginning of the school year have now been been "weeded," and another four banned outright.
It is unlikely that many of those titles would have been removed from shelves had they not been challenged. By "weeding" them, the district avoids not only the time-consuming and media attention on review committees and their decision. It avoids appeals and convening a district appeals committee, even though the district went to great lengths to set up those committees with some 70 volunteers. It avoids placing the superintendent in a position to make an unpopular decision: Superintendent Mittelstadt got withering criticism when she banned All Boys Aren't Blue, and again The Nowhere Girls, the latter after three committees had all voted unanimously to keep the book.
The one book Mittelstadt approved for retention, Patricia McCormick's Sold, ended up being appealed to the school board, where one board member, Will Furry, bullyingly grilled the superintendent about the title on his way to voting against retention, though the book ultimately survived in a 3-2 vote. Clearly, board members want to go through that as little as possible, and the school-based decisions to weed books seem to reflect a back-channel decision to make that happen as quietly as possible.




There has been no appeal to the school board since. A request to the district for all the titles on appeal as of today was not answered before this article initially published.
For the three book-banners–who also include Shannon Rambow and Cheryl Lackey–the desired result is the same, whatever the method: the books are out of students' hands.
Including All Boys Aren't Blue, which the superintendent banned last year when then-School Board member Jill Woolbright challenged it (filing a criminal complaint against the superintendent along the way), the district has banned or weeded 13 of the 22 books that have been challenged. Two of those 22 titles were not in circulation locally when the challenges were filed.
Meanwhile, the district remains without a process for book advocates to challenge decisions either to ban or weed books. Book-banners may appeal a decision to retain a book. Book advocates may not appeal a decision to remove a book.
One more school-based review committee is currently scheduled: on May 25 at FPC, for The Upside of Unrequited, a 2017 novel by Becky Albertalli that takes a few cues from Jane Austen's Emma. Reckenwald was asked whether that meeting was still on. There was no response as of this writing.