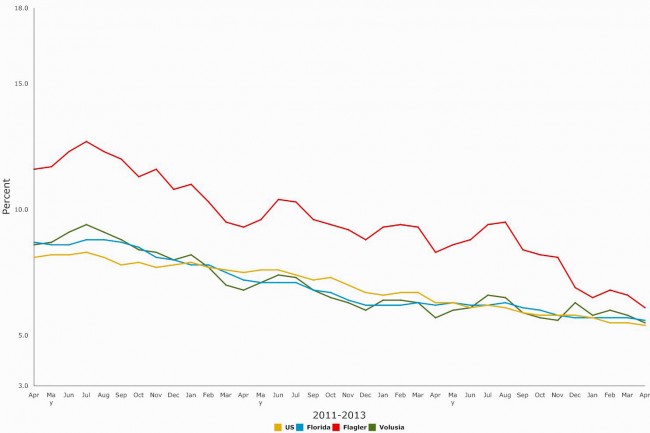 It's getting to be that even the economies of Sweden, the Netherlands and Denmark, among the better performers of the Eurozone can envy Flagler County's unemployment rate, which fell to a post-recession low of 6.1 percent in April, according to figures released by the state's labor department this morning.
Flagler's unemployment rate last month was helped more by a decline in the labor force of 306 people rather than by an increase in people holding jobs. There were in fact 87 fewer Flagler residents with jobs in April than in March, though the number of Flagler residents on the unemployment rolls also declined, by 219, to 2,616. Overall, there were 40,068 Flagler and Palm Coast residents holding jobs in April, out of a county population of about 100,000 and a labor force of 42,684.
The numbers are a sharp improvement over conditions a year ago, when the unemployment rate stood at 8.3 percent and Flagler was still second only to Hendry County with the state's highest unemployment rate. In April, Flagler found itself 15 spots from the top of that unenviable position, and edging much closer to Florida's average unemployment rate, which was 5.6 percent in April. Florida's unemployment rate has improved over the past year, but not as steeply as Flagler's. The state added a net 25,000 jobs over the month, with 542,000 Floridians unemployed.
"Everything that helps us get more jobs, it's the biggest thing for our family, and everything that makes sure that we have a better education system," Gov. Rick Scott said today ion an appearance on Orlando's WOFL-TV. "Those are my two priorities since I've gotten elected."
But the majority of the jobs created last month, as has been the case most months during Florida's recovery, have been in the service sector. In April, tourism jobs grew by 9,200, mostly in accommodation and food services, health care and social assistance added 4,900 jobs, retail added 900, and professional and business services added 6,400. Goods production lost 1,300 jobs, construction lost 2,300, company management lost 700, and local government lost 2,000.