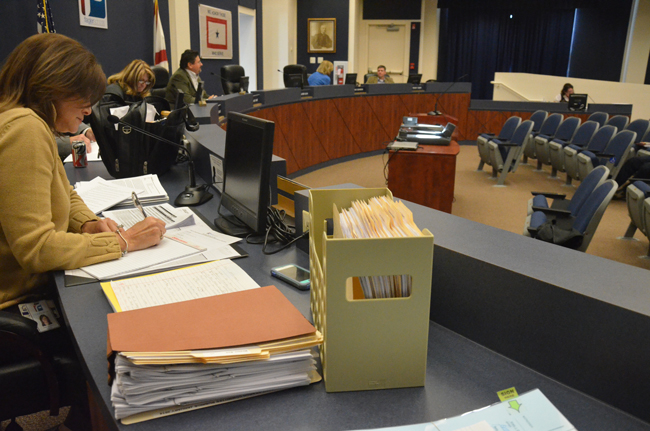 Last Updated: Jan. 24, 8:45 a.m.
Meeting in special session Thursday the Flagler County School Board agreed to interview three candidates vying to be the district's next superintendent: Jacob Oliva, who is the current interim superintendent in Flagler; Pamela Tapley, an assistant superintendent in Osceola County schools; and James Parla, a superintendent in New Jersey. If one of the three pulls out, Kevin Perry, an arts-minded assistant superintendent in St. Lucie public schools, will be substituted.
Within hours of Thursday's meeting, Parla had, in fact, pulled out. When a Times of Trenton reporter reached Parla Thursday evening, after learning of Parla's application in Flagler, Parla backtracked. "I don't have any intention of leaving Hamilton. I just threw my hat in the ring as a reaction about my own personal business," Parla told the Times of Trenton's Mike Davis. "I didn't say anything to anyone because I'm not really serious about going down there."
The article goes on to note that the Flagler district, according to Parla, "never acknowledged his application or scheduled an interview and said he'd withdraw his name from consideration, if requested," though that would not have taken place until last night. Parla submitted his application on Jan. 3. Kristy Gavin, the Flagler school board attorney, said immediately after the meeting that her "marching orders" were to call candidates and schedule their interviews.
The three eligible candidates will be interviewed in two-hour increments on Jan. 30 (at 9 a.m., 11 a.m. and 2 p.m.), in the third-floor training room of the Government Services Building. The order of the interviews has not yet been set. All interviews are open to the public and will be webcast live.
Two distinct issues characterized an otherwise uneventful meeting. First, matters got quite testy toward the end of the meeting, especially between Chairman Andy Dance and board member Sue Dickinson, when Dickinson and two other board members (John Fischer and Trevor Tucker) stood firm against spending any money either to fly in the candidates or to put them up in a local hotel. Oliva, of course, lives in Palm Coast, so it's not an issue for him. But Tapley and Parla, or now Perry, would be traveling, and would be given the chance to spend the day before the interviews touring the district and the county. Should they choose to do so, they'll have to pay their own way.
Dance and board member Colleen Conklin thought that would be gauche of the district, and that it sends the wrong message about the county's seriousness.
"The one reservation I have through today's deliberations is that if we're going to advertise and accept applications from out of Florida applicants, I think it's disingenuous not to be able to somehow accommodate them to come here," Dance said. "It doesn't seem like we're fairly treating the one applicant that's not from this area. If we wanted to keep it to Florida and keep those expenses down, that was perfectly fine." But, Dance said, the playing field will not seem fair if the candidates are not afforded that courtesy.
The decision may also underscore the perception, quite pronounced among the broader public, that a board that's already made its preference for Oliva repeatedly known is not hesitant to place hurdles in the way of other candidates.
Dickinson, however, was adamantly opposed to paying interview-trip expenses, just as she's opposed to paying for any candidate's moving expenses. She correctly cited Tucker's statement weeks ago in a meeting that Tucker, too, would be opposed to paying to bring any candidate to Flagler for an interview.
"He does live in New Jersey," Dickinson said of Parla. "If we were to choose him, after interviewing, we all know that we're going to have to pay to relocate him. When we don't have money to support the programs that our principals are presenting to us, and we have to decline the initiatives that are currently in place because we don't have the money, that's a concern of mine." She also cited Parla's apparent age. "He's probably a little older than the rest and perhaps looking to retire to Florida, and I'd hate to see us pay for his retirement in Florida."
Parla doesn't list his age on his application. He is 61, and just ended the first year of a four-year contract with the Hamilton school district, at $177,500 a year, according to the Trenton Times, plus a potential merit bonus of $26,625—sums significantly higher than what he'd be paid in Flagler, where the current superintendent is paid roughly $150,000, and has no bonuses. Parla is also receiving a hefty pension from his previous jobs in New York.
The school board had agreed to limit all expenses in the superintendent search to $5,000. It has so far spent just $1,200, leaving enough money to underwrite the two candidates' trip to Flagler for interviews. Despite that, the majority of three ruled against such accommodations. Nevertheless, that majority was not breaking new ground: the rules had been set in December for just such an approach (and earlier in the year Dickinson had, in fact, agonized over specific cuts to various district programs).
Matters got tense enough at the end of the meeting that when Dance called for adjournment, Dickinson let out an emphatic "amen."
The second issue was less divisive but just as arresting. Each board member in turn spoke about his or her choices. Each board member leveled a variety of criticism at the short-listed candidates, even those that made their own list of three finalists, to such a point that in some cases board members questioned each other about why they would include a candidate they find so objectionable on their final list—as Dickinson did with Parla, as Fischer did with two of his candidates. Conklin was more critical of two of her three choices for their lack of Florida experience.
Dance was especially critical of Parla for his application's lack of a cover letter. "I don't get any idea what he is or what he stands for with just a resume and no letters of recommendations, it's as though he just put together a resume, filled out the application and sent it in," Dance said. "I just don't get the feeling that this was a serious application."
Only one finalist never drew a single criticism, nor even, for that matter, any comment: Jacob Oliva. He simply landed on each of the five board members' final lists, no questions raised, with one exception. Fischer spoke of Oliva to contrast him with other applicants. "He's the only one that has been continuous in one county and doing many facets where the other ones have jumped through many jobs and states," Fischer said. (Oliva's chair to the left of Dance was empty, but only physically.)
The board faced a list of five recommendations produced by the search committee it had appointed in December. Just 20 people applied for the job, and the district disqualified five of them before the search committee had a look at them, because they had not met basic requirements the committee had set. The board met at 2:45 p.m., some 45 minutes late, because the live broadcasting system was not functioning and the board did not want to proceed without the meeting being available on cable or the Web.
Only 13 people were in attendance, including one of the search committee members (Bill McGuire, the Palm Coast City Council member who is also the tea party's delegate to the board) and Linda Haywood, president of the local NAACP chapter, several district staffers and a reporter. (The webcasting of the meeting drew up to a dozen viewers at any one time, though the video would later be available for viewing at any time.)
Five of the search committee's 15 members produced 23 questions that will be handed to the school board members for the interviews. The board members will be free to add their own questions.
Kristy Gavin, the school board attorney, said the search committee members and the board members did not want the questions publicized ahead of time. But it would be illegal of the district not to produce the questions upon request. The questions have been requested. They are posted below.