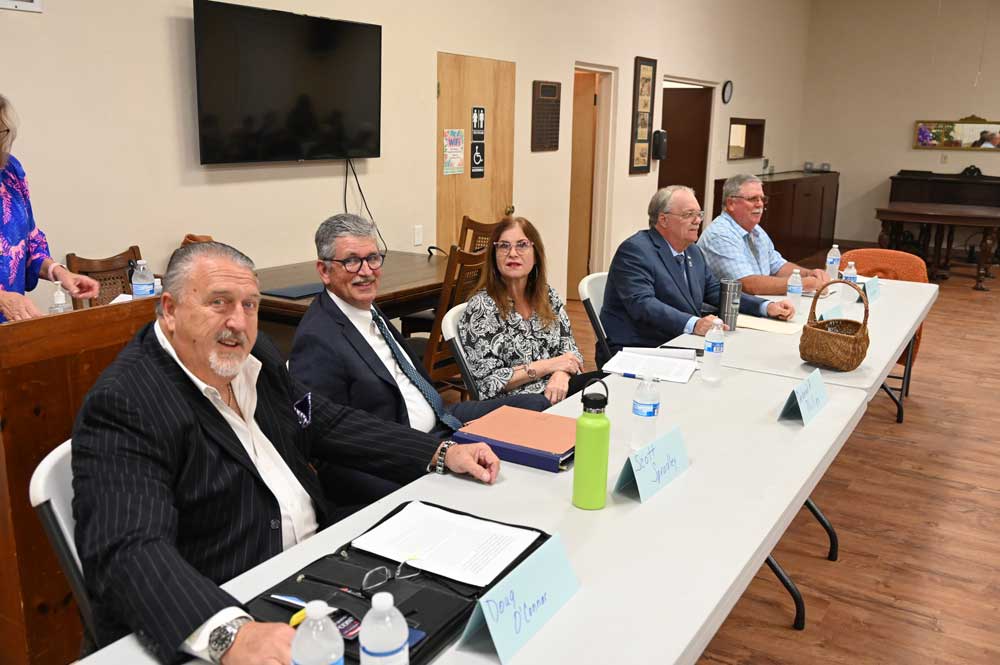 The municipal election for two seats on the Flagler Beach City Commission will be decided on March 7. Last week, the Flagler Woman's Club hosted the only forum of the election, with all five candidates at the table: Rick Belhumeur, Bob Cunningham, Doug Bruno O'Connor, Deborah Phillips and Scott Spradley.
It's the largest crop of candidates for a Flagler Beach election in nearly 20 years, but the forum seemed abbreviated–just a little over an hour, with a good chunk of that taken up by introductions, despite a stack of written questions in moderator Joann Soman's hands.
The room was full, with around 70 people and all five sitting commissioners, one of them at the candidates' table: Debbie Phillips, the only incumbent running. Ken Bryan was a couple of days away from chairing his last commission meeting.
There were no surprises. The questions–at least the nine that were asked–were generally un-challenging and unspecific. It's the nature of such forums, where follow-up questions to diminish evasions are unheard of. The questions were also at times inexplicably corny, as when all the candidates were asked what they'd do with $1 million, no strings attached–a good question at Magic Kingdom, but not on a serious election panel.
The question perhaps showed where the candidates' priorities may be, though by then it was redundant: they'd already laid those out. Three said they'd spend it on "infrastructure" (Cunningham, O'Connor, Spradley) one said he'd spend it on "communications" (Belhumeur, who's spent some of his own money to improve his), and Phillips said she'd use the money to, among other things, bury power lines, though that's not the city's call but Florida Power and Light's.




Or, still in the corny fields, when three of the candidates who've been commissioners were unfairly served a softball the size of a free campaign commercial to tout the accomplishments they're most proud of. ("I'm most proud of the fact that when a citizen brings to my attention a problem I take care of it," one said.) The two who hadn't served did not get an equalizing question, though at least one of the two could say, without exaggeration, that he'd just played a significant role in saving the south end of the city from the ocean.
Among the more pointed questions was whether the candidates would favor hiring a project manager to handle the major initiatives ahead, leaving the city manager to pay attention to the rest of the city. "A project manager is not a bad idea. A safety inspector is not a bad idea," O'Connor said, using his experience to bring up something sitting or potential commissioners may not have thought about. "We're talking about the hotel having a tower crane, something Flagler Beach never saw in its life. It's going to be a major thing with it swinging all over the lanes, closures will have to be done on the streets. We can do it. We have to do in smart." But he was alone on the project manager possibility.
Spradley said the city manager is the project manager. "This is not the first city that's going to have huge projects happening at the same time, so I think really the key is getting the right city manager." Phillips seconded. Belhumeur said the city manager won't have to spend that much time on the projects, since the projects have their own managers. Cunningham made it 4-1.
Before the questions, each candidate had started with a lengthy introduction. Soman said she didn't believe in alphabetical orders, picking the order of speakers at random.




O'Connor summarized his 38 years in construction management, much of it in Manhattan high-rises, his vacation home in Palm Coast going back to 2008, and his move to Beverly Beach in 2014, where he served as a town commissioner for two years and on his homeowners' association as president. He called himself a "listener" and a "doer." He was a union man, then a supervisor, manager and senior vice president of a company by the time he retired, managing large budgets. "We're paying too much taxes," he said. "To be honest with you, I don't think we're going to rollback taxes but we've got to be smart about how we're going to spend our money."
Spradley was next. The Shelby, N.C. native, photographer and former professional golfer is a practicing Flagler Beach attorney since 2007. He just brokered a breakthrough in county government's three-year quest to secure 2.6 miles of easements in the city so the U.S. Army Corps of Engineers can rebuild the beach along that critically eroded stretch. He's served or chaired numerous city committees and still serves on its planning board as its vice chair. "My story is, I have been active in the recovery community for over 13 years, 13-plus years of sobriety," Spradley said. "So I spend a lot of time helping those that have faced the same demons that I faced 13 years ago. It's very important to me."
Between his breadth of experience and background, he said he knew "what it's going to take to pull us through these next years." He spoke of the "monumental period" ahead in Flagler Beach, with the dune project, the demolition of the pier and construction of a new one, the construction of a 100-room hotel downtown (starting possibly next month), infrastructure repairs, and the city's centennial in 2025.




Phillips was on her home turf. She's an active member of the Woman's Club, serving on its executive board. After a career in banking in Chicago she's owned two businesses in the city and is still running the Uncorked Wine Bar there. She's also on the board of the Family Life Center, the organization that runs the county's only permanent shelter for abused persons, sat on the city's charter review panel, and of course is a three-year incumbent, an experience she leveraged:
"The best part is receiving the agenda packet before the meeting and doing the research," Phillips said, "not just from my computer, not just driving around, but getting out and meeting with department heads, with constituents and local business owners." The "not just driving around" remark may have been an underhanded slight against Belhumeur, who seems to have eyes on every part of the city as he logs an untold number of miles on his pick-up truck every week.
"There are certain skills that a city commissioner needs to have," she continued. "You need patience because government can move very slow; immediate response to residents' concerns and questions; level-headed: understand our laws and ordinances and be a leader, all of which I believe I possess." She highlighted her role in the recent opening of the Irma and Pal Parker Senior Conservation Preserve. She's now focused on Wickline Park.
Belhumeur, who served two terms on the commission until last year, spoke as if he needed no introduction. He delved immediately into the coming "disruptions" from the projects Spradley had enumerated, making it essential for the city to stay in communication with its residents to "minimize this effect on residents." He doesn't think the city is doing a good job on that score. He's not alone. Many hours of commission meetings' public participation segments in recent months have been taken up by residents complaining likewise. He was also critical on the city's stormwater strategy, seeing too few dollars spent where and when they should be.
No Belhumeur speech would be complete without complaints about high taxes. He was a notorious no vote on numerous budgets when he was on the commission, finding tax increases unnecessary, and that Monday evening called last year's tax increase "unconscionable," when contrasted with what he calls a budget surplus, and what the city, which has not had a dearth of emergencies, calls reserves. "We are still a small city of just over 5,000 residents," he said, "and we have to stop trying to compete with cities that have 10 times or more, the revenue that we have."
Finally spoke Cunningham, the least-known of the panelists, a former North Carolina police officer and serviceman who stayed in the military as a civilian building computer networks at home and in the Middle East before doing similar work in the private sector. He said he had the opportunity to live "all over the world, almost on every continent," working as a regional manager for Intel, about which he provided a little history, then State Farms, before retiring to Flagler Beach.




Cunningham was the most genial with the audience, eliciting laughs more than the others, but also the least on point. It took him until his final 45 seconds to address his intentions as a commissioner–stormwater, infrastructure, communication, though the only time he got more specific was when he spoke of wanting to eradicate Brazilian peppers, the once ornamental tree now considered invasive.
Almost half the forum was over by the time the moderator turned to questions, many of which were repetitive, or at least drew the same answers in different forms–on staff morale, on keeping a lid on "exponential" increases in taxes and water bills, on priorities, on balancing big projects with "negativity" from residents, on "balancing the needs of visitors and residents" (eliciting the obvious answers about a need for "balance" and more speculation about a parking problem the city has been discussing for two decades: Spradley was on a parking committee that met for two years to come up with a solution. It did not.)
The most spoken words of the evening were "infrastructure," "communication" and "projects." Soman left for last the most specific question of the evening, open-ended though it was: "What should the city have done differently if anything concerning the previous city manager?" That city manager, William Whitson, had been fired just two weeks earlier, notably on the strength of Phillips's swing vote: she'd gone from voting in support of him to voting to fire him in a bewildering stretch of the same meeting, later attributing her switch to the criticism fellow-Commissioner Ken Bryan had leveled at Whitson.
Cunningham spoke in generalities. Belhumeur said formal evaluations must be honest, down to "tough love," though Whitson's last evaluation did not lack for any. The surprise, again, was Phillips: "I feel awful that our city manager was removed from his job," she said. "I tried to give him the benefit of the doubt." No one brought up her switch at the commission.
Spradley recalled the beginning of Whitson's downfall, when Whitson stumbled over the fireworks scheduling for last year's July 4 and he was placed on a 90-day probation period–at Phillips's instigation. Spradley did not mention Phillips's role, but was subtly critical of the lack of follow-up: there should have been a review of Whitson's work after 90 days, he said. "Maybe it would have been an opportunity to give him another opportunity the save himself," he said. There was no such review.

Reader Interactions