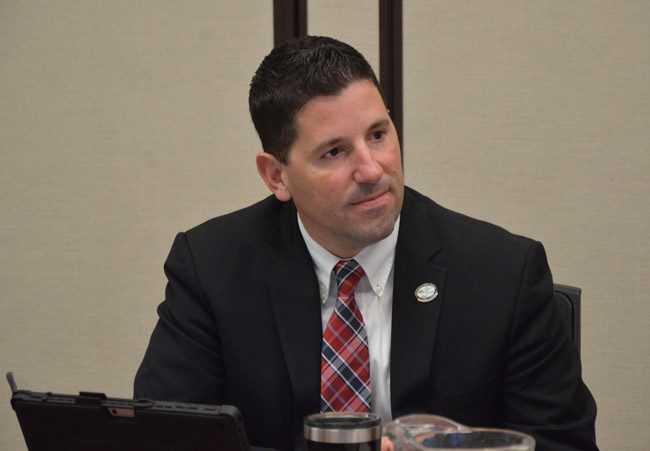 In a departure from previous practice, when the city scorned public involvement in choosing a new city manager, the Palm Coast City Council Tuesday decided to adopt practices common in other local governments and hold a community meeting to hear what sort of manager the public is interested in. The council agreed to delay advertising the position until late November, after two new council members are seated.
The council also voted to pay Interim City Manager Beau Falgout an annualized $140,000 salary, a $30,000 increase from his current pay, plus a modest car allowance and full coverage of his health insurance costs.
"We're not starting this process over, we're not starting from nothing," Mayor Milissa Holland stressed, to reassure some of her colleagues who did not want to start the search over just because two new council members are joining the panel in a few weeks. The search firm is in place. But the firm itself recommended to Holland that the next central step in the process–advertising the position, and the manner in which it's advertised–be delayed. "There would be some reluctance for applicants to apply without knowing who is going to be seated and certainly what their priorities are going to be," Holland said.
Council member Vincent Lyon last week pressed his colleagues to go forward with the search rather than wait for the new members to be seated, since the council has been discussing a replacement for Jim Landon–who was fired last month–for more than a year. Council member Heidi Shipley agreed, Bob Cuff was sympathetic but not convinced, and Holland was tasked with further discussing the matter with the search firm. She returned Tuesday with the fruit of those discussions with Doug Thomas, the senior vice president of Texas-based Strategic Government Resources. The community meeting was a new idea.
The school board holds such meetings whenever it prepares to hire a new superintendent. Flagler Beach has done likewise before hiring its managers. Palm Coast has always been more opaque, shunning all but the most cursory public involvement in its choice of manager in 2007. The new approach, though not initiated by the council itself, dovetails with at least some more desire on council members' part for transparency and public involvement, if only for perception's sake.
"I really liked having a community meeting with the public, because they really are part of this process," Holland said. "I want them to have the input as well." The meeting would be held at the Palm Coast Community Center in mid- to late October. The city is paying the search firm $28,000 to shepherd the process, the community meeting included.
Council member Nick Klufas was not at last week's meeting, but lined up with Holland's approach against moving before new council members join. "The best city managers are probably employed at this point," he said, and Florida's open-record law being what it is, he said, their applications would reveal them as job-searchers if they were to apply now. "It'd be an unnecessary risk for the best talent to put their name in the hat right now if it meant that we had two new council members that were elected that didn't align with the initiative that we as a council have set."
Lyon, describing himself as "the chief voice in the opposition on this," reminded the council that it passed a motion just two weeks ago to "move forward immediately" with the search firm's 15-week search process, which means Tuesday's action was a reversal. Waiting until November 20 would be "an unnecessary delay." Nevertheless he saw Tuesday's proposal of a community meeting in the interim as a workable compromise that doesn't halt the process.
Holland made another point that was consistently lost on the previous manager: "We don't want staff driving this process. We want to be driving this process." Accordingly, City Manager Beau Falgout, now sitting on the dais where Landon used to reign, remained silent through the discussion.
As for the contract with Falgout, who was deputy city manager when Landon was fired, Lyon had negotiated it with Falgout individually before Tuesday's public discussion. Falgout in March was awarded a $15,000 raise, without the council's knowledge, when Landon named him his deputy, for a salary of $110,000. He asked and received a temporary $140,000 salary.
Landon was making a salary of $177,000 when he was fired, slightly more than when the council awarded him his last raise in February 2017.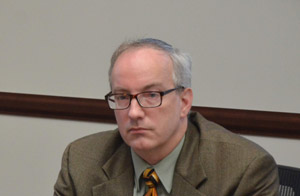 Falgout requested the salary as a matter of fairness to his family and the council, saying he was not requesting severance or extra retirement benefits. He requested–and received–a $200-a-month auto allowance. Landon's allowance was $600 a month. After he made his pitch, he got up, at Holland's request, and exited the dais so the council could discuss his contract. That, too, was a departure from Landon's practice: the old manager never left his seat on the several recent occasions his contract was discussed, nor keep silent.
If Falgout returns to his previous position as deputy, he would return to his former salary, plus whatever raises are scheduled. That's an increasingly capitalized if: Holland, Cuff and Klufas have signaled such regard for him that they may be setting themselves up to hire him permanently as manager. Jack Carrell, the nonagenarian and all but honorary council member (he turned 94 on Sept. 4), told the council in the public-comment segment that it could save money by appointing Falgout permanently now.
The signaling over Falgout caught Lyon's attention. "Beau knows the city," Lyon said, "but my understanding is, we may not be looking for exactly the same job that the city manager has been doing for the last decade. We're looking for a city manager to bring the city to a new position, to a new–to move it forward in a way that it hasn't before, and that's not exactly the same job. Beau can apply and honestly, if this process takes four months, he's going to know better than anyone else what's necessary for that, and if he believes he has the skills, then we're all for him putting into it. Yeah, he knows the city, he knows the job as it's been done, and if he's able to take on the job as it's envisioned, more power to him."
But Lyon, appointed to the council to fill out Steve Nobile's term, will be long gone when the council chooses its next manager.