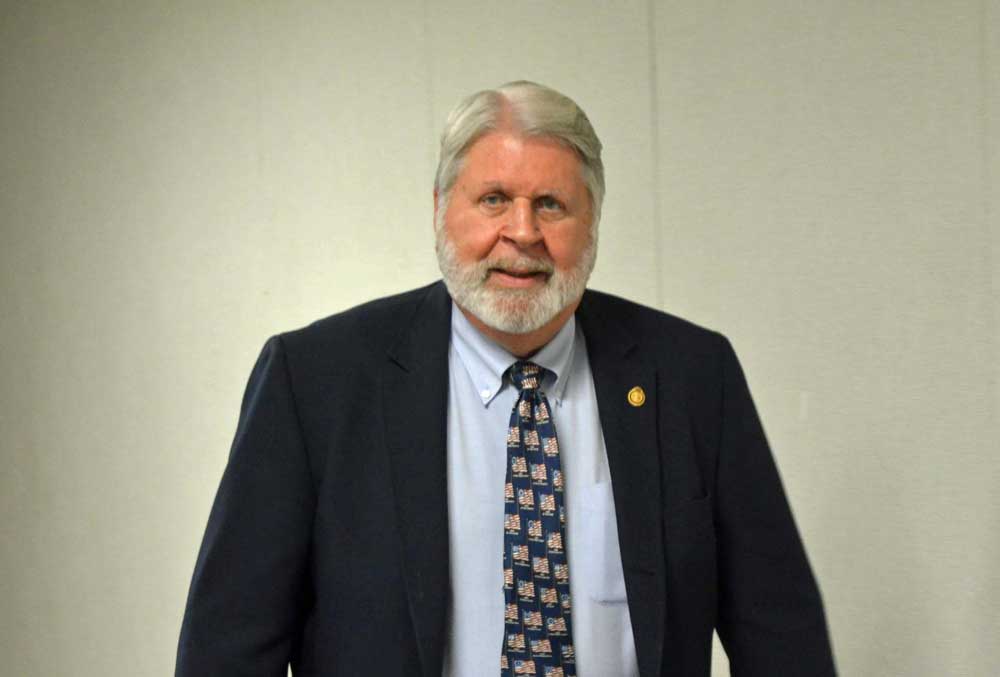 Last Updated: 4:57 p.m.
Former Flagler County Administrator Jerry Cameron had conversations or meetings with four of the five Flagler Beach City Commission members about stepping into a job at the city well before City Manager William Whitson was fired last Thursday.
The behind-the-scenes maneuvering is a combination of motives and circumstances involving signals from the City Commission, the involvement of Flagler Beach Business, the association of local businesses known as FB3 (it is not connected with the city), City Commission Chairman Ken Bryan's previous relationship with Cameron in St. Johns County, where Bryan was a commissioner and Cameron was in the administration, and Cameron himself, always a shrewd backroom operator.
Right after Whitson's firing last Thursday, Bryan mentioned Cameron's name as a possible interim and attempted to have him named as such then and there. "If I didn't have other people standing by on the sidelines that I thought were qualified to keep us in the game, I would not have done that," Bryan said today, meaning that he wouldn't have voted to fire Whitson. But having Cameron in mind, he went ahead and did so. Bryan said he had two other possibilities as well, but they dropped out, preferring to keep their focus on their private-sector careers.
This morning, at Bryan's request, the city clerk distributed a select list of Cameron's "accomplishments" and "public sector positions held"–but not a resume.




The commission did not take up Bryan's proposal last week but elected to meet tonight in a workshop, and decide on an interim then. The commission until late this morning appeared to have only two choices: Rick McFadden, the building inspector who served as interim for almost a year after City Manager Larry Newsom's death three years ago, and Cameron. Neither is a terribly appealing candidate even to several commissioners or members of the community.
Shortly after 11 a.m., former City Commissioner Kim Carney emailed commissioners and Scott Spradley, one of the five candidates for the commission in the March 5 election, her own candidacy for the interim job.
Bryan–who is leaving the commission: he sits for only one more meeting after tonight's workshop–said he contacted Cameron a week and a half to two weeks ago "when I started thinking about what could conceivably happen if Mr. Whitson was voted to leave." He said Cameron told him he was retired, but would consider an interim job.
John Lulgjuraj, owner of Flagler Beach's Oceanside Bar and Grill, also jointly heads the FB3 association (with Scott Fox). Lulgjuraj of his own initiative set up meetings or discussions between Cameron and Commissioners Jane Mealy, Deborah Phillips and James Sherman, all before Whitson was fired.
Lulgjuraj said at the time he was thinking of Cameron "as a consultant" to the city. He told Mealy he had "somebody I want you to meet," without telling her who.
"As I drive into the driveway" at Oceanside, Mealy said, "I see Jerry Cameron walking in front of my car, and I'm like: this can't be a coincidence." That was last Tuesday, two days before the meeting when Whitson was fired. But there was no question that Cameron was angling for a city job. "Jerry and I chatted and I told him I was still supporting William and wasn't thinking beyond that at this point," Mealy said. "We talked through lunch just the two of us, and he said, 'I'm sure whatever decision you come to will be well thought through and for the good of the city."




Two days later, Whitson was fired, and Mealy thought she'd been played. "I'm resentful of being used," she said. "Not only was I upset about how the vote went, but I was furious as to how it happened." She still is. "I didn't even think of the timing at the time until I saw how Thursday night played out."
Still, Mealy now feels "between a rock and a hard place," with the dearth of choices before her.
Phillips said she met with Cameron once, for 45 minutes, at Lulgjuraj's request, and has since been doing background research. At the time of the meeting, she had told him she "wasn't interested" in his service as manager, because at the time, like Mealy, she was still supporting Whitson. Now that Whitson is gone, "I need to do my due diligence," she said, reserving comment about this evening's approach.
Sherman spoke with Cameron just 15 minutes. "Johnny Lulgjuraj reached out to me with someone who could possibly be someone who could come in and take the helm and push us forward," Sherman said. That was "about a week abo, two weeks ago." He was referring to Cameron. "I didn't think having him as a consultant was what I saw him as. I saw him as someone who would take the helm." But Sherman underscored that Cameron would "absolutely" only be an interim, and not for long.
"We need to give McFadden an opportunity to speak, see where his head's at as well," Sherman said, then decide.




Notably, the two commission members excluded from such meetings are Eric Cooley and Mayor Suzie Johnston. Cooley had been among Whitson's sharpest critics. But Cooley had also been among the only elected officials in the county to speak openly and critically against the antics of then-Commissioner Joe Mullins, who was closely aligned with Cameron. Cooley said there was no attempt by anyone to set up a meeting with Cameron, but he'd been hearing for days of Cameron's maneuvering.
"I'm not Ok with it, this is one of the issues we had with William," Cooley said. "Communications need to happen out in the open. We should not have certain commissioners knowing different information than other commissioners, especially when it comes to something like this. You'd think as a city commissioner, that this would be a priority that all of us know the same information." A list of accomplishments sent by way of the chairman was not what Cooley had in mind. "He should have issued a letter intent. To have sidebar in the shade conversations where there's no way for us to know hat was even discussed, that raises another red flag."
Spradley, one of the five candidates for two commission seats, who is widely regarded as a front-runner, had also been hearing plenty about the Cameron maneuvers, and receiving phone calls "by various people either in support of or in opposition to Jerry Cameron." Those in support tended to have personal relationships with him and looking to find him a job, those in opposition had worked with him and referred to a concerning lack of transparency and a habit of backroom dealings–criticism that tracks with Cameron's record (see the chart below.)
Spradley himself took the initiative of meeting with Cameron–a meeting scheduled for this afternoon, before the workshop. He too keeps hearing about the commission's limited choices–but also the fact that anyone picked for the interim position would be in there for a short time only. Then again, he notes, Cameron critics have told him that Cameron came into the county job as interim but stayed three years, snagging a contract worth $237,000 along the way.




McFadden is well respected as the city's building inspector, but his tenure as interim was wanting, and he has little depth of knowledge about the city. That was illustrated as recently as this weekend. Even what was supposed to be a routine utility job that required residents in parts of the city to boil their water for a few days was botched, requiring the job to be delayed.
"Rick McFadden is NOT a manager," Carney wrote the commission this morning. "You reacted by putting a 'warm' body in the seat. The search took longer and Mr. Whitson came with 'obligations' that strung out him taking his position immediately. Let's face it; it has not been easy. Now I hear about 'politicking' for Jerry Camron. Jerry Camron is NOT the manager for our city. He is aligned with Joe Mullins, he is known for coming in an firing people, his budget at the county level remains in shambles. PLEASE DO NOT DO THIS TO OUR CITY." So Carney threw her name in, noting her background and credentials.
But to commissioners, Carney's name may elicit the same trepidation as one or two other members of the city administration who could easily assume the interim job but for their abrasive personalities, while Carney's history with the city would be a double-edged sword.
The commission appeared headed for a decision by default, noses pinched and eyes averted, as Cameron stands by at the ready, the dirt from around Whitson's grave likely still dusting his shoes.
But perhaps in a reflection of the commissioners' dismay, some sent additional names during the course of the day (today), starting with Phillips. She submitted the name of John Drago, describing him as a former business enterprise manager for the city and manager of golf courses.
Ken Parker, who led the search that resulted in the appointment of his own former colleague, William Whitson, as manager two years ago, is recommending (through Phillips) John McCue, a name Phillips shared with no other information as of the middle of the afternoon. Phillips also added Chris Griffing, owner of an asbestos abatement company, only to ask for his name to be removed a few hours later.
Additional names kept coming in: Mike Abels the former city manager in DeLand. Katrina Powell, a former city manager in Fort Meade who started a job as deputy city manager in Port Orange only last July.

Reader Interactions