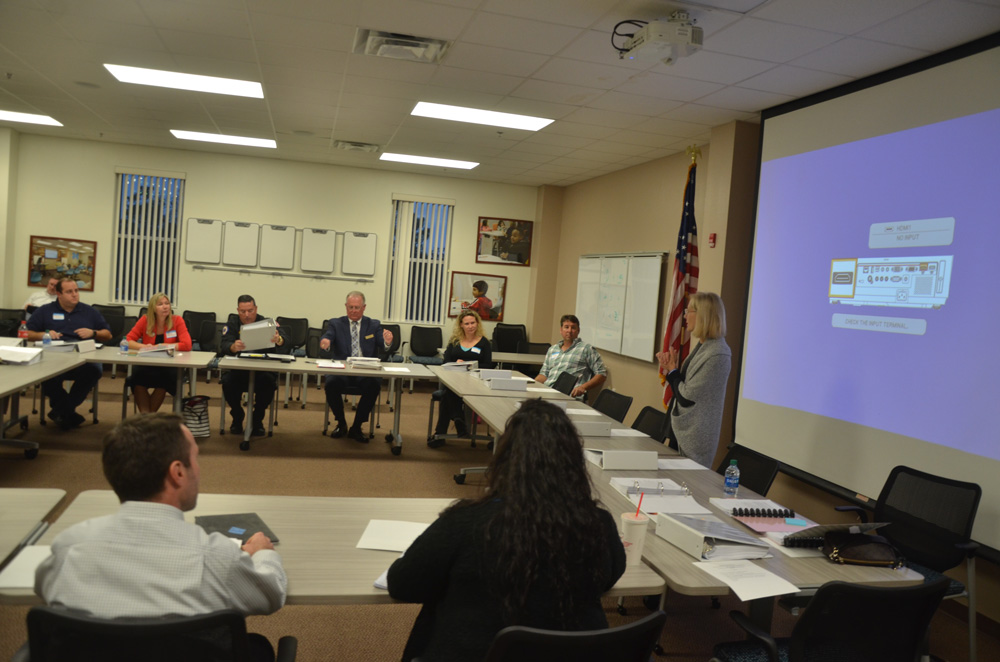 The Flagler County School Board appointed a 20-member Citizens Advisory Committee to go through applications for school superintendent and draw up a list of 10 to 12 applicants for the school board. That process is ongoing, with the second meeting of the council scheduled this evening at 6 at the Government Services Building.
Stephen Furnari addressed the committee at its first meeting. Furnari chairs the Exceptional Student Education Parent Advisory Council, which represents some 2,200 students, or 17 percent of the district's student population, receiving special education. He told the committee members that the council would, much like the committee, draw up its own recommendations and forward them to the committee for its consideration. All such recommendations, including the committee's to the school board, are non-binding. (School Board member Colleen Conklin had appointed Furnari to the citizens' committee, but when Conklin announced her candidacy for superintendent and withdrew from all school board related business until March, the district withdrew all her appointees to the advisory committee.)
The committee was receptive to Furnari's proposal. But the school board's version of inclusion, at least as projected through its consultants, appears to be a different matter. When the ESE council sent its questions to the superintendent candidates, John Reichert, a consultant from the Florida School Board Association helping the Flagler school board through the superintendent selection, wrote the candidates that the ESE council's questionnaire "was not an official part of the search process, and advised them to carefully consider whether or not they respond to such direct outreach."
"The school board should be reminded that we are taxpayers, we represent 17% of the student population, that they work for us, and therefore, so does FSBA," Furnari wrote in an email following the consultant's message to superintendent candidates. "This makes us very much part of the 'process,' whether they like it or not. Ironically, the most qualified candidates who I have had the opportunity to speak with are equally perplexed by FSBA's attempts to undermine EPAC's activism as we are." (FSBA Consultant Andrea Messina and School Board Chairman Janet McDonald also attempted to stop FlaglerLive from publishing a set of 139 draft questions now in the hands of school board members.)
The following is EPAC's first report to the Citizens Advisory Committee, as written by Furnari.

On Feb. 5, EPAC held a special meeting to review applications and create a preliminary list of candidates to research further. As I mentioned to you on Feb. 4 at the Community Advisory Committee meeting, the members of EPAC would like to share with you our thoughts about the candidates who, we believe, are qualified for the position. Here is a brief YouTube video that introduces this report and how it could benefit the community you represent:
EPAC's process is similar to the Committee's, in that, we narrowed down our list to a group of 16 candidates and, at our meeting next week, we will prepare a final list of candidates to recommend to the Committee and the School Board.
In the interest of full disclosure, except for two people, EPAC members who are also employees of the District did not attend EPAC's special meeting to avoid any conflict of interest with the search process. Tim King, the ESE Director and a non-voting member of EPAC, attended EPAC's special meeting but abstained from conversations or votes on candidates. EPAC members who are part of District administration, and our School Board liaison, also did not attend EPAC's special meeting and abstained from any participation or voting.
EPAC's Methodology
As the representative of over 2,200 students receiving special education services, EPAC is interested in candidates who have the depth of experience to be successful at the superintendent position, who are passionate about the ESE community and who are willing to work collaboratively with the all community interest groups.
To do this, we sent each candidate a letter requesting information about their positions on ESE and leadership. I will refer to this letter as the "EPAC Questionnaire" and I have enclosed a copy of it with this letter. In the EPAC Questionnaire, we asked the candidates several questions about issues that are important to the Flagler ESE community. These questions were not limited to ESE issues, they also focused on leadership and leadership development.
We received responses from 22 candidates, and several others have committed to returning a response before EPAC's meeting next week.
In EPAC's initial review of candidates, we focused on (1) whether the candidate has the requisite experience to be Flagler Schools' next superintendent; and (2) the merit of each candidate's response to the EPAC Questionnaire.
First, we eliminated candidates without the requisite experience. Flagler Schools has a budget that exceeds $100 million, approximately 2,000 employees, and over 13,000 students. The shear size of the District demands that the next Superintendent have the experience to
successfully do the job on day one. Accordingly, EPAC looked specifically for candidates that:
● Have previous superintendent experience, even in a smaller school district; or
● Have district-level administrative experience in a position that reported directly to a superintendent at a school district or institution exceeding 2,000 students.
Candidates who did not meet this criteria were eliminated.
Second, we eliminated candidates based on responses to the EPAC Questionnaire (or who communicated they would not respond). Like many other school districts, and because of the difficult nature of educating students with disabilities, special education parent groups tend to be some of the most active advocates. They require routine engagement with the highest levels of district administration to solve challenges before they become major problems.
EPAC, and the other ESE parent advocacy groups in Flagler County, fit that mold. The members of EPAC desire a candidate who understands issues related to special education, who will communicate with us in a direct manner, and who wants to work collaboratively with us. As you are aware, EPAC's outreach to candidates is not part of the "official" search process. Accordingly, EPAC feels that a candidate's act of voluntarily responding to the EPAC Questionnaire speaks volumes about his or her willingness to interact with the ESE community — and every other community group that advocates for students in Flagler County.
Based on the responses we have received, and conversations we have had with candidates, we are finding that the candidates with the most suitable professional experience for this position understood this and, almost universally, enthusiastically responded to the EPAC Questionnaire.
Accordingly, at our special meeting, members in attendance at EPAC voted unanimously to give preference to candidates who respond to the EPAC Questionnaire. Out of these candidates, we chose those who answered our questions directly and provided complete responses that aligned with EPAC's vision for ESE at Flagler Schools.
Third, candidates were eliminated only by unanimous vote. During the first phase of our candidate review, we cast a wide net to afford candidates who possessed the qualifications we seek the benefit of additional review. For this reason, candidates were only eliminated where there was a unanimous vote of the EPAC members who attended our special meeting. If one member objected to the removal of a certain candidate, that candidate remained on our list. Overall, there was significant consensus among those EPAC members.
Candidates Chosen by EPAC for Further Research
EPAC is excited to give further consideration to the following list of candidates. These candidates have prior experience that could make them successful and the Superintendent position, and/or they have provided responses to the EPAC Questionnaire that appealed to our Board. In the next week, members of EPAC will be doing additional research and reference checks to further narrow down this list:
Superintendent Candidates Recommended for Further Research by EPAC
| The Candidates | Location | Responses to EPAC | Last Position |
| --- | --- | --- | --- |
| Wayne Alexander | Old Lyme, Conn. | Responses | Assistant Principal |
| Raymond L. Bryant, Jr. | Locust Grove, Ga. | Responses | Consultant |
| Kim Eger | Peoria, Ariz. | Responses | Education Superintendent for Arizona Juvenile Corrections |
| Eric T. Jackson | Sarasota, Fla. | Responses | High School Principal |
| Matthew Lutz | Kill Devil Hills, N.C. | N.A. | Assistant Superintendent (4,300 students) |
| Cathy Mittelstadt | Palm Coast | Responses | Deputy Superintendent, St. Johns County Schools |
| Yaw L. Obeng | Burlington, Vt. | Responses | Superintendent (4,000 students) |
| Anthony D. Pack | Warner Robins, Ga. | Responses | Regional Education Administrator |
| Michael G. Raso | Davenport, Iowa | Responses | Superintendent (5,000 students) |
| Randy Shearouse | Springfield, Ga. | Responses | Superintendent (12,000 students) |
| Bruce Thomas | Akron, Ohio | Responses | Superintendent of 3 Charter Schools (580 students) |
| Ron Wagner | Brooklyn Park, Minn. | Responses | Associate Superintendent |
| Jeff Williamson | Show Low, Ariz. | Responses | Superintendent, Bureau of Indian Education |
| Janet Womack | Prosper, Texas | Responses | Consultant |
Next Steps
To get a clearer picture of these candidates, EPAC selected a panel of seven members who will research and conduct reference checks with a focus on leadership ability and fitness with respect to special education.
On February 12, EPAC will select a final list of five to seven candidates that, we believe, the Citizen Advisory Committee should consider for its list of finalists. On or before Friday, February 14, EPAC will forward our final report to the Committee.
If you wish to review the candidates' full responses to the EPAC Questionnaire, you can do so here.

Stephen Furnari chairs the Exceptional Student Education Parent Advisory Committee in the Flagler school district. Contact him by email here.
Reader Interactions