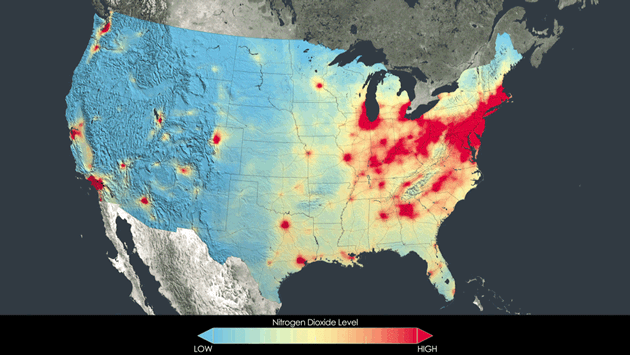 Change is in the air. And now we have a view from space to prove it.
A map created from NASA satellite data shows stunning improvements in air quality in U.S. cities between 2005 and 2011. While orbiting the atmosphere, NASA's Aura satellite kept tabs on U.S. air pollution for a decade. The areas in red, which indicate high levels of nitrogen dioxide, shrunk dramatically in the 6-year period. The largest improvements were in the Northeast, from Boston to Washington, D.C., and in the Ohio River Valley.
Nitrogen dioxide comes from vehicle exhaust and other burning of fossil fuels. The brownish gas can irritate lungs, and react with other air pollutants to form photochemical ozone and fine particulates, which are linked to respiratory disease and heart attacks. Regulations targeting vehicle exhaust and other sources of nitrogen dioxide are credited with the improvement. Nevertheless, an estimated 142 million Americans still live with unhealthful levels of air pollution, according to the U.S. Environmental Protection Agency.
The space-based view gives scientists and regulators a new way to evaluate air pollution. Before the satellite, air quality was mostly measured on the ground. See more maps from NASA.