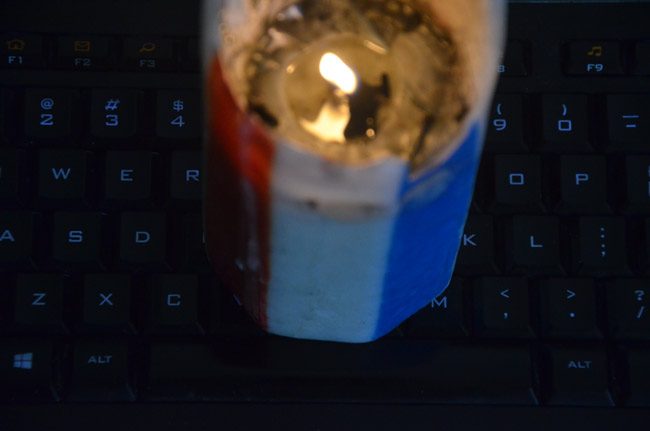 It appears that I am now an enemy combatant. The label isn't mine. My preferred title is reporter. But a week ago and again yesterday, with more napalm on his tongue, our Supreme Leader declared a good deal of the American media the "enemy of the people." He also said it makes him "SICK," exclamation point. Since I am a trifecta of maladies in his kind of eyes—I'm an Arab immigrant, a liberal and a member of the media—I imagine that makes me part of the treasonous horde. That's without mentioning that I'm on Obamacare (SICK!). Since I'm not about to stop doing the only thing I know how, that makes me a willing, repeat offender, and therefore a combatant.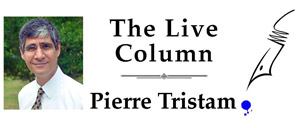 I'm not packing up for Guantanamo just yet. One of the sad things about Donald Trump's fixation on an enemy press is that he thinks he invented it. But the press in America has always been treated with about as much respect as accorded whores, gun-control advocates and lawmakers. It's convenience. This country doesn't know how to function without enemies, foreign or domestic. Foreign ones are rare, and these days next-to-non-existent, the manufactured enmity of ISIS degenerates and Russian trolls aside. That leaves fellow-Americans. The press, among other plagues, has been filling that role heroically since the Aurora of the Republic, at least in the eyes of government leaders from the president on down to the lowliest city manager.
No need to look far. Trump's most recent model is none other than President Obama. Obama was polite with the press. But he prosecuted "nine cases involving whistle-blowers and leakers, compared with only three by all previous administrations combined," according to New York Times reporter James Risen. Risen was one of his targets. In 2005 he had uncovered George Bush's illegal, warrantless domestic-spying operation. But it was Obama who pursued Risen—instead of Bush (SICK!)—as if Risen were the traitor. Instead of investigating the Bush administration's domestic-spying and war crimes, Obama legalized the spying and prompted the FBI to spy on reporters and their phone records, bullying them to reveal sources or testify against them in maneuvers no different than those of the McCarthy era against imaginary communists. So far at least Trump has done none of that, that we know of, and hasn't even threatened to castrate a reporter, as his hero Vladimir Putin did when he didn't like a question. But it's early.
Obama made more use of the Red Scare-era Espionage Act against reporters than his predecessors, but he was really an amateur compared to Nixon. "What is this cock-sucking story? Find out who leaked it and fire him!" Nixon once growled with uncharacteristic restraint to Henry Kissinger, his national security adviser and mass-killer abroad. Nixon also called the press "the enemy." He had reporters wiretapped. He had their mail opened, a federal crime. Until 1972 he had J. Edgar Hoover, who never knew a privacy law he didn't break, and like Nixon, thought homosexuals, civil rights marchers, Jews and liberal journalists were all in cahoots with communists. He thought Martin Luther King was the enemy and tried to destroy him by recording him screwing his serial companions–and sending the tapes to King's wife. That was our protective FBI. It still is.
According to Tim Weiner's history of the FBI, appropriately called "Enemies," Hoover kept a list of 24,000 Americans worth imprisoning without charge in concentration camps in the event of a crisis. Journalists were often his targets. He had a simple standard to land someone on the list: anyone who "opposed the American way of life," language similar to that of Trump's ill-fated executive order against Muslims, which would have barred entry into the United States to those who bear "hostile attitudes toward it and its founding principles." Room for dissent is no longer part of those principles in Trumplandia.
---
At one time or another we've all been the enemy. It's an American responsibility.
---
We could remember that even as sugarless cornflakes an ex-president as Dwight Eisenhower knew how to enrage a crowd against the press to score points with the Republican base, as one reporter remembers while covering the 1964 GOP convention from the Cow Palace in San Francisco. The very same day the convention had voted against condemning the John Birch Society, that deranged foster-father of the alt-right, Eisenhower had attacked the media by telling conventioneers that they should not let themselves be divided by "those outside our family, including sensation-seeking columnists and commentators… who couldn't care less about the good of our party."
That, from the man subsequent histories have Brillo-scrubbed as a model of non-partisan statesmanship. The Cow Palace exploded.
"I can still see those shouting, living delegates, rising almost as one man, pointing, cursing, in some cases shaking their fists, not just at the men in the glass booths but at me," The New York Times's Tom Wicker would later write. "In the first moments after Eisenhower's words, I feared some of the delegates might actually leap over the railing separating them from the press section and attack the reporters gazing in astonishment at this sudden surge of hatred."
Between that and Trump's invectives at the press, nothing has changed, other than the press becoming more meek, more pliant, more sheepish during the campaign, when Trump made it his bitch. Our more serious media organizations have only recently decided to stop playing his games, to call a lie a lie, a liar a liar: If Donald Trump holds a distinction from among his 45 predecessors, it's that he's dispensed with pretenses and made a pathology of the lie, reinventing history to suit his fantasies and pre-empting the future by declaring fake all stories not having to do with Melania's "great work for the country."
And yet the distance between his vilification of the press—among other Americans—and his predecessors' various wars is measured only in our insistence on national amnesia. His particular brand of vulgarity and narcissism aside, which we'd long come to know through his phallic buildings and their slutty interiors, there has yet to be a move by Trump, a single move, a single order, policy, insult, crime or slander that previous presidents haven't tried or pulled off, if less brazenly, down to his Muslim ban. That was a rather minuscule infraction compared to the Chinese Exclusion Act of 1882 and its worse progeny, the Immigration Act of 1924, which outright banned all "Orientals" and Arabs (it was ahead of its time) and restricted entry of Jews, Italians, East Europeans and Africans. Somehow Mexicans escaped notice: they had not yet risen to the level of detectable subhumans in the eyes of Calvin Coolidge and a Congress with a Republican majority nearly identical to today's brick-masons. That Immigration Act, by the way, did plenty to sour the United States in the eyes of Japan, until then an ally, and help launch it inexorably toward Pearl Harbor.
That "infamy" (talk about amnesiac) then gave us Japanese-American concentration camps, compliments of FDR and his liberal Supreme Court. The court's majority included Felix Frankfurter, co-founder of the American Civil Liberties Union, who nevertheless cheered America's at least oven-less Dachaus. Current bans will do no less than fuse missiles, one way or the other, our way, but it's a matter of time before Trump's serial plagiarists recycle the Alien and Sedition Acts, once the work of John Adams, a signer of the Declaration of Independence and, second to His Majesty George Washington, as founding a father as we have. At least Abigail could keep Adams in line. Melania and Ivanka have not been as capable with their Donald.
Put simply, few American presidents have known how to act without seeing enemies in the press or among vast segments of the American public. American government has never had a Ministry of Truth, at least not in so many words, but thought-policing has never been far from the scope of its snoops and the nooses of its caesars. Stephen Bannon is merely the latest minister of that indispensable agency so rich in hatreds for fellow-Americans, so rich in predecessors: Karl Rove for the lesser Bush, Dick Morris for the original Clinton, Ed Meese, Pat Buchanan and Nancy Reagan for the other Reagan, Spiro Agnew for the man who saw "cock-sucking" stories everywhere.
No wonder we're the enemy. But we're not alone. Take heart. We're often the majority.
In the scheme of things, to be an enemy in America is pretty much a habit of the American heart. It is what all of us at one point or another have been or will be, usually because we're not the majority color, the majority dogma, the majority party, the right sex, the right amount of deplorable, the alt-right. We never consider ourselves the enemy. It's the police, the secret services, the trolls (see below) and now the president who call us that. But so be it. To be such an enemy is an American responsibility. It's a badge of honor. It's proof of our beloved American citizenship.

Pierre Tristam is FlaglerLive's editor. Reach him by email here or follow him @PierreTristam. A version of this piece aired on WNZF.