Watch Out, I'm an Arab! How I Changed My Name and Pledged a Take-Over of Flagler County.
FlaglerLive | September 3, 2014
In the last few weeks we've all had to endure a great deal of lunacy from what can only be described as the nut-job election. It's not over yet, even for some of those who did not survive the primary.
Two recent losers—I mean the word in the literal context of Aug. 26's election, mostly—have been circulating emails to their mercenary friends and a few county commissioners, alerting them to the fact that a dozen years ago, I changed my name!  The two Sherlocks—I do not, in this case, mean the word literally—concluded that I must be an Arab terrorist who should be watched like an enemy combatant and disallowed unescorted access to the Government Services Building.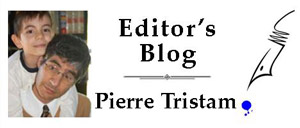 The two Defenders of the Republic I'm referring to are Dennis McDonald and Mark Richter, erstwhile Ronald Reagan Republican Assembly candidates for the Flagler County Commission and latter-day Dr. Sleuths: what Thing One does Thing Two thinks and vice versa. Their sponsoring overlord meanwhile remains as senile as its namesake. You can test the misfiring synapses by the quality of candidates it gave us (two redeeming exceptions aside).
So here's what Richter in a McDonald echo sent George Hanns, chairman of the county commission, last Saturday. I reproduce the email here exactly as it was sent, with apologies to my adopted language: "Mr Chairman, I also find it unacceptable that this man Pierre (Pierre Fauad Haddad) is allowed to roam freely throughout our County Services Building. I have seen him behind the podium and in the back rooms of the Chamber. In this Heightened alert state that our Country is facing from Hamas and ISIS we cannot tolerate such behavior, No other Citizen is allowed to be roaming around the building and behind the podium , why is this man allowed this access . Please see attached Name Change report attached. Please Sir for the security of the people that work in the GSE building, Please have this stopped. Mark Richter."
Heightened alert state is right, but I'm afraid we have a few wires crossed: these two don't know their ISIS from irony.
I shouldn't have to explain myself, let alone because of something these two remaindered windbags are doing. But beside badgering commissioners with this claptrap, McDonald and sidekick Kimberle Weeks, the supervisor of elections–another master-abuser of government time–managed to occupy 15 minutes of a canvassing board's time with this idiocy Tuesday. Against legal advice, which she's never taken more seriously than cauliflower, Weeks actually insisted on including in canvassing board records a McDonald email to Hanns about my name change, veiled in McDonald's outrage that I don't mouth the words to the pledge as he does, which must also prove that my allegiance is to the Forces of Darkness. And this is what Judge Melissa Moore-Stens, who chairs the canvassing board, had to extend her court recess 15 minutes for. Then again, Weeks also thinks that caulking sidewalks is canvassing board Priority Number One. I'm not making this up. It has to be heard to be believed. Have a listen below. I can imagine that in comparison my name change business is an affair of state.
Allah help us. McDonald certainly knows how to waste a government's time and money. He has plenty of both, a dangerous combination for someone who doesn't have a hobby. He does it at almost every county or city meeting, however baseless his claims. His hide is still red from the spanking Palm Coast gave him for wasting its time and money through a frivolous lawsuit, which McDonald must now pay for. But fanatics don't learn. They keep scrounging. And what McDonald found this time beneath the bottom of the barrel is my name change and how it must surely threaten the national security of these United States.
I'm embarrassed that something so irrelevant takes up any commissioner's time, like when nut cases start badgering commissioners about Agenda 21 or how FPL's Smart Meters are about to trigger the end times. But for years now people who couldn't deal with my opinion columns on their own admittedly insufferable terms have pulled the name-change card as if it were a Rosetta stone of my more sinister self. Maybe it is, but in a much duller way than the birthers theorize. So much as writing about myself feels like inflicting a vitrectomy on readers, I should probably set the record straight about my double (actually, triple) life and those tiresome terrorist sympathies.
I was born Pierre Fouad Haddad—the first name a testament to our colonization in Lebanon by the French, and something of a snobbish marker by Christian families such as mine to differentiate ourselves from our Muslim neighbors, who had more traditional Arab names: the sectarian part of the Lebanese civil war had its roots in our birth certificates, as did my eventual disdain for all things sectarian, "under god" pledges included.
The middle name was my dear father's. In Lebanon, all sons take their father's name for a middle name. Fouad is Arabic for heart. It's also one of the sad ironies of this story. It was my father's heart that gave out and killed him when he was just 46. I was not yet 12. For a year's schooling in England I kept his middle name because in English public schools having one or more middle initial seemed to be one of the easier affectations with which to pretend to fit in. By the time my mother remarried and my second father all but adopted us, it seemed cruel to him to keep flashing the memorial of his predecessor in my name, and over time Fouad faded from public view even as his memory would grow and shade my life more amply than a great oak.
I'm surprised McRichter didn't unearth the other last name I adopted for a while—Branon, my second father's family name that would also become my mother's third. But it wouldn't have served their purposes: too obviously Irish, too Catholic, too white. They wanted the camel jockey stuff, the raghead stuff, they wanted their haji. That's gook's Arab equivalent for those of you translating bigotry from Vietnam to Iraq. To Bunnell.
Haddad would fit.
It didn't fit me. I never liked the name—not because of its Arab sound, though I'm ashamed to say that that did play a role for a while, but because of its commonness. Haddad is the most common name in Lebanon. Just as Smith is the most common name in America. No secret why: Haddad is Arabic for Smith. My byline was starting to appear here and there and it just didn't look right, plus I was about to take the oath of U.S. citizenship. I didn't fancy a lifetime with a name I didn't like anymore than I fancied a lifetime with a religion or a nationality or a language I didn't particularly care for. I had changed all these others. I decided to change my name too.  To quote the late Howard Cosell (born Howard Cohen), "I believe everybody got a right to be called by whatever name he chooses."
The problem was: change it to what? It's a difficult choice, a bit like choosing a life mate. I needed love at first sight, a lightning strike. That summer of '86, I got one. I had just bought Lawrence Sterne's Tristram Shandy, the great eighteenth century novel about a character who can't tell a story without a maze of tangents. The book was sitting on my desk. I stared at it. It stared back. We got a room.
I've yet to read the book, but the name became mine, minus an
r
, for authenticity's sake. Before getting married I petitioned a court to give the name change its blessing so my wife and the daughter I was about to adopt would have my name, and I could be my own founding father with a name unlike any in the phonebook. As Yakov Smirnoff
would say
,
what a country.
Of course, he never met Thing One and Thing Two.
I suspect that the two had their little public record for a while but didn't know what to do with it until they saw me at a recent Flagler County Commission meeting standing but, my god, not actually reciting the Pledge with everyone else. Naturally, their assumptions were confirmed: I was not only a terrorist but a godless one too (don't say that to my ISIS brethren, they'll have me beheaded before sundown). It's true, I've never recited the pledge in a government setting for all sorts of reasons, not least of them its under god adulteration in 1954, when Eisenhower's pastor thought there was "something missing" in the thing. Since Francis Bellamy penned the pledge's perfectly balanced and rhythmic 22 words in 1892, it had grown by a third, becoming clunkier and less personal by the word. I can respect a certain amount of public patriotism, but don't ask me to participate in bad poetry or sectarian pledges.
Anyway, with that firecracker in hand McDonald wrote of his outrage to the commission chairman, hoping to bait Hanns, a veteran: "Americans pledge Our Flag!" he yelled in his email, while slipping in a suggestive mention of my name change. Joe McCarthy would have been proud. Then in a vintage piece of rude writing on Aug. 30 he falsely accused Hanns of sharing that tidbit with me. It hadn't been Hanns, it had been his partner Richter who'd disseminated the stuff so compulsively that it eventually got to me. (Another irony neither of these two could possibly appreciate.) I confronted McDonald about his little backdoor obscenities when I saw him at a recent canvassing board meeting, but I was too polite. Where's Frank Meeker when you need him?
This is where the story's wackiness becomes simply stupid, a reflection of the debased political tenor we're living through, where the pledge itself is insulted even as it's recited. I hope we're not that kind of county. Last week the mayor of Winter Haven actually had a cop throw out a man who refused to stand for prayer and pledge, just as the guy mouthing the invocation thanked god for "allowing us to live in a country where we're free to believe, think, and pray."
That's assuming you know the meaning of freedom. It's assuming you can think. It's assuming you have a prayer.
Three strikes, in McRichter's case. But they've yet to realize that they're out.


Pierre Tristam is FlaglerLive's editor. Reach him by email here.