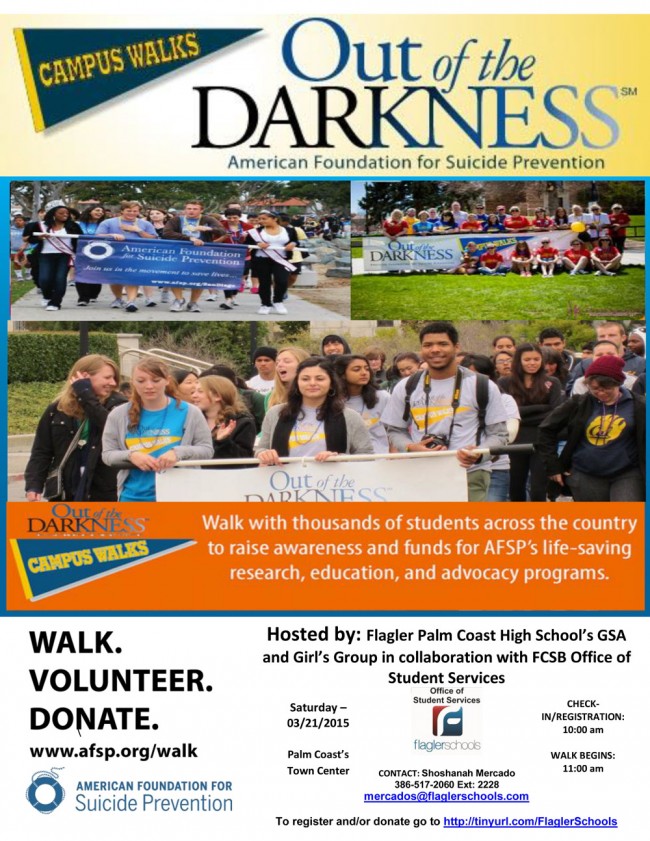 Friday's weather: a bit hot and cloudy, high of 79, low of 63. Details here.
The weather in Marseille: in the 50s all day.
The Live Community Calendar
Today's jail bookings.
In Flagler and Palm Coast This Weekend:
Hammock Wine and Cheese Shop Ribbon-Cutting: The Hammock Wine & Cheese Shop in the Hammock showcases its new wine bar on today (Friday),  from 4 p.m. to 6 p.m.  The shop is at 5368 N Oceanshore Blvd. Call 386/445.3357 for information.
Out of the Darkness Suicide Prevention Walk in Town Center: The Flagler Palm Coast High School Gay-Straight Alliance and Girl's Group, in collaboration with the Flagler County School Board's Office of Student Services, announces its first annual Out of the Darkness Walk for Suicide Prevention on Saturday, March 21 in Town Center. Registration is at 10 a.m. with the walk starting at 11 a.m. Walk with thousands of students across the country to raise awareness and funds for life-saving research, education, and advocacy programs. Organizers are looking for vendors and providers to participate, as well as walkers and donors. All of us are impacted by this in our community. Please volunteer, organize a team, or be a part in some way. See the attached flyer at the top of this page for more information and click the link for further details. The event contact is Shoshanna Mercado by email here.
NCCAA Annual Sports Clinic: The 4th Annual NCCAA Youth Sports Clinic will be held on Saturday, March 21 beginning at 9:30 a.m. at the Indian Trails Sports Complex. The NCCAA Youth Sports Clinics include participation by participating schools, coaches and student-athletes to give back to the residents of the Palm Coast community. Instruction is provided in Baseball, Basketball, Golf, Soccer and Volleyball, in a clinic format. Skills are taught by some of the NCCAA's finest college athletes and coaches. All children ages 6-16 are encouraged to participate. To register, go here.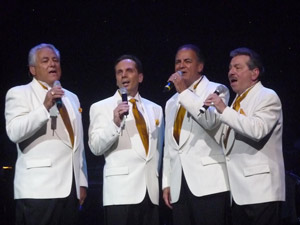 The Duprees at the Flagler Auditorium: Saturday, March 21, at 7:30 p.m.: The Duprees are known the world over for their romantic interpretations of the most beautiful love songs ever written. Thousands of fans around the globe are captivated with their wonderful mixture of romance, energy, and fun. Known for such hits as "You Belong To Me," "My Own True Love," "Why Don't You Believe Me," "Let Them Talk," and many more. Adult: $29, Youth: $18. Get your tickets online here or call 386/437-7547.
The Women of Castillo de San Marcos: Whether an out-of-town guest or a long-time resident, St. Augustine's commemoration of its 450 year history is a great time to rediscover the beginnings of America at the Castillo de San Marcos National Monument. Visit for 450th anniversary special events, ranger talks, Junior Ranger activities, and historic weapons firing demonstrations. On March 21, in honor of Women's History Month, visitors will explore the females who played critical roles in the 450-year history of St. Augustine and the Castillo. Separate fee applies. $8 for adults (16 and over), $4 for children (5-15), and free for children under 5. Reserve tickets in advance by calling 904-829-6506 ext. 232 or stopping by the Castillo ticket booth. Tickets are limited. Also on Fridays, Saturdays, and Sundays enjoy historic weapons firing demonstrations at the Castillo de San Marcos. Staff and volunteers will fire cannons or muskets, weather and staffing permitting. Program times are 10:30 a.m., 11:30 a.m., 1:30 p.m., 2:30 p.m., and 3:30 p.m. Free.

In the Press:
Study suggests pythons gobbling up Everglades' critters: "Burmese pythons munch marsh rabbits in Everglades National Park faster than any native predator, confirming what biologists already suspected: The invasive snake is changing the balance of the park's food chain. Two years ago, researchers determined that as the python population climbed in the park, the number of small mammals declined. But they couldn't prove for sure that one caused the other. A study published this week makes a stronger case for the connection, based on the fates of 26 rabbits fitted with tracking devices and let loose in the park in September 2012. The rabbits, which are native to the park but have nearly vanished in the last decade, did well. They settled in, started breeding like bunnies and seemed to thrive, said University of Florida biologist Robert McCleery, one of the study's authors. Then, as temperatures climbed, the rabbits started to disappear. Where? Inside pythons." From the Miami Herald.
Jacksonville Beats Miami, Orlando and Tampa For Largest Gay Population in Florida: The Times reports on a Census Bureau analysis and a Gallup survey showing the largest lesbian, gay, bi-sexual and transgender populations in the nation's metropolitan areas. Jacksonville's rate, at 4.3 percent, comes out ahead of Miami (4.2 percent), Orlando and Tampa (4.1 each). From the Times: "The Gallup analysis finds the largest concentrations in the West — and not just in the expected places like San Francisco and Portland, Ore. Among the nation's 50 largest metropolitan areas, Denver and Salt Lake City are also in the top 10. How could Salt Lake be there, given its well-known social conservatism? It seems to be a kind of regional capital of gay life, attracting people from other parts of Utah and the Mormon West. On the other hand, some of the East Coast places with famous gay neighborhoods, including in New York, Miami and Washington, have a smaller percentage of their population who identify as gay — roughly average for a big metropolitan area. The least gay urban areas are in the Midwest and South. Significant as these differences are, the similarities are just as notable. Gay America, rather than being confined to a few places, spreads across every major region of the country. Nationwide, Gallup says, 3.6 percent of adults consider themselves gay, lesbian, bisexual or transgender. And even the parts of the country outside the 50 biggest metropolitan areas have a gay population (about 3 percent) not so different from some big metropolitan areas. It's a reflection in part of increasing tolerance and of social connections made possible by the Internet." The full story.

Europe Surfs to the Tide of the Century: