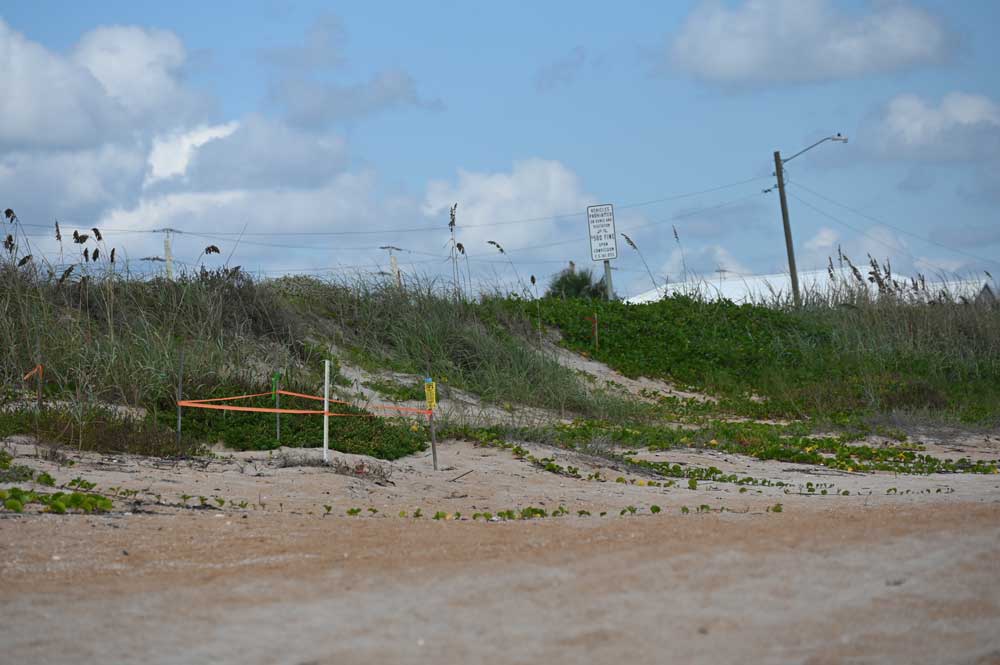 Less than two weeks from a scheduled trial date, Flagler Beach resident Cynthia d'Angiolini this afternoon signed the two easements the county has been seeking for three years and that will allow the U.S. Army Corps of Engineers to rebuild and maintain 2.6 miles of dunes south of the pier, unimpeded, for the next half century.
The signatures took place over a two-hour meeting at Flagler Beach attorney Scott Spradley's office, with County Attorney Al Hadeed and in the presence of d'Angiolini's son.




The two attorneys had been involved in different aspects of the case, with the county retaining Spradley since December to handle a part of the case that tied into d'Angiolini's bankruptcy proceedings, and that proved to be the key to today's resolution.
D'Angiolini had pledged at a federal bankruptcy court hearing in Orlando on Jan. 31 that she would sign, pre-empting the county's lawsuit over her bankruptcy and leading Spradley and Hadeed to announce the deal.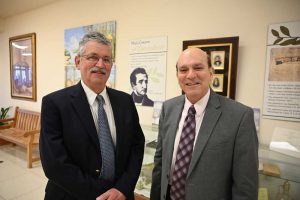 "That was a big day because we had a settlement but you know, after practicing law for 35 years, I know that a settlement is not really completed until papers are signed," Spradley said early this evening. "I even discussed this with Al this evening, that even though we were joyous when we were returning from Orlando after reaching a settlement, we both knew in the back of our minds that the task was still at hand, which was to get documents signed."
But as the days, then the weeks, passed, some anxiety slipped in on the county's side over whether the signatures would materialize, and at least one county commissioner was the source of rumors that she may not.




That ended today as D'Angiolini signed four sets of original documents which had already been signed by County Commission Chairman Greg Hansen. The only two steps that still need to take place are the federal bankruptcy judge's acceptance of the settlement of the county's case against D'Angiolini and the county recording the documents at the Clerk of Court's office. Both steps are entirely procedural.
"So today was another monumental day because it actually happened," Spradley said.
For the past 13 months, d'Angiolini had been the lone hold-out after some 145 other property owners had signed easements. The easements don't take property away from the owners. They only allow the Corps essentially to trespass on the property to rebuild dunes.
The dunes are expected to substantially broaden the size of the beach, protect State Road A1A and protect the properties behind the road on a stretch of shore the federal government has designated as critically eroded. Twice since 2016 A1A was shredded along that stretch. The Corps project is one of several that the State Department of Transportation considers key to its long-term plan for the preservation of A1A. That project is slated for construction in about a year.
D'Angiolini is the owner of two dune "remnants" for which the easements were sought–small parcels of land on the ocean side of A1A that will never be built on. One is between South 25th and South 26th Street, the other between South 24th and South 25th. She had entered into bankruptcy proceedings three years ago, but had not disclosed to the federal court that she owned those two remnants. She had been negotiating a monetary settlement from the county in exchange for her signature, but still delaying signing. Once Hadeed discovered the missing disclosure, it gave the county a new tool to secure the signatures–without necessarily paying money. That's when Spradley, a bankruptcy attorney, stepped in, filed suit, and won the settlement in exchange of dismissing the suit.




Between the time when the county hired Spradley in the last days of December and March, he was elected to the Flagler Beach City Commission in a historic landslide.
As of Tuesday, he still did not know that d'Angiolini would sign. There was a pre-trial hearing that day in the bankruptcy case Spradley had filed against her. Spradley was in Tallahassee, attending League of City meetings and meeting with Rep. Paul Renner and Sen. Travis Hutson as part of his new commissioner duties (along with Commissioners Rick Belhumeur and James Sherman). So he attended the hearing by zoom.
D'Angiolini was in the courtroom in Orlando with her lawyer. "The judge wanted to know where we were on the settlement, since we had announced the settlement in court jointly in January," Spradley said of Bankruptcy Judge Lori Vaughan. He told her they'd not been signed. "I was not really understanding why because we had basically accommodated what I thought was everything that was needed. Since the bankruptcy matter was set for trial April 17, the judge asked me what I suggested be done, because absent resolution with signing easement and related documents, then we would be headed for trial. So I suggested, well, I'm in Tallahassee today, but I can be in my office tomorrow afternoon, if Ms. d'Angiolini who lives in town would like to come by and sign documents."
D'Angiolini had in fact made up her mind to sign, and to show her good faith, she had showed up in court with signed documents–but not the right ones. She had signed a neighbor's easement documents. They would not be valid, since the documents must reflect the specifics of her property, along with some specifics the county included to accommodate her requests.




Spradley this morning got on his motorcycle, biked down to Flagler Beach, and met with d'Angiolini, her son and Hadeed at his office at 3 p.m. It took almost two hours only because the trio went through some 20 pages of documents together. But the atmosphere was cordial, with a "good, open, candid discussion," Spradley said. "She and her son were both a delight to be around. And so all the documents were signed and notarized. And while they're being copied the conversation turned to photography. So we had a very delightful meeting." Spradley is a photographer, among other interests.
"It's clear to me that it's been probably some level of miscommunication here and there, misunderstanding, miscommunication," Spradley said, "and it resulted in a lot of negativity beyond what anyone would expect. I sense that huge bit of relief once she signed. And it was very nice. I mean, we ended with handshakes and a hug, so it was good."