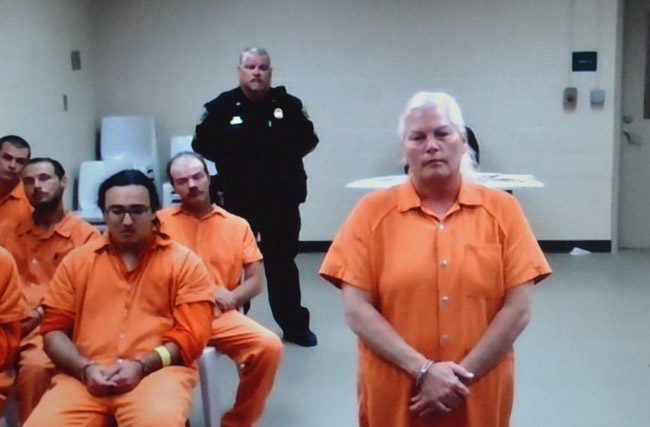 For the second time in six days, first-appearance proceedings before County Judge Melissa Moore-Stens were punctuated with a high-profile case. Last week it was Philip Haire, the 19-year-old Palm Coast man accused of shooting repeatedly at a sheriff's deputy and at his parents. Today, it was Dorothy Singer, 52, who faces a first-degree murder charge in the shooting death of her husband, Charles Singer.
Haire's appearance was eventful. He claimed he was safer in jail because the actual killer is out there trying to kill him and his family. Singer's appearance was not. She restricted her side of the dialogue with More-Stens to "yes," "no" and silence, dispensing, when she was done, with the routine "thank you" that most men and women say to the judge at the end of their appearance. Singer, who was going through first appearances by video conferencing from the jail, as is usual, just turned away from the camera and walked out of the room with two other women and deputies. Earlier she had, however, responded likewise to Moore-Stens's "good morning" greeting.
Moore-Stens kept Singer's bond at "none"–not just because Singer faces a first-degree murder charge, but because she was arrested on Monday in St. Johns County, while fleeing Flagler County. Sheriff Rick Staly said she had plans to fake her death and flee the county.
Singer told the judge she had no intention of hiring her own lawyer. But she scored one victory. The lawyer appointed to represent her is Ray Warren, the Volusia County-based public defender with vast experience defending murder suspects: he defended Anna Pehota, the Hammock resident who shot and killed her husband in 2015. A jury found her guilty of second-degree murder and Judge Matthew Foxman sentenced her to life in prison last July. Warren is currently defending Joseph Bova II, the man accused of murdering Zuheily Roman Rosado, the store clerk at the Palm Coast Mobil station on State Road 100, in February 2013. Bova has so far been found incompetent to stand trial.
Both those cases presented Warren with defense openings that Singer may not have, should she opt for a trial: Both Pehota and Bova had competency issues, and Pehota, before the jury had a chance to watch her interview with detectives, had elicited considerable sympathy as an elderly woman struggling with the demands and challenges of an elderly, sickly man. But her interview showed a more callous side to Pehota, and the jury took little time to find her guilty. So far, Bova's competency has weighed against his going to trial.
There's no question of competency in Singer's case. Rather, there are more grisly details of an elaborately planned attempt to literally cover-up the death (Charles Singer was found two months after the shooting, buried under a john boat in the couple's backyard, wrapped in a camouflage tarp and mothballed), along with Singer's alleged attempt to flee Flagler County. Singer herself unlike Pehota–who had the look and demeanor of anybody's kindly if gruff grandma–does not come across as a sympathetic figure, as her first appearance today indicated.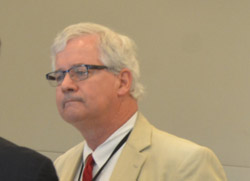 In contrast with other individuals appearing before the judge, Singer dispensed with saying so much as "ma'am" or "judge" at the end of her one-word responses:
"Is it your intention to hire a private attorney to represent you today, ma'am?" Moore-Stens asked.
"No," Singer replied, barely audible.
"That was a no?"
"Yeah."
"Let me ask you some questions about your finances. Are you working?"
"I was."
OK, where are you working ma'am?"
"AO Manufacturing."
"And how much do you earn?"
"$400 a week."
"Do you own a house or any land?"
"No."
"Do you own a vehicle or a truck?"
"No."
Moore-Stens said she'd appoint a public defender and added a few more directions, noting she would find probable cause and keep the bond at none.
Warren had no objections. "I anticipated being appointed, I've already been out to see her," he said, suggesting that if there was to be a motion to get a bond, it would happen subsequently. An that was it. Moore-Stens thanked Singer, and Singer responded only by turning her back. It is not usually a good sign for defendants when a judge comes across as more courteous, though lawyers will usually coach their client to seem less abrasive in subsequent court appearances, not always successfully.
The next question in the case will be whether the State Attorney will seek the death penalty.
"We don't make those decisions at this point," the State Attorney's Jason Lewis said this morning. "We look at all the facts and the case and make a decision later. We have 45 days from the date of arraignment to make that decision."
An arraignment had not been set as of this morning.