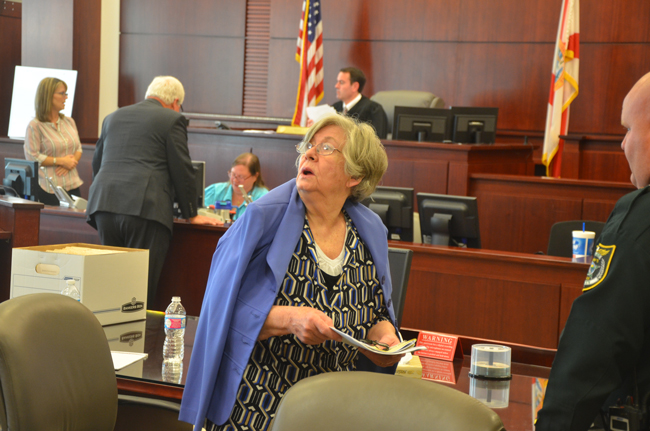 Anna Pehota, the 76-year-old Hammock woman who shot and killed her husband in their home last September, was found guilty of second-degree murder by a jury of four women and two men Friday, the third day of trial.
Pehota appeared unmoved by the verdict, which she heard standing up, flanked by her two attorneys.
Moments later, she was sentenced to life in prison without parole, with a mandatory minimum of 25 years–irrelevant, considering Pehota's advanced age. She will die in prison.
The expectation from several people in the courtroom, in informal conversations when the court was in recess, was that it would be a lengthy deliberation. It wasn't. The jury had a verdict in 90 minutes, including a break jurors took late in the morning. They had gone into their deliberation room at 11 a.m. They told a bailiff they had a verdict just before 12:30 p.m.
In the end, the prosecution's argument won out that Pehota's anger, absent any indication of abuse from her husband, physical or even verbal, the day of the killing, was no justification for a homicide. The defense had argued that nothing was certain about the killing, least of all Pehota's memory. But a letter she wrote her son about the day of the shooting, and a three-hour interview with investigators, in which she admitted to the killing in several various ways, proved too convincing.
Her daughter spoke to the court before the sentencing. "I know she's going to die in jail. I don't know how she would ever get out," she told Judge Matthew Foxman, saying she didn't know "how jail works," but wished she could somehow see her mother again.
"What happened here?" the judge asked her.
The daughter said she remembered confrontations and issues between her parents, and couldn't understand how her mother could have stayed with her father that long. "We believe there was something wrong mentally or she was sick with cancer or something that she couldn't take care of daddy anymore." She added: "I don't think my father would have lived as long if she wasn't by his side."
She asked to give her mother a hug. "I'm not going to let you do that," the judge said, abiding by normal procedures.
There's never been a headline, Assistant State Prosecutor Jennifer Dunton told the jury, that had a young man found not guilty after shooting his young wife just because she'd told him she was leaving him. "That's really our facts here when you look at it, with a few differences," Dunton said of the Pehota case. The difference is age and a role reversal: Anna Pehota shot her husband John after he told her he was leaving her. They'd been married 56 years. They were both in their 70s. That's the only difference, Dunton said.
The case is not about an abused woman, or a threatened woman. Pehota herself had never said in her three-hour interview with detectives that she'd been verbally or physically abused. Not even on Sept. 23, 2015, when she killed her husband. "Any demeaning examples, anything about him putting her down, did she ever even give examples of that? No."
He was even complimenting her recent cooking, a chicken soup he'd found particularly good.
Some time back he'd verbally threatened her one time when she threw away his pills (actually, threatened to shoot her, too, a detail Dunton did not mention). "But nothing ladies and gentlemen that justifies murder," the prosecutor said. "And now we know, thanks to the letter that we have between her and her brother, what was actually said that day to cause her" to kill her husband. "He said he was going to leave her."
Key in the prosecution's case was the letter that emerged at the end of the second day of trial, a letter Pehota had written her son two months after the killing, in which she described what happened, at least to her recollection.
Pehota's attorney, Ray Warren, sought to demolish the prosecution's case by telling the jury that that entire case rested on assumptions, not fact, let alone corroborated fact.
"She didn't do what she wrote in the letter," Warren said. "She still doesn't remember. She's confabulating. She knows her husband is dead and she's trying to explain it. But she can't. She can't anymore 10 weeks after the fact than she could three hours after the fact."
After the verdict and after the jury had left the room, the judge asked Pehota if she had anything to say. She spoke at length, and described herself and her husband having issues with memory matters and psychological issues. But she did not add clarity to the killing–perhaps implicitly making her attorney's point that to this day she does not know what happened.
"The consistent theme is how senseless they are," Foxman said of the many killings he's known of through trials, addressing Pehota. He told her that all those killings have something else in common: that they could have been avoided. He told Pehota that the bottom line was she had raised a gun to her husband and shot him four times, once in the back. When Pehota interrupted him to say she hadn't shot him in the back, Foxman immediately cut her off.