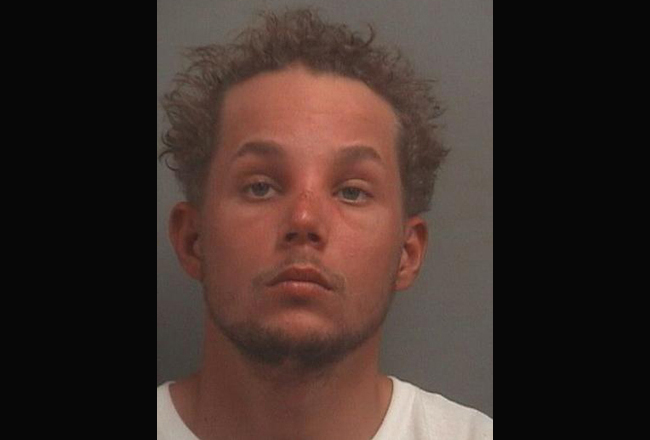 Last Updated: 1:44 p.m.
Flagler County Sheriff Jim Manfre identified the suspect in the execution-style murder of Zuheily Roman Rosado, the Mobil Mart store clerk, on Feb. 21 in Palm Coast, as Joseph Bova II, formerly of Palm Coast, and, at the time of his arrest in Boca Raton, a drifter living out of his car. There is no indication that he knew Rosado, or that he is mentally unstable. He had neither military nor police training, though the murder was an execution-style hit by a gunman who looked, by authorities' own analysis, trained and in control of what he was doing.
The arrest, in sum, raises as many questions as it answers even as it reflects the dogged skills of the sheriff's office investigators–led by Nate Koep–and their marshaling of every imaginable resource to reverse course on concentric circles that had for months been getting away from their target. (See the arrest report below.)
"This is the culmination of an almost seven-month investigation," Manfre said. "This was a particularly disturbing homicide, and it was a particularly difficult homicide to investigate. At the time there were no known suspects or motive." There is still no motive.
"He made some incriminating statements but nothing that could be construed as a confession," Manfre said. But he was not out to rob the convenience store. And he has not given investigators any hint as to why he may have carried out what he's accused of doing.
"The unsettling, disturbing part is the way it occurred, it was done in a very cold, calculated way," the sheriff said. "I'm sure all of you have viewed that video, like many of us have. He went in, very military style, executed Ms. Rosado, and there doesn't seem to be any motive at this point, so certainly that does not help the community that wants answers. But this is the facts as we have them right now."
"To me," Under-sheriff Rick Staly said, "this is a grand jury, potential death penalty case."
The break in the case came about three weeks ago from an anonymous tip. Bova had already been a person of interest in the investigation, but the tip placed Bova inside the Mobil Mart a few hours before the murder, and the 9mm gun used in the murder, which had been identified, was tied to him.
The weapon used in the murder was a SCCY 9mm semi-automatic handgun, manufactured by SCCY industries in Daytona Beach. The sheriff's office obtained gun records by court order that traced the gun to Bova, and to the store where he'd bought it in June 2012. He had the gun in his possession, legally, since then, detectives said, and told detectives as much.
"This was a unique weapon, so that gave us a much smaller number of people to look at," Manfre said. Bova's silver car was also a clue.
About 30 minutes before the murder, surveillance footage from Coconuts Carwash recorded a dark, single-cab pickup similar to a Chevrolet S10 driving in a suspicious manner between the car wash and the McDonald's, adjacent to the Mobil station, according to Bova's arrest report. The pick-up left the area, and was seen again driving in the same manner a few minutes before the shooting.
---
Listen to the Sheriff's News Conference In Full[media id=347 width=250 height=200]

Further investigation revealed that at 7:18 p.m. the night of the murder, a white man wearing a red baseball cap, dark-colored t-shirt with a white logo centered just below the collar, blue jeans and tan footwear used the ATM machine in the store. The man was then seen getting into a dark Chevrolet S10 similar to the one observed earlier near the car wash. The ATM records were subpoenaed. They led to Bova, 25, who had been a resident of Flagler County.

As the investigation proceeded, detectives obtained purchase records from gun dealers and discovered that Bova had bought the CPX-1 model handgun used in the shooting, and had bought it from Buck's Gun Rack in Daytona Beach on June 22, 2012. Further investigation revealed that Bova was living out of a 2007 silver Audi in Boca Raton. On Sept. 9, detectives got a search warrant for the Audi in Palm Beach County, and at 3:20 the next morning, executed the search warrant with the Boca Raton police. During the search, Bova confirmed to a Flagler County detective that he had owned a silver Chevrolet S10 while in Flagler, and that he'd never lent it to anyone. Bova was asked about the gun, and said that he'd always owned it, and never lent it to anyone.

Investigators also found out that the pick-up truck had been repainted at Econo Auto Painting in Daytona Beach shortly after the murder. But when Bova couldn't pay for the job, he sold it to Riviera Auto Sales in the parking lot of the body shop. At the time, he was living in the Palm Points Apartments on Moody Boulevard, not far from the Mobile Mart. "When the landlord cleared out his apartment, he found a bullet that was the same type and manufacturer of the bullet used to kill Mrs. Rosado," Manfre said.

It was just last week that investigators learned from the Boca Raton police that they'd had an encounter with Bova, and noted his possession of a gun. "He wasn't arrested at that time because there were no charges filed against him," Manfre said.

The Boca Raton Police Department made the arrest Thursday, in the presence of Flagler's Detective Nate Koep.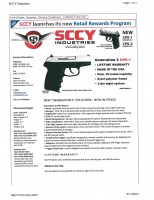 A Florida Department of Law Enforcement ballistics analysis confirmed that all three cartridge casings found at the Mobil Mart after the murder were fired from Bova's SCCY 9mm gun.
"It is disturbing, it is something that's unsettling to the community when it occurs," Manfre said, but "we may never know that answer" as to why he targeted Rosado or Flagler County to allegedly execute the deed.
Video surveillance also allowed detectives to identify a suspicious vehicle. Bova was placed in the Mobile Mart a few hours before the murder, and used the ATM at the store there at the time.
The gun and clothing that matched what the suspect was wearing at the time of the murder were recovered in Boca Raton by detectives, where Bova was arrested Thursday. CrimeStoppers provided "an invaluable tip" that enabled detectives to get to Bova, Manfre said.
He was living in an apartment in Palm Coast for some period, but when he was found, he was living in his car in Boca Raton. He'd had some 400 "contacts" with law enforcement over time, but never an arrest, Manfre said at the news conference.
Detectives said he "worked on his vehicles up front" when he lived in Palm Coast, had no connections to the community, and kept to himself. Detective Koep described him as a "normal 25-year-old" who had no job, and who had a "generic" Facebook page. Koep stressed that the investigation is still open.
In a brief interview an hour before the news conference, Manfre explained why he would not release the identity of the suspect until then, saying the case still had loose ends and complications.
"It's going to be unsettling for everyone, what they hear," Manfre said of the case. "We still do not have a motive as we sit here today," Manfre said, describing the case as inexplicable and head-scratching. The sheriff's office is still not sure whether the suspect acted alone or with accomplices.
"We believe it's a single shooter at this point, but when you hear it, there are other possibilities that other people are involved and we're still trying to tie up the loose ends," Manfre said.
The arrest was made in South Florida. Manfre did not specify where or by whom before the 11 a.m. news conference, though he said there was assistance by another law enforcement agency, and it followed the securing of a warrant here first. The suspect was not yet in Flagler County when Manfre spoke this morning at 10, but was on his way. The suspect, Manfre said, had lived in Palm Coast periodically before.
"This is late-breaking stuff, this all happened this week," Manfre said, describing the case as one of the most complicated he has known in his career. (He was previously a prosecutor, in New York State, and was sheriff in Flagler for four years until 2005.)
"We have the gun, and that's what led us to the arrest," he added. Manfre said his confidence that the suspect in custody is the right one is "very high."
---
Bova Uses ATM at Mobil mart[media id=348 width=350 height=250]

Matters were still breaking at 8 p.m. Thursday, "but we still had not tied up all the loose ends until late in the evening," which is why, he said, he did not release a name. There has also been the matter of Romano's family, including her 16-year-old daughter, who happened to be in Puerto Rico, and her six children's grandparents, who have a language barrier. It isn't yet clear whether the members of the family the sheriff wanted at the conference will make it, but the news conference was to be held regardless.

We wanted to make certain that the family understood exactly what we had uncovered, that was happening until this morning," Manfre said, explaining the delay in releasing the name. "We we confident that the family was fully informed and emotionally settled," that's when the office felt confident the information could be released.

The suspect will be held without bond at the Flagler County jail.

Manfre was especially complimentary of his investigative team. (Besides Koep, Steve Cole, who heads the division, and Mark Moye, were also present at the news conference.)

"When I came into office we had three homicides in this county. One took place before I took office. One was a St. Johns case. People are concerned, and we've been able to solve one of those cases right away. This is the second one that we've now solved. We believe we have some good information on solving the one before I took office, that's the one in the C-Section, Covington, and we're working with St. Johns to solve that fourth. The public wants two things, they want you to be transparent about what you're doing and they want you to get the bad guys. The idea that there is a murderer free in the community is something that's upsetting. Hopefully this provides some comfort that in this particular disturbing case, we have made that arrest."