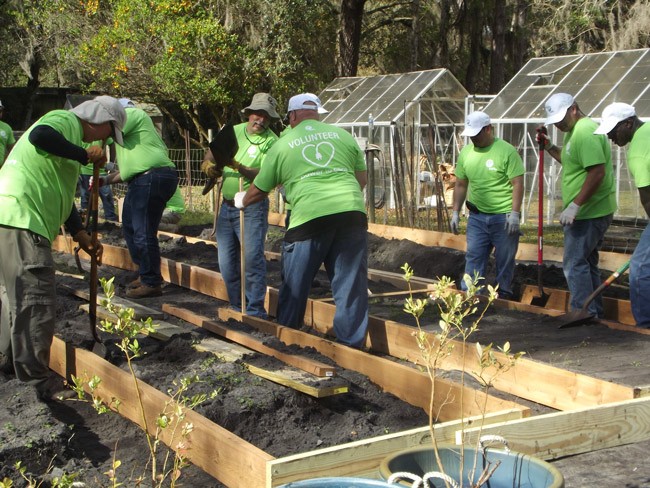 The Flagler County Juvenile Justice Council's acclaimed Community Garden project is a vegetable garden growing in back of the Jack Clegg property in Bunnell, near the intersection of North Palmetto and East Howe. The garden is run by young people required to log community service hours. The food helps feed the hungry through donations to local food pantries. The garden began in 2009, an outcrop of Youth Success Week, and was organized by Cheryl Massaro, the Flagler County Youth Center's and Carver Center's director.
Earlier this week, the garden got a huge make-over, expanding its garden boxes from the 1,000 square feet of garden space it previously had to 1,120 square feet, and vastly improving the grounds.
Originally, the garden was made up of ten 10-foot-by-10-foot raised garden boxes and a separate vertical garden. Over the years the supporting wood frames began to deteriorate, and a better method of smaller, longer garden boxes became more desirable and easier to work with.
The Community Garden's Advisory Council, and more specifically Flagler Extension Services Master Gardeners–Honor O'Reilly and David Tibbetts–wanted to convert the older garden from the larger framed boxes to four longer, 4-foot-by-70-foot boxes. The advisory council expected the change to take months to accomplish.
It so happened that Florida Power and Light's "Power to Care Group," an arm of the company that looks for community projects where a little philanthropy could make a difference, was hunting for just such a project. FPL's Vickie Henson got in touch with Shatelle Britt of the Volusia-Flagler Boys and Girls Club, who got in touch with Massaro.
And Thursday, some 30 volunteers converged on the Community Garden and completed the entire project in four hours.
FPL volunteers arrived at the Community Garden by 8 a.m. from Flagler, Volusia, Putnam, St. Johns and Lake counties. By noon, all raised boxes had been built and prepared for planting. Four brand new picnic tables were set up and stained. Ten new verticals were put together and prepared for use. Two greenhouses and two storage sheds were cleaned and organized. The entire garden is rejuvenated.